Progressive Cavity Pump Market Scenario
Progressive Cavity Pump Market size is projected to reach USD 4.37 Billion by 2025, with 4.96% CAGR between 2019 and 2025.
The factors primarily leading to the growth of the global progressive cavity pump industry include the increase in demand from water & wastewater management and growing infrastructure industry in Asia-Pacific. For instance, governments across the globe are focusing on the development of strict regulatory policy to build efficient water systems including the development of centralized systems for distribution and design of water treatment plants. Additionally, China plans to invest around RMB 559 billion in the water treatment industry, as stated in its five-year plan (2016–2020). Increasing investment in the wastewater industry in developing countries are presenting growth opportunities for the global progressive cavity pump market globally. However, high maintenance cost hampers the market growth during the forecast period.
Key Players
Global Progressive Cavity Pump Manufacturers include Halliburton (US), National Oilwell Varco (US), Schlumberger (US), Dover (US), Weatherford (US), Xylem (US), Circor International, Inc. (US), Netzsch (Germany), PCM (US), Seepex (US), Synopumps (India), Moyno (US), Sydex (Italy), and ITT (US).
Many key players such as ITT, Halliburton, and Netzsch are actively focusing on contracts, agreements, and new product development. For instance, in April 2019, Netzsch launched a new concept Full Service in Place (FSIP) pump design with the stator adjustment unit that would help triple the service life in wastewater treatment plants.
The Global Progressive Cavity Pump Market is segmented based on power rating and end-user. By power rating, the global market includes up to 50 hp, 51-150 hp, and above 150 hp. The up to 50 HP segment is expected to hold the largest share due to an increase in infrastructure development. By end-user, the global market is segmented into oil & gas, water & wastewater, food & beverage, chemical & petrochemical, and others. The water & wastewater segment is estimated to grow with the highest CAGR during the forecast period due to increasing demand for freshwater, increasing the use of progressive cavity pumps in water treatment plants for polymers, sludge, and waste.

Market Segmentation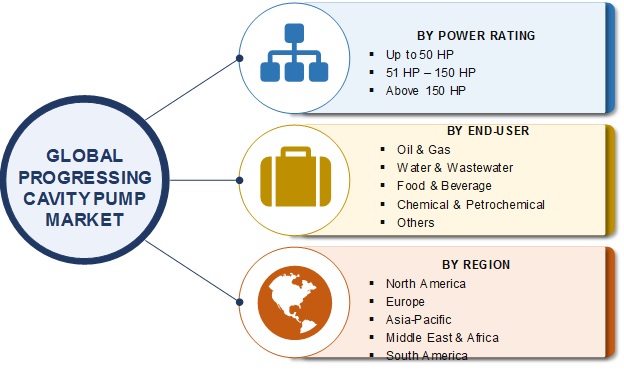 The global market for progressive cavity pump is expected to witness high growth during the forecast period owing to the increase in oil and gas production after a decline in oil prices.
Progressive cavity pump transfers fluids through the pump by means of small, fixed shape, discrete cavities. Progressive cavity pump parts include an internal rotor to push the fluid through a stator. This pump is a positive displacement pump that is used to handle highly viscous fluids, required to be moved long distances. These pumps are primarily used in water and wastewater applications for moving sludge containing softer type solids. Advantages of progressive cavity pump include continuous flow, large free ball passage, high suction capacity, and low life-cycle costs.
By region, the Global Progressive Cavity Pump Market is segmented into Asia-Pacific, North America, Europe, the Middle East & Africa, and South America. North America dominated the progressive cavity pump in terms of market share owing to increase in the investment in water & wastewater, and oil & gas industry in the US & Canada. For instance, in July 2019, Canada Infrastructure Bank (CIB) announced an investment of USD 20 million in the Mapleton's water and wastewater project. Similarly, in September 2019, US Department of Agriculture (USDA) announced to invest USD 144 million to improve rural water infrastructure in 25 states of the US. Such investments raise the demand for progressive cavity pump market in North America.
Intended Audience



Government and research organization




Consulting companies in the progressive cavity pump market




Research consultants




Investors and shareholders



Report Scope:
Report Attribute/Metric
Details
Market Size
2025: USD 4.37 Billion
CAGR
4.96% CAGR (2020-2027)
Base Year
2019
Forecast Period
2020-2027
Historical Data
2018
Forecast Units
Value (USD Billion)
Report Coverage
Revenue Forecast, Competitive Landscape, Growth Factors, and Trends
Segments Covered
Power Rating and End-User
Geographies Covered
North America, Europe, Asia-Pacific, and Rest of the World (RoW)
Key Vendors
Halliburton (US), National Oilwell Varco (US), Schlumberger (US), Dover (US), Weatherford (US), Xylem (US), Circor International, Inc. (US), Netzsch (Germany), PCM (US), Seepex (US), Synopumps (India), Moyno (US), Sydex (Italy), and ITT (US)
Key Market Opportunities
Increasing investment in the wastewater industry in developing countries
Key Market Drivers
Increase in demand from water & wastewater management
Growing infrastructure industry in Asia-Pacific
Frequently Asked Questions (FAQ) :
---