Global Metal Recycling Market Information Report by

Metal Type (Ferrous, and Non-Ferrous), by Equipment (Shredders, Granulating Machines and others), by Application (Electronics, Construction, Shipbuilding, Automotive, and Others) and by Region - Global Forecast To 2022
Market Scenario
Metal recycling is the method of using the scrap metals with the objective of building brand new metallic products. Metal production costs are reduced drastically when scrap metal is recycled. The increasing awareness of the efficient utilization of natural resources is expected to drive the demand for metal recycling market.
On the basis of metal type, ferrous metal is dominating the metal recycling market. The growth can be attributed to the increased recycling rate and the high scrap consumption. On the basis of applications, electronics segment has the largest market share in the metal recycling market. All electronics contain high valued metals such as lead, copper and aluminum and the recycling of such substances ensures the conservation of natural resources. Therefore, electronics is the largest growing segment in the market. Global metal recycling market is expected to cross USD 400 billion mark by the end of 2022. Also it is expected to grow at approximately 7% CAGR.
Study Objectives of Metal recycling market
Market Segmentation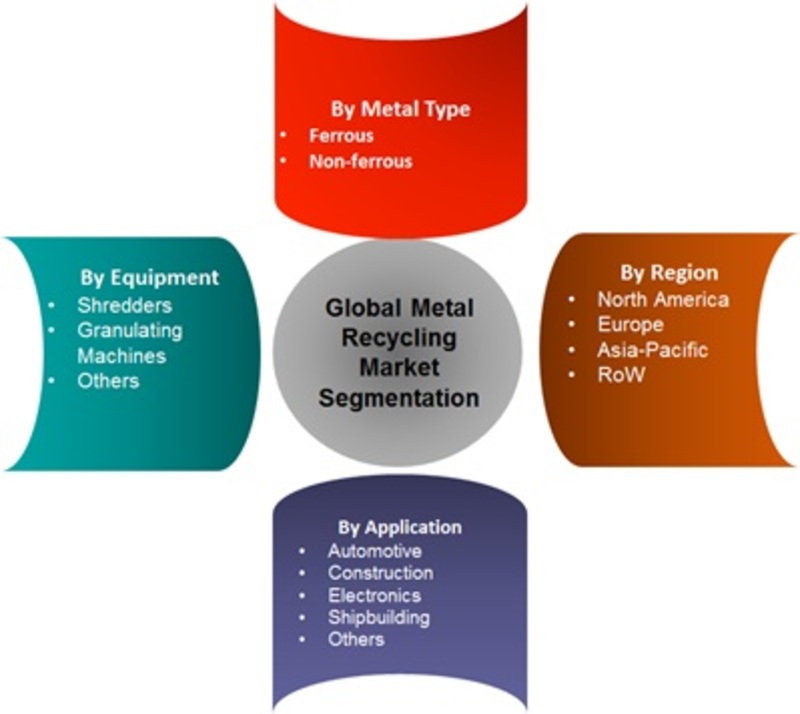 Regional Analysis of Metal recycling market
The metal recycling market can be geographically segmented into North America, Europe, Asia Pacific (APAC) and Rest of the World (ROW). Asia-Pacific is expected to dominate the global metal recycling market due to the continuous economic growth of the region and the rise in GDP of nations such as India and Singapore among others have led to the growth of the automotive and construction industry. This contributes to the growth of the metal recycling market in the region.
Key Players
The key players of metal recycling market are ArcelorMittal (Luxembourg), Baosteel Group Corporation (China) European Metal Recycling Limited (U.K.), Nucor Corporation (U.S.), Aurubis AG (Germany), Commercial Metals Company (U.S.), Linde AG (Germany), Tata Steel Limited (India), Sims Metal Management Limited (U.S.),Dowa Holdings Co., Ltd. (Japan) and others.
Intended Audience



Bearing manufacturers




Distributer & Supplier companies




End Users




consultants and Investment bankers




Government as well as Independent Regulatory Authorities



Product Analysis



Product matrix which gives a detailed comparison of the market for different recycled product types



Additional Information



Regulatory Landscape




Pricing Analysis




Macroeconomic Indicators



Geographic Analysis
Company Information



Profiling of 10 key market players




In-depth analysis including SWOT analysis, and strategy information of related to report title




Competitive landscape including emerging trends adopted by major companies



The report for Metal recycling market of Market Research Future comprises of extensive primary research along with the detailed analysis of qualitative as well as quantitative aspects by various industry experts, key opinion leaders to gain the deeper insight of the market and industry performance. The report gives the clear picture of current market scenario which includes historical and projected market size in terms of value, technological advancement, macro economical and governing factors in the market. The report provides details information and strategies of the top key players in the industry. The report also gives a broad study of the different market segments and regions.
1 Executive Summary

2 Research Methodology

2.1 Scope of the Study

2.1.1 Definition

2.1.2 Research Objective

2.1.3 Assumptions

2.1.4 Limitations

2.2 Research Process

2.2.1 Primary Research

2.2.2 Secondary Research

2.3 Market size Estimation

2.4 Forecast Model

3 Market Dynamics

3.1 Market Drivers

3.2 Market Inhibitors

3.3 Supply/Value Chain Analysis

3.4 Porter's Five Forces Analysis

4 Global Metal Recycling market, By Metal Type

4.1 Ferrous

4.2 Non-Ferrous

5 Global Metal Recycling market, By Equipment

5.1 Introduction

5.2 Shredders

5.3 Granulating Machines

5.4 Others

6 Global Metal Recycling market, By Application

6.1 Electronics

6.2 Construction

6.3 Shipbuilding

6.4 Automotive

6.5 Others

7 Regional Market Analysis

7.1 Introduction

7.2 North America

7.2.1 U.S.

7.2.2 Canada

7.3 Europe

7.3.1 U.K

7.3.2 France

7.3.3 Germany

7.3.4 Spain

7.3.5 Rest of Europe

7.4 Asia-Pacific

7.4.1 China

7.4.2 Japan

7.4.3 India

7.4.4 Rest of Asia-Pacific

7.5 Rest of the World

8 Competitive Analysis

8.1 Introduction

8.2 Competitive Scenario

8.2.1 Market Share Analysis

8.2.2 Market Development Analysis

8.2.3 Metal type/Service Benchmarking

8.3 ArcelorMittal (Luxembourg)

8.3.1 Overview

8.3.2 Metal type/Service Offering

8.3.3 Strategy

8.4 Baosteel Group Corporation (China)

8.4.1 Overview

8.4.2 Metal type/Service Offering

8.4.3 Strategy

8.5 European Metal Recycling Limited (U.K.)

8.5.1 Overview

8.5.2 Metal type/Service Offering

8.5.3 Strategy

8.6 Nucor Corporation (U.S.)

8.6.1 Overview

8.6.2 Metal type/Service Offering

8.6.3 Strategy

8.7 Aurubis AG (Germany)

8.7.1 Overview

8.7.2 Metal type/Service Offering

8.7.3 Strategy

8.8 Commercial Metals Company (U.S.)

8.8.1 Overview

8.8.2 Metal type/Service Offering

8.8.3 Strategy

8.9 Linde Ag (Germany)

8.9.1 Overview

8.9.2 Metal type/Service Offering

8.9.3 Strategy

8.10 Tata Steel Limited (India)

8.10.1 Overview

8.10.2 Metal type/Service Offering

8.10.3 Strategy

8.11 Sims Metal Management Limited (U.S.)

8.11.1 Overview

8.11.2 Metal type/Service Offering

8.11.3 Strategy

8.12 Dowa Holdings Co., Ltd. (Japan)

8.12.1 Overview

8.12.2 Metal type/Service Offering

8.12.3 Strategy
LIST OF TABLES
TABLE 1 GLOBAL METAL RECYCLING MARKET, BY METAL TYPE

TABLE 2 GLOBAL METAL RECYCLING MARKET, BY EQUIPMENT

TABLE 3 GLOBAL METAL RECYCLING MARKET, BY APPLICATION

TABLE 4 GLOBAL METAL RECYCLING MARKET, BY REGIONS

TABLE 5 NORTH AMERICA METAL RECYCLING MARKET, BY COUNTRY

TABLE 6 NORTH AMERICA METAL RECYCLING MARKET, BY METAL TYPE

TABLE 7 NORTH AMERICA METAL RECYCLING MARKET, BY EQUIPMENT

TABLE 8 NORTH AMERICA METAL RECYCLING MARKET, BY APPLICATION

TABLE 9 U.S. METAL RECYCLING MARKET, BY METAL TYPE

TABLE 10 U.S. METAL RECYCLING MARKET, BY EQUIPMENT

TABLE 11 U.S. METAL RECYCLING MARKET, BY APPLICATION

TABLE 12 CANADA METAL RECYCLING MARKET, BY METAL TYPE

TABLE 13 CANADA METAL RECYCLING MARKET, BY EQUIPMENT

TABLE 14 CANADA METAL RECYCLING MARKET, BY APPLICATION

TABLE 15 EUROPE ENGINEERING PLASTICMARKET, BY COUNTRY

TABLE 16 EUROPE METAL RECYCLING MARKET, BY METAL TYPE

TABLE 17 EUROPE METAL RECYCLING MARKET, BY EQUIPMENT

TABLE 18 EUROPE METAL RECYCLING MARKET, BY APPLICATION

TABLE 19 GERMANY METAL RECYCLING MARKET, BY METAL TYPE

TABLE 20 GERMANY METAL RECYCLING MARKET, BY EQUIPMENT

TABLE 21 GERMANY METAL RECYCLING MARKET, BY APPLICATION

TABLE 22 FRANCE METAL RECYCLING MARKET, BY METAL TYPE

TABLE 23 FRANCE METAL RECYCLING MARKET, BY EQUIPMENT

TABLE 24 FRANCE METAL RECYCLING MARKET, BY APPLICATION

TABLE 25 U.K. METAL RECYCLING MARKET, BY METAL TYPE

TABLE 26 U.K. METAL RECYCLING MARKET, BY EQUIPMENT

TABLE 27 U.K. METAL RECYCLING MARKET, BY APPLICATION

TABLE 28 REST OF EUROPE METAL RECYCLING MARKET, BY METAL TYPE

TABLE 29 REST OF EUROPE METAL RECYCLING MARKET, BY EQUIPMENT

TABLE 30 REST OF EUROPE METAL RECYCLING MARKET, BY APPLICATION

TABLE 31 ASIA-PACIFIC METAL RECYCLING MARKET, BY COUNTRY

TABLE 32 ASIA-PACIFIC METAL RECYCLING MARKET, BY METAL TYPE

TABLE 33 ASIA-PACIFIC METAL RECYCLING MARKET, BY EQUIPMENT

TABLE 34 ASIA-PACIFIC METAL RECYCLING MARKET, BY APPLICATION

TABLE 35 MIDDLE EAST & AFRICA METAL RECYCLING MARKET, BY METAL TYPE

TABLE 36 MIDDLE EAST & AFRICA METAL RECYCLING MARKET, BY EQUIPMENT

TABLE 37 MIDDLE EAST & AFRICA METAL RECYCLING MARKET, BY APPLICATION
LIST OF FIGURES
FIGURE 1 RESEARCH TYPE

FIGURE 2 GLOBAL METAL RECYCLING MARKETS: BY METAL TYPE (%)

FIGURE 3 GLOBAL METAL RECYCLING MARKETS: BY EQUIPMENT (%)

FIGURE 4 GLOBAL METAL RECYCLING MARKETS: BY REGION

FIGURE 5 NORTH AMERICA METAL RECYCLING MARKETS, BY METAL TYPE (%)

FIGURE 6 NORTH AMERICA METAL RECYCLING MARKET, BY EQUIPMENT (%)

FIGURE 7 NORTH AMERICA METAL RECYCLING MARKET, BY COUNTRIES (%)

FIGURE 8 EUROPE METAL RECYCLING MARKET, BY METAL TYPE (%)

FIGURE 9 EUROPE METAL RECYCLING MARKET, BY EQUIPMENT (%)

FIGURE 10 EUROPE METAL RECYCLING MARKET, BY COUNTRIES (%)

FIGURE 11 ASIA-PACIFIC METAL RECYCLING MARKET, BY METAL TYPE (%)

FIGURE 12 ASIA-PACIFIC METAL RECYCLING MARKET, BY EQUIPMENT (%)

FIGURE 13 ASIA-PACIFIC METAL RECYCLING MARKET, BY COUNTRIES (%)

FIGURE 14 ROW METAL RECYCLING MARKET, BY METAL TYPE (%)

FIGURE 15 ROW METAL RECYCLING MARKET, BY EQUIPMENT (%)