Liquid Roofing Market

Overview
The Liquid Roofing Market is projected to register a CAGR of 7.27% to reach USD 11,295.9 Million by the end of 2027.
Liquid roofing is a technique used to protect the surface of the roof substrate by applying advanced polymeric coating materials that act as additional skin to the original substrate, which differs according to their end-use. For instance, asphalt, bismuth, metal, and asbestos are key substrates used for non-residential applications whereas, felt and concrete are primarily used in residential applications.
Global Liquid Roofing Market is primarily driven by the growing demand for functional and cost-efficient roofing systems and an increase in the consumption of a 2K polyurethane liquid roofing system. Furthermore, the growing demand for eco-friendly and solvent-free coating is expected to support the growth of the global market during the forecast period.
This roofing system can withstand extreme elements and stresses encountered by any typical building movement. The chemical composition can withstand the extreme heat of the sun as it is fire resistant that helps extend the life of the roof. Additionally, it offers resistance to hail, wind uplift, and water leakage. Furthermore, the liquid roofing system is proven to be one of the most cost-efficient roofing systems.
Global Liquid Roofing Market Revenue, By End Use, 2019 (USD Million)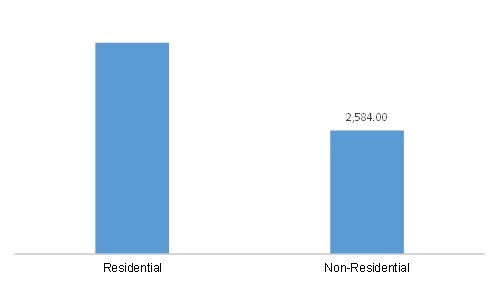 Sources: MRFR Analysis
Segmentation
Global Liquid Roofing Market has been segmented based on Type, Application, End-Use, and Region.
Based on Type, the Liquid Roofing Market is classified into polyurethane coating, acrylic coating, polyurethane/acrylic hybrid coating, silicone coating, bituminous coating, elastomeric coating, epoxy coating, and others. Among these, the acrylic coating segment emerged as the fastest-growing segment exhibiting a CAGR of 8.31%.
Based on Application, the Liquid Roofing Market is segmented into a flat roof, pitched roof, domed roof, and others. The flat roof segment was valued at USD 3,018.5 million in 2019 and is projected to register a CAGR of 7.89% during the assessment period.
By End Use, the Liquid Roofing Market is bifurcated into residential and non-residential. The residential segment accounted for 63.1% in 2019 and is projected to reach a value of USD 7,342.6 million by the end of the forecast period.
Global Liquid Roofing Market Share, By Region, 2019 (%)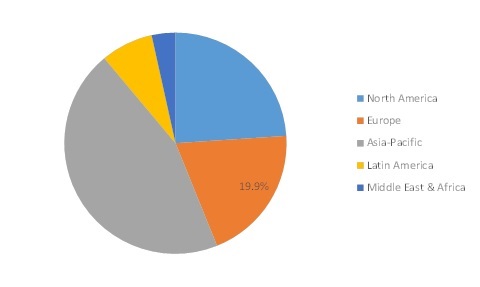 Sources: MRFR Analysis
Regional Analysis
The Liquid Roofing Market has been studied across five regions, namely, Asia-Pacific, North America, Europe, Latin America, and the Middle East & Africa. The market in Asia-Pacific held the largest market share in 2019 and is projected to reach a value of USD 5,379.4 million by 2027. The market growth can be attributed to the growing urbanization and increasing industrialization in the emerging economies of Asia-Pacific, especially in China, Japan, and countries in South East Asia. China is the leading producer and consumer of liquid roofing in Asia-Pacific, accounting for more than 40% value share of the regional market in 2019.
Key Players
Key Players operating in the Liquid Roofing Market include Sika AG (Switzerland), BASF SE (Germany), Dow Inc. (US), 3M (US), Saint-Gobain SA (France), Henkel Corporation (Germany), Akzo Nobel NV (Netherlands), Kraton Corporation (US), GAF Materials (US), ALT Global, LLC (US), Kemper System America, Inc. (US), Johns Manville (US), National Coatings Corporation (US), and Maris Polymers SA (Greece).
Companies such as BASF SE, Dow, 3M, and Akzo Nobel N.V. are the dominant players owing to their high revenue generation, strong brand identity, partnerships, and customized services and wide distribution networks.
Key strategic initiatives such as partnerships, agreements, expansion, and product launches were followed by the players with an aggressive approach. For instance, in June 2020, Akzo Nobel NV launched an elastomeric cool roof coatings solution for building and construction markets. The new solution includes Expancel expandable thermoplastic microspheres, which reflect light, and its Levasil colloidal silica, which improves the performance of the coatings.
Market Segmentation
Global Liquid Roofing Market, By Type
Global Liquid Roofing Market, By Application



Flat Roof




Pitched Roof




Domed Roof




Others



Global Liquid Roofing Market, By End Use



Residential




Non-Residential



Global Liquid Roofing Market, By Region



North America







Europe







Germany




UK




Russia




France




Spain




Italy




Rest of Europe









Asia-Pacific







China




Japan




India




Australia & New Zealand




South Korea




Rest of Asia-Pacific









Latin America







Mexico




Brazil




Argentina




Rest of Latin America









Middle East & Africa






Available Additional Customizations



Customer Analysis of Major Consumers




Additional Company Profiles



Intended Audience



Liquid Roofing Manufacturers




Suppliers and Traders of Liquid Roofing and Related Products




Government, Associations, and Industrial Associations




Investors and Trade Experts




Consulting in Chemical Experts



Frequently Asked Questions (FAQ) :
---