Global Isoprene Market Information: by Grade (Polymer Grade, Chemical Grade), by Application (Styrene Isoprene Styrene, Isobutylene Isoprene, Polyisoprene), End Use (Automotive, Personal Care, Construction, Medical), and Region- Forecast till 2023
Isoprene is a common name for the chemical compound 2-methylbuta-1,3-diene. At room temperature, purified isoprene is a highly flammable, colorless liquid that can be easily ignited. It is formed naturally in animals and plants and is the most commonly obtained during processing of petroleum or coal tar and is used as a chemical raw material. It is used to manufacture styrene isoprene styrene, isobutylene isoprene, and polyisoprene. Natural isoprene rubber offer various properties such as flexibility, and high tensile strength. Additionally, polymer grade synthetic polyisoprene has different properties than natural rubber such as it acts as viscosity increasing agent, clean and hypoallergenic. Chemical grade polyisoprene is used for the manufacturing of tires and tubes in the automotive industry. Isobutylene Isoprene is used as a fuel and lubricant additive in the automobile industry. Isobutylene is a class of thermoplastic elastomers and it has elective usage in adhesive field where it represents the basis of pressure sensitive adhesives and hot melts.
Utilization of high-quality isoprene is overwhelmed by interest and creation of polyisoprene elastomers, which represented over 50% of aggregate isoprene utilization in 2016. As per our analysis, some of the prominent market factors and trends identified in the Global Isoprene Market include rapid construction activities, rising demand for tires from the automotive industry, and increasing expenditure on personal care products. Moreover, the demand for isoprene is predicted to witness significant growth over the assessment period due to the surging automotive industry. Rising crude oil production across the globe is anticipated to be an important driver for Isoprene Market during the review period. Increasing demand for polyisoprene products, which are having properties similar to natural rubber along with rising consumption of synthetic isoprene rubber in surgical appliances is estimated to fuel the growth of the market. Furthermore, rapid urbanization coupled with increasing disposable income in emerging economies is predicted to propel the growth of the market during the assessment period 2017-2023. However, implementation of strict regulations by various government bodies have restricted the usage of toxic organic chemicals in the production of Isoprene, which is expected to hamper the growth of the market over the given period.
The Global Isoprene Market Share, by Application, (2016) (%):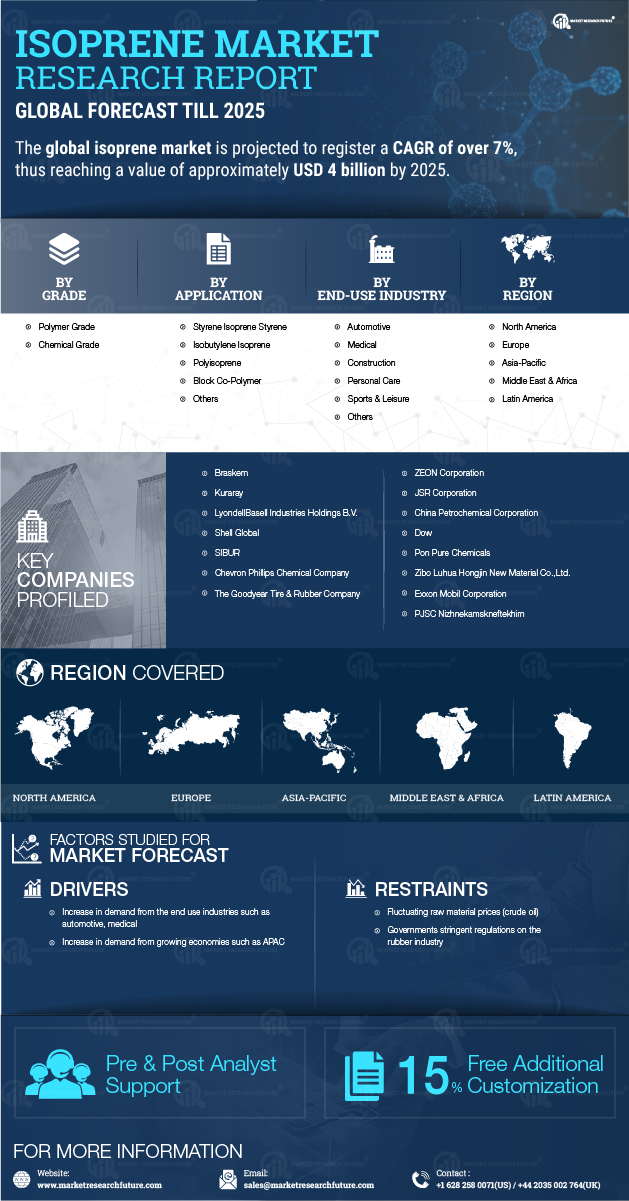 Regional Analysis:
The Global Isoprene Market consists of five regions: Asia Pacific, Europe, Latin America, North America, and the Middle East & Africa. Among these, Asia Pacific is predicted to grow at the highest CAGR during the review period 2017-2023 on account of expanding medical and construction industries. The Asia Pacific Polyisoprene Market is predicted to experience a rapid growth due to increasing urbanization and population in various countries such as such as China, India, Japan, and Indonesia over the forecast period.
North American Isoprene Market is predicted to witness a tremendous growth on account of high consumption potential, increasing production capacities, and rising economic growth rate. In North American region, the U.S. & Canada are predicted to be the major contributors to the regional growth of Isoprene Market and are expected to see a significant demand for isoprene during the forecast period 2017-2023. Increasing demand for automobile and medical appliances are driving the market. In Europe, the demand for Isoprene is predicted to grow in various countries such as Italy, Germany, Spain, the UK, France, and Russia on account of increasing expenditure in innovation in automobile, cosmetic products awareness and growing purchasing power of consumers. Moreover, presence of major automobile manufacturers, specifically, in Germany is expected to give a new impetus to the market growth. In the Middle East, the growing demand from construction and automobile industries are likely to boost the isoprene market over the forecast period. Latin American countries such as Argentina, Colombia, and Brazil are also predicted to witness a substantial growth owing to increasing consumer spending on passenger cars as well as involvement of new technologies and inventions in isoprene.
Segmentation:
The Global Isoprene Market is categorized on the basis of grade, application, and region. On the basis of grade, the market is bifurcated into polymer grade, and chemical grade. On the basis of application, the Isoprene Market is categorized into styrene isoprene styrene, block copolymer, isobutyl isoprene, polyisoprene. On the basis of the region, the market is categorized into Asia Pacific, Europe, Latin America, North America, and the Middle East & Africa.
Key Players:
Some of the prominent players operating in the Global Isoprene Market are The Goodyear Tire & Rubber Company (the U.S.), SIBUR (Russia), Royal Dutch Shell plc (the Netherlands), LyondellBasell Industries N.V. (the Netherlands), ZEON CORPORATION (Japan), Ningbo Jinhai Chenguang Chemical Corporation (China), PJSC Nizhnekamskneftekhim (Russia), Kuraray Co., Ltd (Japan), Chevron Phillips Chemical Company (the U.S.), and Exxon Mobil Corporation (the U.S.) among others.
Intended Audience



Isoprene Manufacturers




Traders and Distributors of Isoprene




Production Process Industries




Potential Investors




Raw Material Suppliers




Nationalized Laboratory



Table of Contents:

1 Executive Summary

2 Scope of the Report

2.1 Market Definition

2.2 Scope of the Study

2.2.1 Research Objectives

2.2.2 Assumptions & Limitations

2.3 Markets Structure

3 Market Research Methodology

3.1 Research Grade

3.2 Secondary Research

3.3 Primary Research

3.4 Forecast Model

4 Market Landscape

4.1 Five Forces Analysis

4.1.1 Threat of New Entrants

4.1.2 Bargaining power of buyers

4.1.3 Threat of substitutes

4.1.4 Segment rivalry

4.2 Value Chain/Supply Chain of Global Isoprene Market

5 Industry Overview of Global Isoprene Market

5.1 Introduction

5.2 Growth Drivers

5.3 Impact analysis

5.4 Market Challenges

6 Market Trends

6.1 Introduction

6.2 Growth Trends

6.3 Impact analysis

7. Global Isoprene Market by Grade

7.1 Introduction

7.2 Polymer Grade

7.2.1 Market Estimates & Forecast, 2017-2023

7.2.2 Market Estimates & Forecast by Region, 2017-2023

7.3 Chemical Grade

7.3.1 Market Estimates & Forecast, 2017-2023

7.3.2 Market Estimates & Forecast by Region, 2017-2023

8. Global Isoprene Market by Application

8.1 Introduction

8.2 Styrene Isoprene Styrene

8.2.1 Market Estimates & Forecast, 2017-2023

8.2.2 Market Estimates & Forecast by Region, 2017-2023

8.3 Isobutylene Isoprene

8.3.1 Market Estimates & Forecast, 2017-2023

8.3.2 Market Estimates & Forecast by Region, 2017-2023

8.4 Polyisoprene

8.4.1 Market Estimates & Forecast, 2017-2023

8.4.2 Market Estimates & Forecast by Region, 2017-2023

8.5 Others

8.5.1 Market Estimates & Forecast, 2017-2023

8.5.2 Market Estimates & Forecast by Region, 2017-2023

9. Global Isoprene Market by End-Use Industry

9.1 Introduction

9.2 Automotive

9.2.1 Market Estimates & Forecast, 2017-2023

9.2.2 Market Estimates & Forecast by Region, 2017-2023

9.3 Personal Care

9.3.1 Market Estimates & Forecast, 2017-2023

8.3.2 Market Estimates & Forecast by Region, 2017-2023

9.4 Construction

9.4.1 Market Estimates & Forecast, 2017-2024

8.4.2 Market Estimates & Forecast by Region, 2017-2024

9.5 Medical

9.5.1 Market Estimates & Forecast, 2017-2025

8.5.2 Market Estimates & Forecast by Region, 2017-2025

9.6 Others

9.6.1 Market Estimates & Forecast, 2017-2026

9.6.2 Market Estimates & Forecast by Region, 2017-2026

10. Global Isoprene Market by Region

10.1 Introduction

10.2 North America

10.2.1 Market Estimates & Forecast, 2017-2023

10.2.2 Market Estimates & Forecast by Grade, 2017-2023

10.2.3 Market Estimates & Forecast by Application, 2017-2023

10.2.4 Market Estimates & Forecast by End-use industry, 2017-2023

10.2.5 US

10.2.5.1 Market Estimates & Forecast, 2017-2023

10.2.5.2 Market Estimates & Forecast by Grade, 2017-2023

10.2.5.3 Market Estimates & Forecast by Application, 2017-2023

10.2.5.4 Market Estimates & Forecast by End-use industry, 2017-2023

10.2.6 Canada

10.2.6.1 Market Estimates & Forecast, 2017-2023

10.2.6.2 Market Estimates & Forecast by Grade, 2017-2023

10.2.6.3 Market Estimates & Forecast by Application, 2017-2023

10.2.6.4 Market Estimates & Forecast by End-use industry, 2017-2023

10.2.7 Mexico

10.2.7.1 Market Estimates & Forecast, 2017-2023

10.2.7.2 Market Estimates & Forecast by Grade, 2017-2023

10.2.7.3 Market Estimates & Forecast by Application, 2017-2023

10.2.7.4 Market Estimates & Forecast by End use industry, 2017-2023

10.3 Europe

10.3.1 Market Estimates & Forecast, 2017-2023

10.3.2 Market Estimates & Forecast by Grade, 2017-2023

10.3.3 Market Estimates & Forecast by Application, 2017-2023

10.3.4 Market Estimates & Forecast by End use industry, 2017-2023

10.3.5 Germany

10.3.5.1 Market Estimates & Forecast, 2017-2023

10.3.5.2 Market Estimates & Forecast by Grade, 2017-2023

10.3.5.3 Market Estimates & Forecast by Application, 2017-2023

10.3.5.4 Market Estimates & Forecast by End use industry, 2017-2023

10.3.6. France

10.3.6.1 Market Estimates & Forecast, 2017-2023

10.3.6.2 Market Estimates & Forecast by Grade, 2017-2023

10.3.6.3 Market Estimates & Forecast by Application, 2017-2023

10.3.6.4 Market Estimates & Forecast by End use industry, 2017-2023

10.3.7 Italy

10.3.7.1 Market Estimates & Forecast, 2017-2023

10.3.7.2 Market Estimates & Forecast by Grade, 2017-2023

10.3.7.3 Market Estimates & Forecast by Application, 2017-2023

10.3.7.4 Market Estimates & Forecast by End use industry, 2017-2023

10.3.8 Spain

10.3.8.1 Market Estimates & Forecast, 2017-2023

10.3.8.2 Market Estimates & Forecast by Grade, 2017-2023

10.3.8.3 Market Estimates & Forecast by Application, 2017-2023

10.3.8.4 Market Estimates & Forecast by End use industry, 2017-2023

10.3.9 UK

10.3.9.1 Market Estimates & Forecast, 2017-2023

10.3.9.2 Market Estimates & Forecast by Grade, 2017-2023

10.3.9.3 Market Estimates & Forecast by Application, 2017-2023

10.3.9.4 Market Estimates & Forecast by End use industry, 2017-2023

10.4 Asia Pacific

10.4.1 Market Estimates & Forecast, 2017-2023

10.4.2 Market Estimates & Forecast by Grade, 2017-2023

10.4.3 Market Estimates & Forecast by Application, 2017-2023

10.4.4 Market Estimates & Forecast by End use industry, 2017-2023

10.4.5 China

10.4.5.1 Market Estimates & Forecast, 2017-2023

10.4.5.2 Market Estimates & Forecast by Grade, 2017-2023

10.4.5.3 Market Estimates & Forecast by Application, 2017-2023

10.4.5.4 Market Estimates & Forecast by End use industry, 2017-2023

10.4.6 India

10.4.6.1 Market Estimates & Forecast, 2017-2023

10.4.6.2 Market Estimates & Forecast by Grade, 2017-2023

10.4.6.3 Market Estimates & Forecast by Application, 2017-2023

10.4.6.4 Market Estimates & Forecast by End use industry, 2017-2023

10.4.7 Japan

10.4.7.1 Market Estimates & Forecast, 2017-2023

10.4.7.2 Market Estimates & Forecast by Grade, 2017-2023

10.4.7.3 Market Estimates & Forecast by Application, 2017-2023

10.4.7.4 Market Estimates & Forecast by End use industry, 2017-2023

10.4.8 South Korea

10.4.8.1 Market Estimates & Forecast, 2017-2023

10.4.8.2 Market Estimates & Forecast by Grade, 2017-2023

10.4.8.3 Market Estimates & Forecast by Application, 2017-2023

10.4.8.4 Market Estimates & Forecast by End use industry, 2017-2023

10.4.9 Malaysia

10.4.9.1 Market Estimates & Forecast, 2017-2023

10.4.9.2 Market Estimates & Forecast by Grade, 2017-2023

10.4.9.3 Market Estimates & Forecast by Application, 2017-2023

10.4.9.4 Market Estimates & Forecast by End use industry, 2017-2023

10.4.10 Rest of Asia Pacific

10.4.10.1 Market Estimates & Forecast, 2017-2023

10.4.10.2 Market Estimates & Forecast by Grade, 2017-2023

10.4.10.3 Market Estimates & Forecast by Application, 2017-2023

10.4.10.4 Market Estimates & Forecast by End use industry, 2017-2023

10.5 The Middle East & Africa

10.5.1 Market Estimates & Forecast, 2017-2023

10.5.2 Market Estimates & Forecast by Grade, 2017-2023

10.5.3 Market Estimates & Forecast by Application, 2017-2023

10.5.4 Market Estimates & Forecast by End use industry, 2017-2023

10.5.5 Turkey

10.5.5.1 Market Estimates & Forecast, 2017-2023

10.5.5.2 Market Estimates & Forecast by Grade, 2017-2023

10.5.5.3 Market Estimates & Forecast by Application, 2017-2023

10.5.5.4 Market Estimates & Forecast by End use industry, 2017-2023

10.5.6 Israel

10.5.6.1 Market Estimates & Forecast, 2017-2023

10.5.6.2 Market Estimates & Forecast by Grade, 2017-2023

10.5.6.3 Market Estimates & Forecast by Application, 2017-2023

10.5.6.4 Market Estimates & Forecast by End use industry, 2017-2023

10.5.7 North Africa

10.5.7.1 Market Estimates & Forecast, 2017-2023

10.5.7.2 Market Estimates & Forecast by Grade, 2017-2023

10.5.7.3 Market Estimates & Forecast by Application, 2017-2023

10.5.7.4 Market Estimates & Forecast by End use industry, 2017-2023

10.5.8 GCC

10.5.8.1 Market Estimates & Forecast, 2017-2023

10.5.8.2 Market Estimates & Forecast by Grade, 2017-2023

10.5.8.3 Market Estimates & Forecast by Application, 2017-2023

10.5.8.4 Market Estimates & Forecast by End use industry, 2017-2023

10.5.9 Rest of Middle East & Africa

10.5.9.1 Market Estimates & Forecast, 2017-2023

10.5.9.2 Market Estimates & Forecast by Grade, 2017-2023

10.5.9.3 Market Estimates & Forecast by Application, 2017-2023

10.5.9.4 Market Estimates & Forecast by End use industry, 2017-2023

10.6 Latin America

10.6.1 Market Estimates & Forecast, 2017-2023

10.6.2 Market Estimates & Forecast by Grade, 2017-2023

10.6.3 Market Estimates & Forecast by Application, 2017-2023

10.6.4 Market Estimates & Forecast by End use industry, 2017-2023

10.6.5 Brazil

10.6.5.1 Market Estimates & Forecast, 2017-2023

10.6.5.2 Market Estimates & Forecast by Grade, 2017-2023

10.6.5.3 Market Estimates & Forecast by Application, 2017-2023

10.6.5.4 Market Estimates & Forecast by End use industry, 2017-2023

10.6.6 Argentina

10.6.6.1 Market Estimates & Forecast, 2017-2023

10.6.6.2 Market Estimates & Forecast by Grade, 2017-2023

10.6.6.3 Market Estimates & Forecast by Application, 2017-2023

10.6.6.4 Market Estimates & Forecast by End use industry, 2017-2023

10.6.7 Rest of Latin America

10.6.7.1 Market Estimates & Forecast, 2017-2023

10.6.7.2 Market Estimates & Forecast by Grade, 2017-2023

10.6.7.3 Market Estimates & Forecast by Application, 2017-2023

10.6.7.4 Market Estimates & Forecast by End use industry, 2017-2023

11. Company Landscape

12. Company Profiles

12.1 The Goodyear Tire & Rubber Company

12.1.1 Company Overview

12.1.2 Product/Business Segment Overview

12.1.3 Financial Updates

12.1.4 Key Developments

12.2 SIBUR

12.2.1 Company Overview

12.2.2 Product/Business Segment Overview

12.2.3 Financial Updates

12.2.4 Key Developments

12.3 Royal Dutch Shell plc

12.3.1 Company Overview

12.3.2 Product/Business Segment Overview

12.3.3 Financial Updates

12.3.4 Key Developments

12.4 LyondellBasell Industries N.V.

12.4.1 Company Overview

12.4.2 Product/Business Segment Overview

12.4.3 Financial Updates

12.4.4 Key Developments

12.5 ZEON CORPORATION

12.5.1 Company Overview

12.5.2 Product/Business Segment Overview

12.5.3 Financial Updates

12.5.4 Key Developments

12.6 Ningbo Jinhai Chenguang Chemical Corporation

12.6.1 Company Overview

12.6.2 Product/Business Segment Overview

12.6.3 Financial Updates

12.6.4 Key Developments

12.7 PJSC Nizhnekamskneftekhim

12.7.1 Company Overview

12.7.2 Product/Business Segment Overview

12.7.3 Financial Updates

12.7.4 Key Developments

12.8 Kuraray Co., Ltd

12.8.1 Company Overview

12.8.2 Product/Business Segment Overview

12.8.3 Financial Updates

12.8.4 Key Developments

12.9 Chevron Phillips Chemical Company

12.9.1 Company Overview

12.9.2 Product/Business Segment Overview

12.9.3 Financial Updates

12.9.4 Key Developments

12.10 Exxon Mobil Corporation

12.10.1 Company Overview

12.10.2 Product/Business Segment Overview

12.10.3 Financial Updates

12.10.4 Key Developments

13 Conclusion
List of Tables:

Table 1 World Population by Major Regions (2016 To 2030)

Table 2 Global Isoprene Market: By Region, 2016-2023

Table 3 North America Isoprene Market: By Country, 2016-2023

Table 4 Europe Isoprene Market: By Country, 2016-2023

Table 5 Asia-Pacific Isoprene Market: By Country, 2016-2023

Table 6 The Middle East & Africa Isoprene Market: By Country, 2016-2023

Table 7 Latin America Isoprene Market: By Country, 2016-2023

Table 8 Global Isoprene by Grade Market: By Regions, 2016-2023

Table 9 North America Isoprene by Grade Market: By Country, 2016-2023

Table10 Europe Isoprene by Grade Market: By Country, 2016-2023

Table11 Asia-Pacific Isoprene by Grade Market: By Country, 2016-2023

Table12 Middle East & Africa Isoprene by Grade Market: By Country, 2016-2023

Table13 Latin America Isoprene by Grade Market: By Country, 2016-2023

Table14 Global Isoprene by Application Market: By Regions, 2016-2023

Table15 North America Isoprene by Application Market: By Country, 2016-2023

Table16 Europe Isoprene by Application Market: By Country, 2016-2023

Table17 Asia-Pacific Isoprene by Application Market: By Country, 2016-2023

Table18 Middle East & Africa Isoprene by Application Market: By Country, 2016-2023

Table19 Latin America Isoprene by Application Market: By Country, 2016-2023

Table20 North America Isoprene for End Use Industry Market: By Country, 2016-2023

Table21 Europe Isoprene for End Use Industry Market: By Country, 2016-2023

Table22 Asia-Pacific Isoprene for End Use Industry Market: By Country, 2016-2023

Table23 Middle East & Africa Isoprene for End Use Industry Market: By Country, 2016-2023

Table24 Latin America Isoprene for End Use Industry Market: By Country, 2016-2023

Table25 Global Grade Market: By Region, 2016-2023

Table26 Global End Use Industry Market: By Region, 2016-2023

Table27 Global End Use Industry Market: By Region, 2016-2023

Table28 North America Isoprene Market, By Country

Table29 North America Isoprene Market, By Grade

Table30 North America Isoprene Market, By Application

Table31 North America Isoprene Market, By End Use Industry

Table32 Europe: Isoprene Market, By Country

Table33 Europe: Isoprene Market, By Grade

Table34 Europe: Isoprene Market, By Application

Table35 Europe: Isoprene Market, By End Use Industry

Table36 Asia-Pacific: Isoprene Market, By Country

Table37 Asia-Pacific: Isoprene Market, By Grade

Table38 Asia-Pacific: Isoprene Market, By Application

Table39 Asia-Pacific: Isoprene Market, By End Use Industry

Table40 Middle East & Africa: Isoprene Market, By Country

Table41 Middle East & Africa Isoprene Market, By Grade

Table42 Middle East & Africa Isoprene Market, By Application

Table43 Middle East & Africa: Isoprene Market, By End Use Industry

Table44 Latin America: Isoprene Market, By Country

Table45 Latin America Isoprene Market, By Grade

Table46 Latin America Isoprene Market, By Application

Table47 Latin America: Isoprene Market, By End Use Industry
List Of Figures:

FIGURE 1 Global Isoprene market segmentation

FIGURE 2 Forecast Methodology

FIGURE 3 Five Forces Analysis of Global Isoprene Market

FIGURE 4 Value Chain of Global Isoprene Market

FIGURE 5 Share of Global Isoprene Market in 2016, by country (in %)

FIGURE 6 Global Isoprene Market, 2016-2023,

FIGURE 7 Sub segments of Grade

FIGURE 8 Global Isoprene Market size by Grade, 2016

FIGURE 9 Share of Global Isoprene Market by Grade, 2016 to 2023

FIGURE 10 Global Isoprene Market size by Application, 2016

FIGURE 11 Share of Global Isoprene Market by Application, 2016 to 2023

FIGURE 12 Global Isoprene Market size by End Use Industry, 2016

FIGURE 13 Share of Global Isoprene Market by End Use Industry, 2016 to 2023