Interactive Projector Market synopsis
Interactive projectors can help the presenter connect with the projected image by adding sensors to the standard projector to track movements and add them to the projected image. The projected image from projector transforms into a huge writing board. The signals are sent with the help of an electronic pen to the projector, which then displays the appropriate output. The presenter can interact with the projector or the displayed image using an electronic or mechanical stylus or gestures using fingers.
Rapid advancements in technology have led most of the educational institutions to focus on virtual as well as e-learning methodologies. Various schools have adopted interactive and engaging teaching methods in schools to facilitate the learning experience. Organizations make use of interactive projectors while explaining new modules to their employees during a presentation. Most of the developing countries are unaware of this technology; as a result, there is a slow adoption rate in these countries. As well as due to high set-up cost incurred in installation, the technology has a major setback.
On April 10, 2018, California based company Yinscorp has introduced Count projector, a pico projector and LED desk lamp which can transform any smartphone into an interactive desktop augmented reality projector. It projects the image on real objects so that the user can touch and feel the texture of the objects instead of a flat display screen.
Argentum lodge, a nursing home in Nailsea, England are seeking £7,000 for installation of Tovertafel projector to aid people suffering from dementia, autism, and learning disabilities. This projector is incorporated with interactive games, helping the patients in stimulating physical activity and encourage social interaction.
Christie group of companies had transformed TCL Chinese Theatre in California into an architectural screen where they have displayed visuals of handprints, Chinese dragons and clips from memorable films. For the same, Christie has won APEX Award in "Arts, entertainment, and recreation" category for "Hollywood Lights".
Interactive Projector Market Segmentation
By Display Type : DLP (Digital Light Processing), LCD (Liquid Color Display) and LCoS (Liquid Crystal on Silicon).
By Projection Distance : Ultra-Short Throw, Short Throw, and Standard Throw.
By Resolution : XGA, Wide XGA, HD and Wide UXGA.
By Dimension : 2D and 3D.
By Application : Education, Healthcare, Media & Advertisement, Hospitality & Tourism, Enterprises and Others.
Global Interactive Projector Market, USD Billions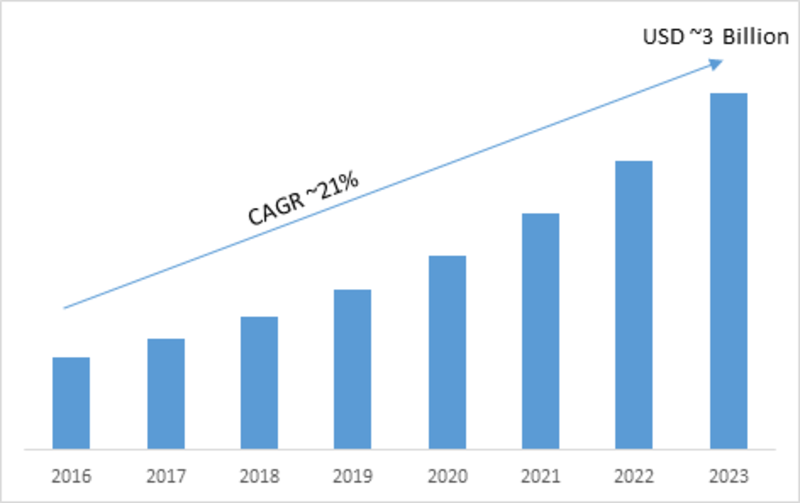 Interactive Projector Market Regional Analysis
The global interactive projector market is estimated to grow at a significant rate during the forecast period from 2017 to 2023. The geographical analysis of interactive projector market is studied for North America, Europe (including Russia), Asia Pacific (including Australia and New Zealand), and the rest of the world (including the Middle East, Africa, and Southern America).
Since interactive projectors are primarily used for educational purpose, most educational institutes have already installed this technology in their schools. Offices have also adopted the use of interactive projectors for presentations and conferences. Due to the high acceptance of interactive projectors in North America, it will lead the market during the forecasting period. The government, as well as corporate sector in North America, have also adopted this technology.
Sony's Xperia Touch Interactive Projector was launched in the European market in June 2017. Xperia Touch is Android 7.0 Nougat based projector that can project 23" 768p interactive screen onto any flat surface. Accompanied with infrared sensors, it becomes easy to see gestures and taps. Also, it turns on as soon as it recognizes motion.
Key players
The prominent players in the interactive projector market are - Seiko Epson Corporation (Japan), BenQ Corporation (Taiwan), ViewSonic Corporation (U.S), Dell Inc. (U.S), Hitachi, Ltd. (Japan), Optoma Corporation (Taiwan), Christie Digital (U.S), NEC Corporation (Japan), Touchmagix (U.S), Sony Corporation (Japan), Touchjet, Inc. (U.S), Panasonic Corporation (Japan).
Other players in the market include Boxlight Mimio (U.S), Delta Electronics (Taiwan), Vivitek Corporation (U.K.), Casio (Japan), Infocus Corporation (U.S), Mitsubishi Corporation (Japan).
Intended Audience



Educational institues




Research organizations




Corporate firms




OEM




End users




Raw material vendors




Distributors




Component providers




Manufacturers



Frequently Asked Questions (FAQ) :
---