Insulated Concrete Form Market Overview
An insulated concrete form is a strong and energy-efficient system of formwork for buttress concrete which is made with help of rigid thermal insulation that stays in its place as a permanent coating for roof walls and floors internally as well as externally. The ICF material makes the buildings natural disaster-resistant. ICFs result in concrete walls that are placed in between the two layers of insulation material. The walls made up with such material are usually thicker and some paintwork and finishes are done so that the building looks like other typical construction. The advantages attached to using ICFs are strong walls, sound blocking ability, provides overall comfort, money-saving, and most importantly disaster-resistant.
The insulated concrete form market share is expected to grow from USD 1.05 billion in 2017 to USD 1.49 billion by the end of 2027, with a compound annual growth rate of 7% during the period of forecast. ICFs are used in constructing every type of building from residential to commercial to industrial.
Covid-19 Analysis
The coronavirus pandemic has given a very tough time to most of the manufacturing, developing, production, and logistic units of the market. The construction sector is very sensitive to the economic cycles and it has been impacted very seriously due to this pandemic. The impact on the construction sector has in turn lead to a great smash to the insulated concrete form industry. Due to lockdown restrictions, no person was allowed to work so there was no labor to work in the construction sector and if there was adequate labor available then there was a shortage of ICFs and other materials as the manufacturing industries were also closed. Other factors like supply chain disruptions and closing of contracts to control expenses. Every day about an estimated loss of 30,000 cr. is faced by the global market in this pandemic. The investment in the insulated concrete form market is decreased by 13-30% during the pandemic. Now as the COVID situation is improving and the restrictions have become lighter there is a sudden rise in the construction markets.

Segmentation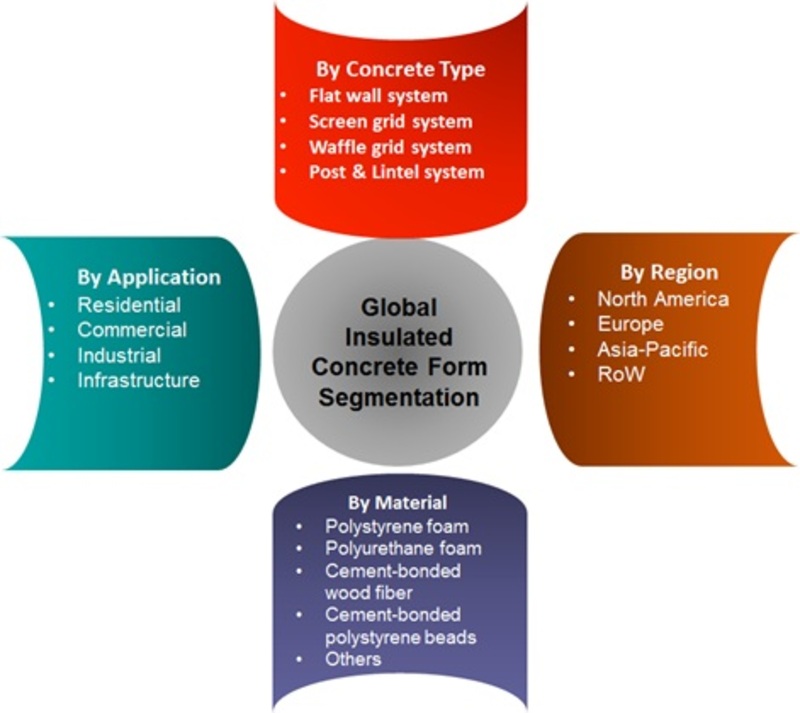 Market dynamics
Drivers
The rising infrastructural and construction activities are the major factors driving the insulated concrete form market growth. Different people or consumers have different types of demands like disaster restraint building, soundproof walls, etc. and all of that can be cured by using insulated concrete forms during constructions. Thermal insulation performances are enhanced by making slight changes in manufacturing ICFs and its popularity is increasing day by day among consumers, which in turn is a major factor driving the market growth. Expanded Polystyrene Foam (EPS) and polyurethane are the raw materials used in ICFs building that are energy efficient and increase the insulation of construction space. The insulated concrete form can absorb radiations and are recyclable and makes the building energy efficient. The use of insulated concrete forms also reduces the construction time. Many people are frightened of natural disasters like cyclone earthquakes tsunami etc., so they want their house to be built so strongly bonded that none of these can affect it and this is the reason why every new house building today is constructed with the usage of insulated concrete form.
Restraints
The insulated concrete form industry has lived through many changes in terms of technological advancements and their applications. The raw material used in the manufacturing of insulated concrete form is very expensive as compared to old-fashioned alternatives. The use of the insulated concrete form for standing a building is very skilled work that requires very skilled labor. And in most countries, there is a shortage of skilled labor. So when we combine the purchase and use of insulated concrete form and the cost of skilled labor makes up an expensive process. This factor hampers the market to a great extent. However, another factor that acts as a barrier in insulated concrete form industry growth is the lack of awareness among people about the latest construction technologies and their advantages like energy efficiency and sustainability.
Technology Analysis
As the towns are getting converted into cities and the population is moving from rural to urban areas, this is increasing the demand for construction projects and stimulating the insulated concrete form market growth. There is a positive shift in the lifestyles of people as they are polishing their living standards and are expecting comfortable, durable, and energy-efficient buildings. The reason for this shift is the increase in the disposable income of people. Many key players are taking initiatives and are making people aware of the technological advancements in the construction sector.
Study Objectives



To bring and study the viewpoint of various industry experts and leaders together and anticipate the compound annual growth rate and market growth rate by the end of the global forecast in 2023.




To take out a competitive market outlook and analyze the output models of key market players, worldwide.




To examine the various market dynamics like trends, drivers, and opportunities that are most likely to play a role in helping the market and its different segments growing in the domestic as well as international market.



Segment Overview
Insulated concrete form market share is anticipated to witness significant growth owing to the performance of different market segments. Among all segments, the polystyrene foam material segment will be the fastest-growing segment. This polystyrene foam has features like lightweight, long-term durability, less thermal conductivity, and moisture resistance. Its property of closed-cell structure is what makes it different from others. For an amplifying use the market is segmented into the following on different bases:



Based on application it has residential, commercial, industrial, and infrastructure.




Based on concrete type, it has a flat wall system, screen grid system, waffle grid system, and post and lintel system




Based on material, it has polystyrene foam, polyurethane form, cement-bonded wood fiber, and cement-bonded polystyrene beads, and others.



Regional Analysis
The insulated concrete form industry movements are significantly working in 3 major regions of the world Europe, Asia Pacific, North America, and the rest of the world. North America is anticipated to be the largest market and may witness significant growth over the forecast period with a CAGR of 4.8%. The reasons attributed to it are the increasing number of residential and construction activities and additionally massive investments made by the government in the construction sector. Europe is expected to be the second biggest market after North America as there is an increase in demand for thermal insulation for residential buildings and the initiation of government programs for promoting thermal insulation. Asia Pacific region will be the fastest-growing region during the forecast period. The market valuation is expected to be USD 25 Billion by the end of the forecast period. USD 40 billion and USD 35 billion are anticipated to be the respective market valuation of North America and Europe.
Competitive Landscape
To get a detailed and acute idea about the insulated concrete form market insights, it is very crucial to create a competitive environment amongst the different key players at different market locations all around the globe. This very industry prime players include raw material manufacturers and suppliers, such as:-



NUDURA Corporation (Canada)




Quad-Lock Building Systems (Canada)




AMVIC (Canada)




Fox Blocks (US)




BASF (Germany).



Recent Developments
The leading manufacturer and supplier of the insulated concrete form named, NUDURA Corporation and its acquisition with RPM international Inc. were announced on 11th of September, 2018.



Stiles manufacturing LLC. Was acquired by AIRTILE plastics co. True grid pavers manufactured by stiles manufacturing were made from recycled high-density polythene. The acquisition was made with aim of offering more sustainable products to its consumers.




A cell manufacturing technology that uses a large 3D printer to solidify building material was developed by branch technology.




In December 2019, BASF started using the balancing method and replaced 100% fossil raw materials with sustainable and renewable raw materials like biogas.




In March 2015, KORE declared its participation in SEAI's better home scheme by providing wall insulation and attic insulation to its consumers.



Intended Audience
Insulated concrete form manufactures



Distributors & Suppliers




Environmental Associations




Research Institute / Education Institute




Potential Investors



Report Overview
The insulated concrete form market report presents a shift analysis that covers market drivers, opportunities, and restraints that are available in the global market. The report takes into account the impact of covid-19 on the key players of the insulated concrete form industry. The report also informs us about the segmentation of the market on a different basis and how a competitive environment is created among the key players around the globe. At last, the report shows some recent developments in the insulated concrete form market.
Report Scope:
Report Attribute/Metric
Details
Market Size
2027: Significant Value
CAGR
7% CAGR (2020-2027)
Base Year
2019
Forecast Period
2020-2027
Historical Data
2018
Forecast Units
Value (USD Million)
Report Coverage
Revenue Forecast, Competitive Landscape, Growth Factors, and Trends
Segments Covered
Concrete Shape, Material, Application
Geographies Covered
North America, Europe, Asia-Pacific, and Rest of the World (RoW)
Key Vendors
IntegraSpec ICF, Quad-Lock Building Systems Ltd., Nudura Corporation, Logix Insulated Concrete Forms Ltd., Reward Wall Systems Inc., Amvic Building System, BuildBlock Building Systems Inc., Plasti-Fab Expanded Polystyrene Product Solutions, Durisol Building System Inc., and Airlite Plastics Company
Key Market Opportunities
The growing construction industry
Growing demand for natural disaster resistant buildings
Key Market Drivers
The growing construction & infrastructural activities
Frequently Asked Questions (FAQ) :
---