Market Synopsis
Global Inline Metrology Market is estimated to reach USD 892.7 Million by 2026, registering a CAGR of 15.1% during the forecast period, 2020–2026.
Inline metrology refers to automated, reliable, and non-destructive measurements of parts and equipment in a production line that is in motion. The increasing automation and rising throughput of manufacturing lines have propelled the need for efficient quality control and rapid inline metrology systems for data acquisition and statistical data analysis. Inline metrology systems are generally applied in the production of photovoltaics, OLED/OPV, displays, touch panels, and glass coatings. Quality control processes fall into two distinct environments—metrology laboratories where first, article parts are digitized offline, typically using contact-based solutions, and factories, where parts are inspected in fast-moving inline processes using non-contact optical methods. Speed is one of the major differentiators between metrology and inline inspection environments. Inline inspection requires non-contact scanning of the targets. Laser triangulation and structured light 3D sensors are the most common solutions for digitization.
Industry News


In August 2020, Mitutoyo America Corporation expanded its portfolio of Custom Solutions by introducing "end-to-end solutions" for all its customers' needs. These solutions enabled the company to offer customized products and advanced technology for specific applications. The Custom Solutions offer a variety of services and capabilities including sensor customization and inline inspection, designing and building custom fixtures, sensors, part loading/holding systems, optics, algorithms, firmware, user software and fully-automated, and closed-loop solutions to incorporate precision measurement and inspection into a company's manufacturing process.




In August 2018, Atlas Copco, a developer of sustainable productivity solutions, acquired German QUISS (Qualitäts-Inspektionssysteme und Service) AG. QUISS AG specializes in machine vision solutions for quality inspection and robot guidance, used mainly in the automotive industry.




In January 2018, Novacam Technologies developed a system that provides fast, micron-precision, non-contact measurements of bore internal diameter (ID) surfaces. The BoreInspect is a 3D imaging system based on high-speed low-coherence interferometry, which is used for the automated inspection of boreholes.


Segmentation
Global Inline Metrology Market has been segmented based on Product, Application, Vertical, and Region.
By Product, the market has been segmented into coordinate measuring machines (CMM), machine vision systems, multisensor measuring systems, optical scanners, laser trackers, and others.
By Application, the market has been segmented into quality control and inspection, reverse engineering, and others.
By Vertical, the market has been segmented into automotive, aerospace, semiconductors, energy & power, and others.
By Region, the market has been segmented into North America, Europe, Asia-Pacific, and the rest of the world.
Global Inline Metrology Market, 2018–2026 (USD Million)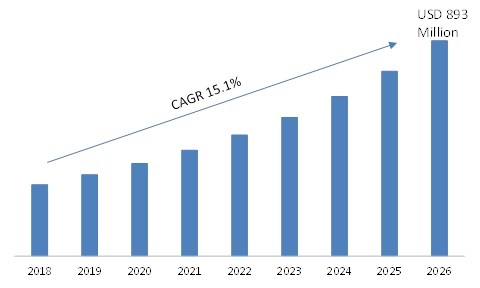 Source: MRFR Analysis
Regional Analysis
Global Inline Metrology Market is estimated to grow at a significant rate during the forecast period, 2020–2026. The geographic analysis of the inline metrology market has been conducted for North America (the US, Canada, and Mexico), Europe (the UK, Germany, France, Spain, Italy, and the rest of Europe), Asia-Pacific (China, Japan, India, and the rest of Asia-Pacific), and the rest of the world (the Middle East & Africa and South America). Among these regions, North America dominated the global market in 2019 and is expected to maintain its dominance throughout the forecast period. In contrast, the Asia-Pacific region is expected to witness the fastest growth during the forecast period. The growing adoption of AI and IoT technologies, along with the increasing integration of automation in manufacturing facilities, is expected to fuel the market in this region.
Key Players
MRFR recognizes the Key Players in the Global Inline Metrology Market. These include Hexagon AB (Sweden), Faro Technologies (US), Nikon Metrology, Inc. (US), Carl Zeiss (Germany), KLA-Tencor (US), Jenoptik Group (Germany), Renishaw plc (UK), Mitutoyo Corporation (Japan), Ametek, Inc. (US), Perceptron (US), Cognex Corporation (US), LMI Technologies (Canada), QIS Metrologies AB (Sweden), Inline Metrology Solutions (US), SYNERGX Technologies Inc. (Canada), WENZEL Präzision GmbH (Germany), Kuka AG (Germany), Fraunhofer Ise (Germany), ABB Ltd. (Switzerland), Metrologic Group (France), and Dwfritz Automation, Inc. (US). These players focus on innovation and, thus, invest in research & development to present cost-effective product portfolios. There have been recent mergers & acquisitions among the key players, a strategy the business entities leverage to strengthen their reach to the customers.
Intended Audience



Investors and Consultants




Government Organizations




Research/Consultancy Firms




Manufacturers




Safety Providers




Industries



Report Scope:
Report Attribute/Metric
Details
Market Size
USD 892.7 Million
CAGR
15.1%
Base Year
2019
Forecast Period
2020-2027
Historical Data
2018
Forecast Units
Value (USD Million)
Report Coverage
Revenue Forecast, Competitive Landscape, Growth Factors, and Trends
Segments Covered
Product, Application, Vertical and Region
Geographies Covered
North America, Europe, Asia-Pacific, and Rest of the World (RoW)
Key Vendors
Hexagon AB (Sweden), Faro Technologies (US), Nikon Metrology, Inc. (US), Carl Zeiss (Germany), KLA-Tencor (US), Jenoptik Group (Germany), Renishaw plc (UK), Mitutoyo Corporation (Japan), Ametek, Inc. (US), Perceptron (US), Cognex Corporation (US), LMI Technologies (Canada), QIS Metrologies AB (Sweden), Inline Metrology Solutions (US), SYNERGX Technologies Inc. (Canada), WENZEL Präzision GmbH (Germany), Kuka AG (Germany), Fraunhofer Ise (Germany), ABB Ltd. (Switzerland), Metrologic Group (France), and Dwfritz Automation, Inc. (US)
Key Market Opportunities
Adoption of AI and IoT technologies
Key Market Drivers
Increasing automation
Rising throughput of manufacturing lines
Frequently Asked Questions (FAQ) :
---