Hammertoe market information: by type (flexible hammer toes, rigid hammer toes) by diagnosis (physical exam, X-rays, others), by treatment (drugs, orthotic devices, surgery, others), by end users (hospitals & clinics, physiotherapy and orthopedic centers, others) - Global forecast till 2023

Market Synopsis of Global Hammertoe Market
Market scenario
Hammertoe is a foot deformity due to imbalance in the muscles, tendons or ligaments which normally hold the toe straight. A hammertoe has an abnormal bend in the middle joint of a toe and usually occur in the second, third and fourth toes. Hammertoe can be caused because of wearing wrong type of shoes such as high heels or shoes that are too short or narrow that force the toe into a bent position. Other reasons are foot structure such as bunions or other foot problems, trauma and certain muscle, nerve, or joint damage diseases such as osteoarthritis, rheumatoid arthritis, stroke, Charcot–Marie–Tooth disease, complex regional pain syndrome or diabetes. Changing your footwear and wearing shoe inserts may relieve the pain and pressure of hammertoe but severe cases require surgery to get relief..

The treatment in most cases consists of physical therapy and new shoes with soft, spacious toe boxes and in severe cases, surgery. The patient may also be prescribed toe exercises that can be done at home to stretch and strengthen the toe muscles. Physical exercises such as stretching the toes or picking things by the toes are also effective. In some cases a brace that pushes down on the toes to force them to stretch out their muscles is also prescribed.
Hammertoe can be of two types i.e. flexible hammer toes and rigid hammer toes. Flexible hammer toes are less serious and are still moveable at the joint and are in the developmental stage. Rigid hammer toes is more developed and more serious and can be seen in cases of severe arthritis. Rigid hammer toe are tight, with misaligned and immobile joint, generally requiring surgery.
The treatment of hammertoe include physiotherapy, drug treatment to relieve associated symptoms and surgery. The drawbacks of surgery include risk of infection, associated pain and hospital stay.
The global Hammertoe market is expected to reach US$ 450 million by 2023, and the market is projected to grow at a CAGR of ~ 5.2 % during the forecast period 2017-2023.

Research Methodology: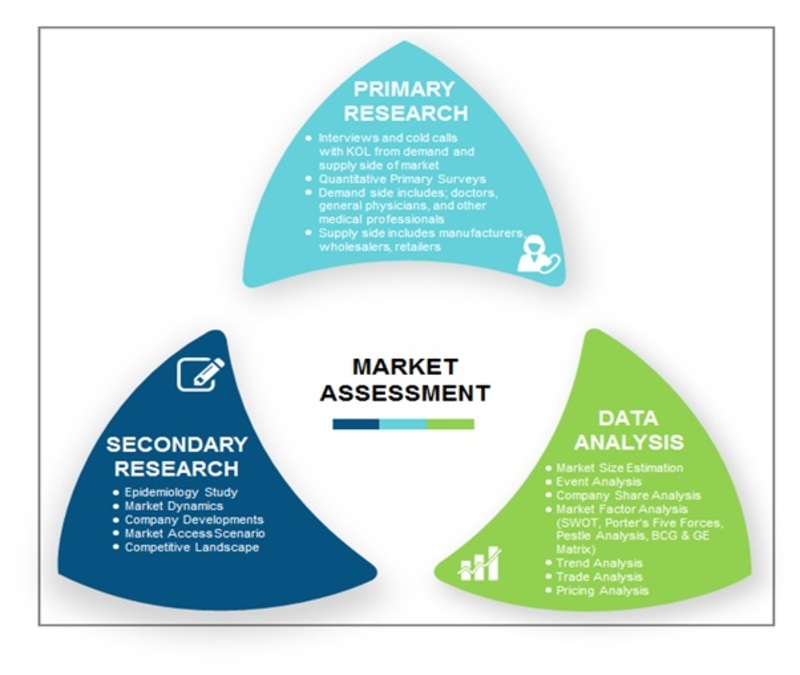 Sources: Mayo Clinic, MRFR Analysis
Intended Audience



Global Hammertoe treatment manufacturers & suppliers




Research and development (R&D) companies




Hospitals and clinics




Academic institutes and universities



Figure 1
Global Hammertoe Market by Treatment, 2016 (% market share)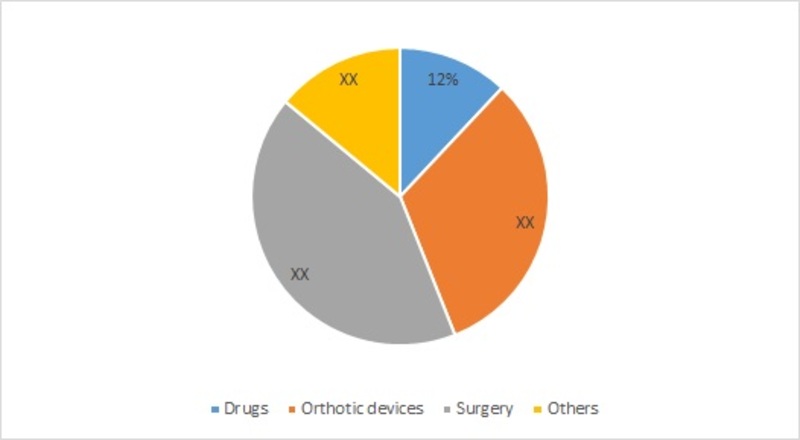 Segments:
The global Hammertoe market has been segmented on the basis of type, diagnosis, treatment and end users.
Based on type, the market has been segmented as flexible hammer toes and rigid hammer toes.
Based on the diagnosis, the market has been segmented into physical exam, X-rays and others.
Based on the treatment, the market has been segmented into drugs, orthotic devices, surgery and others.
Based on the end users, the market has been segmented as hospitals & clinics, physiotherapy and orthopedic centers and others.
Regional analysis:
The Americas account for a significant market share owing to extensive use of medications and high expenditure on the health care. Additionally, the fastest uptake of new technology in the US drives the global Hammertoe market. Also, concentration of major research companies and cancer research sector in the developed countries of this region is adding fuel to the market growth.
Europe is the second largest market in the world due to high income and healthcare penetration.
Asia Pacific region is expected to grow rapidly and China and India are likely to lead this market due to fast growing industrial sector during the forecast period.
Gulf nations such as Saudi Arabia and the UAE are estimated to drive the Middle East & African market. The African region is expected to witness a moderate growth owing to poor economic and political conditions and poor healthcare development.

Key Players in the Global Hammertoe Market
Some of key players profiled in the report are BioPro, Instratek, Stryker, Extremity Medical LLC, Arrowhead Medical Device Technologies, LLC, Wright Medical Group N.V., Nextremity Solutions, Inc., Smith & Nephew plc., Biomet, Inc., Acumed and others.

The report for Global Hammertoe market by Market Research Future comprises of extensive primary research along with the detailed analysis of qualitative as well as quantitative aspects by various industry experts, key opinion leaders to gain a deeper insight of the market and industry performance. The report gives a clear picture of the current market scenario which includes past and estimated future market size with respect to value and volume, technological advancement, macro economical and governing factors in the market. The report provides detail information about and strategies used by top key players in the industry. The report also gives a broad study of the different market segments and regions.

1. Introduction


1.1 Definition


1.2 Scope of Study


1.2.1 Research Objective


1.2.2 Assumptions & Limitations


1.2.2.1 Assumptions


1.2.2.2 Limitations


1.3 Market Structure


2. Research Methodology


2.1 Research Process


2.2 Primary Research


2.3 Secondary Research


3. Market dynamics


3.1 Drivers


3.2 Restraints


3.3 Opportunities


3.4 Macroeconomic Indicators


4. Market factor analysis


4.1 Porters Five Forces Model


4.2 Bargaining Power of Suppliers


4.3 Bargaining Power of Buyers


4.4 Threat of New Entrants


4.5 Threat of Substitutes


4.6 Intensity of Rivalry


5. Global Hammertoe Market, by Type


5.1 Flexible Hammer Toes


5.2 Rigid Hammer Toes


6. Global Hammertoe Market, by Diagnosis


6.1 Introduction


6.2 Physical Exam


6.3 X-Rays


6.4 Others


7. Global Hammertoe Market, by Treatment


7.1 Introduction


7.2 Drugs


7.3 Orthotic Devices


7.4 Surgery


7.5 Others


8. Global Hammertoe Market, by End Users


8.1 Introduction


8.2 Hospitals & Clinics


8.3 Physiotherapy And Orthopedic Centers


8.4 Others


9. Global Hammertoe Market, by Region


9.1 North America


9.1.1 Introduction


9.2 Europe


9.2.1 Introduction


9.3 Asia Pacific


9.3.1 Introduction


9.4 Middle East & Africa


9.4.1 Introduction


10. Competitive landscape


10.1 Major Strategies Adopted by Market Players


10.1.1 Strategic Partnership


10.1.2 Merger & Acquisition


11. Company profile


11.1 BioPro


11.1.1 Overview


11.1.2 Product Overview


11.1.3 Financials


11.1.4 Key Developments


11.2 Instratek


11.2.1 Overview


11.2.2 Product Overview


11.2.3 Financials


11.2.4 Key Developments


11.3 Stryker Corporation


11.3.1 Overview


11.3.2 Product Overview


11.3.3 Financials


11.3.4 Key Development


11.4 Extremity Medical LLC


11.4.1 Overview


11.4.2 Product Overview


11.4.3 Financials


11.4.4 Key Developments


11.5 Arrowhead Medical Device Technologies LLC


11.5.1 Overview


11.5.2 Product Overview


11.5.3 Financials


11.5.4 Key Developments


11.6 Wright Medical Group, Inc.


11.6.1 Overview


11.6.2 Product Overview


11.6.3 Financials


11.6.4 Key Developments


11.7 Nextremity Solutions, LLC


11.7.1 Overview


11.7.2 Product Overview


11.7.3 Financials


11.7.4 Key Developments


11.8 Smith & Nephew plc.


11.8.1 Overview


11.8.2 Product Overview


11.8.3 Financials


11.8.4 Key Developments


11.9 Biomet, Inc.


11.9.1 Overview


11.9.2 Product Overview


11.9.3 Financials


11.9.4 Key Developments


11.11 Others


12. Conclusion


12.1 Key Findings


12.1.1 From CEO's Viewpoint


12.1.2 Unmet Needs of The Market


12.2 Key Companies to Watch


12.3 Prediction of Hammertoe Industry


13. Appendix