Market Overview

Fluoropolymer Films Market is expected to grow at Significant CAGR from 2019 to 2023 as per MRFR Analysis
Fluoropolymers films are made of complex base materials, which offer high chemical resistance, weather resistance, low coefficient of friction, optical properties, and dielectric properties, and others. Superior properties possessed by the product makes it suitable for use in various end-use industries such as electrical & electronics, construction, automotive, aerospace, pharmaceutical, and renewable energy among others. The product is widely used in wire & cables, parts for semiconductor tubes, fuel tubes for vehicles, mold release for the microphone, roofing material, photovoltaic module, cap liner, and solar cells among others.
The global fluoropolymer films market growth is driven by the rapidly growing electrical & electronics industry worldwide. Surging demand for personal devices such as television, smartphones, smart watches, home appliances, and wearable devices is likely to propel the market growth. Miniaturization of electronic devices with technological advancements is another important factor boosting the market development globally.
Growing investment in the residential and commercial construction activities in the developing economies coupled with rising purchasing power and improving living standard of the consumers is uplifting the market growth. Increasing spending by the government in construction activities for the infrastructural development of the country is likely to exhibit lucrative opportunities to the fluoropolymer films market.
Furthermore, growing need for lightweight and fuel efficient vehicles owing to rising environmental regulations to reduce carbon emission is expected to fuel the product demand in both developed and developing regions.
In 2017, Dunmore, a leading engineered film company, introduced new adhesion-promoting technology for fluoropolymer films for use in applications that require printability, surface modification, and multi-layer laminations. Moreover, recently, Acton Technologies Inc., a world leader in fluoropolymer surface modification, has introduced new film- Calendered fluoropolymer film (modified PTFE film) to be used in the applications that require lightweight.
However, high cost of raw materials required for fluoropolymers synthesis is likely to affect the market growth negetively during the forecast period. Moreover, the complex production technique and lack of awareness may hamper the demand for fluoropolymer films.
Global Fluoropolymer films market share, by type (%)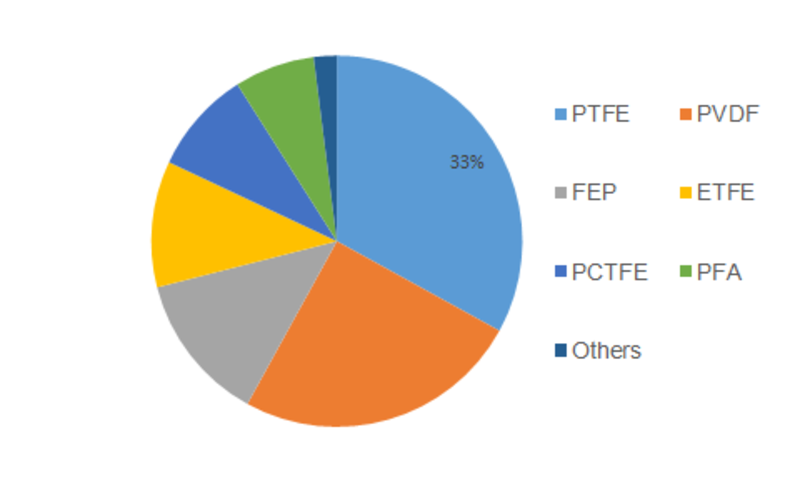 Source: MRFR analysis
Regional Analysis
Asia Pacific accounted for the largest market share in 2017 and is expected to witness a significant growth during the review period. Growing electronic industry in the developing economies such as India, China, and Thailand with surging demand for home appliances, smartphones, and laptops are driving the market growth. Additionally, increasing production of automobiles, especially in China coupled with rising purchasing power of the consumers, is stimulating the product demand.
North America is the prominent region in the global fluoropolymer films market as a result of escalating demand for the miniaturized electronics such as smartphones and wireless speakers among others. Reviving automotive industry with growing production of fuel-efficient and lightweight vehicles owing to rising environmental issues is uplifting the market growth.
Europe is another prominent region in the global market due to enlarging demand from the major end-use industries such as electrical & electronics, automotive, aerospace, and construction industry among others. Additionally, expanding construction industry with rising investment in commercial and residential construction activities owing to surging demand for energy-efficient buildings is expected to uplift the market growth.
Latin America is expected to exhibit a considerable growth during the review period as a result of booming automotive industry, especially in Brazil and Mexico in this region. The Middle East & Africa is likely to witness substantial growth in the upcoming years owing to the increasing construction activities in this region.
Segmentation
The global fluoropolymer films market is segmented by type, application, and region.
On the basis of the type, the global fluoropolymer market is segmented into polytetrafluoroethylene (PTFE), polyvinylidene difluoride (PVDF), fluorinated ethylene propylene (FEP), ethylene tetrafluoroethylene (ETFE), polychlorotrifluoroethylene (PCTFE), perfluoroalkoxy alkane (PFA) and others
Based on the application, the global fluoropolymer market is segmented into electrical & electronics, automobile, aerospace, construction, pharmaceuticals, packaging & specialty films, renewable energy, and others.
Based on the region, the market is divided into North America, Europe, Asia Pacific, Latin America, and the Middle East & Africa.
Key Players
Some of the key players in the global fluoropolymer market are DAIKIN Industries Ltd. (Japan), Chemrous Company (U.S.), DUNMORE Corporation (U.S.), DowDuPont (U.S.), Polyfon Technology Ltd. (U.K.), Saint-Gobain S.A. (France), Textiles Coated International (U.S.), Evonik Industries (Germany), ASAHI GLASS CO. LTD. (Japan), NITTO DENKO CORPORATION (Japan), 3M (U.S.), Honeywell International Inc (U.S.), Guarniflon S.p.A. (Italy), CHUKOH CHEMICALS INDUSTRIES, LTD. (Japan), and J.V. Corporation (India).
Intended Audience



Fluoropolymer films manufacturers




Traders and distributors of fluoropolymer films




Research and development institutes




Potential investors




Raw material suppliers




Nationalized laboratory



Frequently Asked Questions (FAQ) :
---