Global Extruded Plastics Market Information-by Type (Low Density Polyethylene, High Density Polyethylene, Styrene, and Others),

by End-User (Packaging, Building & Constructions, Automotive, Consumer Goods, and Others) and by Region - Forecast till 2022
Market Synopsis of Global Extruded Plastics Market
The global extruded plastics market is expected to grow at USD 280 billion in 2022 with the CAGR of 4.9% from 2016 to 2022.The drivers of this market are low feedstock and rise in energy price that tends to reduce the overall cost of extrudes. In-addition to this an innovation in extruded plastics to be utilized in medical and agriculture market will fuel this market. The polystyrene segment is expected to grow tremendously at the CAGR during the forecast period. Low thermal conductivity and poor resistance to oxygen and moisture make this resin a suitable material to be used in packaging of food products. In addition to this, polystyrene is an inexpensive thermoplastic resin to be used in, toys, construction and others. Polystyrene finds applications in food/non-food packaging, and in consumer products such as frames, cable ducts, tubes, sale displays/signage, containers, bottles, trays, tumblers, disposable cutlery and others.
Geographically, maximum consumer of extruded plastics market is in Asia-Pacific followed by U.S. in North America which shows a remarkable growth of the extruded plastics market due to the growing automobile sector there. Europe show a stable growth due to recent economic crises in Western Europe.
Study Objectives of Extruded Plastics Market:



Studying market overview of extruded plastics




Estimating the market size by type and end-user




To provide insights about market drivers, restrains and opportunities




To provide geographic market analysis and future outlook with respect to North America, Europe, Asia along with other parts of the world




To analyze the present status and future growth of global

extruded plastics

market based on various factors- supply chain analysis, Porters Five Force analysis etc.




To provide strategic profiling of key players in the market and broadly analyzing their core competencies




To evaluate competitive developments such as joint ventures, strategic alliances, mergers and acquisitions, new product developments along with research and developments in the global

extruded plastics

market



Market Segmentation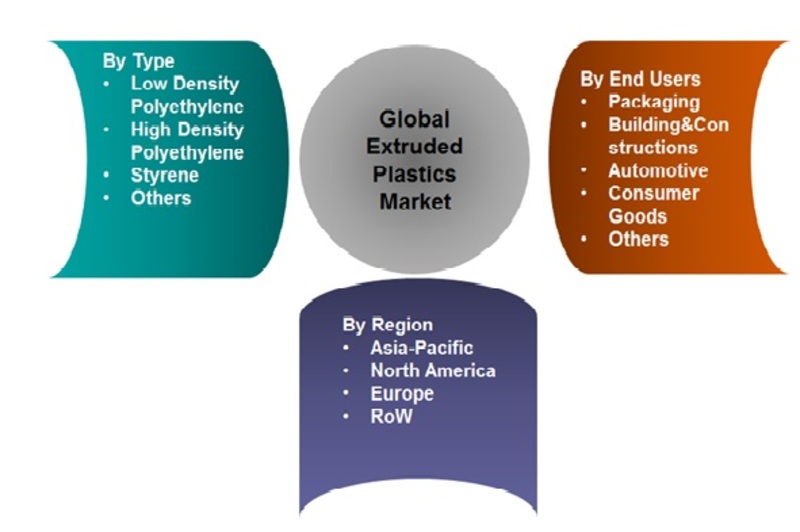 Key Players
Key players of the global extruded plastics market are AEP Industries Inc., Arkema S.A., Bemis Company, Inc., Berry Plastics Corporation, Chevron Phillips Chemical Company, The DOW Chemical Company, E. I. Du Pont De Nemours and Company, Engineered Profiles LLC, Sigma Plastics Group and Saint-Gobain S.A.

Reasons to buy



This report includes an in-depth study analysis of extruded plastics market




It covers market segmentation by type and by end-user.




It helps in identifying region wise major suppliers and understanding consumption patterns.




The report will provide useful and premium insights that will support in investments in extruded plastics and allied companies by providing detail on the fast growing segments and regions.




In addition, it will provide key findings that will help companies to improve profitability by using supply chain strategies and method of cost effectiveness of various products mentioned in the report.




The data used in the report is primarily based on primary interviews with major producing companies and industry experts which are supported by authentic industry data from secondary sources.



Intended Audience



Extruded plastics manufacturers.




Traders and distributors of extruded plastics




Application

industries



Potential investors




Raw material suppliers




Nationalized laboratory



Geographic Analysis
The report covers brief analysis of geographical region such as:
North America
Europe



Germany




France




Italy




Netherlands




U.K.




Rest of Europe



APAC



China




India




Japan




Rest of Asia-Pacific



RoW



South America




Middle East




Africa





The report about Global Extruded Plastics Market by Market Research Future comprises of extensive primary research along with detail analysis of qualitative as well as quantitative aspects by various industry experts, key opinion leaders to gain a deeper insight of the market and industry performance. The report gives a clear picture of current market scenario which includes past and estimated future market size in terms of value and volume, technological advancement, macro economical and governing factors in the market. The report further provides detail information about strategies used by top key players in the industry. Also it gives a broad study of different market segments and regions.
• Plastic extrusion Market,1 Executive Summary

2 Scope of The Report

2.1 Market Definition

2.2 Scope of The Study

2.2.1 Research Objectives

2.2.2 Assumptions & Limitations

2.3 Markets Structure

3 Market Research Methodology

3.1 Research Process

3.2 Secondary Research

3.3 Primary Research

3.4 Forecast Model

4 Market Landscape

4.1 Five Forces Analysis

4.1.1 Threat of New Entrants

4.1.2 Bargaining power of buyers

4.1.3 Threat of substitutes

4.1.4 Segment rivalry

4.2 Value Chain/Supply Chain of Global Extruded Plastics Market

5 Industry Overview of Global Extruded Plastics Market

5.1 Introduction

5.2 Growth Drivers

5.3 Impact analysis

5.4 Market Challenges

5.5 Impact analysis

6 Market Trends

6.1 Introduction

6.2 Growth Trends

6.3 Impact analysis

7. Global Extruded Plastics Market by Region

8. Global Extruded Plastics Market by Type (Low Density Polyethylene, High Density Polyethylene, Styrene, and Others)

9. Global Extruded Plastics Market by End-User (Packaging, Building & Constructions, Automotive, Consumer Goods, and Others)

10. Competitive landscape

11. Company Profiles

11.1 AEP Industries Inc

11.1.1 Overview

11.1.2 Financials

11.1.3 Portfolio

11.1.4 Business Strategies

11.1.5 Recent Development

11.2 Arkema S.A

11.2.1 Overview

11.2.2 Financials

11.2.3 Portfolio

11.2.4 Business Strategies

11.2.5 Recent Development

11.3 Bemis Company, Inc

11.3.1 Overview

11.3.2 Financials

11.3.3 Portfolio

11.3.4 Business Strategies

11.3.5 Recent Development

11.4 Berry Plastics Corporation

11.4.1 Overview

11.4.2 Financials

11.4.3 Portfolio

11.4.4 Business Strategies

11.4.5 Recent Development

11.5 Chevron Phillips Chemical Company

11.5.1 Overview

11.5.2 Financials

11.5.3 Portfolio

11.5.4 Business Strategies

11.5.5 Recent Development

11.6 The DOW Chemical Company

11.6.1 Overview

11.6.2 Financials

11.6.3 Portfolio

11.6.4 Business Strategies

11.6.5 Recent Development

11.7 E. I. Du Pont De Nemours and Company

11.7.1 Overview

11.7.2 Financials

11.7.3 Portfolio

11.7.4 Business Strategies

11.7.5 Recent Development

11.8 Engineered Profiles LLC

11.8.1 Overview

11.8.2 Financials

11.8.3 Portfolio

11.8.4 Business Strategies

11.8.5 Recent Development

11.9 Sigma Plastics Group

11.9.1 Overview

11.9.2 Financials

11.9.3 Portfolio

11.9.4 Business Strategies

11.9.5 Recent Development

11.10 Saint-Gobain S.A

11.10.1 Overview

11.10.2 Financials

11.10.3 Portfolio

11.10.4 Recent Development

12 Conclusion


LIST OF TABLES


Table 1 World Population by Major Regions (2015 To 2030) (Million)

Table 2 Global Extruded Plastics Market: By Region, 2014-2022 (USD Million)

Table 3 North America Extruded Plastics Market: By Country, 2014-2022 (USD Million)

Table 4 Europe Extruded Plastics Market: By Country, 2014-2022 (USD Million)

Table 5 Asia-Pacific Extruded Plastics Market: By Country, 2014-2022 (USD Million)

Table 6 RoW Extruded Plastics Market: By Country, 2014-2022 (USD Million)

Table 7 Global Extruded Plastics for Type Market: By Regions, 2014-2022 (USD Million)

Table 8 North America Extruded Plastics for Type Market: By Country, 2014-2022 (USD Million)

Table 9 Europe Extruded Plastics for Type Market: By Country, 2014-2022 (USD Million)

Table 10 Asia-Pacific Extruded Plastics for Type Market: By Country, 2014-2022 (USD Million)

Table 11 RoW Extruded Plastics for Type Market: By Country, 2014-2022 (USD Million)

Table 12 North America Extruded Plastics for End-User Market: By Country, 2014-2022 (USD Million)

Table 13 Europe Extruded Plastics for End-User Market: By Country, 2014-2022 (USD Million)

Table 14 Asia-Pacific Extruded Plastics for End-User Market: By Country, 2014-2022 (USD Million)

Table 15 RoW Extruded Plastics for End-User Market: By Country, 2014-2022 (USD Million)

Table 16 Global Extruded Plastics End-User Market: By Region, 2014-2022 (USD Million)

Table 17 North America Extruded Plastics for End-User Market: By Country, 2014-2022 (USD Million)

Table 18 Europe Extruded Plastics for End-User Market: By Country, 2014-2022 (USD Million)

Table 19 Asia-Pacific Extruded Plastics for End-User Market: By Country, 2014-2022 (USD Million)

Table 20 RoW Extruded Plastics for End-User Market: By Country, 2014-2022 (USD Million)

Table 21 Global Type Market: By Region, 2014-2022 (USD Million)

Table 22 Global End-User Market: By Region, 2014-2022 (USD Million)

Table 23 North America Extruded Plastics Market, By Country (USD Million)

Table 24 North America Extruded Plastics Market, By Type (Million USD)

Table 25 North America Extruded Plastics Market, By End-User (Million USD)

Table 26 Europe: Extruded Plastics Market, By Country (USD Million)

Table 27 Europe: Extruded Plastics Market, By Type (USD Million)

Table 28 Europe: Extruded Plastics Market, By End-User (USD Million)

Table 29 Asia-Pacific: Extruded Plastics Market, By Country (USD Million)

Table 30 Asia-Pacific: Extruded Plastics Market, By Type (USD Million)

Table 31 Asia-Pacific: Extruded Plastics Market, By End-User (USD Million)

Table 32 RoW: Extruded Plastics Market, By Country (USD Million)

Table 33 RoW: Extruded Plastics Market, By Type (USD Million)

Table 34 RoW: Extruded Plastics Market, By End-User (USD Million)







LIST OF FIGURES
FIGURE 1 Global Extruded Plastics market segmentation

FIGURE 2 Forecast Methodology

FIGURE 3 Five Forces Analysis of Global Extruded Plastics Market

FIGURE 4 Value Chain of Global Extruded Plastics Market

FIGURE 5 Share of Global Extruded Plastics Market in 2014, by country (in %)

FIGURE 6 Global Extruded Plastics Market, 2015-2022, (USD billion)

FIGURE 7 Sub-segments of End-Users

FIGURE 8 Global Extruded Plastics Market size by End-User, 2015

FIGURE 9 Share of Global Extruded Plastics Market by End-User, 2012 to 2022

FIGURE 10 Global Extruded Plastics Market size by Type, 2015

FIGURE 11 Share of Global Extruded Plastics Market by Type, 2012 to 2022