Esophageal Cancer Market Scenario:
Cancer is the leading and second largest cause of death across the globe. The disease is characterized by disordered and deregulated cellular and stromal explosion along with reduced cell death and growth factor deprivation, and such other factors. Esophageal cancer is cancer arising from the esophagus which is the food pipe connecting the throat and the stomach. Symptoms of esophageal cancer include difficulty and in swallowing which causes reduced food intake and weight loss, enlarged lymph nodes, cough which includes blood etc. The two main sub-types of esophageal cancer are esophageal squamous-cell carcinoma which arises from the epithelial cells and esophageal adenocarcinoma which arises from the glandular cells. These two cancers have different primary causes and different rates of prevalence. Esophageal squamous-cell carcinoma is more common in the developing world, and esophageal adenocarcinoma is more common in the developed world. Causes of the squamous-cell carcinoma include tobacco, alcohol, very hot drinks, poor diet, and chewing betel nut while the most common causes of the adenocarcinoma are smoking tobacco, obesity, and acid reflux.
Considering all these factors the market for esophageal cancer is expected to reach $ 1000.1 million by the end of 2023, this market is projected to growing at a CAGR of ~ 8.7 % during 2017-2023.
Figure 1 Global Esophageal cancer Market by Type, 2016 (% Market Share)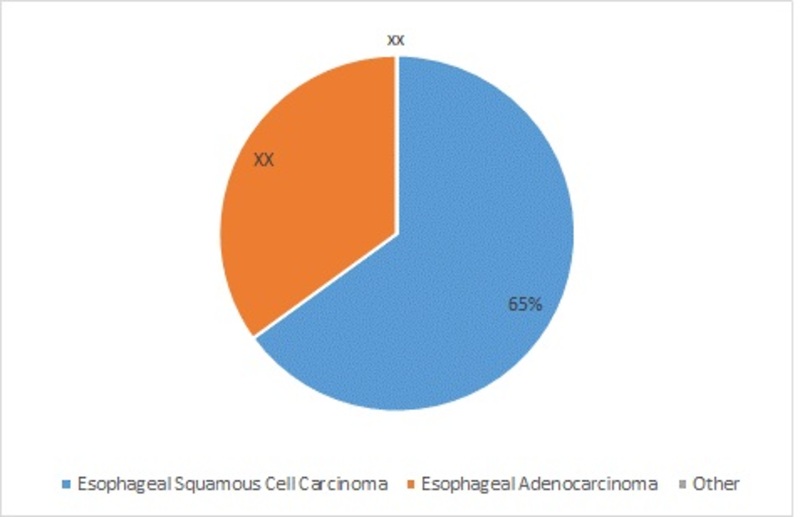 Intended Audience



Global Esophageal cancer solutions providers, manufacturers & suppliers




Research and development (R&D) companies




Market research and consulting service providers




Academic institutes and universities



Key players of Global Esophageal cancer Market:
Key players profiled in the report are Amgen, Eli Lilly and Company, F. Hoffmann-La Roche, Bristol-Myers Squibb Company, Boehringer Ingelheim GmbH, Bristol-Myers Squibb, GlaxoSmithKline Plc., Novartis AG, Johnson & Johnson, Gilead Sciences, Merck & Co. and others.
Segments:
The global esophageal cancer market is segmented on the basis of type. Based on the type, the market has been segmented as esophageal squamous-cell carcinoma, esophageal adenocarcinoma and others. Based on the phases, the market has been segmented as phase I, phases II and phases III. Based on the treatment, the market has been segmented as surgery, chemotherapy and radiotherapy and other.
Regional Analysis
US accounts for the maximum market share due to favorable reimbursement scenario and greater expenditure on healthcare. Europe is the second largest market due to large disposable income and rising awareness. Asia pacific region will be the fastest region because of large unmet needs which will be led by China and India. The Middle East and Africa market will be led by the gulf nations particularly Saudi Arabia and UAE. The poor regions of Africa is expected to be a laggard due to poor economic and political conditions.
1 INTRODUCTION


1.1 DEFINITION


1.2 SCOPE OF STUDY


1.2.1 RESEARCH OBJECTIVE


1.2.2 ASSUMPTIONS & LIMITATIONS


1.2.2.1 ASSUMPTIONS


1.2.2.2 LIMITATIONS


1.3 MARKET STRUCTURE:


2 RESEARCH METHODOLOGY


2.1 RESEARCH PROCESS:


2.2 PRIMARY RESEARCH


2.3 SECONDARY RESEARCH:


3 MARKET DYNAMICS


3.1 DRIVERS


3.2 RESTRAINTS


3.3 OPPORTUNITIES


3.4 MACROECONOMIC INDICATORS


4 MARKET FACTOR ANALYSIS


4.1 PORTERS FIVE FORCES MODEL


4.2 BARGAINING POWER OF SUPPLIERS


4.3 BARGAINING POWER OF BUYERS


4.4 THREAT OF NEW ENTRANTS


4.5 THREAT OF SUBSTITUTES


4.6 INTENSITY OF RIVALRY


5 GLOBAL ESOPHAGEAL CANCER MARKET, BY TYPE


5.1 ESOPHAGEAL SQUAMOUS-CELL CARCINOMA, ,


5.2 ESOPHAGEAL ADENOCARCINOMA


5.3 OTHERS


6 GLOBAL ESOPHAGEAL CANCER MARKET, BY PHASES


6.1 PHASE I


6.2 PHASES II


6.3 PHASES III


7 GLOBAL ESOPHAGEAL CANCER MARKET, BY TREATMENT


7.1 SURGERY


7.1.1 CHEMOTHERAPY AND RADIOTHERAPY


7.1.2 OTHER


8. GLOBAL ESOPHAGEAL CANCER MARKET, BY REGION


8.1 NORTH AMERICA


8.1.1 INTRODUCTION


8.2 EUROPE


8.2.1 INTRODUCTION


8.3 ASIA-PACIFIC


8.3.1 INTRODUCTION


8.4 MIDDLE EAST & AFRICA


8.4.1 INTRODUCTION


9. COMPETITIVE LANDSCAPE


9.1 MAJOR STRATEGIES ADOPTED BY MARKET PLAYERS


9.1.1 STRATEGIC PARTNERSHIP


9.1.2 MERGER & ACQUISITION


10 COMPANY PROFILE


10.1 AMGEN


10.1.1 OVERVIEW


10.1.2 PRODUCT OVERVIEW


10.1.3 FINANCIALS


10.1.4 KEY DEVELOPMENTS


10.2 ELI LILLY AND COMPANY,


10.2.1 OVERVIEW


10.2.2 PRODUCT OVERVIEW


10.2.3 FINANCIALS


10.2.4 KEY DEVELOPMENTS


10.3 F. HOFFMANN-LA ROCHE


10.3.1 OVERVIEW


10.3.2 PRODUCT OVERVIEW


10.3.3 FINANCIALS


10.3.4 KEY DEVELOPMENT


10.4 BRISTOL-MYERS


10.4.1 OVERVIEW


10.4.2 PRODUCT OVERVIEW


10.4.3 FINANCIALS


10.4.4 KEY DEVELOPMENTS


10.5 SQUIBB COMPANY


10.5.1 OVERVIEW


10.5.2 PRODUCT OVERVIEW


10.5.3 FINANCIALS


10.5.4 KEY DEVELOPMENTS


10.6 BOEHRINGER INGELHEIM GMBH


10.6.1 OVERVIEW


10.6.2 PRODUCT OVERVIEW


10.6.3 FINANCIALS


10.6.4 KEY DEVELOPMENTS


10.7 BRISTOL-MYERS SQUIBB


10.7.1 OVERVIEW


10.7.2 PRODUCT OVERVIEW


10.7.3 FINANCIALS


10.7.4 KEY DEVELOPMENTS


10.8 GLAXOSMITHKLINE PLC.


10.8.1 OVERVIEW


10.8.2 PRODUCT OVERVIEW


10.8.3 FINANCIALS


10.8.4 KEY DEVELOPMENTS


10.9 NOVARTIS AG


10.9.1 OVERVIEW


10.9.2 PRODUCT OVERVIEW


10.9.3 FINANCIALS


10.9.4 KEY DEVELOPMENTS


10.10 JOHNSON & JOHNSON


10.10.1 OVERVIEW


10.10.2 PRODUCT OVERVIEW


10.10.3 FINANCIALS


10.10.4 KEY DEVELOPMENTS


10.11 GILEAD SCIENCES


10.11.1 OVERVIEW


10.11.2 PRODUCT OVERVIEW


10.11.3 FINANCIALS


10.11.4 KEY DEVELOPMENTS


10.12 MERCK & CO.


10.12.1 OVERVIEW


10.12.2 PRODUCT OVERVIEW


10.12.3 FINANCIALS


10.12.4 KEY DEVELOPMENTS


10.13 OTHERS


11 CONCLUSION


11.1 KEY FINDINGS


11.1.1 FROM CEO'S VIEWPOINT


11.1.2 UNMET NEEDS OF THE MARKET


11.2 KEY COMPANIES TO WATCH


11.3 PREDICTION OF ESOPHAGEAL CANCER Solutions INDUSTRY


12 APPENDIX