Market Scenario:
Students are encouraged to use electronic dictionary in order to improve their reading and writing skills. Some electronic dictionary also provide language translation feature to better understand the meaning of words. The device is used by special children who have specific learning disabilities, facing behavioral challenges and intellectual impairment. It facilitate students by providing words with similar meaning. It helps them to be more independent in terms of their learning ability.
The regional analysis of electronic dictionary market is being studied for region such as Asia Pacific, North America, Europe and Rest of the World. Asia-Pacific accounts for a major share in electronics dictionary market owing to growing e-learning industry in the region. Also the region is implementing K-12 digital education segment that is contributing towards the growth of the market in the region. The region consists of people from different flora and fauna along with distinct numerous language that is one of the significant factor fuelling the growth of electronic dictionary market in the region.
Ectaco Inc., a US based company is one of the major manufacturer of electronic dictionary that offers meaning of words in 26 language. It comprise of about 20 lakh database feature and its 500AL pro model contains enormous information that helps people understand the world around them. Hanvon one of the leading manufacturer of electronics dictionary has developed a dictionary pen that provides words meaning in 8 different language. It is able to translate both long words and sentences by scanning them along with reading it aloud to better understand the meaning and word pronunciation.
The electronic dictionary is available in various format that includes handheld device, mobile application installed on smartphone and tablets, computer software, CD-ROMs, DVD-ROMs and in-built application of electronic dictionary in e-readers. The dictionaries are able to display 500,000 headwords and definitions, synonymous, verbal conjugation table, grammar reference section along with language translator of meaning of words.
The electronic dictionary market is expected to grow at approximately USD 8 Billion by 2023, at 15% of CAGR between 2017 and 2023.
Electronic Dictionary Market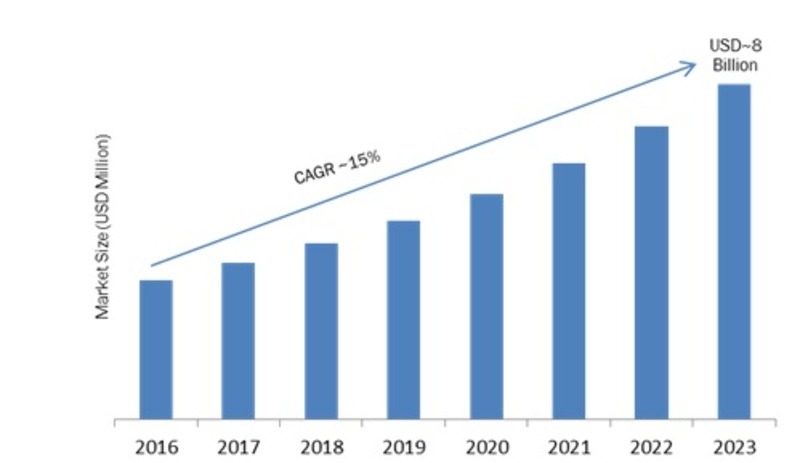 Key Players
The prominent players in the electronic dictionary market are – Canon Electronic Business Machines (Hongkong), Ectaco Inc. (U.S.), Inventec Besta Co., Ltd. (Taiwan), Sharp Electronics (U.K.), Noah Technology Holding (China), Casio Computer Co., Ltd. (Japan), Alfa Link (P.T. Freshindo Marketama) (Indonesia), IFLYTEK(China), Wisebrave (China), Hanvon (China) among others.
Segments
Electronic dictionary market is segmented on the basis of screen size, display type and end-user.
Electronic Dictionary Market by Type:



Students Dictionaries




Business and Travel Dictionaries




Professional Electronic Dictionaries



Electronic Dictionary Market by Screen Size:



0 inches




0-2.8 inches




8-3.2 inches




0 inches & above



Electronic Dictionary Market by Display Type:



LCD




Touch Display




Keyboard




Stylus




CD-ROM




DVD-ROM




Computer Software




Others



Electronic Dictionary Market by End-User:



K-12 Students




Above K-12 Students




Business Professionals



Intended Audience



Investors and consultants




System Integrators




Government Organizations




Research/Consultancy firms




Technology solution providers




Original Equipment Manufacturers




Educational Institutes



Frequently Asked Questions (FAQ) :
---
TABLE OF CONTENTS

1 MARKET INTRODUCTION

1.1 INTRODUCTION

1.2 SCOPE OF STUDY

1.2.1 RESEARCH OBJECTIVE

1.2.2 ASSUMPTIONS

1.2.3 LIMITATIONS

1.3 MARKET STRUCTURE

2 RESEARCH METHODOLOGY

2.1 RESEARCH TYPE

2.2 PRIMARY RESEARCH

2.3 SECONDARY RESEARCH

2.4 FORECAST MODEL

2.4.1 MARKET DATA COLLECTION, ANALYSIS & FORECAST

2.4.2 MARKET SIZE ESTIMATION

3 MARKET DYNAMICS

3.1 INTRODUCTION

3.2 MARKET DRIVERS

3.3 MARKET CHALLENGES

3.4 MARKET OPPORTUNITIES

3.5 MARKET RESTRAINTS

4 EXECUTIVE SUMMARY

5. MARKET FACTOR ANALYSIS

5.1 PORTER'S FIVE FORCES ANALYSIS

5.2 SUPPLY CHAIN ANALYSIS

6 ELECTRONIC DICTIONARYMARKET, BY SEGMENTS

6.1 INTRODUCTION

6.2 MARKET STATISTICS

6.2.1 BY TYPE

6.2.1.1 STUDENT DICTIONARIES

6.2.1.2 BUSINESS AND TRAVEL DICTIONARIES

6.2.1.3 PROFESSIONAL ELECTRONIC DICTIONARIES

6.2.2 BY SCREEN SIZE

6.2.2.1 2.0 INCHES

6.2.2.2 2.0-2.8 INCHES

6.2.2.3 2.8-3.2 INCHES

6.2.2.4 3.2-4.0 INCHES

6.2.2.5 4.0 INCHES & ABOVE

6.2.2 BY DISPLAY

6.2.2.1 LCD

6.2.2.2 TOUCH DISPLAY

6.2.2.3 TABLET COMPUTERS

6.2.2.4 STYLUS

6.2.2.5 SMART PHONES

6.2.2.6 COMPUTER SOFTWARE

6.2.2.7 E-READER

6.2.2.8 CD-ROMS

6.2.2.9 DVD-ROMS

6.2.2.5 OTHERS

6.2.3 BY END-USE

6.2.3.1 K-12 STUDENTS

6.2.3.2 ABOVE K-12 STUDENTS

6.2.3.3 BUSINESS PROFESSIONALS

6.2.4 BY GEOGRAPHY

6.2.4.1 NORTH AMERICA

6.2.4.2 EUROPE

6.2.4.3 ASIA-PACIFIC

6.2.4.4 REST OF THE WORLD

7 COMPETITIVE ANALYSIS

7.1 MARKET SHARE ANALYSIS

7.2 COMPANY PROFILES

7.2.1 CANON ELECTRONIC BUSINESS MACHINES (HONGKONG)

7.2.2 ECTACO INC. (U.S.)

7.2.3 INVENTEC BESTA CO., LTD. (TAIWAN)

7.2.4 SHARP ELECTRONICS (U.K.)

7.2.5 NOAH TECHNOLOGY HOLDING (CHINA)

7.2.6 CASIO COMPUTER CO., LTD. (JAPAN)

7.2.7 ALFA LINK (P.T. FRESHINDO MARKETAMA) (INDONESIA)

7.2.8 IFLYTEK (China)

7.2.9 WISEBRAVE (CHINA)

7.2.10 HANVON (CHINA)

7.2.11 OTHERS

LIST OF TABLES

TABLE 1 ELECTRONIC DICTIONARY MARKET, BY TYPE

TABLE 2 ELECTRONIC DICTIONARY MARKET, BY SCREEN SIZE

TABLE 3 ELECTRONIC DICTIONARY MARKET, BY DISPLAY TYPE

TABLE 4 ELECTRONIC DICTIONARY MARKET, BY END-USER

TABLE 5 ELECTRONIC DICTIONARY MARKET, BY REGION

TABLE 6 NORTH AMERICA ELECTRONIC DICTIONARY MARKET, BY TYPE

TABLE 7 NORTH AMERICA ELECTRONIC DICTIONARY MARKET, BY SCREEN SIZE

TABLE 8 NORTH AMERICA ELECTRONIC DICTIONARY MARKET, BY DISPLAY TYPE

TABLE 9 NORTH AMERICA ELECTRONIC DICTIONARY MARKET, BY END-USER

TABLE 10 U.S. ELECTRONIC DICTIONARY MARKET, BY TYPE

TABLE 11 U.S. ELECTRONIC DICTIONARY MARKET, BY SCREEN SIZE

TABLE 12 U.S. ELECTRONIC DICTIONARY MARKET, BY DISPLAY TYPE

TABLE 13 U.S. ELECTRONIC DICTIONARY MARKET, BY END-USER

TABLE 14 U.S. ELECTRONIC DICTIONARY MARKET, BY SCREEN SIZE

TABLE 15 CANADA ELECTRONIC DICTIONARY MARKET, BY TYPE

TABLE 16 CANADA ELECTRONIC DICTIONARY MARKET, BY SCREEN SIZE

TABLE 17 CANADA ELECTRONIC DICTIONARY MARKET, BY DISPLAY TYPE

TABLE 18 CANADA ELECTRONIC DICTIONARY MARKET, BY END-USER

TABLE 19 EUROPE ELECTRONIC DICTIONARY MARKET, BY TYPE

TABLE 20 EUROPE ELECTRONIC DICTIONARY MARKET, BY SCREEN SIZE

TABLE 21 EUROPE ELECTRONIC DICTIONARY MARKET, BY DISPLAY TYPE

TABLE 22 EUROPE ELECTRONIC DICTIONARY MARKET, BY END-USER

TABLE 23 GERMANY ELECTRONIC DICTIONARY MARKET, BY TYPE

TABLE 24 GERMANY ELECTRONIC DICTIONARY MARKET, BY SCREEN SIZE

TABLE 25 GERMANY ELECTRONIC DICTIONARY MARKET, BY DISPLAY TYPE

TABLE 26 GERMANY ELECTRONIC DICTIONARY MARKET, BY END-USER

TABLE 27 FRANCE ELECTRONIC DICTIONARY MARKET, BY TYPE

TABLE 28 FRANCE ELECTRONIC DICTIONARY MARKET, BY SCREEN SIZE

TABLE 30 FRANCE ELECTRONIC DICTIONARY MARKET, BY DISPLAY TYPE

TABLE 31 FRANCE ELECTRONIC DICTIONARY MARKET, BY END-USER

TABLE 32 U.K. ELECTRONIC DICTIONARY MARKET, BY TYPE

TABLE 33 U.K. ELECTRONIC DICTIONARY MARKET, BY SCREEN SIZE

TABLE 34 U.K. ELECTRONIC DICTIONARY MARKET, BY DISPLAY TYPE

TABLE 35 U.K. ELECTRONIC DICTIONARY MARKET, BY END-USER

TABLE 36 REST OF EUROPE ELECTRONIC DICTIONARY MARKET, BY TYPE

TABLE 37 REST OF EUROPE ELECTRONIC DICTIONARY MARKET, BY SCREEN SIZE

TABLE 38 REST OF EUROPE ELECTRONIC DICTIONARY MARKET, BY DISPLAY TYPE

TABLE 39 REST OF EUROPE ELECTRONIC DICTIONARY MARKET, BY END-USER

TABLE 40 ASIA-PACIFIC ELECTRONIC DICTIONARY MARKET, BY TYPE

TABLE 41 ASIA-PACIFIC ELECTRONIC DICTIONARY MARKET, BY SCREEN SIZE

TABLE 42 ASIA-PACIFIC ELECTRONIC DICTIONARY MARKET, BY DISPLAY TYPE

TABLE 43 ASIA-PACIFIC ELECTRONIC DICTIONARY MARKET, BY END-USER

TABLE 44 REST OF THE WORLD ELECTRONIC DICTIONARY MARKET, BY TYPE

TABLE 45 REST OF THE WORLD ELECTRONIC DICTIONARY MARKET, BY SCREEN SIZE

TABLE 46 REST OF THE WORLD ELECTRONIC DICTIONARY MARKET, BY DISPLAY TYPE

TABLE 47 REST OF THE WORLD ELECTRONIC DICTIONARY MARKET, BY END-USER
LIST OF FIGURES

FIGURE 1 RESEARCH TYPE

FIGURE 2 ELECTRONIC DICTIONARY MARKET: BY TYPE (%)

FIGURE 3 ELECTRONIC DICTIONARY MARKET: BY SCREEN SIZE (%)

FIGURE 4 ELECTRONIC DICTIONARY MARKET: BY DISPLAY TYPE (%)

FIGURE 5 ELECTRONIC DICTIONARY MARKET: BY END-USER (%)

FIGURE 6 ELECTRONIC DICTIONARY MARKET: BY REGION (%)

FIGURE 7 NORTH AMERICA ELECTRONIC DICTIONARY MARKET, BY TYPE (%)

FIGURE 8 NORTH AMERICA ELECTRONIC DICTIONARY MARKET, BY SCREEN SIZE (%)

FIGURE 9 NORTH AMERICA ELECTRONIC DICTIONARY MARKET, BY DISPLAY TYPE (%)

FIGURE 10 NORTH AMERICA ELECTRONIC DICTIONARY MARKET, BY END-USER (%)

FIGURE 11 EUROPE ELECTRONIC DICTIONARY MARKET, BY TYPE (%)

FIGURE 12 EUROPE ELECTRONIC DICTIONARY MARKET, BY SCREEN SIZE (%)

FIGURE 13 EUROPE ELECTRONIC DICTIONARY MARKET, BY DISPLAY TYPE (%)

FIGURE 14 EUROPE ELECTRONIC DICTIONARY MARKET, BY END-USER (%)

FIGURE 15 ASIA-PACIFIC ELECTRONIC DICTIONARY MARKET BY TYPE (%)

FIGURE 16 ASIA-PACIFIC ELECTRONIC DICTIONARY MARKET BY SCREEN SIZE (%)

FIGURE 17 ASIA-PACIFIC ELECTRONIC DICTIONARY MARKET, BY DISPLAY TYPE (%)

FIGURE 18 ASIA-PACIFIC ELECTRONIC DICTIONARY MARKET, BY END-USER (%)

FIGURE 19 ROW ELECTRONIC DICTIONARY MARKET, BY TYPE (%)

FIGURE 20 ROW ELECTRONIC DICTIONARY MARKET, BY SCREEN SIZE (%)

FIGURE 21 ROW ELECTRONIC DICTIONARY MARKET, BY DISPLAY TYPE (%)

FIGURE 22 ROW ELECTRONIC DICTIONARY MARKET, BY END-USER (%)