Market Synopsis
Electro-optic modulator (EOM) allows the user to control amplitude, phase, and polarization state of an optical beam under electric force. It primarily consists of one or two pockels cells, and additional optical elements, for instance, polarizers. The simplest kind of EOM consists of a crystal, whose refractive index is a function of the strength of the local electric field. Light is made to travel through the crystal slowly but the light leaving the crystal is directly proportional to the length of the time traveled through it. In a short way, the light can be modulated by the refractive index of the crystal by taking the time traveled into account. By this way, the modulation of light can be changed whether its phase, frequency or amplitude.
Gooch & Housego PLC, a global leader in photonics technology, launched visible wavelength fiber coupled with acousto-optic modulator to use in pulsed fiber laser amplifier systems. This system is expected to provide optimum performance in a range of demanding applications including material processing and sensing.
Rapid industrialization is one of the major push factors for the electro-optic modulators market. North America is leading the market in terms of revenue, followed by Europe and Asia Pacific globally. China is leading the market owing to its technological advancement in the field of high-speed data recording and laser printing followed by India, Japan, South Korea, and Taiwan among others.
Segmentation
The global electro-optic modulators are segmented on the basis of type, which covers wide range like polarization modulators, phase modulators, amplitude modulators, analog modulators, liquid crystal modulators, traveling wave modulators, and thermally compensated modulators. The latest and effective technique commonly used is modulating by liquid crystal modulators. This method is based on the electro-optical properties of nematic materials and on the use of a new wedge structure. The advantages of this structure are the possibility of modulating nonpolarized light and the improved signal-to-noise ratio. With the advancements in technology, many new techniques were developed such as liquid crystal hybrid bi-stable optical device. Optical bi-stability has been observed in this device and tested successfully for optical logic elements and ultra linear modulation applications.
Thorlabs Inc., a market leader in the American market, launched Exulus reflective, a two dimensional spatial light modulator based on Liquid Crystal on Silicon (LCoS) technology. The Exulus provides high-resolution, high-speed phase modulation with minimal fluctuations, making it ideal for use in a wide range of applications such as optical trapping, beam steering and shaping, femtosecond pulse shaping, adaptive optics, display and imaging, and holography.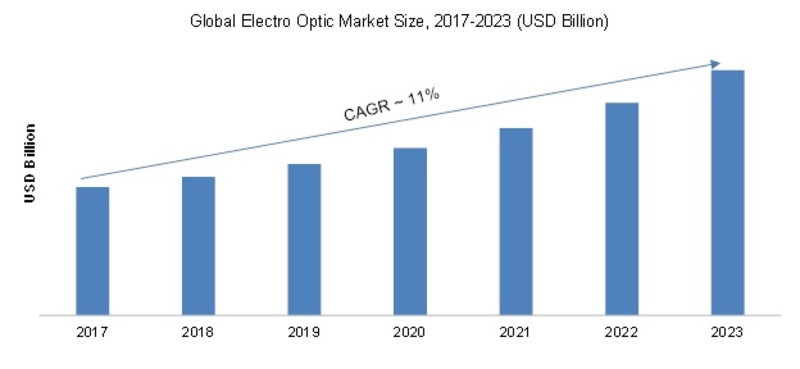 Source: Company websites, Annual Reports, White Papers, MRFR Analysis
Phase modulators are one of the most common kinds of electro-optic modulators. It has a wide range of applications, for instance, it stabilizes as well as monitor a resonance frequency of an optical resonator. High-end electronic devices are one of the major application areas of electro-optic modulators.
The global electro-optic modulator market is estimated to grow at an 11% CAGR during the forecast period 2017-2023.
Global electro-optic modulators hold some of the key market players such as Thorlabs Inc. (U.S.), Conoptics Inc. (U.S.), QUBIG GmbH (Germany), GLEAM Optics (Canada), Inrad Optics Inc. (U.S.), Newport Corporation (U.S.), Photon LaserOptik GmbH (Germany), Gooch & Housego PLC (U.K), APE Angewandte Physik and Elektronik GmbH (Germany), and Brimrose Corporation of America (U.S.).
For the purpose of this study, the market for Electro-optic modulator market is divided into type, application, and region.
By Type



Polarization Modulators




Amplitude Modulators




Phase Modulators




Analog Modulators




Liquid Crystal Modulators




Travelling wave Modulators




Thermally compensated Modulators



By Application




Space and Defense




Optical Telecommunications




Instruments and Industrial Systems



By Region



North America




Europe




Asia pacific




Rest of the world



Intended Audience



Manufacturers




Telecommunication Sector




Testing




Military Personnel




Space Scientists



Frequently Asked Questions (FAQ) :
---
TABLE OF CONTENTS
1 MARKET INTRODUCTION

1.1 INTRODUCTION

1.2 SCOPE OF STUDY

1.2.1 RESEARCH OBJECTIVE

1.2.2 ASSUMPTIONS

1.2.3 LIMITATIONS

1.3 MARKET STRUCTURE
2 RESEARCH METHODOLOGY

2.1 RESEARCH GLOBAL ELECTRO OPTIC MODULATORS

2.2 PRIMARY RESEARCH

2.3 SECONDARY RESEARCH

2.4 FORECAST MODEL

2.4.1 MARKET DATA COLLECTION, ANALYSIS & FORECAST

2.4.2 MARKET SIZE ESTIMATION
3 MARKET DYNAMICS

3.1 INTRODUCTION

3.2 MARKET DRIVERS

3.3 MARKET CHALLENGES

3.4 MARKET OPPORTUNITIES

3.5 MARKET RESTRAINTS
4 EXECUTIVE SUMMARY
5. MARKET FACTOR ANALYSIS

5.1 PORTER'S FIVE FORCES ANALYSIS

5.2 SUPPLY CHAIN ANALYSIS
6 GLOBAL ELECTRO OPTIC MODULATORS MARKET, BY SEGMENTS

6.1 INTRODUCTION

6.2 MARKET STATISTICS
6.2.1 BY TYPE

6.2.1.1 POLARIZATION MODULATORS

6.2.1.2 AMPLITUDE MODULATORS

6.2.1.3 PHASE MODULATORS

6.2.1.4 ANALOG MODULATORS

6.2.1.5 LIQUID CRYSTAL MODULATORS

6.2.1.6 TRAVELLING WAVE MODULATORS

6.2.1.7 THERMALLY COMPENSATED MODULATORS
6.2.2 BY APPLICATION

6.2.2.1 FIBER OPTIC SENSORS

6.2.2.2 OPTICAL TELECOMMUNICATIONS

6.2.2.3 SAPCE AND DEFENSE

6.2.2.4 INSTRUMENTAL AND INDUSTRIAL SYSTEMS

6.2.2.5 OTHERS

6.2.3 BY REGION

6.2.3.1 NORTH AMERICA

6.2.3.1.1 U.S.

6.2.3.1.2 CANADA

6.2.3.1.3 MEXICO

6.2.3.2 EUROPE

6.2.3.2.1 U.K.

6.2.3.2.2 GERMANY

6.2.3.2.3 FRANCE

6.2.3.2.4 ITALY

6.2.3.2.5 REST OF THE EUROPE

6.2.3.3 ASIA PACIFIC

6.2.3.3.1 CHINA

6.2.3.3.2 JAPAN

6.2.3.3.3 SOUTH KOREA

6.2.3.3.4 INDIA

6.2.3.3.5 REST OF THE ASIA PACIFIC

6.2.3.4 REST OF THE WORLD
7 COMPETITIVE ANALYSIS

7.1 MARKET SHARE ANALYSIS

7.2 COMPANY PROFILES

7.2.1 THORLABS INC (U.S.)

7.2.2 CONOPTICS INC (U.S.)

7.2.3 QUBIG GMBH (GERMANY),

7.2.4 GLEAM OPTICS (CANADA)

7.2.5 INRAD OPTICS INC (U.S.)

7.2.6 NEWPORT CORPORATION (U.S.)

7.2.7 PHOTON LASEROPTIK GMBH (GERMANY)

7.2.8 GOOCH & HOUSEGO PLC (U.K)

7.2.9 APE ANGEWANDTE PHYSIK UND ELEKTRONIK GMBH (GERMANY)

7.2.10 BRIMROSE CORPORATION OF AMERICA (U.S.)

7.2.11 OTHERS

LIST OF TABLES
TABLE 1 GLOBAL ELECTRO OPTIC MODULATORS MARKET, BY TYPE

TABLE 2 GLOBAL ELECTRO OPTIC MODULATORS MARKET, BY APPLICATION

TABLE 3 GLOBAL ELECTRO OPTIC MODULATORS MARKET, BY REGION

TABLE 4 NORTH AMERICA GLOBAL ELECTRO OPTIC MODULATORS MARKET, BY TYPE

TABLE 5 NORTH AMERICA GLOBAL ELECTRO OPTIC MODULATORS MARKET, BY APPLICATION

TABLE 6 U.S. GLOBAL ELECTRO OPTIC MODULATORS MARKET, BY TYPE

TABLE 7 U.S. GLOBAL ELECTRO OPTIC MODULATORS MARKET, BY APPLICATION

TABLE 8 CANADA GLOBAL ELECTRO OPTIC MODULATORS MARKET, BY TYPE

TABLE 9 CANADA GLOBAL ELECTRO OPTIC MODULATORS MARKET, BY APPLICATION

TABLE 10 MEXICO GLOBAL ELECTRO OPTIC MODULATORS MARKET, BY TYPE

TABLE 11 MEXICO GLOBAL ELECTRO OPTIC MODULATORS MARKET, BY APPLICATION

TABLE 12 EUROPE GLOBAL ELECTRO OPTIC MODULATORS MARKET, BY TYPE

TABLE 13 EUROPE GLOBAL ELECTRO OPTIC MODULATORS MARKET, BY APPLICATION

TABLE 14 U.K. GLOBAL ELECTRO OPTIC MODULATORS MARKET, BY TYPE

TABLE 15 U.K. GLOBAL ELECTRO OPTIC MODULATORS MARKET, BY APPLICATION

TABLE 16 GERMANY GLOBAL ELECTRO OPTIC MODULATORS MARKET, BY TYPE

TABLE 17 GERMANY GLOBAL ELECTRO OPTIC MODULATORS MARKET, BY APPLICATION

TABLE 18 FRANCE GLOBAL ELECTRO OPTIC MODULATORS MARKET, BY TYPE

TABLE 19 FRANCE GLOBAL ELECTRO OPTIC MODULATORS MARKET, BY APPLICATION

TABLE 20 ITALY GLOBAL ELECTRO OPTIC MODULATORS MARKET, BY TYPE

TABLE 21 ITALY GLOBAL ELECTRO OPTIC MODULATORS MARKET, BY APPLICATION

TABLE 22 REST OF EUROPE GLOBAL ELECTRO OPTIC MODULATORS MARKET, BY TYPE

TABLE 23 REST OF EUROPE GLOBAL ELECTRO OPTIC MODULATORS MARKET, BY APPLICATION

TABLE 24 ASIA PACIFIC GLOBAL ELECTRO OPTIC MODULATORS MARKET, BY TYPE

TABLE 25 ASIA PACIFIC GLOBAL ELECTRO OPTIC MODULATORS MARKET, BY APPLICATION

TABLE 26 CHINA GLOBAL ELECTRO OPTIC MODULATORS MARKET, BY TYPE

TABLE 27 CHINA GLOBAL ELECTRO OPTIC MODULATORS MARKET, BY APPLICATION

TABLE 28 JAPAN GLOBAL ELECTRO OPTIC MODULATORS MARKET, BY TYPE

TABLE 29 JAPAN GLOBAL ELECTRO OPTIC MODULATORS MARKET, BY APPLICATION

TABLE 30 SOUTH KOREA GLOBAL ELECTRO OPTIC MODULATORS MARKET, BY TYPE

TABLE 31 SOUTH KOREA GLOBAL ELECTRO OPTIC MODULATORS MARKET, BY APPLICATION

TABLE 32 INDIA GLOBAL ELECTRO OPTIC MODULATORS MARKET, BY TYPE

TABLE 33 INDIA GLOBAL ELECTRO OPTIC MODULATORS MARKET, BY APPLICATION

TABLE 34 REST OF ASIA PACIFIC GLOBAL ELECTRO OPTIC MODULATORS MARKET, BY TYPE

TABLE 35 REST OF ASIA PACIFIC GLOBAL ELECTRO OPTIC MODULATORS MARKET, BY APPLICATION

TABLE 36 REST OF WORLD GLOBAL ELECTRO OPTIC MODULATORS MARKET, BY TYPE

TABLE 37 REST OF WORLD GLOBAL ELECTRO OPTIC MODULATORS MARKET, BY APPLICATION
LIST OF FIGURES
FIGURE 1 RESEARCH DEPLOYMENT

FIGURE 2 GLOBAL ELECTRO OPTIC MODULATORS MARKET, BY TYPE (%)

FIGURE 3 GLOBAL ELECTRO OPTIC MODULATORS MARKET, BY APPLICATION (%)

FIGURE 4 GLOBAL ELECTRO OPTIC MODULATORS MARKET, BY REGION (%)

FIGURE 5 NORTH AMERICA GLOBAL ELECTRO OPTIC MODULATORS MARKET, BY TYPE (%)

FIGURE 6 NORTH AMERICA GLOBAL ELECTRO OPTIC MODULATORS MARKET, BY APPLICATION (%)

FIGURE 7 U.S. GLOBAL ELECTRO OPTIC MODULATORS MARKET, BY TYPE (%)

FIGURE 8 U.S. GLOBAL ELECTRO OPTIC MODULATORS MARKET, BY APPLICATION (%)

FIGURE 9 CANADA GLOBAL ELECTRO OPTIC MODULATORS MARKET, BY TYPE (%)

FIGURE 10 CANADA GLOBAL ELECTRO OPTIC MODULATORS MARKET, BY APPLICATION (%)

FIGURE 11 MEXICO GLOBAL ELECTRO OPTIC MODULATORS MARKET, BY TYPE (%)

FIGURE 12 EUROPE GLOBAL ELECTRO OPTIC MODULATORS MARKET, BY TYPE (%)

FIGURE 13 EUROPE GLOBAL ELECTRO OPTIC MODULATORS MARKET, BY APPLICATION (%)

FIGURE 14 U.K. GLOBAL ELECTRO OPTIC MODULATORS MARKET, BY TYPE (%)

FIGURE 15 U.K. GLOBAL ELECTRO OPTIC MODULATORS MARKET, BY APPLICATION (%)

FIGURE 16 GERMANY GLOBAL ELECTRO OPTIC MODULATORS MARKET, BY TYPE (%)

FIGURE 17 GERMANY GLOBAL ELECTRO OPTIC MODULATORS MARKET, BY APPLICATION (%)

FIGURE 18 FRANCE GLOBAL ELECTRO OPTIC MODULATORS MARKET, BY TYPE (%)

FIGURE 19 FRANCE GLOBAL ELECTRO OPTIC MODULATORS MARKET, BY APPLICATION (%)

FIGURE 20 ITALY GLOBAL ELECTRO OPTIC MODULATORS MARKET, BY TYPE (%)

FIGURE 21 ITALY GLOBAL ELECTRO OPTIC MODULATORS MARKET, BY APPLICATION (%)

FIGURE 22 REST OF EUROPE GLOBAL ELECTRO OPTIC MODULATORS MARKET, BY TYPE (%)

FIGURE 23 REST OF EUROPE GLOBAL ELECTRO OPTIC MODULATORS MARKET, BY APPLICATION (%)

FIGURE 24 ASIA PACIFIC GLOBAL ELECTRO OPTIC MODULATORS MARKET, BY TYPE (%)

FIGURE 25 ASIA PACIFIC GLOBAL ELECTRO OPTIC MODULATORS MARKET, BY APPLICATION (%)

FIGURE 26 CHINA GLOBAL ELECTRO OPTIC MODULATORS MARKET, BY TYPE (%)

FIGURE 27 CHINA GLOBAL ELECTRO OPTIC MODULATORS MARKET, BY APPLICATION (%)

FIGURE 28 JAPAN GLOBAL ELECTRO OPTIC MODULATORS MARKET, BY TYPE (%)

FIGURE 29 JAPAN GLOBAL ELECTRO OPTIC MODULATORS MARKET, BY APPLICATION (%)

FIGURE 30 SOUTH KOREA GLOBAL ELECTRO OPTIC MODULATORS MARKET, BY TYPE (%)

FIGURE 31 SOUTH KOREA GLOBAL ELECTRO OPTIC MODULATORS MARKET, BY APPLICATION (%)

FIGURE 32 INDIA GLOBAL ELECTRO OPTIC MODULATORS MARKET, BY TYPE (%)

FIGURE 33 INDIA GLOBAL ELECTRO OPTIC MODULATORS MARKET, BY APPLICATION (%)

FIGURE 34 REST OF ASIA PACIFIC GLOBAL ELECTRO OPTIC MODULATORS MARKET, BY TYPE (%)

FIGURE 35 REST OF ASIA PACIFIC GLOBAL ELECTRO OPTIC MODULATORS MARKET, BY APPLICATION(%)

FIGURE 36 REST OF WORLD GLOBAL ELECTRO OPTIC MODULATORS MARKET, BY TYPE (%)

FIGURE 37 REST OF WORLD GLOBAL ELECTRO OPTIC MODULATORS MARKET, BY APPLICATION (%)