Dual Carbon Battery Market Scenario
Dual carbon battery market is expected to grow at ~5.50% CAGR during the forecast period.
Increasing developments in the electronic sector and growing use of electric vehicles are the driving factors behind the demand for dual carbon battery market during the forecast period. Electronics being the most important sector in Asia-Pacific will drive the market for dual battery which are an integral part of any electronics device. Moreover, according to the Ministry for Trade and Industry of Singapore, the country's electronics manufacturing sector is expected to manufacture a total of 2,100 new jobs by 2020. This initiative would eventually lead to increased number of manufacturing devices, thereby driving the market for dual carbon battery, which is an important part of electronics sector.
The global Dual Carbon Battery market is projected to grow at a high rate during the forecast period due to growing consumer electronics sector as well as growing market of electric vehicles. For instance, the sale of electric vehicles in the US was significantly high which increased by 21% in 2017 as compared to 2016 with sale of 199,826 electric vehicles sold in the same year. Moreover, the automotive industry is witnessing high usage of energy saving batteries such as dual carbon batteries and expected to introduce 127 battery-electric models over the next five years. All these factors will positively trigger the market for dual carbon battery.
Key Players
The key players of global dual carbon battery market are JSR Corp, Loxus, Hitachi Chemical, Lishen Tianjin, BYD, Amperex Technologies, Panasonic, LG Chem, Samsung SDI, Johnson Controls.
Global Dual Carbon Battery market has been segmented based on types, application, and region. Based on type, the market is classified into disposable battery and rechargeable battery. The rechargeable segment dominates the market as technological advancements are getting implemented in these types of batteries. These batteries are way more efficient as compared to other lithium-ion batteries. There are lot of advantages of dual carbon batteries over other types of batteries which makes it an ideal choice for many end-user segments such as electronics and electric vehicles. These advantages include no need of cooling, saving power, and complexity. Moreover, no rare earth metals, which enables a lower cost and provide better price stability.
Market Segmentation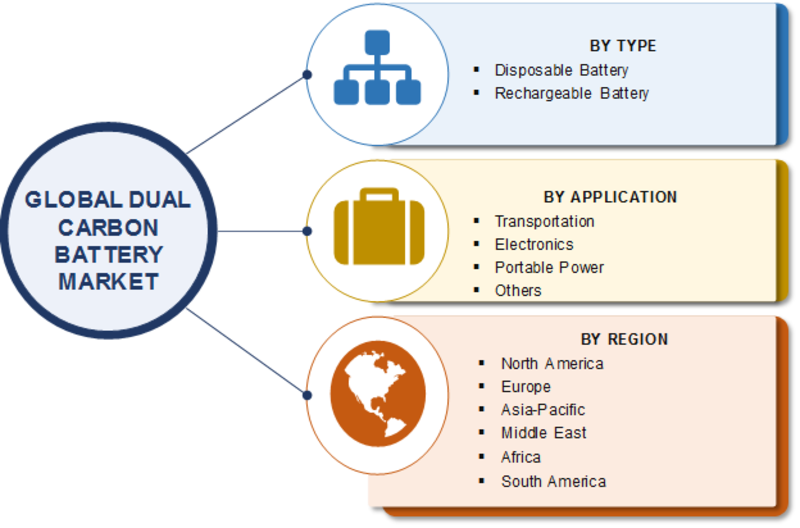 Global Dual Carbon Battery Market
Global Dual Carbon Battery market is expected to witness substantial growth during the forecast period owing to increasing number of electric vehicle and growing electronics sector. For instance, in 2016, new registrations of electric cars made a new record with worldwide sales of over 750,000 electric vehicles. Furthermore, the global electric car stock crossed two million vehicles in 2016, after crossing the one million threshold in 2015. The growth was primarily led by the US and until 2015, the country accounted for the largest share of the global electric car stock. All these will drive the market for dual carbon battery market during the forecast period.
Dual carbon batteries are energy storage batteries that uses a form of carbon for both anode and the cathode. These batteries are 100% recyclable and are being developed to use carbon produced with organically grown cotton. These batteries can charge upto 20 times faster than lithium ion batteries. This charging can make electric vehicles more convenient for daily usage. For instance, Tesla S can be charged in 90 seconds with the help of these dual carbon batteries.
Report Scope:
Report Attribute/Metric
Details
Market Size
2027: Significant Value
CAGR
5.50% CAGR (2020-2027)
Base Year
2019
Forecast Period
2020-2027
Historical Data
2018
Forecast Units
Value (USD Million)
Report Coverage
Revenue Forecast, Competitive Landscape, Growth Factors, and Trends
Segments Covered
Type and Application
Geographies Covered
North America, Europe, Asia-Pacific, and Rest of the World (RoW)
Key Vendors
JSR Corp, Loxus, Hitachi Chemical, Lishen Tianjin, BYD, Amperex Technologies, Panasonic, LG Chem, Samsung SDI, Johnson Controls
Key Market Opportunities
Growing usage of electric vehicles across the globe
New product launches and R&D Amongst major key players
Key Market Drivers
Increasing developments in the electronics sector
Frequently Asked Questions (FAQ) :
---