Market Synopsis of Dental Infection Treatment market:
Market scenario:
Dental infection or tooth abscess is the infection of teeth, gums and associated tissue caused by a bacterial infection. The abscess can occur at different regions such as periapical abscess occurring at the tip of the root, and a periodontal abscess occurring in the gums next to a tooth root. Tooth abscess leads to pus formation and if left untreated can lead to serious, even life-threatening, complications. The symptoms of a tooth abscess include severe, persistent, throbbing pain in the tooth which can radiate to the jawbone, neck and other associated parts of the head, fever, swelling in cheeks, swollen lymph nodes, sensitivity to hot and cold foods etc. The spread of infection results in foul smell and foul-taste in mouth. The periapical tooth abscess is the most dangerous as bacteria invade the dental pulp which is the innermost part of the tooth that contains blood vessels, nerves and connective tissue.
The market for tooth abscess is driven by factors such as poor dental hygiene due to rise in risk factors such as time constraints due to fast lifestyle, sedentary lifestyles, not brushing your teeth twice a day and lack of flossing etc. Other strong factor is the high sugar diet and junk foods. High sugar diets have high propensity to cause a dental infection whereas junk foods are sticky and retain in the cavities of the teeth for longer times. Drinking sodas can result in slow dissolution of the dental enamel and can lead to rise in cavities due to the weakening of the natural physical barrier of the teeth. The treatment includes draining the abscess followed by antibiotic treatment, performing a root canal etc. Root canal involves the elimination of the infected central tissue, draining the abscess and then filling and sealing the tooth's pulp chamber with a dental filling material. If the infection is severe and the tooth is damaged beyond recovery, then it has to be extracted out completely to avoid any further complications.
Considering all these factors, the Dental Infection Treatment market is expected to reach $ 20.5 billion by the end of 2023, Dental Infection Treatment market is projected to growing at a CAGR of ~ 8.6 % during 2017-2023.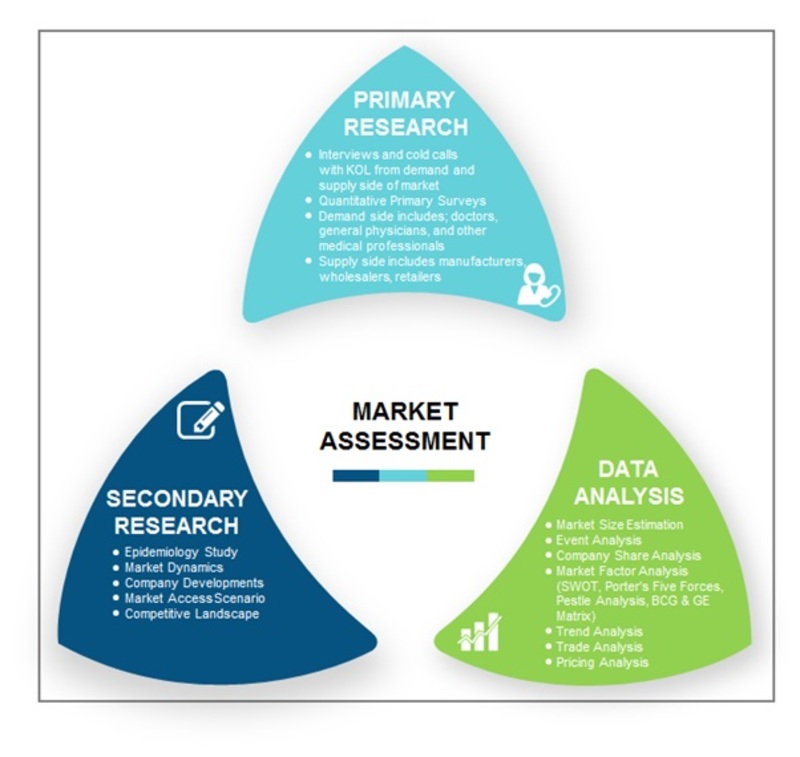 Sources: Mayo Clinic, MRFR Analysis.
Key players of Dental infection treatment Market:
Key players profiled in Dental Infection Treatment market report are Kerr Corporation, Patterson Dental Supply, Inc., Henry Schein, Inc., Pfizer .Inc, Endo Pharmaceuticals, Johnson & Johnson, Taj Pharmaceuticals Limited, Septodont Healthcare India Pvt. Ltd., Bayer HealthCare, Ultradent Products Inc., Bristol-Myers Squibb, Daiichi Sankyo and others.
Segments:
The dental infection treatment market is segmented on the basis of type, treatment and end users. Based on type, the market has been segmented as periapical abscess, periodontal abscess and others. Based on the treatment, the market has been segmented as drugs (antibiotics, pain killers, others), procedures (root canal, tooth fillings, tooth extraction, others). Based on the end users, the market has been segmented as dentistry clinics, hospitals and others.
Figure 1 Dental Infection Treatment Market Share by End User, 2016 (%)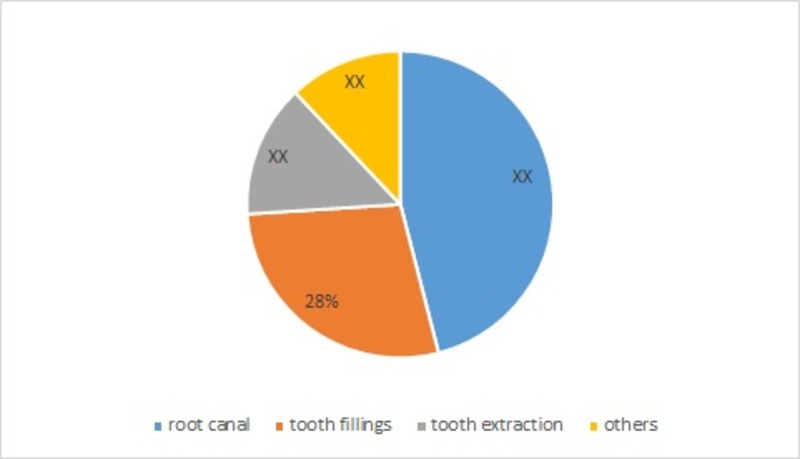 Regional analysis
US accounts for the maximum market share due to extensive use of medications and greater expenditure on healthcare. The faster market uptake of new technology and devices in the US is also an important driver of the market for dental infection treatment. The presence of large device companies in the developed regions is also a major driver of the market. Europe is the second largest market due to large disposable income and rising awareness regarding the health hazards of this condition. Asia Pacific region is expected to have the most future potential and is estimated to be led by China and India. The Middle East & Africa market is led by the gulf nations particularly Saudi Arabia and UAE. The regions of Africa are expected to witness a moderate growth due to poor economic and political conditions and poor healthcare penetration.
The report for dental infection treatment market by Market Research Future comprises of extensive primary research along with the detailed analysis of qualitative as well as quantitative aspects by various industry experts, key opinion leaders to gain a deeper insight of the market and industry performance. The report gives a clear picture of the current market scenario which includes past and estimated future market size with respect to value and volume, technological advancement, macro economical and governing factors in the market. The report provides detail information about and strategies used by top key players in the industry. The report also gives a broad study of the different market segments and regions.
Intended Audience



Global dental infection treatment manufacturers & suppliers




Research and development (R&D) companies




Hospitals and clinics




Academic institutes and universities



Speak to Analyst
Ask for Customization
Frequently Asked Questions (FAQ) :
---
Table of contents

1. Introduction

1.1 Definition

1.2 scope of study

1.2.1 Research Objective

1.2.2 Assumptions & Limitations

1.2.2.1 Assumptions

1.2.2.2 Limitations

1.3 Market Structure:

2. Research Methodology

2.1 Research Process:

2.2 Primary Research

2.3 Secondary Research:

3. Market dynamics

3.1 Drivers

3.2 Restraints

3.3 Opportunities

3.4 Macroeconomic Indicators

4. Market factor analysis

4.1 Porters Five Forces Model

4.2 Bargaining Power Of Suppliers

4.3 Bargaining Power Of Buyers

4.4 Threat Of New Entrants

4.5 Threat Of Substitutes

4.6 Intensity Of Rivalry

5. Global Dental Infection Treatment Market, by Type

5.1 Periapical Abscess

5.2 Periodontal Abscess

5.3 Others

6. Global Dental Infection Treatment Market, By Treatment

6.1 Drugs

6.1.1 Antibiotics

6.1.2 Pain Killers

6.1.3 Others

6.2 Procedures

6.2.1 Root Canal

6.2.2 Tooth Fillings

6.2.3 Tooth Extraction

6.2.4 Others

7. Global U reteral Obstruction Market, By End Users

7.1 Dentist Clinics

7.2 Hospitals

7.3 Others

8. Global Dental Infection Treatment Market, By Region

8.1 North America

8.1.1 Introduction

8.2 Europe

8.2.1 Introduction

8.3 Asia-Pacific

8.3.1 Introduction

8.4 Middle East & Africa

8.4.1 Introduction

9. Competitive landscape

9.1 Major Strategies Adopted By Market Players

9.1.1 Strategic Partnership

9.1.2 Merger & Acquisition

10. Company profile

10.1 Kerr Corporation

10.1.1 Overview

10.1.2 Product Overview

10.1.3 Financials

10.1.4 Key Developments

10.2 Patterson Dental Supply, Inc.

10.2.1 Overview

10.2.2 Product Overview

10.2.3 Financials

10.2.4 Key Developments

10.3 Henry Schein, Inc.

10.3.1 Overview

10.3.2 Product Overview

10.3.3 Financials

10.3.4 Key Development

10.4 Pfizer .Inc

10.4.1 Overview

10.4.2 Product Overview

10.4.3 Financials

10.4.4 Key Developments

10.5 Johnson & Johnson

10.5.1 Overview

10.5.2 Product Overview

10.5.3 Financials

10.5.4 Key Developments

10.6 Daiichi Sankyo

10.6.1 Overview

10.6.2 Product Overview

10.6.3 Financials

10.6.4 Key Developments

10.7 Ultradent Products Inc.

10.7.1 Overview

10.7.2 Product Overview

10.7.3 Financials

10.7.4 Key Developments

10.8 Endo Pharmaceuticals

10.8.1 Overview

10.8.2 Product Overview

10.8.3 Financials

10.8.4 Key Developments

10.9 Taj Pharmaceuticals Limited

10.9.1 Overview

10.9.2 Product Overview

10.9.3 Financials

10.9.4 Key Developments

10.10 Septodont Healthcare India Pvt. Ltd.

10.10.1 Overview

10.10.2 Product Overview

10.10.3 Financials

10.10.4 Key Developments

10.11 Other

11. Conclusion

11.1 Key Findings

11.1.1 From CEO's Viewpoint

11.1.2 Unmet Needs Of The Market

11.2 Key Companies To Watch

11.3 Prediction Of Dental Infection Treatment Industry

12. Appendix