Market Synopsis of Cryotherapy and Cryosurgery Market:
Market Scenario:
Cryotherapy and cryosurgery market is growing moderately. Cryotherapy, this medical practice have been used since ages. Cryotherapy and cryosurgery both these medical process are carried on using low temperature. Cryotherapy treatment uses extreme cold temperature. Cryosurgery is a part of cryotherapy that used to destroy or remove disease tissues. It is used to cure some types of cancer and to remove skin tags warts, moles etc. Cryotherapy is very useful in treating skin problems, heart diseases, injuries, improving immunity, increasing blood pressure etc. Cryotherapy is also widely used for treating sport related injuries. Continuous innovation and technological advancement are leading the growth of cryotherapy and cryosurgery market. Increasing awareness and consciousness about skin and related diseases are also driving the growth of this market along with increasing number of cancer treatments. Cryotherapy and cryosurgery market is expected to grow at the average CAGR of 6.9% which has started since 2015 and is expected to continue till 2023, thus growth period of this market can be stated as from 2015-2022. The worth of this market is expected to grow to US$ 4.29 billion by 2023; previously the worth of this market was US$ 2.65 billion in 2015. However, several side effects, regulatory issues and high cost are major restraints of this market.
Study Objectives of Cryotherapy Market:



To provide detail analysis of the market structure along with forecast for the next 6 years of various segments and sub-segments of the

cryotherapy and cryosurgery market.




To provide insights about factors affecting the market growth.




To analyze the cryotherapy and cryosurgery market based on various analyses which includes price analysis, supply chain analysis, Porters Five Forces analysis etc.




To provide past and estimated future revenue of the market's segments and sub-segments with respect to four main geographies and their countries namely Americas, Europe, Asia-Pacific, and Middle East & Africa.




To provide country level analysis of the market with respect to the current market size and future growth prospect.




To provide country level analysis of the market for segments by type, by device type, by application its sub-segments.




To provide overview of key players and their strategic profiling in the market, comprehensively analyzing their core competencies and drawing a competitive landscape of the market




To track and analyze competitive developments such as joint ventures, strategic alliances, mergers and acquisitions, new product developments, and research and developments in the

cryotherapy

and cryosurgery




Cryotherapy and Cryosurgery Market, by Type, 2015 (%):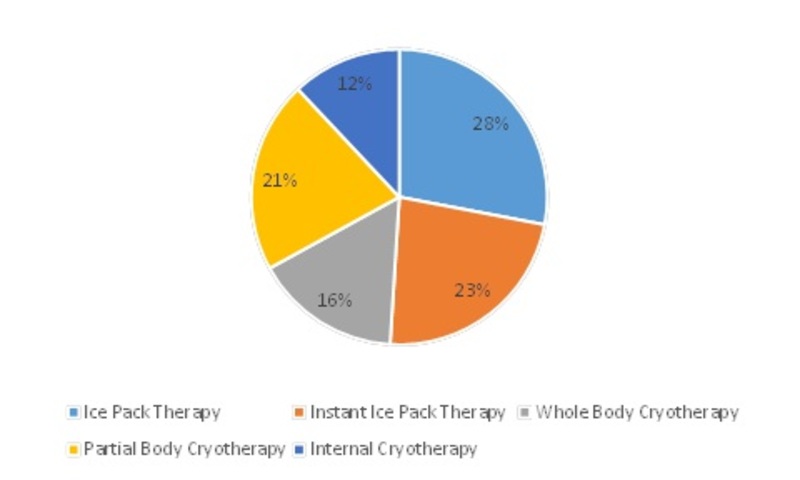 Intended Audience:



Hospitals and clinics




Cryotherapy

and cryosurgery

devices manufacturers and suppliers




Government and independent regulatory authorities




Research laboratories




Research and Development (R&D) companies




Market research and consulting service providers




Medical research laboratories




Potential investors



Segments:
Cryotherapy and cryosurgery market has been segmented on the basis of type which comprise Ice pack therapy, instant ice pack therapy, whole body cryotherapy, partial body cryotherapy, internal cryotherapy and others. On the basis of devices type it is segmented into cryogun, cryo chambers, gas cylinders, cryo probes, cryosaunas thermocouple devices and others. On the basis of application it is segmented into dermatology, oncology, pain management, trigeminal neuralgia, cardiology and others.

Key Players for Cryotherapy and cryosurgery Market:
Some of the key players in this market are Impact Cryotherapy (US), Galil Medical Inc. (US), HealthTronics, Inc.(US), KryoLife Inc (US), Medtronic (Republic of Ireland), GRAND Cryo LLC (Russia), Erbe USA, Incorporated, Wallach Surgical Devices (US), MedGyn Products, Inc. (US)
Regional Analysis of Cryotherapy Market:
Considering the global scenario of the market, North America region is believed to be the largest market for cryotherapy and cryosurgery. Moreover the European market is also growing and is the second largest market for Cryotherapy and cryosurgery. On the other hand, Asia-Pacific market for the same is expected to grow at significant rate during the forecasted period. Rest of the world is likely to have a limited but steady growth in the market.
The report of Cryotherapy and Cryosurgery Market by Market Research Future comprises of extensive primary research along with detail analysis of qualitative as well as quantitative aspects by various industry experts, key opinion leaders to gain a deeper insight of the market and industry performance. The report gives a clear picture of current market scenario which includes past and estimated future market size in terms of value & volume, technological advancement, macro economical and governing factors in the market. The report provides detail information about and strategies used by top key players in the industry. The report also gives a broad study of the different markets segments and regions.
Frequently Asked Questions (FAQ) :
---