Global Contraceptive Drugs Market Research Report,

By Type (Oral Contraceptives, Injectable And Others), By End Users (Hospitals, Clinics And Others) -

Forecast Till 2023
Market Scenario:
Birth controls are been used since ancient times but the safe and effective methods are introduce and available from 20th century. Contraceptive drugs are used to prevent the unwanted pregnancy by blocking the normal process of ovulations or by altering the process which support the fertilization of egg. Global contraceptive drugs market is driven by increasing need of population controls and increasing prevalence of sexually transmitted diseases. Necessity of avoiding the unwanted pregnancy especially in the teenage women and increasing awareness among peoples also contributed in the growth of the market. Contraceptive pills is the third most widely used contraceptive method. Government initiatives for increasing education and promoting used of contraceptive for avoiding unwanted birth have also played an important role in the growth of market. While the side effects of the treatment and strict governmental rules in many countries may hamper the growth of the market. Beside this cultural and religious opposition in developing countries is also responsible for hindering the market.
The global market for contraceptive drugs is expected to reach US$ 22.15 billion by the end of the 2023 with a CAGR of 6.5%.
Study Objectives global contraceptive drugs market



Detailed overview of global

contraceptive drugs market

.




Detail analysis of global contraceptive drugs market with all possible segmentation and key player of market.




Detailed analysis of the historical and forecasted market on the basis of factors like- price analysis, supply chain analysis, porters five force analysis etc.




To track and analyze competitive developments such as joint ventures, strategic alliances, mergers and acquisitions, new product developments, and research and developments in the global contraceptive drugs market.




Detail analysis on the possible segments and sub segments of the market. And regional analysis of the market- America, Europe, Asia Pacific and Middle East and Africa.




Insights on the major countries/regions in which this industry is flourishing and to also identify the untapped regions which could be the potential markets in future



Intended Audience



Research and Development (R&D) Companies




Contraceptive drugs

manufacturers




Medical Research Laboratories




Academic Medical Institutes and Universities




Government and Independent Research Laboratories




Contract Research Organizations (CROs)



Figure 1- Global contraceptive drugs market, by type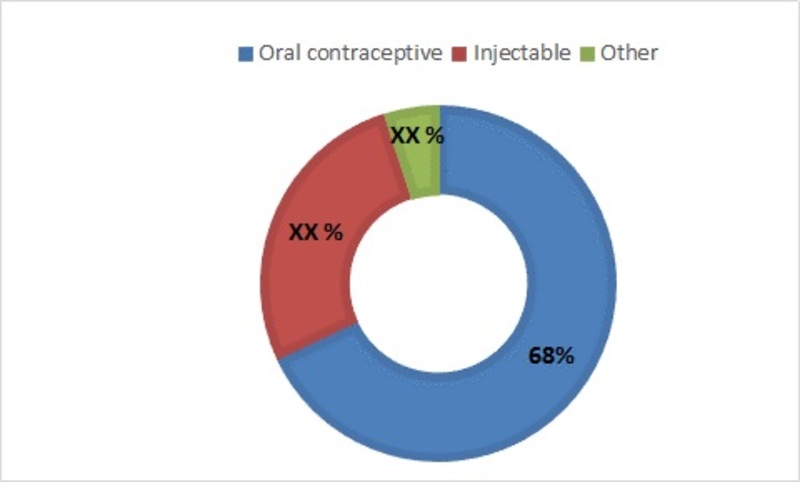 Key Players for global contraceptive drugs market

Merck & Co., Inc (US), Pfizer Inc (US), Teva Pharmaceutical Industries Ltd. (Israel), Bayer AG (Germany), Allergan plc. (Ireland), Janssen Global Services llc. (US), Mankind Pharma Ltd. (India), Piramal Enterprises Ltd (India), Reckitt Benckiser Plc (UK), Church & Dwight (US), The Female Health Company (US), Mayer Laboratories (US), Cooper Surgical (US).

Segmentation
Global contraceptive drugs market is segmented on two category type and end user. On the basis of type they are oral contraceptive, injectable and other. Oral contraceptives are further sub segmented into combined oral contraceptive pills and progestogen-only pills. On the basis of end user they are segmented as hospitals, clinics and others.
Regional Analysis
Global contraceptive drugs market is dominated by America. Increasing awareness among the people and high incidence rates of abortion has driven America contraceptive drugs market. Europe command the second largest market which is followed by Asia Pacific. Increasing need of population control in Asia Pacific is the major driving factor for the growth of the market. Beside this increasing governmental initiatives to increase the reproductive education also contributed for the growth of the market.
Market Assessment


The report for global contraceptive drugs market of Market Research Future comprises of extensive primary research along with the detailed analysis of qualitative as well as quantitative aspects by various industry experts, key opinion leaders to gain the deeper insight of the market and industry performance. The report gives the clear picture of current market scenario which includes historical and projected market size in terms of value and volume, technological advancement, macro economical and governing factors in the market. The report provides details information and strategies of the top key players in the industry. The report also gives a broad study of the different markets segments and regions.
TABLE OF CONTENTS
1 INTRODUCTION


1.1 DEFINITION


1.2 SCOPE OF STUDY


1.2.1 RESEARCH OBJECTIVE


1.2.2 ASSUMPTIONS & LIMITATIONS


1.2.2.1 ASSUMPTIONS


1.2.2.2 LIMITATIONS


1.3 MARKET STRUCTURE:


2 RESEARCH METHODOLOGY


2.1 RESEARCH PROCESS:


2.2 PRIMARY RESEARCH


2.3 SECONDARY RESEARCH:


3 MARKET DYNAMICS


3.1 DRIVERS


3.2 RESTRAINTS


3.3 OPPORTUNITIES


3.4 MACROECONOMIC INDICATORS


4 MARKET FACTOR ANALYSIS


4.1 PORTERS FIVE FORCES MODEL


4.2 BARGAINING POWER OF SUPPLIERS


4.3 BARGAINING POWER OF BUYERS


4.4 THREAT OF NEW ENTRANTS


4.5 THREAT OF SUBSTITUTES


4.6 INTENSITY OF RIVALRY


5. GLOBAL CONTRACEPTIVE DRUGS MARKET, BY TYPE


5.1 ORAL CONTRACEPTIVE


5.1.1 COMBINED ORAL CONTRACEPTIVE PILLS


5.1.2 PROGESTOGEN-ONLY PILLS


5.2 INJECTABLE


5.3 OTHER


6. GLOBAL CONTRACEPTIVE DRUGS MARKET, BY END USER


6.1 HOSPITALS


6.2 CLINICS


6.3 OTHERS


7. GLOBAL CONTRACEPTIVE DRUGS MARKET, BY REGION


7.1 INTRODUCTION


7.2 AMERICA


7.2.1 NORTH AMERICA


7.2.1.1 US


7.2.1.2 CANADA


7.2.2 SOUTH AMERICA


7.3 EUROPE


7.3.1 WESTERN EUROPE


7.3.1.1 GERMANY


7.3.1.2 FRANCE


7.3.1.3 ITALY


7.3.1.3 SPAIN


7.3.1.5 UK


7.3.1.6 REST OF WESTERN EUROPE


7.3.2 EASTERN EUROPE


7.4 ASIA


7.4.1 JAPAN


7.4.2 CHINA


7.4.3 INDIA


7.4.4 AUSTRALIA


7.4.5 REPUBLIC OF KOREA


7.5 REST OF ASIA-PACIFIC


7.6 MIDDLE EAST & AFRICA


8. COMPETITIVE LANDSCAPE


8.1 MAJOR STRATEGIES ADOPTED BY MARKET PLAYERS


8.1.1 STRATEGIC PARTNERSHIP


8.1.2 MERGER & ACQUISITION


9 COMPANY PROFILE


9.1 PFIZER INC.


9.1.1 OVERVIEW


9.1.2 PRODUCT OVERVIEW


9.1.3 FINANCIALS


9.1.4 KEY DEVELOPMENTS


9.2 TEVA PHARMACEUTICALS INDUSTRIES LTD


9.2.1 OVERVIEW


9.2.2 PRODUCT OVERVIEW


9.2.3 FINANCIALS


9.2.4 KEY DEVELOPMENTS


9.3 MERCK & CO., INC


9.3.1 OVERVIEW


9.3.2 PRODUCT OVERVIEW


9.3.3 FINANCIALS


9.3.4 STRATEGY


9.3.5 KEY DEVELOPMENT


9.4 BAYER AG


9.4.1 OVERVIEW


9.4.2 PRODUCT OVERVIEW


9.4.3 FINANCIALS


9.4.4 KEY DEVELOPMENTS


9.5 ALLERGAN PLC


9.5.1 OVERVIEW


9.5.2 PRODUCT OVERVIEW


9.5.3 FINANCIALS


9.5.4 KEY DEVELOPMENTS


9.6 OTHERS


10 CONCLUSION


10.1 KEY FINDINGS


10.1.1 FROM CEO'S VIEWPOINT


10.1.2 UNMET NEEDS OF THE MARKET


10.2 KEY COMPANIES TO WATCH


10.3 PREDICTION OF CONTRACEPTIVE DRUGS INDUSTRY


11 APPENDIX