Market Overview
Computational creativity is a study of designing software that is used to discover new concepts and ideas in several areas, such as literature, art, gaming, engineering, architecture, music, and others. This technology is used to enhance human creativity. It is applied to artificial intelligence to make creative decisions in movies, analyze screenplays, and other computational creativity applications. Computational creativity software is predominantly used for creative writing, video making, and photo and video editing. The exponential development of technologies in AI and cognitive innovation applications utilizes deep learning and machine learning algorithms to design more personalized experiences for customers. The major growth drivers for the global market include rising advancement in the computational creativity IT market, in the field of marketing and web designing, music, and photography and videography. The rising automation of creative tasks is driving the demand for computer creativity. The increasing investments and funding in computational creativity startups and the rising usage of branding, advertising, and marketing campaigns are accelerating market growth. Moreover, the growing need to implement automation to enhance the designing process can be attributed to the computational creativity market growth. However, a slow digitalization rate may affect the adoption of AI and machine learning negatively in the forecast period. Nevertheless, the increasing implementation of computer-based creative solutions is expected to create lucrative opportunities in the upcoming years.
Global Computational Creativity Market is projected to expand at a 25.42% CAGR during the forecast period, to reach 1.1497 Billion by 2026.
The COVID-19 spreading in various countries across the world has adversely affected several industries. The pandemic situation across the world has substantially influenced the computational creativity market. This market has been impacted positively since the outbreak of the COVID-19 pandemic. The demand for computational creativity has increased significantly in recent months, owing to the lockdowns imposed globally. The rising sales of information and technology & telecommunications products are expected to influence the computational creativity market over the projected timeframe. The increasing Internet penetration and rising sales of smartphones across the globe is anticipated to drive market growth. There is a high probability that the novel coronavirus outbreak will have a long-term effect on consumer lifestyle and behavior, which has resulted in increasing the adoption of information and communications products and services.
SYNOPSIS
Global Computational Creativity Market has been segmented based on Technology, Components, Application, and Region.
Based on technology, the global computational creativity market has been segmented into natural language processing (NLP), machine learning and deep learning (ML and DL), and computer vision.
Based on component, the global computational creativity market has been divided into solution and services. The solution segment is further sub-segmented into software tools and platform. The service segment is also sub-segmented into professional services and managed services.
Based on application, the global computational creativity market has been segmented into marketing and web designing, product designing, music composition, photography and videography, high-end video gaming development, automated story generation, and others. The others segment is further divided into training simulation and R&D.
REGIONAL ANALYSIS
Geographically, the Global Computational Creativity Market has been segmented into Asia-Pacific, North America, Europe, the Middle East & Africa, and South America.
North America was the leading market, accounting for the highest share in 2019. The convergence of computational creativity with AI and the Internet of Things has influenced various verticals in the US. Additionally, the emergence of several startups providing platforms to develop computational creativity solutions is anticipated to the market growth in this region. This has resulted in an increase in partnerships and collaborations between several companies to enhance their computational creativity capabilities.
The Asia-Pacific regional computational creativity market is expected to register the highest CAGR during the study period. This can be attributed to the increasing expenditure on creativity by multinational companies that are striving to establish a strong presence in emerging economies, especially India and China. This region is witnessing major developments in the computational creativity space.
COMPANIES COVERED
The Key Players operating in the Global Computational Creativity Market are IBM (US), Google (US), Microsoft (US), Adobe (US), AWS (US), Autodesk (US), Jukedeck (UK), Humtap (US), Amper Music (US), Automated Creative (UK), ScriptBook (Belgium), B12 (US), The Grid (US), Canva (Australia), Hello Games (UK), Aiva (Luxembourg), Object AI (Hong Kong), Firedrop (UK), OBVIOUS (France), Prisma Labs (US), Cyanapse (UK), Lumen5 (Canada), Skylum (UK), Logojoy (Canada), and Runway (US).
KEY DEVELOPMENTS
In March 2017, Microsoft partnered with Steelcase to develop technology-enabled workplace solutions built on Microsoft Azure IoT technology. This development helped users enhance critical behaviors at work.
In March 2018, Adobe partnered with NVIDIA to deliver new AI services for creativity and digital experiences. This partnership helped enhance the performance of the Sensei-powered services for Adobe Creative Cloud and Experience Cloud customers and developers.
In November 2020, Shutterstock acquired an AI-driven music platform—Amper Music—to create and customize original music by leveraging over one million individual audio samples recorded by musicians on thousands of unique instruments
Global Computational Creativity Market, 2018–2026 (USD Billion)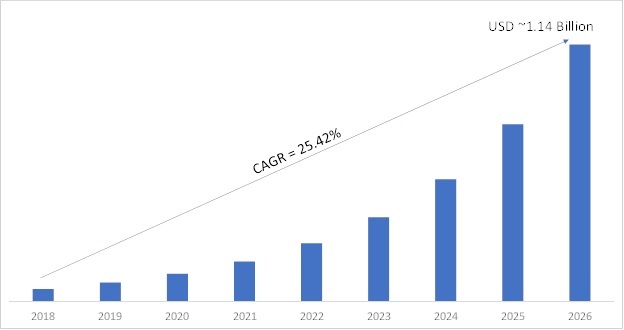 Key Questions Addressed by the Report



What was the historic market size (2018)?




Which segmentation (Technology/Components/Application) is driving the market?




What will be the growth rate by 2026?




Who are the key players in this market?




What are the strategies adopted by key players?



Report Scope:
| Report Attribute/Metric | Details |
| --- | --- |
| Market Size | 1.1497 Billion (2026) |
| CAGR | 25.42% (2026) |
| Base Year | 2019 |
| Forecast Period | 2020-2027 |
| Historical Data | 2018 |
| Forecast Units | Value (USD Billion) |
| Report Coverage | Revenue Forecast, Competitive Landscape, Growth Factors, and Trends |
| Segments Covered | By Technology, By Components, By Application |
| Geographies Covered | North America, Europe, Asia-Pacific, and Rest of the World (RoW) |
| Key Vendors | IBM (US), Google (US), Microsoft (US), Adobe (US), AWS (US), Autodesk (US), Jukedeck (UK), Humtap (US), Amper Music (US), Automated Creative (UK), ScriptBook (Belgium), B12 (US), The Grid (US), Canva (Australia), Hello Games (UK), Aiva (Luxembourg), Object AI (Hong Kong), Firedrop (UK), OBVIOUS (France), Prisma Labs (US), Cyanapse (UK), Lumen5 (Canada), Skylum (UK), Logojoy (Canada), and Runway (US). |
| Key Market Opportunities | The increasing implementation of computer-based creative solutions is expected to create lucrative opportunities in the upcoming years. |
| Key Market Drivers | This has resulted in an increase in partnerships and collaborations between several companies to enhance their computational creativity capabilities. |
Frequently Asked Questions (FAQ) :
---