Composable Infrastructure Market Synopsis
Composable Infrastructure Market is estimated to reach a market value of USD 5.80 billion by 2026 growing at a 58.10% CAGR during the forecast period 2019–2026. The Composable Infrastructure Market market is at a nascent stage with rising adoption among enterprises to maximize speed, agility, and efficiency of core IT and data center infrastructure. Growing demand for composable infrastructure for improved productivity, enhance utilization of storage resources, quicker provisioning of infrastructure, workload and applications, reducing downtime and operational costs are the major factors that drive the Composable Infrastructure Market growth.
Composable Infrastructure Market, also known as disaggregated infrastruture or Infrastructure-as-a-Code, is a category of data center infrastructure in which compute, storage, and network resources are extracted from their physical locations and made available on-demand as cloud services. Composable infrastructure allows these resources to be managed through software over web-based interface. Composable infrastructure allows IT administrators and developers to utilize infrastructure as a code to manage IT environment within a data center. Moreover, composable infrastructure allows cohosting of current-generation applications (CGAs) and next-generation applications (NGAs). With Infrastructure-as-a-Code developers are capable of integrating infrastructure provisioning commands directly into application development process, enabling faster deployment of applications. Another core feature of composable infrastructure is fluid resource pool allowing composition and recomposition of blocks of disaggregated compute, storage, and network infrastructure. Logical pooling of resources help organizations to reduce underutilization and overprovisioning, faciltating agility and cost-effectiveness in data centers. One of the core principles involved in designing composable infrastructure is software-defined intelligence, that offers single management interface for integrating operational silos with workload templates which reduces complexity and downtime in data centers. IT teams in organizations are adopting composable infrastructure to reduce overprovisioning and capital expenditure, faster deployment of resources, quicker development of applications, and perform seemless firmware updates.
However, lack of skilled IT staff, complexities associated with intergating composable infrastructure into the traditional infrastructre and management tools, concerns over single point of failure, and single vendor lock-in are some of the major challenges that may limit the adoption of composable infrastructure restricting the market growth in the coming years.
Composable Infrastructure Market Segmentation
By Cloud Type, the market is segmented into public, private, and hybrid.
By Type, the market is segmented into hardware and software
By Organization Size, the market is segmented into large enterprises and SMEs.
By Vertical, the market is segmented into IT and telecommunication, BFSI, government, healthcare, manufacturing and others.
Global Composable Infrastructure Market, 2019-2026 (USD Million)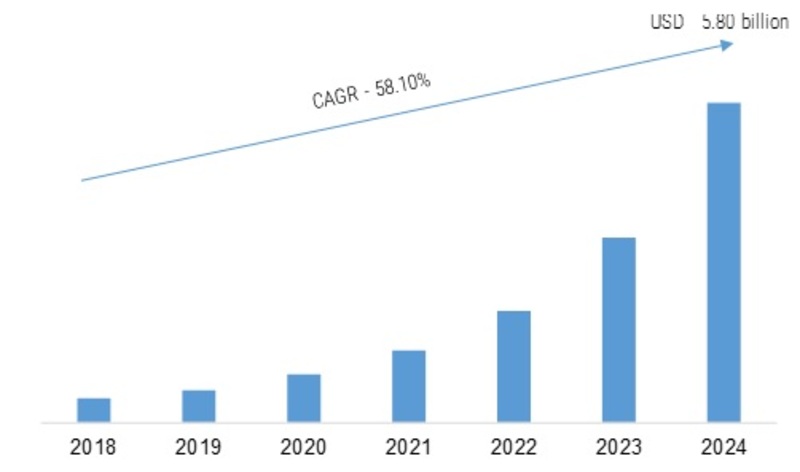 Source: MRFR Website
Composable Infrastructure Market Regional Analysis
The market for global composable infrastructure is estimated to grow at a significant rate during the forecast period from 2019 to 2026. The geographical analysis of user activity monitoring market has been studied for North America (US, Canada, Mexico), Europe (UK, Germany, France, Spain, Italy, the rest of Europe), Asia-Pacific (China, Japan, India, Singapore, Australia, the rest of Asia-Pacific) and the rest of the world (the Middle East and Africa and South America).
At present, North America holds the largest market share owing to the presence of key market players such as Hewlett Packard Enterprise Company, HGST Inc., Dell EMC, and Cisco Systems Inc., investing in development of composable infrastructure for data centers driving the market growth. Growing demand for enterprise applications and adoption of composable infrastructure for reduction in operational expenses among enterprises in the US, Canada, and Mexico also foster the market growth in this region.
Europe region accounted for the second-largest market share owing to growing adoption of composable infrastructure in countries such as the UK, Germany, France, Spain, Italy and other European countries. The adoption is dominated by IT and telecom industry in this region and the growth rate is expected to be higher in the BFSI sector in Europe.
Asia-Pacific region accounted for the third-largest market share and is expected to attain the highest growth due to growing number of data centers opting composable infrastructure in China, Japan, India, Singapore, Australia and other Asian countries.
The Middle East and Africa region is expected to achieve substantial growth and presents numerous opportunities for key market players to invest in this technology.
Composable Infrastructure Market Key Players
The prominent players in the market of Global Composable Infrastructure are Hewlett Packard Enterprise Company, HGST Inc., Dell EMC, Cisco Systems Inc., Lenovo Group Ltd., DriveScale Inc., TidalScale Inc., Liqid Inc., OSS, Cloudistics, and Quanta Cloud Technology.
The prominent players keep innovating and investing in research and development to present a cost-effective product portfolio. There has been recent mergers and acquisitions among the key players, a strategy the business entities leverage to strengthen their reach to the customers.
Intended Audience



Datacenter infrastructure providers




Cloud service providers




IT infrastructure providers




Compute and storage systems providers




Cloud network equipment providers




Data center network equipment providers




Research institutes and organizations




Telecommunication enterprises




Speak to Analyst
Ask for Customization
Frequently Asked Questions (FAQ) :
---