Market Synopsis
The Global Bluetooth IC Market size was valued at USD 871.5 Million in 2018 and is expected to reach USD 2,842.2 Million by the end of the forecast period at a compound annual growth rate (CAGR) of 18.56%.
Bluetooth is a standardized protocol for wirelessly transmitting data over a communication network. It is a secure protocol that is ideal for short-range, low-power, and inexpensive wireless transmission between electronic devices. The technology is one of the most predominant low-power wireless technologies in the industry and is highly preferred by wireless device users and developers. Bluetooth technology has been evolving over the past two decades and is currently at Bluetooth 5. All the nodes in a Bluetooth-connected network act as a transmitter for other nodes, thereby, providing better connectivity across nodes. This has augmented the demand for Bluetooth ICs in wireless devices. Increasing adoption of smart wearables by consumers has attributed to the demand for the global Bluetooth IC market. Moreover, miniaturization of ICs is also expected to create opportunities in the global market. However, the integration of intellectual property (IP) blocks for system-on-a-chip (SOC) design and constantly evolving communication technology might hamper the market growth.
Key Developments



In October 2019

, Microchip launched a Bluetooth 5.0-certified, dual-mode IC for audio solutions. The IS2083 IC features a power amplifier and flash memory which enables it to support Sony's LDAC technology.






In February 2019

, American Semiconductor Inc. launched a fully flexible, ultra-thin Bluetooth IC, AS_NRF51822 FleX-BLE IC. FleX-BLE is a flexible semiconductor-on-polymer (SoP) chip-scale packaged system-on-chip (SoC) that supports Bluetooth low energy (BLE) communication.






In October 2018

,

Toshiba Corporation launched Bluetooth ICs for automotive applications. Its name is TC35681IFTG IC and features an arm Cortex-M0 CPU and is compliant with Bluetooth Low Energy (BLE) 5.0. The chip is integrated for several automotive applications including remote keyless entry, on-board diagnostics, and tire pressure monitoring systems to improve comfort and safety for individuals.






In November 2017

, QuickLogic partnered with Nordic Semiconductor to develop wearables using Voice-over-Bluetooth Low-Energy technology. Through this partnership, Nordic Semiconductor's nRF51822 Bluetooth Low Energy (BLE) SoC is integrated on QuickLogic's EOS S3 sensor processing platform for applications in Amazon's Alexa-compatible wearables.



Segmentation
The Global Bluetooth IC Market has been segmented on the basis of Product, Device Type, End Use, and Region.
By type, the global Bluetooth IC market has been segmented into Bluetooth 4.0, Bluetooth 4.2, Bluetooth 5, others.
On the basis of application, the global Bluetooth IC market has been segmented into smart homes, beacons, audio devices, health & fitness, human interface devices (HID), remote controls, automotive, industrial, and others.
By region, the global Bluetooth IC market has been segmented into North America, Europe, Asia-Pacific, the Middle East & Africa, and Central & South America.
Regional Analysis
The global market for Bluetooth ICs is estimated to grow at a staggering rate during the forecast period from 2019 to 2025. The geographic analysis of the Bluetooth IC market has been done for North America, Europe, Asia-Pacific, the Middle East & Africa, and Central & South America. As per MRFR analysis, the Asia-Pacific region dominated the global market in 2018 and is estimated to maintain its dominance throughout the forecast period. Demand for miniaturization of ICs has encouraged chip manufacturers in China and Taiwan to integrate Bluetooth IC on system-on-chips (SOCs). However, the market in North America is expected to witness the fastest growth during the forecast period 2019–2025. High penetration of wireless devices coupled with the implementation of smart buildings has propelled the growth of the Bluetooth IC market in North America.
Global Bluetooth IC Market, USD Billion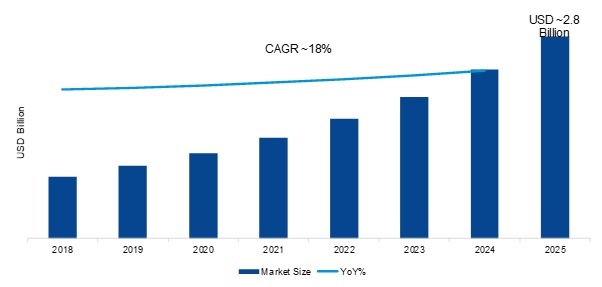 Source: MRFR Analysis
Competitive Landscape
The manufacturers in the global Bluetooth IC market are primarily focused on improving their portfolio of Bluetooth ICs to stay competitive in the market. To accomplish this, these companies have invested a significant share of their revenues in research & development activities. In addition to this, the companies focus on developing compatible and highly efficient Bluetooth ICs for applications in consumer electronics, aerospace, defense, and telecommunications among other industry verticals. As a part of their market development strategy, these companies also focus on inorganic growth approaches such as acquisitions, partnerships, joint ventures, and collaborations to expand their geographic presence and gain a competitive advantage in the global Bluetooth IC market.
Key Players
MRFR has identified a few companies as prominent players in the Global Bluetooth IC Market. These include STMicroelectronics (Netherlands), Toshiba Corporation (Japan), Qualcomm Incorporated (US), Texas Instruments Incorporated (US), Nordic Semiconductor (Norway), Dialog Semiconductor (UK), Cypress Semiconductor (US), Silicon Laboratories, Inc. (US), Microchip Technology Inc. (US), and NXP Semiconductors NV (Netherlands). These companies are analyzed on the basis of their geographic presence, origin, product portfolio, key developments, and expertise in wireless connectivity using Bluetooth. Apart from the aforementioned players, Realtek Semiconductor Corp. (Taiwan), Asahi Kasei Microdevices Corporation (Japan), Renesas Electronics (Japan), Telink Semiconductor (China), Murata Manufacturing Co., Ltd (Japan), Amp'ed RF Wireless Technology (US), MediaTek Inc. (Taiwan), and Maxim Integrated (US) have a significant presence in the global Bluetooth IC market.
Intended Audience



Raw Material and Manufacturing Equipment Suppliers




Middleware and Firmware Providers




Research Organizations and Consultancies




Government and Regulating Authorities




Bluetooth IC Manufacturer




Organizations, Forums and Alliance




System Integrators




Analysts, Technology Experts, and Strategic Business Planners




End Users



Frequently Asked Questions (FAQ) :
---