Global Automotive Electric Bus Market, By Charging technology (Autonomous, Non-autonomous), By Vehicle Type (Light Duty Electric, Heavy Duty Electric and Hybrid Electric Bus) and region - Forecast 2017-2023.
Market Synopsis of Automotive Electric Bus Market
Rising environmental concerns and increasing government investments in fuel saving technologies & alternative fuel vehicles are driving the growth of the global electric bus market. Increasing number of global bus manufacturers are opting to manufacture electric & hybrid electric buses as substitutes to diesel fueled buses, thus pushing the market towards growth. Benefits such as thermal comfort and noise reduction offered by these will further enhance automotive electric bus market. Electric & hybrid electric buses helps to reduce the effects of solar heat build-up inside the car as well as turn into a filter for disruptive noises like car horns and construction work.
Whereas, high cost associated with manufacturers, lack of awareness about usability and benefits hamper the growth of the market, significantly.
Market is expected to reach at market size of USD 82.5 billion by the end of forecast period with CAGR of 22.8% between 2017 and 2023.
Study Objectives of Automotive Electric Bus Market



To provide detailed analysis of the market structure along with forecast of the various segments and sub-segments of the

automotive electric bus

market




To provide insights about factors affecting the market growth




To analyze the automotive electric bus market based Porter's Five Forces Analysis




To provide historical and forecast revenue of the market segments and sub-segments with respect to four main geographies, North America, Europe, Asia-Pacific, and Rest of the World (ROW) and their countries




To provide country level analysis of the market with respect to the current market size and future prospective




To provide country level analysis of the market for segment by charging technology, vehicle type and sub-segments




To provide strategic profiling of key players in the market, comprehensively analyzing their core competencies, and drawing a competitive landscape for the market




To track and analyze competitive developments such as joint ventures, strategic alliances, mergers and acquisitions, new product developments, and research and developments in the automotive electric bus



Global Automotive Electric Bus market: Segmentation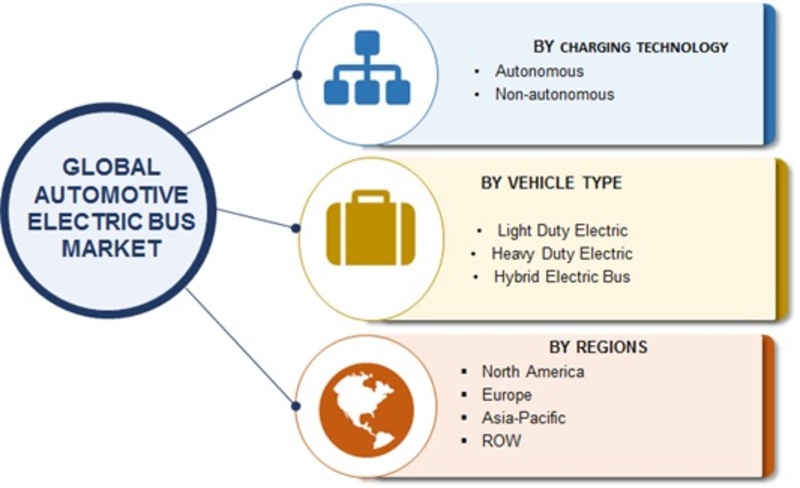 Regional Analysis
Asia-Pacific is dominating the automotive electric bus market with increased government initiatives in countries such as India, China, and Japan. China is the biggest market for electric buses, and the government is actively promoting the replacement of conventional buses with electric ones. China is also developing the required infrastructure to support the use of electric buses.
Europe is known as one of the one of the leading regions for growth and development in the bus sector. Governments of various countries in Europe are taking initiatives and steps to curb pollution, which in turn is boosting demand for electric and hybrid electric vehicles.
Key Players
The major players operating in the market of global automotive electric bus are Daimler AG (Germany), Anhui Ankai Automobile Co., Ltd.( China), Volvo Group (Sweden), Wright Enrichment Inc(U.S.), Shandong Yi Xing Electric Auto Co.,Ltd (China), Zhongtong Bus Holding Co., Ltd.( China), BYD Auto Co., Ltd ( China), Iveco (Italy), Ebus (Singapore) and Beiqi Foton Motor Co., Ltd.(China).
Target Audience
Product Analysis
Additional Information



Regulatory Landscape




Pricing Analysis




Macroeconomic Indicators



Geographic Analysis
Company Information



Profiling of 10 key market players




In-depth analysis including SWOT analysis, and strategy information of related to report title




Competitive landscape including emerging trends adopted by major companies



The report for Global Automotive Electric Bus Market of Market Research Future comprises of extensive primary research along with the detailed analysis of qualitative as well as quantitative aspects by various industry experts, key opinion leaders to gain the deeper insight of the market and industry performance. The report gives the clear picture of current market scenario which includes historical and projected market size in terms of value and volume, technological advancement, macro economical and governing factors in the market. The report provides details information and strategies of the top key players in the industry. The report also gives a broad study of the different market segments and regions.
Table of Contents
1 Executive Summary


2 Research Methodology


2.1 Scope of the Study


2.1.1 Definition


2.1.2 Research Objective


2.1.3 Assumptions


2.1.4 Limitations


2.2 Research Process


2.2.1 Primary Research


2.2.2 Secondary Research


2.3 Market size Estimation


2.4 Forecast Model


3 Market Dynamics


3.1 Market Drivers


3.2 Market Inhibitors


3.3 Supply/Value Chain Analysis


3.4 Porter's Five Forces Analysis


4 Global Automotive Electric Bus Market, By Charging technology


4.1 Introduction


4.2 Autonomous


4.3 Non-autonomous


5 Global Automotive Electric Bus Market, By Vehicle Type


5.1 Introduction


5.2 Light Duty Electric


5.3 Heavy Duty Electric


5.4 Hybrid Electric Bus


6 Regional Market Analysis


6.1 Introduction


6.2 North America


6.2.1 U.S.


6.2.2 Canada


6.3 Europe


6.3.1 U.K


6.3.2 France


6.3.3 Germany


6.3.4 Spain


6.3.5 Rest of Europe


6.4 Asia-Pacific


6.4.1 China


6.4.2 Japan


6.4.3 India


6.4.4 Rest of Asia-Pacific


6.5 Rest of the World


7 Competitive Analysis


7.1 Introduction


7.2 Competitive Scenario


7.2.1 Market Share Analysis


7.2.2 Market Development Analysis


7.2.3 Charging technology /Service Benchmarking


7.3 Daimler AG


7.3.1 Overview


7.3.2 Charging technology /Service Offering


7.3.3 Strategy


7.4 Anhui Ankai Automobile Co., Ltd


7.4.1 Overview


7.4.2 Charging technology /Service Offering


7.4.3 Strategy


7.5 Volvo Group


7.5.1 Overview


7.5.2 Charging technology /Service Offering


7.5.3 Strategy


7.6 Wright Enrichment Inc


7.6.1 Overview


7.6.2 Charging technology /Service Offering


7.6.3 Strategy


7.6 Shandong Yi Xing Electric Auto Co.,Ltd


7.6.1 Overview


7.6.2 Charging technology /Service Offering


7.6.3 Strategy


7.7 Zhongtong Bus Holding Co., Ltd


7.7.1 Overview


7.7.2 Charging technology /Service Offering


7.7.3 Strategy


7.9 BYD Auto Co., Ltd


7.9.1 Overview


7.9.2 Charging technology /Service Offering


7.9.3 Strategy


7.10 Iveco


7.10.1 Overview


7.10.2 Charging technology /Service Offering


7.10.3 Strategy


7.11 Ebus


7.11.1 Overview


7.11.2 Charging technology /Service Offering


7.11.3 Strategy


7.12 Beiqi Foton Motor Co., Ltd


7.12.1 Overview


7.12.2 Charging technology /Service Offering


7.12.3 Strategy
LIST OF TABLES
TABLE 1 GLOBAL AUTOMOTIVE ELECTRIC BUS MARKET, BY CHARGING TECHNOLOGY


TABLE 2 GLOBAL AUTOMOTIVE ELECTRIC BUS MARKET, BY VEHICLE TYPE


TABLE 3 GLOBAL AUTOMOTIVE ELECTRIC BUS MARKET, BY REGIONS


TABLE 4 NORTH AMERICA AUTOMOTIVE ELECTRIC BUS MARKET, BY CHARGING TECHNOLOGY


TABLE 5 NORTH AMERICA AUTOMOTIVE ELECTRIC BUS MARKET, BY VEHICLE TYPE


TABLE 6 U.S. AUTOMOTIVE ELECTRIC BUS MARKET, BY CHARGING TECHNOLOGY


TABLE 7 U.S. AUTOMOTIVE ELECTRIC BUS MARKET, BY VEHICLE TYPE


TABLE 8 CANADA AUTOMOTIVE ELECTRIC BUS MARKET, BY CHARGING TECHNOLOGY


TABLE 9 CANADA AUTOMOTIVE ELECTRIC BUS MARKET, BY VEHICLE TYPE


TABLE 10 EUROPE AUTOMOTIVE ELECTRIC BUS MARKET, BY CHARGING TECHNOLOGY


TABLE 11 EUROPE AUTOMOTIVE ELECTRIC BUS MARKET, BY VEHICLE TYPE


TABLE 12 GERMANY AUTOMOTIVE ELECTRIC BUS MARKET, BY CHARGING TECHNOLOGY


TABLE 13 GERMANY AUTOMOTIVE ELECTRIC BUS MARKET, BY VEHICLE TYPE


TABLE 14 FRANCE AUTOMOTIVE ELECTRIC BUS MARKET, BY CHARGING TECHNOLOGY


TABLE 15 FRANCE AUTOMOTIVE ELECTRIC BUS MARKET, BY VEHICLE TYPE


TABLE 16 U.K. AUTOMOTIVE ELECTRIC BUS MARKET, BY CHARGING TECHNOLOGY


TABLE 17 U.K. AUTOMOTIVE ELECTRIC BUS MARKET, BY VEHICLE TYPE


TABLE 18 REST OF EUROPE AUTOMOTIVE ELECTRIC BUS MARKET, BY CHARGING TECHNOLOGY


TABLE 19 REST OF EUROPE AUTOMOTIVE ELECTRIC BUS MARKET, BY VEHICLE TYPE


TABLE 20 ASIA-PACIFIC AUTOMOTIVE ELECTRIC BUS MARKET, BY CHARGING TECHNOLOGY


TABLE 21 ASIA-PACIFIC AUTOMOTIVE ELECTRIC BUS MARKET, BY VEHICLE TYPE


TABLE 22 ROW AUTOMOTIVE ELECTRIC BUS MARKET, BY CHARGING TECHNOLOGY


TABLE 23 ROW AUTOMOTIVE ELECTRIC BUS MARKET, BY VEHICLE TYPE


LIST OF FIGURES
FIGURE 1 RESEARCH METHODOLOGY


FIGURE 2 GLOBAL AUTOMOTIVE ELECTRIC BUS MARKET: BY CHARGING TECHNOLOGY (%)


FIGURE 3 GLOBAL AUTOMOTIVE ELECTRIC BUS MARKET: BY VEHICLE TYPE (%)


FIGURE 4 GLOBAL AUTOMOTIVE ELECTRIC BUS MARKET: BY REGION


FIGURE 5 NORTH AMERICA AUTOMOTIVE ELECTRIC BUS MARKET, BY CHARGING TECHNOLOGY (%)


FIGURE 6 NORTH AMERICA AUTOMOTIVE ELECTRIC BUS MARKET, BY VEHICLE TYPE (%)


FIGURE 7 EUROPE AUTOMOTIVE ELECTRIC BUS MARKET, BY CHARGING TECHNOLOGY (%)


FIGURE 8 EUROPE AUTOMOTIVE ELECTRIC BUS MARKET, BY VEHICLE TYPE (%)


FIGURE 9 ASIA-PACIFIC AUTOMOTIVE ELECTRIC BUS MARKET, BY CHARGING TECHNOLOGY (%)


FIGURE 10 ASIA-PACIFIC AUTOMOTIVE ELECTRIC BUS MARKET, BY VEHICLE TYPE (%)


FIGURE 11 ROW AUTOMOTIVE ELECTRIC BUS MARKET, BY CHARGING TECHNOLOGY (%)


FIGURE 12 ROW AUTOMOTIVE ELECTRIC BUS MARKET, BY VEHICLE TYPE (%)