Study objectives Asia Pacific interventional cardiology market



Detailed information about the factors affecting the growth of the Asia Pacific interventional cardiology




Detailed analysis of parent market with respect to all the possible segmentation of the market.




Detailed analysis of emerging key players for the market with their effective strategies.




To track and analyze competitive developments such as joint ventures, strategic alliances, mergers and acquisitions, new product developments, and research and developments in the Asia Pacific interventional cardiology market.




Analysis of the market of the different factors like- Price Analysis, Supply Chain Analysis, Porters' Five Force Analysis etc.




Detailed information on the possible segments and sub segments of the market and its regional analysis.




Insights on the major countries in which this industry is blooming and to also identify the regions that are still untapped




Detailed information on trends and the opportunities in various regions



Intended Audience



Research and Development (R&D) Companies




Catheter manufacturing company






Government and Independent Research Laboratories




Government and Independent Regulatory Authorities




Medical Research Laboratories




Academic Medical Institutes and Universities



Figure 1- Asia Pacific interventional cardiology market, by application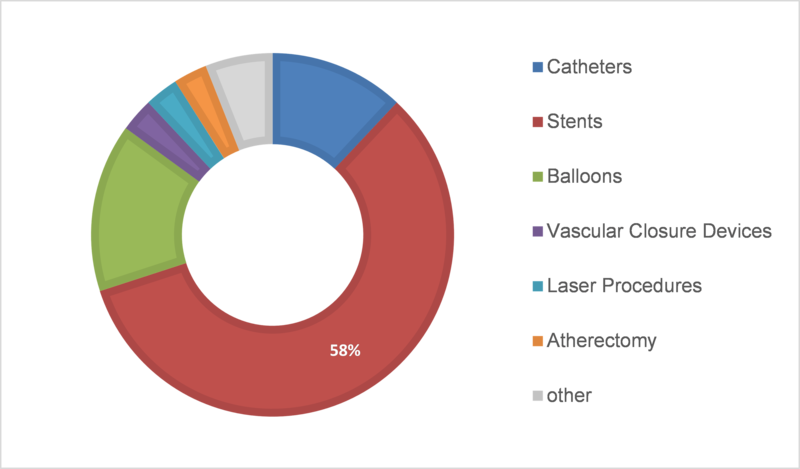 Sources- Annual reports, White paper, Company Presentation
Market Scenario:
Interventional cardiology is a branch of cardiology that deals with catheter based treatment for heart diseases. By catheterization, number of procedures can be performed on the heart. According to International Diabetes Federation, 60% of world's total diabetic population lives in Asia. Diabetic is one of the major factors which lead to cardiovascular diseases. Increasing prevalence of cardiovascular diseases is the major factor for the growth of the market in Asia Pacific. Beside this increasing incidences of diabetes and obesity, change in lifestyle, increasing awareness among the people and rapid development in technology also contributed to the growth of the market. On other hand, high cost for manufacturing the devices and lot of barriers for the development of the new device are the major restraints hampering the market growth.
Asia Pacific interventional cardiology market is expected to grow at a CAGR of 7.9% during the forecasted period 2017-2023.
Market Assessment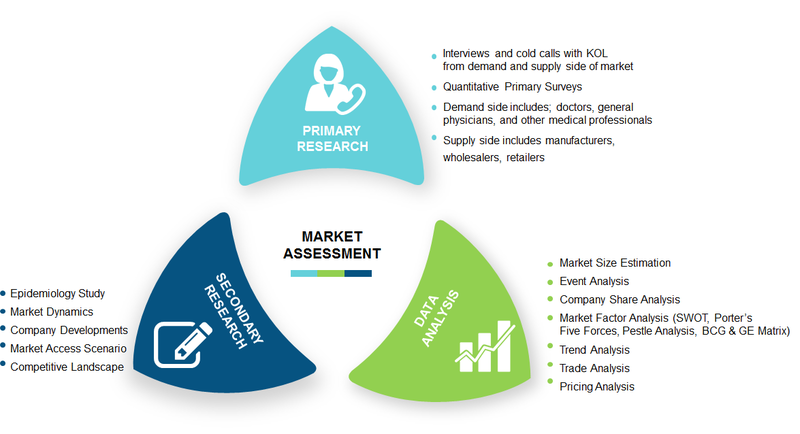 Sources- Annual reports, World Health Organization (WHO), White paper, Company Presentation, International Diabetes Federation
Segmentation
Asia Pacific interventional cardiology market is segmented on the basis of type, into catheters, stents, balloons, vascular closure devices, laser procedures, atherectomy and other. Stents are sub segmented into metal stents, drug eluting stents and bioresorbable stents. Balloons are further segmented into cutting balloons, drug eluting balloons and other. On the basis of end users the market is segmented into catheterization laboratories, hospitals and clinics and others
Regional Analysis:
On the basis of region, Asia Pacific market for interventional cardiology is segmented into countries namely Japan, India, China, Australia, Republic of Korea and Rest of Asia Pacific. China accounts for the largest market share which is attributed to an increase in incidence of chronic heart diseases, increasing geriatric population, and demand for early diagnosis of cardiac disease. India holds the second largest market whereas Japan shows steady growth in this market.
Key Players for Asia Pacific interventional cardiology market
Abbott Laboratories Inc. (U.S.), B. Braun Melsungen AG (Germany), C.R. Bard, Inc. (U.S.), Abiomed Inc. (U.S), Edwards Lifesciences (U.S.), Biosensors International Group, Ltd. ( Singapore), Boston Scientific Corporation (U.S.), Medtronic PLC (Ireland), Angiodynamics, Inc. ( U.S), Terumo Medical Corporation (Japan), Johnson & Johnson Services, Inc. (U.S.)., Lombard Medical Technologies, Plc. (U.K), Clearstream Technologies Group Plc. (Ireland).
The report for Asia Pacific interventional cardiology market of Market Research Future comprises of extensive primary research along with the detailed analysis of qualitative as well as quantitative aspects by various industry experts, key opinion leaders to gain the deeper insight of the market and industry performance. The report gives a clear picture of the current market scenario which includes historical and projected market size in terms of value and volume, technological advancement, macro economical and governing factors in the market. The report provides details information and strategies of the top key players in the industry. The report also gives a broad study of the different markets segments and regions.
TABLE OF CONTENTS

1 INTRODUCTION

1.1 DEFINITION

1.2 SCOPE OF STUDY

1.2.1 RESEARCH OBJECTIVE

1.2.2 ASSUMPTIONS & LIMITATIONS

1.2.2.1 ASSUMPTIONS

1.2.2.2 LIMITATIONS

1.3 MARKET STRUCTURE:

2 RESEARCH METHODOLOGY

2.1 RESEARCH PROCESS:

2.2 PRIMARY RESEARCH

2.3 SECONDARY RESEARCH:

3 MARKET DYNAMICS

3.1 DRIVERS

3.2 RESTRAINTS

3.3 OPPORTUNITIES

3.4 MACROECONOMIC INDICATORS

4 MARKET FACTOR ANALYSIS

4.1 PORTERS FIVE FORCES MODEL

4.2 BARGAINING POWER OF SUPPLIERS

4.3 BARGAINING POWER OF BUYERS

4.4 THREAT OF NEW ENTRANTS

4.5 THREAT OF SUBSTITUTES

4.6 INTENSITY OF RIVALRY

ASIA PACIFIC INTERVENTIONAL CARDIOLOGY MARKET, BY TYPE

5.1 CATHETERS

5.2 STENTS

5.2.1 METAL STENTS

5.2.2 DRUG ELUTING STENTS

5.2.3 BIORESORBABLE STENTS

5.3 BALLOONS

5.3.1 CUTTING BALLOONS

5.3.2 DRUG ELUTING BALLOONS

5.3.3 OTHER

5.4 VASCULAR CLOSURE DEVICES

5.5 LASER PROCEDURES

5.6 ATHERECTOMY

5.7 OTHER

ASIA PACIFIC INTERVENTIONAL CARDIOLOGY MARKET, BY END USER

6.1 CATHETERIZATION LABORATORIES

6.2 HOSPITALS AND CLINICS

6.3 OTHER

ASIA PACIFIC INTERVENTIONAL CARDIOLOGY MARKET, BY REGION

7.1 INTRODUCTION

7.2 ASIA-PACIFIC

7.2.1 JAPAN

7.2.2 CHINA

7.2.3 INDIA

7.2.4 AUSTRALIA

7.2.5 REPUBLIC OF KOREA

7.2.6 REST OF ASIA-PACIFIC

COMPETITIVE LANDSCAPE

8.1 MAJOR STRATEGIES ADOPTED BY MARKET PLAYERS

8.1.1 STRATEGIC PARTNERSHIP

8.1.2 MERGER & ACQUISITION

9 COMPANY PROFILE

9.1 ABBOTT LABORATORIES INC

9.1.1 OVERVIEW

9.1.2 PRODUCT OVERVIEW

9.1.3 FINANCIALS

9.1.4 KEY DEVELOPMENTS

9.2 BOSTON SCIENTIFIC CORPORATION

9.2.1 OVERVIEW

9.2.2 PRODUCT OVERVIEW

9.2.3 FINANCIALS

9.2.4 KEY DEVELOPMENTS

9.3 MEDTRONIC PLC

9.3.1 OVERVIEW

9.3.2 PRODUCT OVERVIEW

9.3.3 FINANCIALS

9.3.4 KEY DEVELOPMENT

9.4 B. BRAUN MELSUNGEN AG

9.4.1 OVERVIEW

9.4.2 PRODUCT OVERVIEW

9.4.3 FINANCIALS

9.4.4 KEY DEVELOPMENTS

9.5 BIOSENSORS INTERNATIONAL GROUP, LTD

9.5.1 OVERVIEW

9.5.2 PRODUCT OVERVIEW

9.5.3 FINANCIALS

9.5.4 KEY DEVELOPMENTS

9.6 JOHNSON & JOHNSON SERVICES, INC.

9.6.1 OVERVIEW

9.6.2 PRODUCT OVERVIEW

9.6.3 FINANCIALS

9.6.4 KEY DEVELOPMENTS

9.7 LOMBARD MEDICAL TECHNOLOGIES, PLC

9.7.1 OVERVIEW

9.7.2 PRODUCT OVERVIEW

9.7.3 FINANCIALS

9.7.4 KEY DEVELOPMENTS

9.8 TERUMO MEDICAL CORPORATION

9.8.1 OVERVIEW

9.8.2 PRODUCT OVERVIEW

9.8.3 FINANCIALS

9.8.4 KEY DEVELOPMENTS

9.9 OTHERS

10 CONCLUSION

10.1 KEY FINDINGS

10.1.1 FROM CEO'S VIEWPOINT

10.1.2 UNMET NEEDS OF THE MARKET

10.2 KEY COMPANIES TO WATCH

10.3 PREDICTION OF CARDIOVASCULAR DEVICES INDUSTRY

11 APPENDIX

LIST OF TABLES

Table 1 Interventional Cardiology Industry Synopsis, 2020-2027

Table 2 Asia Pacific Interventional Cardiology Market Estimates & Forecast, 2020-2027, (USD Million)

Table 3 Asia Pacific Interventional Cardiology Market, by Region, 2020-2027, (USD Million)

Table 4 Asia Pacific Interventional Cardiology Market, by Type, 2020-2027, (USD Million)

Table 5 Asia Pacific Interventional Cardiology Market, by End-User, 2020-2027, (USD Million)

Table 20 Japan Interventional Cardiology Market, by Type, 2020-2027, (USD Million)

Table 21 Japan Interventional Cardiology Market, by End-User, 2020-2027, (USD Million)

Table 20 China Interventional Cardiology Market, by Type, 2020-2027, (USD Million)

Table 21 China Interventional Cardiology Market, by End-User, 2020-2027, (USD Million)

Table 20 India Interventional Cardiology Market, by Type, 2020-2027, (USD Million)

Table 21 India Interventional Cardiology Market, by End-User, 2020-2027, (USD Million)

Table 20 Australia Interventional Cardiology Market, by Type, 2020-2027, (USD Million)

Table 21 Australia Interventional Cardiology Market, by End-User, 2020-2027, (USD Million)

Table 20 Republic of Korea Interventional Cardiology Market, by Type, 2020-2027, (USD Million)

Table 21 Republic of Korea Interventional Cardiology Market, by End-User, 2020-2027, (USD Million)

Table 20 Rest of Asia Pacific Interventional Cardiology Market, by Type, 2020-2027, (USD Million)

Table 21 Rest of Asia Pacific Interventional Cardiology Market, by End-User, 2020-2027, (USD Million) 

LIST OF FIGURES

Figure 1 Research Process

Figure 2 Segmentation for Asia Pacific Interventional Cardiology Market

Figure 3 Segmentation Market Dynamics for Interventional Cardiology Market

Figure 4 Asia Pacific Interventional Cardiology Market Share, by Type 2020

Figure 5 Asia Pacific Interventional Cardiology Market Share, by End Users, 2020

Figure 6 Asia Pacific Interventional Cardiology Market Share, by Country, 2020

Figure 7 Asia Pacific Interventional Cardiology Market: Company Share Analysis, 2020 (%)