Market Scenario
Armored vehicles are used for transporting military personnel and cargo and operates in active combat. These include land combat and transportation vehicles used by military land forces for operations. Armored vehicles provide significant strength to a country's army and are used in large numbers by military forces around the world.
Moreover, the demand for armored vehicles has been increasing from the last few years due to increasing terrorist attacks and cross border disputes. There has been a significant rise in terrorism and terrorism-related fatalities over the past decade. According to the 2017 Global Terrorism Index (GTI) report, from 2006 to 2016, deaths from terrorism increased by 67%. Furthermore, since 2002, eight of the nine regions in the world experienced an increase in terrorism, and over the past 15 years, South Asia experienced the most terrorist activity.
Therefore, major initiatives are being undertaken by various countries to upgrade their existing fleet of military armored vehicles, which is expected to drive the growth of the market. The majority of the military forces in the West (including the US, which has a large fleet of military armored vehicles) have ongoing or planned military modernization programs to equip troops with the latest capabilities.
Furthermore, there is a growing demand for "low-cost per mile" military vehicles, and the existing systems are upgraded to improve the functionality and capabilities of the vehicles. Also, militaries seek optimized vehicles that are capable of navigating various types of terrain and provide high mobility. Increased Size, Weight, and Power (SWaP) reduction in military vehicles and systems are given high priority and have further driven the demand for vehicle upgrades.
Likewise, military vehicles and equipment are expensive to acquire and operate. Along with defense budget cuts and financial strains, the cost pressures on military spending have increased. Therefore, cost-efficient operations of military systems have been given high priority. This has further driven the demand for military armored vehicles with upgraded systems and components.
Many countries worldwide are modernizing their existing military land vehicles by upgrading systems and components, which adds capability and functionality to the existing platform. It maintains the functionality of systems and meets immediate defense needs. For example, the US Army has upgrade programs to modernize Bradley Fighting Vehicles, convert M1A1 and M1A2 SEPV1 Abram tanks to the M1A2 SEP V2 configuration, and upgrade C4ISR equipment and systems on MRAP vehicles.
The Armored Vehicles Upgrade and Retrofit Market is estimated to register a CAGR more than 3.6% during the period of 2019–2025.
Segmentation of the Global Armored Vehicles Upgrade and Retrofit Market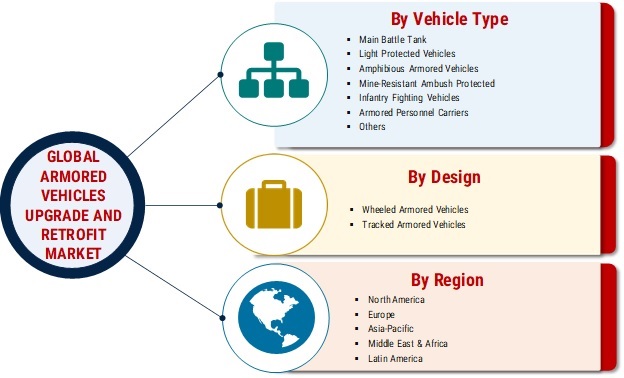 The armored vehicles upgrade and retrofit market is segmented on vehicle type, design, and region. Based on vehicle type, the market has been segmented into main battle tank, light protected vehicles, amphibious armored vehicles, mine-resistant ambush-protected, infantry fighting vehicles, armored personnel carriers, and others. The armored personnel carriers segment is expected to witness the highest CAGR during the forecast period. The increasing demand for armored personnel for the VIPs is driving the growth of this segment.
Based on design, the market has been segmented into wheeled armored vehicles and tracked armored vehicles. The tracked armored vehicles segment accounted for the largest market share in 2018. This is due to a large number of upgrades in battle tanks by the military forces of various countries. The wheeled armored vehicles segment is expected to exhibit the highest CAGR during the forecast period.
Based on the region, the market has been segmented into North America, Europe, Asia-Pacific, Middle East & Africa, and Latine America. The market in North America is expected to be the largest market in the review period with a large base of armored military vehicles. The recent withdrawal of military troops from conflict regions, such as Afghanistan and Iran and the US military budget cut (since 2011), has significantly affected military spending. Despite these challenges, the rise of ISIS and the active involvement of the US troops in many other parts of the world will pressurize the US in maintaining its strength and spending on military troops, along with encouraging it to continue modernizing its military systems, including military armored vehicles.
Asia-Pacific is expected to be the fastest-growing market. This is due to the high investments by the emerging countries in Asia-Pacific such as China, India, South Korea, in the modernization of military troop equipment, increased mobility, and protection of land troops. Military armored vehicles are not just considered a means to enhance military strength and capabilities, but also a way to energize the local industry and improve bilateral relations and partnerships. This has been holding true in the case of China and India. Both countries have been working to uplift their indigenous defense capabilities and spending on various military vehicles and equipment development programs. India's excessive push of the "Make in India" initiative (launched in September 2014) after the establishment of the new government is an example of this case. Both India and China are striving to improve their defense export capabilities, while also reducing their reliance on excessive military imports.
Key Players
The key players in the Global Armored Vehicles Upgrade and Retrofit Market are BAE Systems (UK), Elbit Systems Ltd (Israel), General Dynamics Corporation (US), Rheinmetall AG (Germany), Thales Group (France), AM General LLC (US), MKU Limited (India), Navistar Inc. (US), Nexter Group (France), and Oshkosh Defense (US).
Research Methodology
The market values and forecast are derived using the Market Research Future (MRFR) research methodology, which includes secondary research, primary interviews, data triangulation, and validation from an in-house data repository and statistical modeling tools.
In this process, data is collected from various secondary sources, including annual reports, SEC filings, journals, government associations, aerospace & defense magazines, white papers, corporate presentations, company websites, and paid databases.
In this process, both the demand- and supply-side parties are interviewed to extract facts and insights into the market forecast, production, trends, and projected market growth. Industry stakeholders such as CEOs, VPs, directors, and marketing executives across the value chain are approached to obtain key information.
Key Insights



Regional/Country Trends and Forecast: Detailed analysis of the market in North America, Europe, Asia-Pacific, Middle East & Africa, and Latin America, along with key countries in each region






Market Dynamics Intelligence: Market drivers, opportunities, trends, restraints, Porter's five forces, supply chain, and value chain analysis






Competitive Intelligence: Market share analysis, financial analysis, product benchmarking, and strategic developments including joint ventures, product launches, and mergers & acquisitions



Report Customization
MRFR offers report customization to valued customers. Below are the options available for customization:
In-depth profiling of additional market players (3 to 4 companies)
Detailed analysis of a country-level market and related segments as per the report scope (subject to data availability)
Intended Audience



Distributor & supplier companies




End users




Consultants and investment bankers




Government as well as independent regulatory authorities



Frequently Asked Questions (FAQ) :
---