Market Synopsis of Antimicrobial Packaging Market The antimicrobial packaging is the largest segment in the packaging industry. The antimicrobial packaging solutions offer benefits such as maintaining the quality of the products, increasing the shelf-life of the commodity, and keeping them fresh. The major industries inducing a healthy demand for antimicrobial packaging are food & beverages, healthcare, personal care, consumer goods, and agricultural products. The food and beverage industry is the fastest growing end-user segment of the market. Rising awareness regarding consumer health and longer shelf life of products has resulted in increased usage for antimicrobial packaging products. The growth in population with increasing disposable income is driving the market. Moreover, large consumption of packaged food products due to the instant preparatory method drive the market. Whereas, instability in raw material cost act as a barrier for the antimicrobial packaging market. Global Antimicrobial Packaging Market size is expected to show staggering growth during the forecast period.
Market Size of Antimicrobial Packaging by Regions (USD Billion)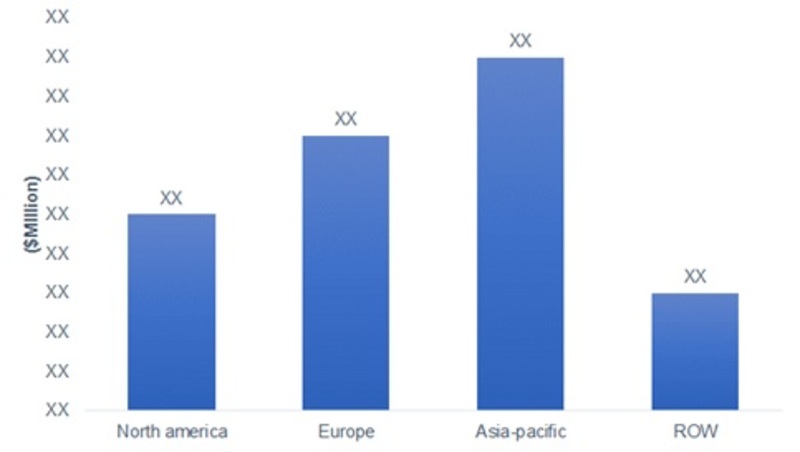 Study Objectives of Antimicrobial Packaging Market



To provide detailed analysis of the market structure along with forecast for the next 6 years of various segments and sub-segments of the Global Antimicrobial Packaging Market




To provide insights about factors affecting the market growth




To analyze the Global Antimicrobial Packaging Market based on various factors- price analysis, supply chain analysis, porters five force analysis etc.




To provide historical and forecast revenue of the market segments and sub-segments with respect to four main geographies and their countries- North America, Europe, APAC, and Rest of the World (ROW)




To provide country level analysis of the market with respect to the current market size and future prospective




To provide country level analysis of the market for segment by Material, Packaging type ,End user, and regions




To provide strategic profiling of the key players in the market, comprehensively analyzing their core competencies, and drawing a competitive landscape for the market




To track and analyze competitive developments such as joint ventures, strategic alliances, mergers and acquisitions, new product developments, and research and developments in the Global Market



Segmentation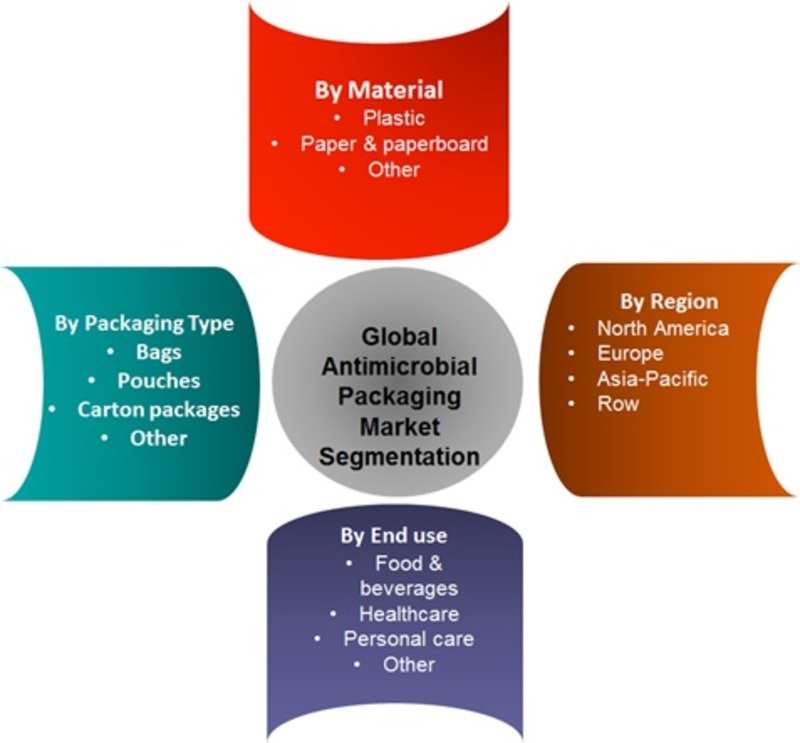 Regional Analysis Asia pacific is referred as the largest & fastest growing market for Antimicrobial packaging, followed by Europe & North America. Asia Pacific is leading the global antimicrobial packaging market due to the enormous demand for healthy products in order to fulfill requirement from the increasing population. Moreover, the increasingly hectic lifestyle of the working class is driving more consumers towards convenience and packaged foods & beverages. As antimicrobial packaging is used widely by different industries, such as food & beverages and healthcare, the Asia-Pacific region witnessed major growth and becomes a large market for packaging solutions. Europe takes second place in the Antimicrobial packaging market. Factors such as emergence of eco-friendly packaging technologies and the use of recycled material are driving the market in Europe.
Key Players The key players of global antimicrobial packaging market report include- BASF SE., The Dow Chemical Company, Mondi Plc, PolyOne Corporation, Biocote Limited, Dunmore Corporation, Linpac Senior Holdings, Microban International, Oplon Pure Sciences Ltd. and Takex Labo Co. Ltd.
Target Audience



Manufactures




Raw Materials Suppliers




Aftermarket suppliers




Research Institute / Education Institute




Potential Investors




Key executive (CEO and COO) and strategy growth manager



Product Analysis
Additional Information


Regulatory Landscape



Pricing Analysis




Macroeconomic Indicators



Geographic Analysis
Company Information



Profiling of 10 key market players




In-depth analysis including SWOT analysis, and strategy information of related to report title




Competitive landscape including emerging trends adopted by major companies



The report for Global Antimicrobial Packaging Market of Market Research Future comprises of extensive primary research along with the detailed analysis of qualitative as well as quantitative aspects by various industry experts, key opinion leaders to gain the deeper insight of the market and industry performance. The report gives the clear picture of current market scenario which includes historical and projected market size in terms of value and volume, technological advancement, macro economical and governing factors in the market. The report provides details information and strategies of the top key players in the industry. The report also gives a broad study of the different market segments and regions.
Frequently Asked Questions (FAQ) :
---
Table of Contents
1. Executive Summary
2. Research Methodology

2.1. Scope of the study

2.1.1. Definition

2.1.2. Research Objective

2.1.3. Assumptions

2.1.4. Limitations

2.2. Research Process

2.2.1. Primary Research

2.2.2. Secondary Research

2.3. Market size Estimation

2.4. Forecast Model
3. Market Dynamics

3.1. Market Drivers

3.2. Market Inhibitors

3.3. Supply/Value Chain Analysis or Market Ecosystem

3.4. Porter's Five Forces Analysis
4. Market, By Material

4.1. Introduction

4.2. Plastic

4.3. Paper & Paperboard

4.4. Others
5. Market, By Packaging type

5.1. Introduction

5.2. Bags

5.3. Pouches

5.4. Carton packages

5.5. Others
6. Market, By Application

6.1. Introduction

6.2. Food & beverages

6.3. Healthcare

6.4. Personal care

6.5. Others
7. Regional Market Analysis

7.1. Introduction

7.2. North America

7.2.1. U.S.

7.2.2. Canada

7.2.3. Mexico

7.3. Europe

7.3.1. U.K.

7.3.2. France

7.3.3. Germany

7.3.4. Russia

7.3.5. Rest of Europe

7.4. Asia-Pacific

7.4.1. China

7.4.2. Japan

7.4.3. India

7.4.4. Australia

7.4.5. South Korea

7.4.6. Rest of Asia-Pacific

7.5. South America

7.5.1. Brazil

7.5.2. Argentina

7.5.3. Rest of South America

7.6. Middle East & Africa

7.6.1. Saudi Arabia

7.6.2. UAE

7.6.3. Kuwait

7.6.4. South Africa

7.6.5. Nigeria

7.6.6. Rest of Middle East & Africa
8. Competition Analysis

8.1. Introduction

8.2. Competitive Scenario

8.2.1. Market Share Analysis

8.2.2. Market Development Analysis

8.2.3. Product/Service Benchmarking

8.3. BASF SE

8.3.1. Overview

8.3.2. Product/Service Offering

8.3.3. Strategy

8.4. The Dow Chemical Company

8.4.1. Overview

8.4.2. Product/Service Offering

8.4.3. Strategy

8.5. Mondi Plc

8.5.1. Overview

8.5.2. Product/Service Offering

8.5.3. Strategy

8.6. PolyOne Corporation

8.6.1. Overview

8.6.2. Product/Service Offering

8.6.3. Strategy

8.7. Biocote Limited

8.7.1. Overview

8.7.2. Product/Service Offering

8.7.3. Strategy

8.8. Dunmore Corporation

8.8.1. Overview

8.8.2. Product/Service Offering

8.8.3. Strategy

8.9. Linpac Senior Holdings

8.9.1. Overview

8.9.2. Product/Service Offering

8.9.3. Strategy

8.10. Microban International

8.10.1. Overview

8.10.2. Product/Service Offering

8.10.3. Strategy

8.11. Oplon Pure Sciences Ltd Overview

8.11.1. Overview

8.11.2. Product/Service Offering

8.11.3. Strategy

8.12. Takex Labo Co. Ltd.

8.12.1. Overview

8.12.2. Product/Service Offering

8.12.3. Strategy
Notes –

Chapter 1 – Executive Summary

• This chapter shall comprise of an info graphic that summarizes the key insights of the research report

Chapter 2 – Research Methodology

• This chapter shall be a mix of Market information and Research Methodology chapters from the earlier report format

• Market structure shall be indicated by means of a chart in section '2.1.2 Research Objective'

Chapter 4, 5, and 6 – Market Data chapters

• These chapters shall be modified according to the topic and the segmentation adopted

• Regional market analysis chapter shall include market data of key countries within respective regions

Chapter 7 – Competition Analysis

• Section '7.2 Competitive Scenario' shall necessarily include market share analysis and market development analysis

• Company profiles shall include all the data clubbed into the mentioned 3 sub-sections

• SWOT analysis chart shall be included in the 'Strategy' sub-section of the company profile

• 'Overview' sub-section shall include the charts on company's financial data

Include as many different types of charts in the final report as possible.