Market Synopsis of Agricultural Packaging Market
Agriculture is the most globalized industry in the world. Packaging for the agricultural industry will help preserve and protect food as a large share of food are transportated for thousands of kilometers and during this whole process maximum share of the food is wasted because of improper treatment such as Inadequate storing and packaging. They are packaged in such way so that they can retain shelf-life for longer period and maintain freshness of the product Agricultural packaging helps in maintaining the original properties of agricultural products which are packed and transported. The global agricultural packaging market is expected to grow at a CAGR of ~4.7% during the forecast period.
Now a days, people are more aware about the wasted of agro based product and depletion of food product which acts as a major driving factors for agricultural packaging. As many articles, journals are published only on the depletion of grains, foods and other agro based product which affect positively on the mind of consumers. Along with, government is taking many initiatives for adequate storing and packaging of these products so that wastage should be low. In addition, increasing population in countries such as China & India and huge pressure on the production of food lead high demand for efficient and cost-effective agricultural packaging which may be another cause of growing market during the forecast period. Proper packaing quite essential for thses types of product mainly for fruits. It is very important that the layers of fruits are separated by liners to hold these fruits in place. These liners are made from paper pulp or plastic which minimises damage to the fruit during transport.
The demand for agricultural packaging is constantly increasing because of the expanding e-commerce sector across the globe. Now a days, people prefer online shopping, require more product protection, which may be another cause of growing market during the forecast period.
However, on the other side, the need for technical expertise and a high capital investment required for technology involved in agricultural packaging are some of the factors causing potential hindrance to the market growth. Along with flactuation in raw material prices for plastic packaging is also act as a restraint for agricultural packaging market.
Segmentation: Global Agricultural Packaging Market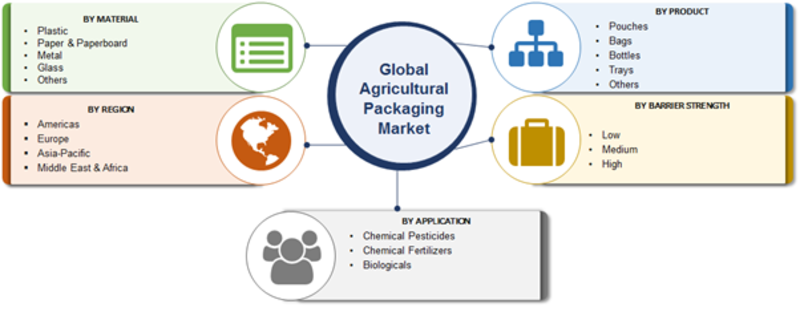 Source: MRFR Analysis
Global Agricultural packaging market has been segmented based on material, product, application, and region. On the basis of material, the market is segmented as plastic, paper & paperboard, metal, glass, and others. Among all, plastic dominates the material segment due to its flexible characteristics. Several options of plastics pacaging are available in markets for agricultural packaging including flexible and rigid plastic packaging. Based on products, the market is segmented as pouches, bags, bottles, trays and others. On the basis of barrier strength, the market is segmented as high, medium, and low. In terms of barrier strength, the agricultural packaging market is dominated by the medium-barrier strength materials. As these materials are widely preferred by the agrochemicals-market-1267'>agrochemical manufacturers and the farmers, because of cost-effective packaging solutions. On the basis of application, the market is segmented as chemical pesticides, chemical fertilizers, and biologicals.
Regional Analysis of Agricultural Packaging Market
In terms of geography, Asia-Pacific is expected to be the largest market in the global agricultural packaging market, and it is estimated to grow with the highest CAGR during the forecast period. The one of major drivers for the growth of agricultural packaging market in this region are rising demand for food as population is growing very fast in these regions.
The market for agricultural packaging is growing with the expansion of urbanization in developing countries. Export and import of fresh fruits, vegetable, and other grains are growing high because of which the market of agricultural packaging is growing very fast. The growing demand for seeds in China and India may be the reason for the fastest growing market.
Industry News and key players
The key players in the market include ondi (Austria), H.B. Fuller Company (US),Anderson Packaging Inc (US), Sonoco Products Company (US), LC Packaging (The Netherlands), Atlantic Packaging (US), RM CONVERTERS (India), Flex-Pack (US),Packaging Corporation of America (US), NNZ Group (Netherlands), ProAmpac (US), Greif (US), Novolex (The US).
Intended Audience:



End-Users




Government Associations




Research Institutes




Distribution vendors




Packaging Manufacturers, Suppliers, Distributors, and Retailers



Frequently Asked Questions (FAQ) :
---