Market Synopsis
The global 5G infrastructure market size is expected to register an exponential CAGR of 58.9% from 2021 to 2027; and reach USD 27,476 million by 2027.
5G or Fifth Generation of wireless standard that enables connecting everything everywhere, catering to the ever rising demand for rapid digitization and faster data transmission. 5G enables connect car, home, office, and communicate across the city with upto 100 times faster data transmission speeds when compared to its predecessor- 4G, which was meant for mobile broadband services. Additionally, the 5G wireless technology is expected to support over a million devices in an area of 1 sq. km. much higher than 4G.
5G network infrastructure involves a series of macro- and small-cell base stations that are hold edge computing capabilities required for functionality of next generation cellular networks. 5G infrastructure deliversfaster data transmission with lower latency and massive connectivity for end-use applications including IoT devices, semi-autonomous vehicles, augmented reality, among others driving smart homes, smart cities, smart factories, and mission critical applications (for instance, healthcare). There are two types of 5G network infrastructure architectures such as standalone and non-standalone, respectively. Standalone network infrastructure involves cloud-native network core of their own, connecting to the 5G New Radio(NR) technology whereas non-standalone infrastructure that partly depend over their predecessor- 4G LTE infrastructure.
Several factors contributing to the growth of 5G infrastructure market comprise of benefits offered by 5G networks, rise number of mobile users, and rapid developments in IoT.Additionally, the government initiatives to deploy smart city projects and other public welfare projects with the help of digital transformation are expected to boost the market evolution to next level.
However, factors such as major delays in spectrum allocationsare expected to hamperthe market growth.For instance, Malaysian government has announced their introduction of 5G services across the country in phases and is expected to complete their deployment by the end of 2021. This action was previously postponed for indefinite time so as to fully utilize the 4G LTE technology.Although,rising demand to deploy industrial IoT across industry verticals especially manufacturing industries that involve harsh workplace conditions. With deployment of private 5G networks, manufacturers are expected to take their digital manufacturing journeysto next level.
Segmentation
The global 5G infrastructure market has been segmented based on communication infrastructure, network architecture, operational frequency, end-user,and region.
By communication infrastructure, the global 5G infrastructure markethas been divided into small cell and macro cell. Further, the small cellsub-segment is bifurcated into micro cell, femtocell, and picocell.
By network architecture, the global 5G infrastructure market has been divided into5G non-standaloneand 5G standalone.
Depending on its operational frequency, the 5G infrastructure market is split intobelow 6 GHz and above 6 GHz.
By Core Technology, the market is segmented into Software-Defined Networking (SDN) and Network Function Virtualization (NFV).
On the basis of end-user, the 5G infrastructure market is categorized into residential, commercial, industrial, and government.
The global 5G infrastructure market has been analyzed for five regions—North America, Europe, Asia-Pacific, the Middle East & Africa, and South America.
Regional Analysis
The global 5G infrastructure marketis estimated to register an exponential CAGR of 66.3% over the forecast period. The geographic analysis of the global 5G infrastructure markethas been conductedfor North America, Europe, Asia-Pacific, the Middle East & Africa, and South America.
North America is expected to be the dominating region in terms of the adoption of 5G infrastructure owing to the heavy investments.North American market has been segmented into the US, Canada, and Mexico.The US is expected to lead the country-level market, while Canada is projected to be the fastest-growing segment during the forecast period. The USmarket is expected to report the highest market share, owing to the leading market position in terms of 5G transport networks deployed for efficient and faster transportation. Additionally, the North American market for 5G infrastructure is expected to grow further due to presence of key players in the region such asCisco Systems, Inc. (US), CommScope, Inc. (US), Siklu Inc. (US), Mavenir (US), Airspan Networks (US), Hewlett Packard Enterprise Development LP (US), and F5, Inc. (US). These players are competing to deliver with advanced 5G infrastructurethat are future ready, capable of connecting millions of devices, enhanced network coverage, low latency, end-to-end solutions, bring new revenue streams for operators, among others.
Asia-Pacificregion is projected to grow at the fastestrate over the forecast period, with the regional market being segmented into China, Japan, India, and the rest of Asia-Pacific. This growth is attributed to the rapid economic developments, expanding telecom industry, increasing cellular subscriber base, rise in use of smartphones, rapid development across OTT platforms, and digital innovation in major countries including China, Japan, India, Singapore, Malaysia, Australia, among others.
Competitive Analysis
The global 5G infrastructure marketis witnessing an exponential growth due to the benefits offered by 5G networks, rise number of mobile users, and rapid developments in IoT. Major players have opted for partnerships/collaborations,acquisitions, and product developments as their key organic growth strategies to enhance their positions in the market and cater to the rapidly expanding 5G deployment needs.Additionally, the companies operating in the end-use verticals are focusing on providing enhanced experience through augmented/virtual reality with multi-player streaming of VR games and 8K video content right from the cloud platform to the users' devices even in moving cars. For instance, Samsung in collaboration with KDDIsuccessfully tested live 4K videostreaming of baseball match using 50 5G-enabled tablets. Additionally, component manufacturers offering processing chips, networking devices including 5G mmWave, 5G Sub-6GHz Access points, virtualization systems, etc. are competing to develop advanced equipment.
Impact of COVID19
The outbreak of COVID-19 has resulted into several disruptions in the 5G deployment across the globe affecting investments, delays in spectrum allocations, supply chain disruption, among others. During 2019, the telecom industry stakeholders including Communications Service Providers (CSPs)had begun their trials and rollouts of 5G network services, while many countries across the globe were busy with preparing themselves for rollouts through spectrum auctions, releasing tendes for infrastructure contracts, among other readiness initiatives involved. With pandemic situation, all the aforementioned preparedness noticed impact over 5G infrastructure market mainly due to delayed spectrum auctions, lowered expenditure budgets for digital transformation, and others.
Key Players
The key players in theglobal 5G infrastructure marketare identified based on their country of origin, presence across different regions, recent key developments, product diversification, and industry expertise. These includeTelefonaktiebolaget LM Ericsson (Sweden), Huawei Technologies Co., Ltd. (China), Nokia (Finland), SAMSUNG (South Korea), ZTE Corporation (China), NEC Corporation (Japan), Cisco Systems, Inc. (US), CommScope, Inc. (US), Comba Telecom Systems Holdings Ltd. (China), Alpha Networks Inc. (Taiwan), Siklu Inc. (US), Mavenir (US), Airspan Networks (US), Hewlett Packard Enterprise Development LP (US), and F5, Inc. (US). The key strategies adopted by most of the players are partnerships,acquisitions, agreements, and collaborations.
Key Developments in Global 5G Infrastructure Market:
On 4th March 2021, the top leading social media and technology provider- Facebook partnered with Marvell, a semiconductor manufacturer based in California, US. This partnership was intended towards development of open radio access network (ORAN) that enables connectivity of large number of users at minimized cost.
On March 2nd 2021,Telefonaktiebolaget LM Ericsson, one of the top players in the 5G infrastructure industry unveiled their partnership with Taiwan-based CSP- Far EasTone Telecom (FET), to provide 5G Standalone as well as Non-Standalone dual-mode 5G core and Voice over LTE (VoLTE) services.
On March 2, 2021, Sterlite Technologies Limited, a fixed-line equipment manufacturer, revealed their winning of orders USD 100 million across West Asia as well as Africa regions for the development of 5G wireless network infrastructure. The company has partnered with a leading telecom provider based in UAE and another telecommunications group from North African region.
Global 5G Infrastructure Market, 2018–­2027 (USD Million)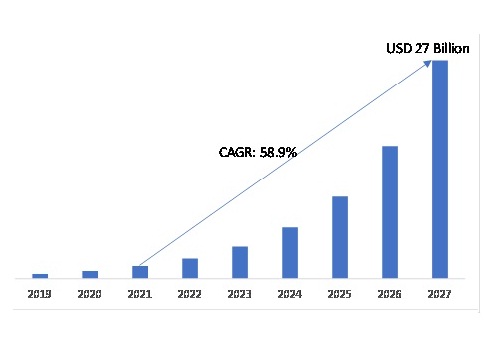 Source: MRFR Analysis
Intended Audience



Telecom Enterprises




Technology consultants




Investors and venture capitalists




Network operators & service providers




Communication service providers




Software developers




Hardware manufacturers




Government Organizations



Key questions addressed by the report



What was the historic market size (2019)?




Which segmentation (Communication Infrastructure/Network Architecture/Operational Frequency/End-user) are driving the market?




What will be the growth rate by 2027?




Who are the key players in this market?




What are the strategies adopted by key players?



Frequently Asked Questions (FAQ) :
---