5G Industrial IoT

Market Synopsis
The 5G industrial IoT market size is expected to register an exponential CAGR of 71.3% during the forecast period to reach USD 8.9 billion by 2027.
An industrial IoT system is comprised of complex infrastructure architecture with tons of sensors, communication systems, big-data storage, edge computing, advanced analytics, among others. The 5G industrial IoT solutions are enabled with next-generation wireless connectivity that provides a higher speed of data transfer with lower latency when compared to their predecessors. 5G network capabilities enable production systems and machines to work seamlessly through wireless networking, enhancing flexibility and efficiency. These services have wide scope across industry verticals, including manufacturing, transportation, construction, utilities, and mining.The 5G services for industrial IoT are designed keeping in mind the requirements of day-to-day industrial processes. Hence, it is expected to provide several benefits, including unified network connectivity, dedicated network, optimized services, highly reliable & lower latency even in the RF environments compared to previous generations, eliminates the need for wired network infrastructure, easy to deploy private 5G network with licensed spectrum. Additionally, the adoption of 5G services in industrial IoT provides advantages such as preventive maintenance of industrial machinery and critical equipment that may hamper unplanned downtime and cost an organization huge losses.Others include improved efficiency and troubleshooting in industrial processes, integrated security in core network architecture, software-defined networks that support network slicing, easy tracking of assets, and so on.
The market is highly driven by the rising demand for connected devices in industrial environments and the increasing need for highly reliable network connectivity. Additionally, the rise in awareness for predictive maintenance. Furthermore, the government initiatives for smart cities areaccelerating market growth. However, this market growth is hampered by the aspects such as high cost associated with the implementationof the 5G infrastructure. Although, demand for connectivity with low latency and higher download & upload speeds over the 5G network are opportunities that can further boost the growth of the 5G Industrial IoT market.
Segmentation
The global 5G industrial IoT market has been segmented based oncomponent, organization size, application,end-user, and region.
By component, the global 5G industrial IoT market has been divided into hardware, solution, and service. The service segment is further categorized into professional and managed services.
By organization size, the global 5G industrial IoT market has been divided intolarge enterprise and small & medium enterprise.
By application, the global 5G industrial IoT market is bifurcated into predictive maintenance, business process optimization, asset tracking & management, logistics & supply chain management, real-time workforce tracking & management, automation control & management, andemergency, incident management, and business communication.
On the basis ofend-user, the global 5G industrial IoT market has been segmented into energy & utility, food & beverage, automotive & transportation, manufacturing, consumer electronics, among others.
The global 5G industrial IoT market has been analyzed for five regions—North America, Europe, Asia-Pacific, the Middle East & Africa, and South America.
Regional Analysis
The global 5G industrial IoT market is estimated to register an exponential CAGR over the forecast period. The geographic analysis of the global 5G industrial IoT market has been conducted for North America, Europe, Asia-Pacific, the Middle East & Africa, and South America.
North Americais expected to register the largest market share due to the risein demand for 5G industrial IoT connectivity services across industry verticals in this region. The US is expected to lead the country-level market in North America owing to the factors such as rising demand for high-speed wireless connectivity with reliability in the region and increasing adoption among end-use industry verticals, including manufacturing, retail, healthcare, automotive & transport, utilities, others. Additionally, the presence of major players such as Qualcomm Technologies, Inc. (US),Cisco Systems, Inc. (US), AT&T (US), IBM Corporation (US), Microsoft (US), Verizon (US), T-Mobile USA, INC (US), among others.These key players are investing heavily in the research & development of 5G industrial IoT technologyand spectrum licenses for private 5G networks.
Europe is expected to be the second-largest market during the review period due to the higher adoption from the manufacturing sector for factory automation and robotic process control. Also, the increasing demand for smart asset management that enables predictive and prescriptive maintenance that minimizes the risk of unplanned downtime. Also, the rapid developments to enhance workplace safety to provide seamless work experience to the employees in is gaining traction in the 5G industrial IoT market. Asia-Pacific is anticipated to be the fastest-growingmarket in the global 5G industrial IoT market during the forecast period.
Competitive Analysis
The global 5G industrial IoT market is witnessing high growth mainly due to high speeds and reliable connectivity that increase organizational operating efficiency. Major players have opted for partnerships, acquisitions, and product developments as their key organic growth strategies to enhance their positions in the market and cater to the demands of end-useverticals. Also, the industry players are competing to provide private licensed spectrums to the industrial organizations willing to automate or shift their infrastructure to high-speed networks. Apart from all the aforementioned factors, the benefits offered by 5G networksby connecting IoT devices to automate industrial tasks are expected to create opportunities for the 5G industrial IoT market.
Impact of COVID19
The global IT & telecom industry has reported major delays in the launch of industrial IoT solutions, services, and manufacturing of hardware equipment, mainly due to disruptions caused by the pandemic. Additionally, the collective lag in regulatory timelines and delayed issuance of spectrum and auctions for licensed as well as unlicensed frequency bands have impacted the investments in the industry. Furthermore, governments across the globe have postponed their expenditure plans for later. These all impacting pointers are expected to affect the end-use industriesas well as commercial organizations. Also, due to imposed lockdown and limited movement restrictions have affected the business operations of equipment manufacturers leading to shortage of components.
Key Developments
On April 14, 2021, Verizon announced its plans to expand Hyper Precision Location (HPL), a SaaS offering that boosts the accuracy of location data from meters to centimeters to cover more than 100 major US markets.
On April 13, 2021, Mavenir, a US-based telecommunications software provider,announced its product offering 'AO-on-5G' Hyper-Converged Edge Solution in teaming up with NVIDIA Corporation. This solution enables connecting machines, robots, wireless sensors, and other components to communicate in real-time.
On March 30, 2021, Schneider Electric, the French conglomerate—with expertise in energy and automation digital products—announced its plans to deploy 5G across all their factories to support IoT technology and shifting their IT infrastructure to the cloud-based platform.
Key Players
The key players in the global 5G industrial IoT market are identified based on their country of origin, presence across different regions, recent key developments, product diversification, and industry expertise. These include Qualcomm Technologies, Inc. (US), Telefonaktiebolaget LM Ericsson (Sweden), Nokia (Finland), Huawei Technologies Co., Ltd. (China), Cisco Systems, Inc. (US), AT&T (US), IBM Corporation (US), Microsoft (US), Siemens (Germany), Verizon (US), Sierra Wireless (Canada), Telefónica S.A (Spain), Vodafone Limited (UK), T-Mobile USA, INC (US), and TELUS (Canada). The key strategies adopted by most of the players are partnerships,acquisitions, agreements, and collaborations.
Global 5G Industrial IoT Market, 2019–­2027 (USD Billion)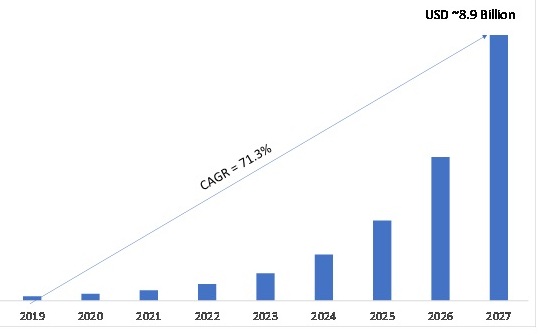 Source: MRFR Analysis
Intended Audience



Value-added resellers (VARs)




Government authorities




Network operators




Technology consultants




Investors and venture capitalists




Chief financial officers



Frequently Asked Questions (FAQ) :
---