Pune, India, May 2020, MRFR Press Release/- Market Research Future has published a Cooked Research Report on the Global XLPE Cable Market.
Market Highlights
The Global XLPE Cable Market has been segmented by installation as overhead, underground, and submarine. Electrical power is transmitted through overhead power lines fixed on poles. Overhead lines are widely used for the transfer of electricity between countries or regions. Most overhead power lines are used for the transmission of high voltage electricity over long distances. Electrical power generated at power plants must be transmitted to end-use industries, such as power, chemical, and manufacturing, which require transmission lines to carry heavy power loads over longer distances. Installing underground transmission lines costs more than most overhead lines and are redirected to accommodate other underground structures such as pipelines, sewage lines. Submarine cables are needed for long-distance offshore power transmission from regions or countries where electric power is generated, efficiently, at low cost to regions or countries where there is a demand for electric power. The cables are also used for the transmission of power to remote areas where obsolescent power generating facilities are used. Recently, submarine cables have been used to transmit electric power generated in offshore wind power stations.
By voltage, the global XLPE cable market is segmented into high voltage, medium voltage, and low voltage. Voltages above 72 kV range are considered as high voltage and dominate the XLPE cables market. It held the largest market share by voltage in 2018. Grids and transmission infrastructure between countries have resulted in high voltages of nearly 400 kV and above segment and accounting for the largest market share. The high voltage segment of power cables is driven by many factors, such as grid interconnections, offshore wind farm connections, connections of islands with mainland, and projects integrating renewable generation with the power transmission grid. Medium voltage ranges between 1 kV and 69 kV. Global electricity demand is growing continuously and thereby places high pressure on power distribution networks to provide a reliable and uninterrupted supply of electricity at affordable prices. An increase in renewable energy generation and rapid industrialization and urbanization are expected to drive the market for medium voltage cables market. Voltages up to 1 kV are considered as low voltage and ensure electricity supply across different end users via distribution substations. The need for the continuous supply of power in various industries, such as oil & gas, chemicals, and cement, the upgrade of existing transmission & distribution networks, and the implementation of smart grids are a few of the factors fueling the growth of the global market.
By end user, the global market has been segmented into power, oil & gas, chemical, manufacturing, metals & mining, infrastructure & transportation, and others. Power cables are mainly used for transmission & distribution. They are an assembly of one or more individually insulated electrical conductors, usually held together with an overall sheath. They are manufactured as per voltage, current to be carried, operating maximum temperature, and the application area. The oil & gas industry requires wires and cables to perform in harsh environments. Electrical cables are used in offshore drilling systems, refinery applications, and land-based drilling systems. The chemicals industry requires cables that are not only flexible but are resistant to oils, fat, acids, bases, and other materials. Such cables are chemical-resistant. The XLPE cables are adopted for their reliability and durability. XLPE has become the globally preferred insulation for power cables, both for distribution and transmission system applications. This insulation system is cost-effective in operation and procurement. Additionally, it has a lower environmental impact and limited maintenance requirements compared to older impregnated paper systems. Mining cables and power cables are designed to power heavy-duty equipment used in mining, cranes, construction, drilling rigs, and submersible pumps. Authorities in rapidly developing cities are under tremendous pressure to increase access to basic services, land, infrastructure, and affordable housing. Such cables are not only oil and fuel resistant but also are halogen-free (LSZH) to cut the toxins found in smoke, in the event of an emergency. The others segment includes the end-use industries of healthcare, marine, and military.
Drivers: Global XLPE Cable Market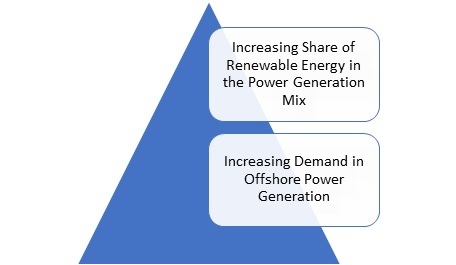 Market Research Analysis
In terms of region, the global XLPE cable market is segmented into the Americas, Europe, Asia-Pacific, and the Middle East & Africa. Asia-Pacific dominates the XLPE cable market. The increasing investments in the oil & gas industry and the development of existing oil fields are expected to drive the XLPE cable market in the region.
China being the most populated country, is the fastest growing economy in the world, which leads to a rapid increase in the demand for oil and gas. Significant investments in the public sector in the oil & gas industry drive the demand for XLPE cables in the country. According to the World Oil Magazine that was published in March 2019, China's oil-producing companies, namely, PetroChina, Sinopec, and China National Offshore Oil Corp. (CNOOC), strategized to invest USD 77 billion in the same month to increase the output from the existing oil fields. Hence, the growing investments in the oil & gas industry in China is expected to increase the demand for XLPE cables, driving the growth of the XLPE cable market in the country.
Scope of the Report
This study provides an overview of the global XLPE cable market, tracking three market segments across four geographic regions. The report studies key players, providing a four-year annual trend analysis that highlights the market size and the shares of the Americas, Europe, Asia-Pacific, and the Middle East & Africa. The report also provides a forecast, focusing on the market opportunities for the next five years for each region. The scope of the study segments the global XLPE cable market by installation, voltage, end-user, and region.
Browse Full Report Details @ https://www.marketresearchfuture.com/reports/xlpe-cables-market-1750
By Installation



Overhead




Underground




Submarine



By Voltage



High Voltage




Medium Voltage




Low Voltage



By End-User
By Regions



Americas




Europe




Asia-Pacific




Middle East & Africa



Key Players
The Major Players in the Global XLPE Cable Market are KEI Industries Limited (India), NKT A/S (Denmark), Universal Cables Ltd. (India), Nexans (France), Brugg Kabel AG (Switzerland), Encore Wire Corporation (US), Laser Power & Infra (India), Sumitomo Electric Industries, Ltd. (Japan), Eland Cables (UK), Relemac (India), Finolex Cables Ltd. (India), and Prysmian Group (Italy).