Pune, India, November 09, 2017 /MRFR Press Release/- Market research future published a cooked research report on global thermal paper market. The thermal paper market is expected to grow at ~4.87% CAGR during the period 2017 to 2023.
Market Highlights:
Thermal Paper is manufactured with specialty coating which enables inkless printing. This coating blackens when exposed to heat, and in turn transfers the image on the paper. The thermal paper has applications across gaming, lottery, retail, e-commerce, packaging & labelling, and others. The market is driven by various factors such as increased importance of labels and barcodes in the packaging of consumer goods. Additionally, growth in packaged food industries, also fuels the growth of the market. The rise in population in many countries, has led to an increase in food & beverage consumption, which ultimately increases the demand of packaging products. Also, the increase in consumer income in countries such as China, India, and Brazil, have led to the growth in demand for good-quality packaged food. However, fluctuating supply and prices of raw materials, may hamper the growth of the market.
Hence, global thermal paper market is expected to reach a market size of USD 4,391.0 million by the end of the forecast period at CAGR of 4.87%.
Browse Full Report @ https://www.marketresearchfuture.com/reports/thermal-paper-market-880
Drivers: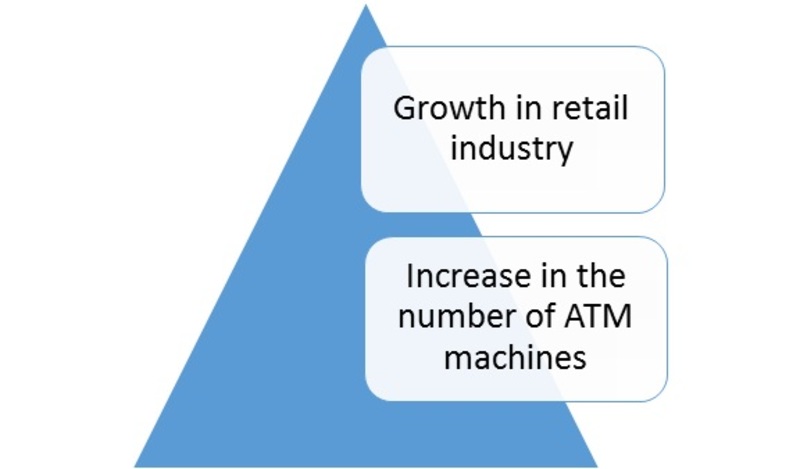 Market Research Analysis:
Based on technology, the market has been segmented as direct thermal, thermal transfer, and others. The direct thermal segment accounted for the largest market share of 49.37% in 2016, with a market value of USD 1,586.1 Million. In direct thermal technology, no ribbon is used in printing. It creates the image directly on the printed material. Direct thermal printing uses chemically treated, heat-sensitive media that turns black when it passes under the thermal print head. Thermal transfer technology is projected to grow at the highest CAGR of 4.43%. Thermal transfer printing uses a heated ribbon to produce durable, long-lasting images on a wide variety of materials. Thermal transfer printers can create highly durable wristbands, asset tags, and certification labels, in addition to common labels, tags, and tickets.
On the basis of application, the market has been segmented as, POS, lottery & gaming, labels & tags, and others. POS accounted for the largest market share of 58.90% in 2016. POS (Point of Sale) application includes receipts and tags at the retails stores, online purchases, and ATMs. The paper is generally compatible with most transaction-style printers and cash registers, and multiple rolls come in a pack. POS paper ensures customers get a clear, legible, smudge-free receipt each time. The thermal paper for receipts come in various dimensions to suit the end-use. The segment is expected to grow at 4.93% CAGR during the forecast period. Lottery & Gaming was the second-largest market that was valued at USD 421.5 Million in 2016. Labels & tags is also another major application. Thermal papers are used extensively for barcodes and tags and similar applications. Such labels and barcodes come handy across the supply chain of FMCG goods, for theft and security reasons.
Global Thermal Paper Market, 2016-2023 (USD Million)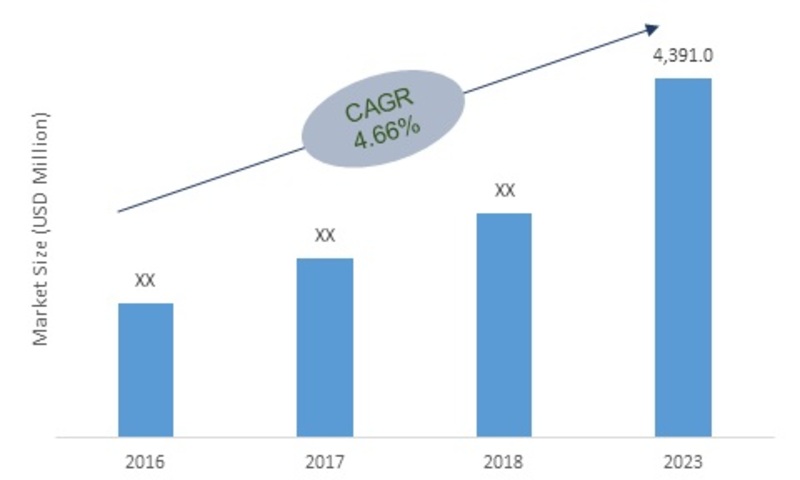 Scope of the Report:
This study provides an overview of the global thermal paper market, tracking two market segments across four geographic regions. The report studies key players, providing a five-year annual trend analysis that highlights market size, volume and share for North America, Europe, Asia Pacific (APAC) and ROW. The report also provides a forecast, focusing on the market opportunities for the next six years for each region. The scope of the study segments the global thermal paper market by its technology, application, and region.
Global Thermal Paper Market, By Technology



Direct Thermal




Thermal Transfer




Others



Global Thermal Paper Market, By Application



POS




Lottery & Gaming




Labels & Tags




Others



Key Players:
The key players of global thermal paper market are Appvion, Inc. (U.S.), Oji Paper (Thailand) Ltd. (Thailand), Koehler Paper Group (Germany), Ricoh Company Ltd (Japan), Jujo Thermal Ltd. (Finland), Mitsubishi Paper Mills Ltd. (Japan), Hansol Paper Co., Ltd (South Korea), and Nakagawa Manufacturing (USA), Inc. (U.S.).