Pune, India, March 13, 2018 /press release/- Market Research Future Published a Half Cooked Research Report on Global Pressure Transmitters Market Research Report.
Market Overview:
The Global Pressure Transmitter Market is segmented into numerous segments of which the multivariable pressure transmitter is expected to witness high growth. This sensor has the capability to measure multiple parameters and is effective in reducing overall cost .
The global pressure transmitter market is segmented by type, communication protocol, sensing technology, application, and industry. By type segment, the market consists of absolute, gauge, differential pressure, and multivariable pressure transmitter. The communication protocol segment comprises , HART (Highway Addressable Remote Transducer) and wireless HART, Foundation Fieldbus, Profibus, and others. The sensing technology segment comprises of piezoelectric, capacitive, piezoresistive, strain gauge, and others. The application segment consists of flow, level, and pressure. The vertical segment comprises of oil & gas, food & beverage, water & wastewater, pulp & paper, metal & mining, chemical, power, pharmaceutical, and others.
The latest trend in the automation pressure transmitter market is the demand for a smart and cost-efficient product that comprises of digital communication interfaces. Owing to the above-mentioned reason, the demand for traditional analog output pressure transmitters is expected to continue to decline over the forecast period. The reason for this shift in trend is the rise in digital networking facilities, thus eliminating, the need for wiring.
According to Market Research Future Analysis, the global pressure transmitter market is estimated to generate revenue of approximately USD 4 Billion by 2023 growing at a CAGR of 6% during the forecast period 2017-2023.
Access Report Details @ https://www.marketresearchfuture.com/reports/pressure-transmitters-market-5667
Pressure Transmitter Market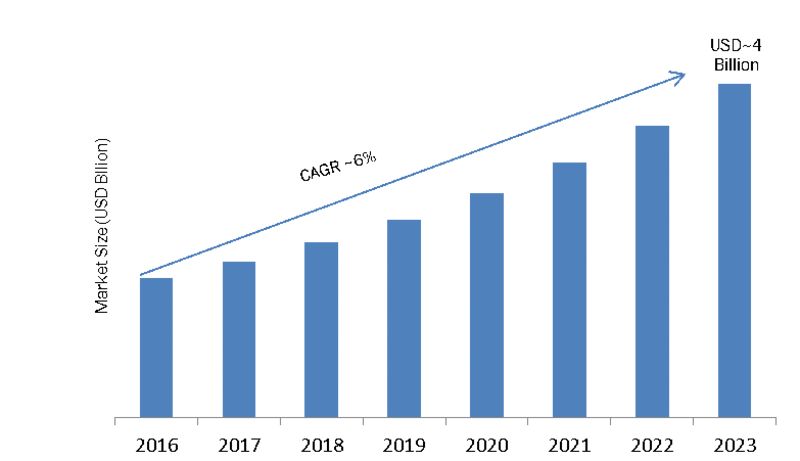 Source: MRFR Analysis
Some of the key players in the market: Emerson Electric Company (U.S.), Yokogawa Electric Corporation (Japan), Endress+Hauser AG (Switzerland), ABB Ltd. (Switzerland), Honeywell International, Inc. (U.S.), Siemens AG (Germany), General Electric (U.S.), Schneider Electric SE (Germany), WIKA Alexander Wiegand SE & Co. KG (Germany), and Dwyer Instruments, Inc. (U.S.), and others.
North America region accounts for a high share of the global pressure transmitter market in terms of value, owing to the early adoption of pressure transmitter in process industries. In Asia Pacific market, enterprises in countries such as Japan and China are mostly operating in automotive applications, which is further aiding the market growth in the region. The study indicates that the U.S. and Europe also account for significant value share in the global Pressure Transmitter market.