Pune, India, Jan 8, 2018 /MRFR Press Release/- Market Research Future published a half cooked research report on Global Mountain Bike Market. The Mountain Bike Market is expected to grow at ~10% CAGR during the period 2017 to 2023.
Market Highlights
Mountain biking is continuing to grow in popularity across the globe. Well-run youth programs provide entry-point to this life-long activity. There are many specific elements which need to be considered while planning a mountain biking event. The most essential element of mountain biking is proper equipment such as a mountain bike and helmet. The terrain where mountain biking takes place is also important. These terrain could vary from simple biking off-road to riding on actual mountain bike trails.
Mountain biking tourism is acting as a catalyst for economic development in various developing countries, all over the globe. Mountain biking focuses on off-road travel where bikers ride on dirt roads, and uneven terrains to reach their destination. This is very environment-friendly industry, which offers healthy, recreational, and non-polluting sustainable transport to riders. Mountain bike tourism is also helpful in bringing revenue for the host community and region.
Various associations promote the mountain bike market. For instance, The International Mountain Bicycling Association is a non-profit educational association whose mission is to create, enhance and preserve great trail experiences for mountain bikers worldwide. All associations work with the objective of maintaining and promoting trail opportunities for mountain biking by providing assistance, education and information, which promote the growth of the mountain bike market.
The major challenge faced by the market is development of electric mountain bikes. Continuous advances in design and technology of mountain bikes has led to the development of electric mountain bikes. These help the riders to amplify the pedaling power, which makes mountain biking less fatiguing for the riders. In case of uphill riding, riders choose high level of support from the engine to enhance the riding experience.
Drivers: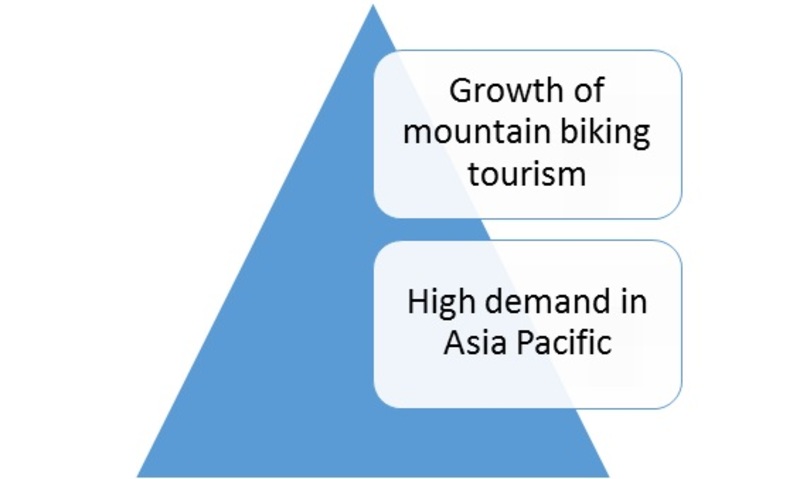 Market Research Analysis
Based on type, the mountain bike market has been segmented as downhill bikes, freeride bikes and dirt jumping bikes. Among these, downhill mountain biking is expected to grow, significantly, over the forecast period. This kind of biking is similar to alpine skiing, but on a bike. Riders start at the peak of a hill or mountain and descend at high speeds. It is the most dangerous form of mountain biking. Downhill courses usually take two to five minutes to complete. Downhill bike riders are allowed the use of ski lifts to get to the top of the runs. Very high speeds are reached while riding downhill, and thus for safety purposes, cyclists often wear a helmet, gloves, and armoured jackets.

Get Report Details @ https://www.marketresearchfuture.com/reports/mountain-bike-market-5165
Scope of the Report
This study provides an overview of the global mountain bike market, tracking two market segments across four geographic regions. The report studies key players, providing a six year annual trend analysis that highlights market size, volume and share for North America, Europe, Asia Pacific (APAC) and Rest of the World (ROW). The report also provides a forecast, focusing on the market opportunities for the next five years for each region. The scope of the study segments the global mountain bike market by type, application and regions.
By type



Downhill Bikes




Freeride Bikes




Dirt Jumping Bikes



By Applications
By Regions



North America




Asia Pacific




Europe




Rest of the World



Key Players
The prominent players in the global mountain bike market include Giant Manufacturing Co. Ltd. (Taiwan), Trek Bicycle Corporation (U.S.), Specialized Bicycle Components, Inc. (U.S.), Cannondale Bicycle Corporation (U.S.), Santa Cruz Bicycles (U.S.), GT Bicycles (U.S.), Merida Industry Co., Ltd (Taiwan), Kona Bike (U.S.), Rocky Mountain Bicycles (Canada), Marin Bikes Company (U.S.) and Diamondback Bicycles (U.S.).