July, 2022 / Research report on Military Load Carriage System. The global military load carriage system is estimated to witness a CAGR of 6% from 2018 to 2023.
Market Highlights:
Military load carriage systems market is estimated to register a CAGR of over 6%, during the forecast period.
Soldiers are often expected to carry heavy loads over long distances. There is a general need for the military forces to maintain mobility and sustainability and exhibit their ultimate performance on the battlefield with an external load. The requirement of water and food for the sustainment of soldiers during their missions will enable manufacturers to offer new product offerings to the market players. However, there are some shortcomings, such as the high probability of injuries, which will restrain the growth of this market.
On the basis of region, the Military load carriage systems market is segmented into North America, Asia Pacific, Europe, the Middle East and Africa, and Latin America. In North America, the increased investment in military expenses will boost the market growth. In Middle East, the major contributors of these regions are Iran, Iraq, Israel, UAE, Saudi Arabia, Turkey, and the U.K. Due to the current war in Syria, the demand for military load carriage systems is expected to increase at a fast pace.
In 2009, BAE Systems signed a contract with Defense Logistics Agency (DLA) for production of Modular Lightweight Load Carrying Equipment (MOLLE) Core Rifleman Sets, Ruck sets and components. In 2010, Boston Dynamics signed a contract with DARPA to a new robot mule to help the infantry carry gear in the field.


Drivers: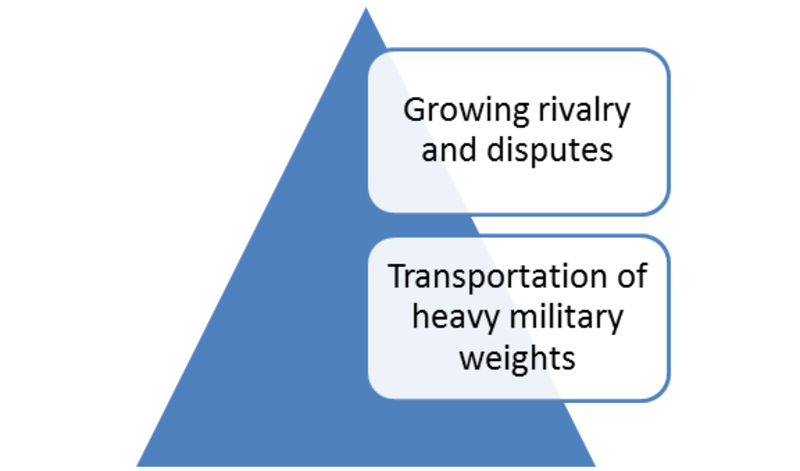 The scope of the Report
This study provides an overview of the Global Military Load Carriage System Market, tracking two market segments across five geographic regions. The report studies key players, providing a five-year annual trend analysis that highlights market size, volume, and share for North America, Europe, Asia Pacific (APAC), Middle East & Africa, and Latin America. The report also provides a forecast, focusing on the market opportunities for the next five years for each region. The scope of the study segments the global military load carriage system by its type, configuration, and region.
By Type
By Configuration


Shoulder Mounted


Waist Mounted


By Region


North America


Europe


Asia Pacific


Middle East & Africa


Latin America


Key Players
The key players in global military load carriage system market are Aegis Engineering Limited (U.K), BAE Systems Inc. (U.K), Boston Dynamics (U.S.), CQC (U.K), Lockheed Martin (U.S), Australian Defense Apparel (Australia), Honeywell International Inc.(U.S), ADS, Inc. (U.S.A), and Sarkar Defense Solutions (U.K).