Pune, India, Nov 2022, MRFR Press Release/Market Research Future has published a Cooked Research Report on the Global Military Communication Market.
Report Title:
In North America, The presence of prominent companies in the region, such as General Dynamics, Harris Corporation, Iridium, L3 Technologies, Rockwell Collins, Viasat, Lockheed Martin, Northrop Grumman, and Raytheon, is also helping to drive Military Communication Market expansion.
In Europe With various active satellite R&D programs and production sites across multiple European countries, Europe has the world's second-largest public space budget. The rise of the small satellite business in Europe is being fueled by increased funds for the R&D of novel satellite-based products and services, which, in turn, is also projected to drive the communication satellite business for defense. The Military Communication Market is also rising due to the increased need for low-cost miniature satellites for various applications. Small satellite constellations are becoming more popular in Europe, with numerous planned launches throughout the projected period.
In Asia-Pacific China and India, the world's two emerging economic giants, are increasing their military spending on a consistent basis, adding to global military spending rise. In addition, joint military exercises are becoming more common in the Asia-Pacific. These initiatives are presenting significant prospects for the defense satellite communication market.
Middle East & Africa military communication market is driven by the increasing demand from countries such as Saudi Arabia and Israel. The launch of low-cost mini satellites into space is being used by governments to boost communication and navigation, broadcast, and remote sensing applications. The United Arab Emirates (UAE) and Saudi Arabia (Saudi Arabia) are among the fastest-growing regions in the Middle East and Africa's satellite communication market.
Latin American countries are aiming to modernize military equipment in order to bolster their military forces. Long-standing border disputes, illicit weapons, and cross-border drug trafficking are just a few of the key reasons for governments to enhance their border security defense budget where communication system play a vital role.
Access full report @ https://www.marketresearchfuture.com/reports/military-communication-market-11064
Global Military Communication Market Share, by Region, 2021 (%)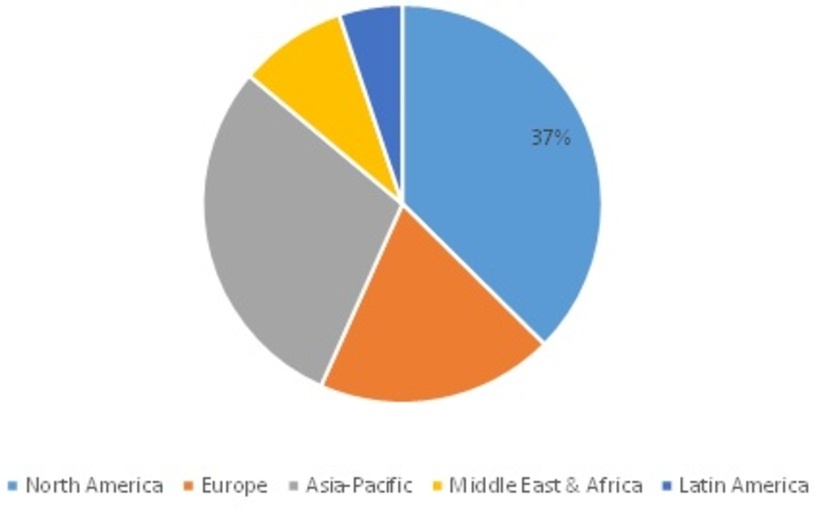 Source: MRFR Analysis
Covid Impact Analysis
The COVID-19 epidemic, as well as the resulting travel restrictions and lockdowns, has disrupted the supply chains of a number of markets including military communication market. However, in the second half of the year, players changed their operations in reaction to the pandemic, reducing the pandemic's influence on the market. Moreover, manufacturers and developers are companies that design military communication systems that meet the quality standard set by regulatory agencies. The manufacturing and development of military communications systems require significant investment in research and development. The pandemic has affected the scale of imports, necessary for the growth of the market, which, in turn, has adversely affected production.
Military Communication Market Segmentation
The global Military Communication market has been segmented on the basis of type, application and platform, and region.
The global Military Communication market, based on type has been segmented into Satellite Communication and Radio Communication. The Satellite Communication segment has been further bifurcated into Defence, Aerospace, and Civilian. The Radio Communication segment has been further segmented into Military, Law Enforcement, and Disaster Management.
The global Military Communication market, based on application has been segmented into command & control, situational awareness, routine operations, and others.
On the basis of platform, the market has been studied across airborne, ground-based, and naval segments.
Key Players
Some of the prominent players operating in the global Military Communication Market include Aselsan A.Ş.(Turkey), Lockheed Martin Corporation (US), BAE Systems Plc (UK), Northrop Grumman Corporation (US), L3Harris Technologies, Inc. (US), Raytheon Technologies Corporation (US), Viasat Inc. (US), Iridium Satellite Communications Inc. (US), Airbus SAS (Netherlands), Aerospace Communications Holdings Group Co., Ltd (China), Cobham Plc (UK), Elbit Systems Ltd (Israel), China Electronics Technology Group Corporation (China), Leonardo SpA (Italy), Inmarsat Plc (UK), Thales Group (France), and Israel Aerospace Industries (Israel).