Pune, India, May, 2018 /press release/- Market Research Future Published a Cooked Research Report on Global Industrial Insulation Research Report.
Market Highlights:
Commenting on this report, an analyst from Market Research Future (MRFR)'s team said, global Industrial Insulations market was valued at USD 3,056.5 million in 2016 and is predicted to grow at flourishing CAGR of 5.64% to reach USD 5,017.4 million by the end of 2023. Growth in this market is attributed to the rising industrialization across the globe. Regions such as Asia Pacific and Latin are getting into the major focus by industry players due to rising FDI for industrial reforms. As per our analysis, Asia Pacific to be the largest market by 2025 due to the increasing awareness as well as scope for insulation.
Segment Analysis
The global Industrial Insulations market is segmented into product type, application, and region. On the basis of type, the market is divided into Wraps /sheets, coatings, and adhesive and sealants. Wraps & sheet are further divided into aluminum butyl wrap, polymer modified bitumen membrane, metalized polymer, modified butyl rubber, and others. Coatings also sub segmented into vapor barrier, weather barrier, fire resistant, cyrogenic, abrasion resistant, condenstaion control and others coatings. Adhesive & sealants into pvc, polystyrene foam, and water based insulation and others. Wraps and sheets emerged as the industry leaders in product basis with over 80% of global share and at a significant CAGR of 5.70%. Aluminum butyl wraps are among the largely used sheets for industrial insulation owing to the properties of aluminum sheets. It has generated largest revenue USD 1141.4 in wraps and sheets segment. Insulation coatings are establishing their importance in industrial insulation and are being increasingly used by consumers. Vapor barrier coatings are among the largely used insulation coatings followed by weather barrier coatings. On the basis of adhesive and sealants, polystyrene foam adhesives are largely driving the consumption of overall segment. It has acquired largest revenue of USD 97.4 million in 2016. Altogether, industrial insulation material undertake energy efficient industrial operations and reduces due to which the market is heading towards the growth stabilization.
Access Report @ https://www.marketresearchfuture.com/reports/industrial-insulation-market-5945

Global Industrial Insulation Market, by Chemical Processes Application 2016 (%)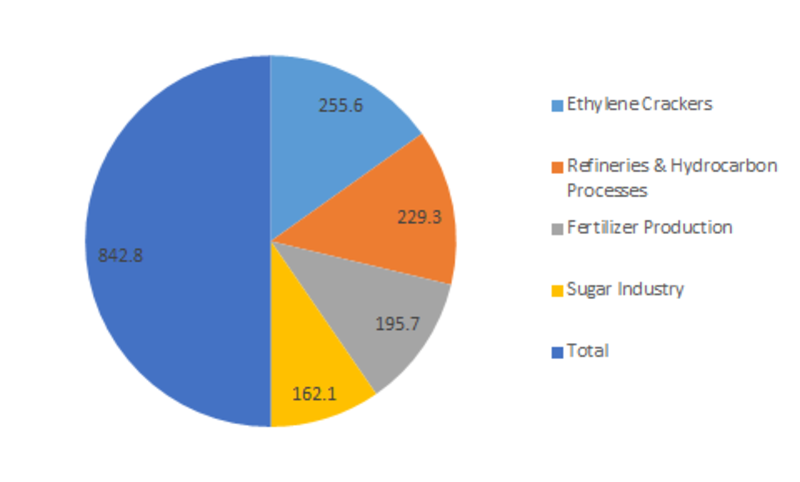 On the basis of application, industrial insulation market has been segmented into chemical processes, LNG, power generation, heat exchangers, storage tanks, boilers, and other hot & cold process equipment's. Chemical processes are among the major application for which industrial insulation material is largely used. The segment has generated overall USD 842.8 million highest revenue. Chemical processes further sub segmented into ethylene crackers, refineries & hydrocarbon processes, fertilizer production, and sugar industry. Furthermore, LNG application segment also accounts considerable shares in this market and also sub segmented into gasification, liquefaction and storage. Gasification applications driving the consumption of insulation and are growing at 5.48% of CAGR as of 2016.
Regional Analysis
The global Industrial Insulations market is spanned across North America, Europe, Asia Pacific, Latin America, and the Middle East & Africa. According to the MRFR analysis, North America was the most promising region both in terms of market volume as well as market value as of 2016 and accounted for one third global market share of the global market closely followed by Europe at 30%. The region anticipated to grow both in terms of value and volume at a CAGR of 5.12% and 4.78% respectively during the forecast period. The growth of this region is highly attributed awareness regarding the insulation and presence of established end use industries.
The study was conducted using an objective combination of primary and secondary information including inputs from key participants in the industry. The report contains a comprehensive market and vendor landscape analysis of key vendors.
This research report provides the insights, on various levels of analyses such industry analysis, market share analysis leading market players and their profiles. This report also helps in studying the target segments by providing views on emerging & high-growth segments and market conclusion. Together the market data comprise and discuss with the basic assessments on the competitive scenarios & strategies, of the Global Industrial Insulations, including the high-growth regions and their political, economic and technological environments. Furthermore, the project report also provides the views over the historical market values as well as, pricing and cost analysis of the same.
Key Players:
Market Research Future (MRFR) recognizes the following companies as the key players in the global Industrial Insulations Some of the key players operating in the global Industrial Insulation market are Owens Corning (U.S), Samhwa Chemicals Co., Ltd (South Korea), Thomas Insulation Corporation (U.S.), Temati (Netherlands), STI Co., Ltd (South Korea), others