Pune, India, April 2020, MRFR Press Release/- Market Research Future has published a Cooked Research Report on the Global Synchronous Condenser Market.
Market Highlights
Global Synchronous Condenser Market has been segmented, based on Cooling Type, Into Hydrogen, Air, and Water. Hydrogen is considered an excellent cooling medium, owing to its superior cooling properties. It also helps reduce windage losses. Since the density of hydrogen is 7% of that of air, the windage loss for a hydrogen-filled unit is 7% of that encountered in air. Additionally, hydrogen cooling increases the overall full load efficiency of the generator by about 1% and the generator capacity by about 25% as compared to the air-cooling type. Water-cooled condensers involve a heat rejection loop where condenser heat is dissipated to the environment through the water. The water-cooled synchronous condensers are designed and fabricated to achieve the highest standards, ensuring superior performance, efficiency, and reliability in the thermal and nuclear power industries. The most common type of water-cooled condensers used in geothermal power plants are direct-contact and surface type condensers. Air-cooled condensers are commonly used for heat rejection in geothermal power plants where water is scarce, such as in the desert areas of the western region of the US. As these condensers do not require a large volume of cooling water, the power plants using these condensers can easily be built in a region where water may not be available, or where its use is restricted or expensive. Air-cooled synchronous condensers are used for thermal power plants as they provide highly compact solutions for base and peak load power plants while involving easy and low-cost maintenance.
Based on reactive power rating, the global synchronous condenser market is segmented into up to 100 MVAr, between 100MVAr–200 MVAr, and above 200 MVAr. The 50-MVAr synchronous condensers require about 1.5 MW of real power to enhance the power line voltage regulation. Moreover, to achieve the power factor at 220 kV, approximately 70 MVAr capacitive power is required. Synchronous condensers are well suited for operation during overload conditions, for both short and long periods. They can support the power system voltage during prolonged voltage sags by increasing the network inertia. Synchronous condensers operate at around 100 MVAr to 200 MVAr increase the transmission capacity of individual transmission lines, intersystem or interstate long-distance transmission lines. In most scenarios, the additional absorbing reactive power support of approximately 400–500 MVAr is required, with a single 500 kV line de-energized to maintain voltages within limits. The demand for this type of reactive power rating is high owing to the rising installation of synchronous condensers that are rated above 200 MVAr, especially in North America and Europe.
Based on type, the global synchronous condenser market has been segmented into new and refurbished. A new synchronous condenser is designed with either two or four poles and can be easily cooled using air, water, or hydrogen. The new synchronous condensers are equipped with state-of-the-art digital controls and relays providing better performance, high speed, and superior precision. A refurbished/reconditioned synchronous condenser is a synchronous generator that is converted into a synchronous condenser. This process of refurbishment involves modifying the generator by decoupling its turbine and installing a control system and a starting method for the condenser.
Based on the starting method, the global synchronous condenser market has been segmented into static frequency converter, pony motor, and others. A static frequency converter (SFC) is generally preferred by designers to start and control the speed of the motors since it does not require an extra device to run synchronous machines. An SCF is designed using two 6-pulse thyristor bridge [network bridge (NB) and machine bridge (MB)] that are combined using an intermediate DC link reactor. Asynchronous generator can also be controlled using a frequency-controlled electric motor, the pony motor. Once the generator reaches the decided operating speed, it gets synchronized with the transmission network, providing reactive and short-circuit power in the network. Other methods to start a synchronous motor can be achieved by attaching an external DC machine or including damper winding with standard field winding. The synchronous motors are coupled with an external DC machine to rotate the motors at a synchronous speed.
By end-use, the global market has been segmented into electric utilities and industries. Electric utility companies face several challenges associated with electricity grids, including changes in power generation and environmental and regulatory policies, distributed generation, and withdrawal of traditional thermal power generation stations. Such challenges affect the electric-power facility infrastructure, resulting in inadequacy of voltage stability, power system inertia, power compensation, and low short-circuit strength. In an industrial plant comprising many induction motors, a synchronous condenser can be used to improve the power factor of the electrical system of a plant. However, when both the synchronous condensers and induction motors are used for an industrial application, the power of synchronous condensers compensate for the lagging power of induction motors.
Drivers: Global Synchronous Condenser Market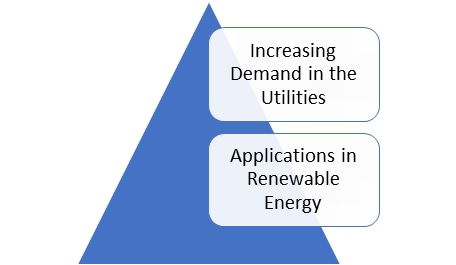 Market Research Analysis
In terms of region, the global synchronous condenser market is segmented into North America, Europe, Asia-Pacific, the Middle East & Africa, and South America. Asia-Pacific dominates the synchronous condenser market. Factors such as the increasing T&D expenditure and the growing grid complexity are expected to drive the synchronous condenser market in the region during the forecast.
Australia relies on approximately 86% on non-renewable sources of electricity. The National Electricity Market (NEM) in eastern and southern Australia has an interconnected transmission network from Queensland through to New South Wales, the Australian Capital Territory (ACT), Victoria, South Australia, and Tasmania. Considering the lack of connectivity between Australia's eastern and western transmission networks due to the presence of a desert, there is a lot of growth that can be achieved in the synchronous condenser market if interconnectivity is achieved between more sections of the country. The increasing investments in the transmission network create growth opportunities for the synchronous condensers market in Australia
Access Report Details @ https://www.marketresearchfuture.com/reports/synchronous-condenser-market-3169
Scope of the Report
This study provides an overview of the global synchronous condenser market, tracking five market segments across five geographic regions. The report studies key players, providing a four-year annual trend analysis that highlights market size, and share for North America, Europe, Asia-Pacific, Middle East & Africa, and South America. The report also provides a forecast, focusing on the market opportunities for the next five years for each region. The scope of the study segments the global synchronous condenser market by cooling type, reactive power rating, type, starting method, end-use, and region.
By Cooling Type
By Reactive Power Rating



Up to 100 MVAr




Between 100MVAr

–

200 MVAr




Above 200 MVAr



By Type
By Starting Method
By End-Use



Electric Utilities




Industries



By Regions



North America




Europe




Asia-Pacific




Middle East & Africa




South America



Key Players
The Major Players operating in the Global Synchronous Condenser Market are ABB (Switzerland), Toshiba Corporation (Japan), WEG (Brazil), Ideal Electric Company (US), Power Systems & Controls, Inc. (US), Andritz (Austria), General Electric (US), Voith Group (Germany), Ansaldo Energia (Italy), Sustainable Power Systems, Inc. (US), Electro Mechanical Engineering Associates, Inc. (US), Eaton (Ireland), and Siemens (Germany).