Pune, India, March 15, 2018 /press release/- Market Research Future Published a Half Cooked Research Report on Global Cleaning Robot Research Report.
Market Overview:
The rates of adoption of cleaning robots in the market are rapidly rising. Many households and various enterprises have deplopyed cleaning robots in their offices and homes, which work without the presence of the owner. A cleaning robot made by Xiaomi can find its way back to the charging pod whenever it gets low on the battery capacity.
On the basis of hardware, the market is segmented into sensors, motors, charging pod, cleaning brushes, vacuum pump, battery, microcontroller, and others. These components are essential in every cleaning robot and don not complement each other. Hence only qualitative information will be available in hardware component segment.
On the basis of connectivity, the market is segmented into Bluetooth, Wi-Fi, Zigbee, and Others. Cleaning robots work solely on wireless technology and that majorly includes Wi-Fi and Bluetooth. Many smart homes include Zigbee as the connectivity protocol for efficient communication with the cleaning robots in a home network.
On the basis of usage, the market is segmented into personal usage and industry usage. The industry usage is further sub-segmented into healthcare, retail, IT & Telecom, automotive, and others. On the basis of control, the market is segmented into app based, autonomous, and digital assistant control. Many of the robots are controlled by Amazon's Alexa and Google home, which can work on pre-defined time set by the user. These are controlled by digital assistants and often don't require human interaction. Other robots are controlled by a dedicated application, which requires human interference. On the basis of application, the market is segmented into floor cleaning, pool cleaning, lawn cleaning, and others.
Access Report Details @ https://www.marketresearchfuture.com/reports/cleaning-robot-market-5686
Global Cleaning Robots Market, USD Billion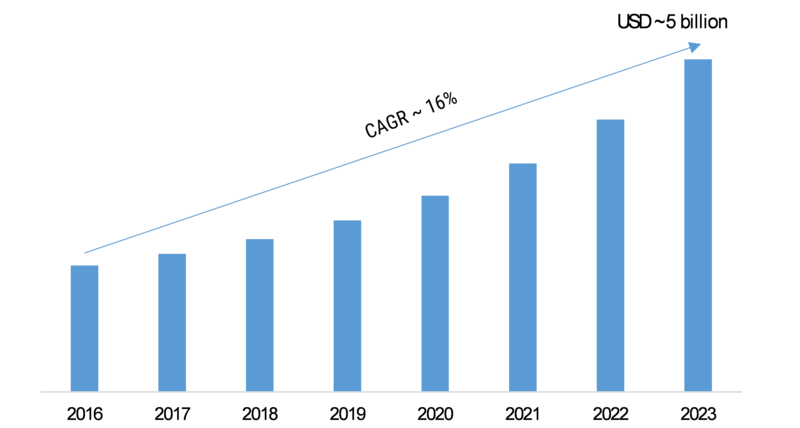 Source: MRFR Analysis
Key Players
Some of the major players in global cleaning robot market include Samsung Electronics Co., Ltd (South Korea), Neato Robotics (U.S.), Dyson Ltd (U.K), Ecovacs Robotics (China), LG Electronics Inc (South Korea), Alfred Kärcher GmbH & Co. KG (Germany), Bissell Inc (U.S.), bObsweep (Canada), Miele (Germany), and iRobot Corporation (U.S.), among others.