Impact of COVID-19 Outbreak on Online Grocery Market —Forecast till 2022
The coronavirus COVID – 19 has affected more than 211 countries and territories globally. Governments across the world are taking stringent precautionary measures and issuing advisories to ensure people do not come out of their houses and the chain of coronavirus is broken. The majority of people are following the guidelines stated by their respective government officials. However, shopping of groceries may be single important task other than the healthcare, which has been forcing people to leave their house and enhance the risk of possible contact with the infected.
According to United Nations Conference on Trade and Development, global e-commerce sales was valued at over USD 32 trillion in 2019. North America was the largest contributor for the revenue generation of e-commerce sales in 2019. Among Asia-Pacific countries, Japan and China were the largest contributing countries for the market growth in 2019.
The COVID – 19 pandemics situation has changed the consumer's way of shopping grocery. Consumers are increasingly taking online grocery platforms to buy even the perishables such as milk, eggs, and bread. Many online grocery providers are assisting local administrations to manage doorstep and contactless deliveries for safety measures. However, the online grocery market is facing challenges due to the pandemic. There is an increasing pressure on supply chain for delivering the products. The another challenge is, employees, as the online grocery providers need to equip their employees with proper resources and trainings to manage operations remotely with little or no disruption.
Many countries have been seeing the steep rise in the online shopping due to the lockdown. For instance, in South Korea the revenue generated from online shopping rose to 34% in February from a year prior due to the pandemic. Also, the revenue contribution of online shopping has increased by 9.1% from the same month a year ago. France has also seen the increase in supermarket and online sales after the COVID – 19 outbreaks during 24 February to 22 March 2020.
Europe Online Grocery Market Year on Year Growth Rate, (2017-2022)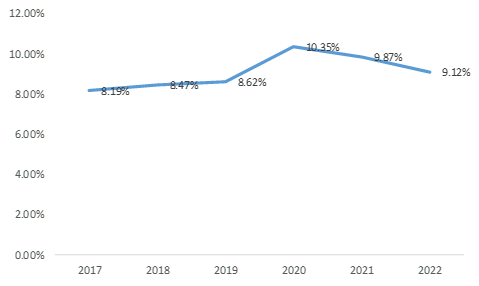 Sources: MRFR Analysis
According to MRFR Analysis, Europe Online Grocery Market was valued at 33,450.9 in 2019 with a year on year growth of 8.62% from previous year 2018. The market is projected to see a drastic year on year growth of 10.35% in 2020 due to the COVID-19 outbreak. The online grocery shopping behavior might continue even after the period of social distancing ends, influencing consumers while selecting a retail channel.
Impact of COVID – 9 Outbreak on Online Grocery Market, by Region


North America




Europe





Germany




UK




France




Spain




Italy




Rest of Europe








Asia-Pacific




Rest of the World (RoW)





Middle East




South America




Africa








Intended Audience



Personal Care Manufacturers




Food & Beverage Manufacturers




Traders, Wholesalers, and Distributors




Governments, Associations, and Industrial Bodies




Investors and Trade Experts




Online Distributors




Hygiene Products Manufacturers



TABLE OF CONTENTS

1. EXECUTIVE SUMMARY

2. MARKET INTRODUCTION

2.1. ONLINE GROCERY MARKET & & COVID-19 OUTBREAK

2.2. SCOPE OF THE STUDY

2.2.1. RESEARCH OBJECTIVES

2.2.2. ASSUMPTIONS & LIMITATIONS

2.3. MARKET STRUCTURE

3. CONSUMER BEHAVIOR POST COVID-19 OUTBREAK

3.1. PROACTIVE BUYING

3.2. REACTIVE BUYING

3.3. STOCK KEEPING PROCESS

3.4. QUARANTINED LIFE

3.5. BACK TO NORMAL

4. COVID-19 CASES BY COUNTRY (TILL MARCH 2020)

5. ONLINE GROCERY MARKET- YEAR 2017, 2018, 2019, THE EFFECTED 2020 AND FORECAST TILL 2022

5.1. INTRODUCTION

5.2. MARKET SECTORS

5.2.1. PACKAGED, PROCESSED FOOD & BEVERAGES

5.2.1.1. PACKAGED, PROCESSED FOOD

5.2.1.1.1. BAKERY & CONFECTIONARY

5.2.1.1.2. DAIRY & FROZEN DESSERTS

5.2.1.1.3. SWEET & SAVORY SNACKS

5.2.1.1.4. MEAT, POULTRY & SEAFOOD

5.2.1.1.5. BABY FOOD

5.2.1.1.6. OTHERS

5.2.1.2. BEVERAGES

5.2.1.2.1. ALCOHOLIC BEVERAGES

5.2.1.2.2. NON-ALCOHOLIC BEVERAGES

5.2.1.2.2.1. CARBONATED SOFT DRINKS

5.2.1.2.2.2. JUICES

5.2.1.2.2.3. BOTTLED WATER

5.2.1.2.2.4. SPORTS & ENERGY DRINKS

5.2.1.2.2.5. PRBIOTIC DRINKS

5.2.1.2.2.6. RTD TEA & COFFEE

5.2.1.2.2.7. OTHERS

5.2.2. FRESH FRUITS & VEGETABLES

5.2.3. PERSONAL CARE & HYGIENE

5.2.3.1. SKIN CARE

5.2.3.2. HAIR CARE

5.2.3.3. BODY & BATH

5.2.3.4. SUPPLEMENTS

5.2.3.5. HAND HYGIENE

5.2.3.5.1. HAND WASH

5.2.3.5.2. HAND SANITIZERS

5.2.3.6. COSMETICS & COLOR

5.2.3.7. FACE MASKS

5.2.3.8. SHEET FACE MASKS

5.2.4. HOUSEHOLD CLEANING PRODUCTS

5.2.5. BABY CARE PRODUCTS

5.3. DRIVERS

5.4. RESTRAINTS

5.5. OPPORTUNITIES

5.6. CHALLENGES

6. ONLINE GROCERY MARKET POST COVID-19 OUTBREAK, BY REGION

6.1. INTRODUCTION

6.2. NORTH AMERICA

6.2.1. MARKET ESTIMATES & FORECAST, 2020–2022

6.2.2. MARKET ESTIMATES & FORECAST, BY COUNTRY, 2020–2022

6.2.3. US

6.2.4. CANADA

6.2.5. MEXICO

6.3. EUROPE

6.3.1. MARKET ESTIMATES & FORECAST, 2020–2022

6.3.2. MARKET ESTIMATES & FORECAST, BY COUNTRY, 2020–2022

6.3.3. GERMANY

6.3.4. UK

6.3.5. FRANCE

6.3.6. SPAIN

6.3.7. ITALY

6.3.8. REST OF EUROPE

6.4. ASIA-PACIFIC

6.4.1. MARKET ESTIMATES & FORECAST, 2020–2022

6.4.2. MARKET ESTIMATES & FORECAST, BY COUNTRY, 2020–2022

6.4.3. CHINA

6.4.4. JAPAN

6.4.5. INDIA

6.4.6. AUSTRALIA & NEW ZEALAND

6.4.7. REST OF ASIA-PACIFIC

6.5. REST OF THE WORLD

6.5.1. MARKET ESTIMATES & FORECAST, 2020–2022

6.5.2. SOUTH AMERICA

6.5.3. MIDDLE EAST

6.5.4. AFRICA