Global Wireless Charging Market, By Technology (Inductive Coupling, Capacitive Coupling), By Components (Transmitters, Receivers), By Application (Consumer Electronics, Industrial, Infrastructure, Automotive) - Forecast 2023

Market Synopsis of Global Wireless Charging Market:
Market Scenario:
Wireless power transmission is not a new concept to this world, it was founded in early 1891 when Nikola Tesla demonstrated the wireless power transmission model to this world without any use of wires. Today, Wireless Charging have various technology such as Inductive Coupling, Capacitive Coupling, RF among others.
High demand for Smartphones
High demand for the smartphones are one of the major driving factor for the market of wireless charging. Consumer electronic segments accounted for 31.53% of market share in the global wireless charging market where Smartphones segment accounted for 51.46% of total market share. Increasing disposable income around the world is leading to the high expenditure on the electronic products which includes purchase of smartphones and wearable devices. A study shows that the total shipment of smartphones around the was estimated to be at 1.5 billion in the year 2016 which is expected to grow at 2 billion shipments by the end of year 2023.
The global Wireless Charging market is expected to reach USD 24.05 billion by the end of 2023 with 32.56% CAGR during forecast period 2017-2023.
Key Players
The prominent players in the market of Wireless Charging market are – Samsung Electronics Co Ltd. (South Korea), Texas Instruments Inc. (U.S.), Integrated Device Technology, Inc. (U.S.), NXP Semiconductors (Netherlands), Powermat Technologies Ltd (Israel), WiTricity Corporation (U.S.), PowerbyProxi (New Zealand), Qualcomm Inc. (U.S.), TDK Corporation (Japan), Convenient Power HK Limited (China) among others.

Global Wireless Charging Market Structure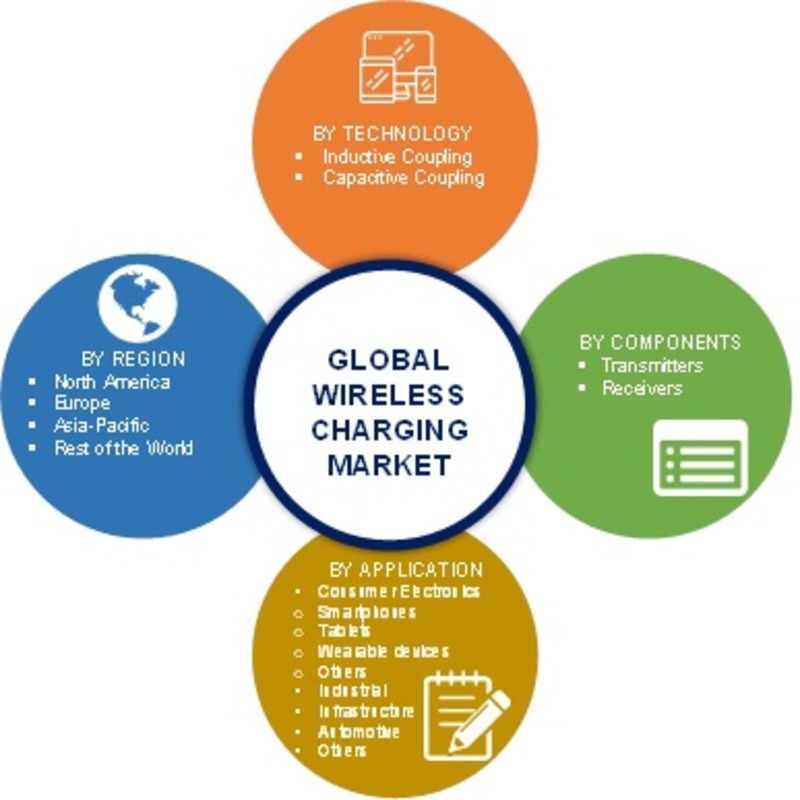 Regional Analysis:
Regional analysis of Wireless Charging market consists four major regions where the study of key countries has been done. Wireless charging market holds immense opportunities in the Asia pacific region which is dominating the market. factors such as high demand for the consumer electronic products in Asia pacific, high technological advancement in North America and rich presence of automotive industry in the Europe is supporting the market of Wireless charging market.


Global Wireless Charging Market, By Region (USD Million)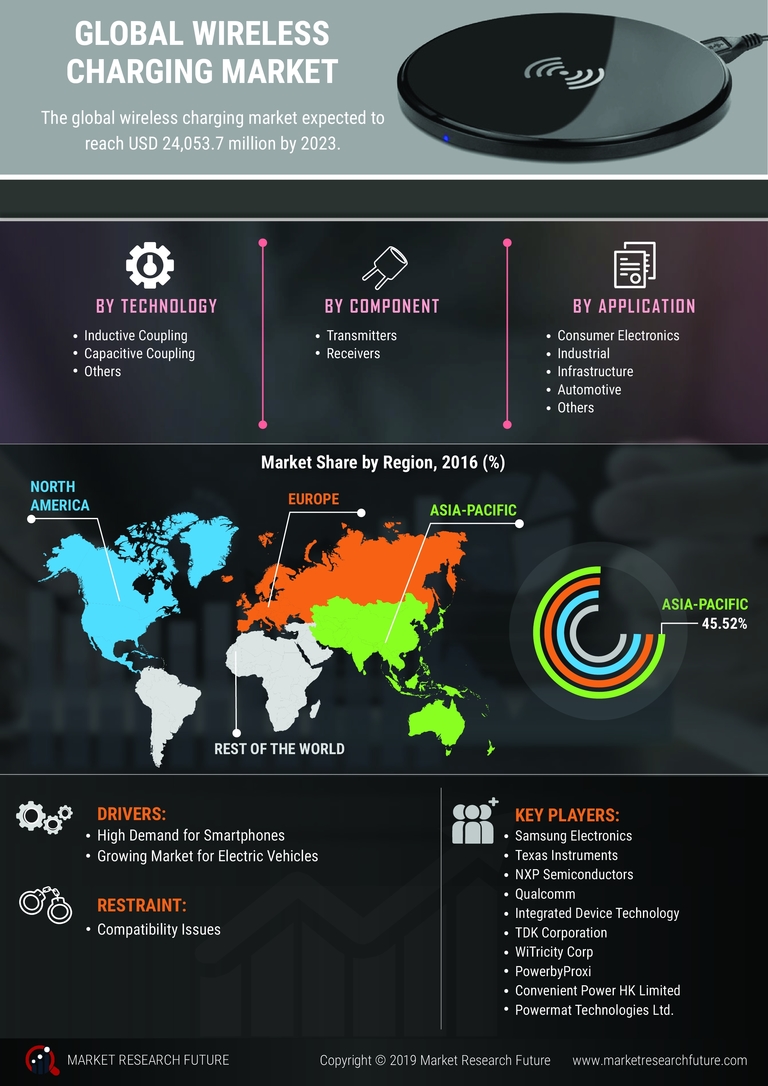 Intended Audience



Smartphone Manufactures




Battery Manufacturers




Technology Providers




Wireless Charger Manufactures




Chip Manufacturers




Wireless Charger Suppliers




Distributors




Research firms




Consultancy firms




Semiconductor Manufacturers




Stakeholders




End-user sectors




Technology Investors