Virtual Pipelines Market Scenario
Virtual pipelines market is projected to progress at 6.45% CAGR during the forecast period, which is 2020-2027.

The driving factors for global virtual pipelines market are increased production of natural gas, emerging markets as net importers and exporters of natural gas, rising number of liquefaction and regasification terminals, and obsolescence and inefficiency of existing infrastructure. According to IEA, in 2017, OECD natural gas production grew by 2.4% as compared to the previous year. Besides, the natural gas deliveries also improved by 1.2% in 2017, as compared to 2016. Besides, every year the global liquefaction and regasification capacity is rising, creating demand for more gas transportation to regasification and liquefaction terminals. Moreover, many regions are facing issues related to complex and inflexible gas pipeline infrastructure. For an instance, Europe's natural gas transportation is limited to inflexible pipes, and gas supply disruption due to the lack of pipeline infrastructure. This creates opportunities for virtual pipelines for maintaining the supply and demand for natural gas.
The global virtual pipeline market has been segmented on the basis of fuel type, mode of transport, End-uses, and regions. Based on fuel type, the market is sub-segmented as CNG and LNG. CNG segment is dominating due to increasing production of natural gas along with increased demand from the liquefaction terminals. Considering the mode of transport segment, the market is classified as truck, barge, rail, and ship. Ship segment holds the largest market share due to increased net imports for natural gas from developing nations. In 2017, total natural gas imports increased by 5.1% as compared to 2016. Based on end-use, global virtual pipeline market is categorized as residential, commercial, and industrial. Industrial segment is dominating the market owing to increased power generation from natural gas, and expanding fertilizers industry.
Key Players

The key players of the global virtual pipelines market are GE Oil and Gas (U.S.), Kinder Morgan (U.S.), SUB161° (Australia), Eniday (Italy), Galileo Technologies S.A. (Argentina), and CNG Services Limited (U.K). SENER Group (Spain), Pentagon Energy LLC (U.S.), Xpress Natural Gas LLC (U.S.), OsComp Holdings LLC (U.S.), NG Advantage LLC (U.S.), and REV LNG LLC (U.S.) are among others.
Market Segmentation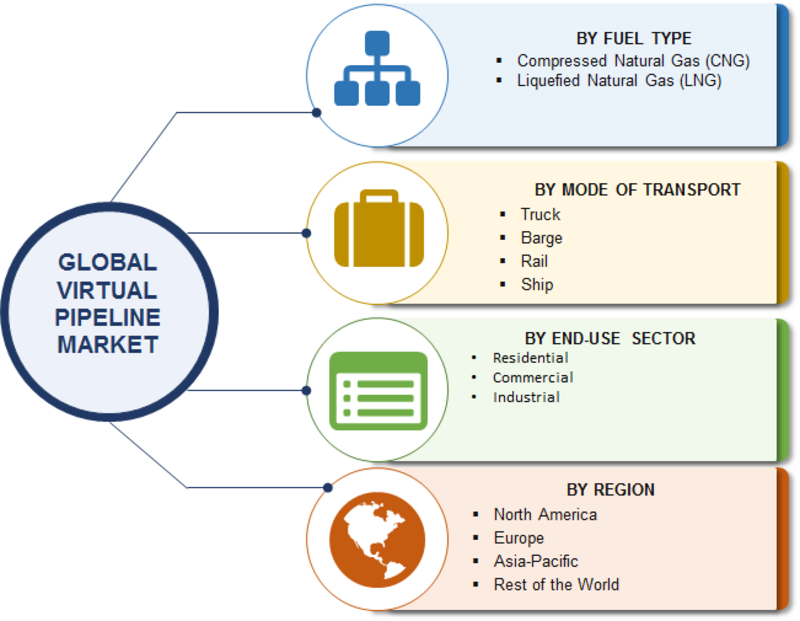 Global Virtual Pipelines Market
Europe region is expected to dominate the market for virtual pipeline due to the increasing demand for natural gas for power generation and heating spaces. The region demands better gas transportation facilities as the existing physical pipelines have become obsolete and require high costs for maintenance and improvement. Asia-Pacific is the fastest growing region as the net importers for natural gas are the developing nations of the region. China itself was the largest consumer of natural gas in 2017, and the consumption is expected to grow with industrialization and urbanization projects. Emerging markets of the region such as Indonesia, and Pakistan are also witnessing high demand for natural gas, which is raising the opportunities for virtual pipelines in Asia Pacific.
Natural gas is the cleanest fossil fuel amongst all conventional energy sources and can be used for numerous applications. It is distributed in two forms, namely compressed natural gas (CNG), and liquefied natural gas (LNG). Midstream operations for the natural gas are bridging the gap between the generation point to the consumption point. Virtual pipelines function as physical gas pipelines. These are substitutes to the traditional physical pipelines where natural gas is transported through land or sea modes of transport. Through virtual pipelines, natural gas can be supplied to endpoints where the feasibility of physical pipeline infrastructure construction is low. Typically, the pipelines are used for transporting natural gas but with increasing and demand, virtual pipelines have captured the midstream market for natural gas.
The advantages of the virtual pipelines include lowered cost investments in the infrastructure construction, and strategically locating the prime consuming markets. Virtual pipelines are not vulnerable like the physical pipelines, where complete flow and transport of natural gas is prohibited in case of any disturbance or calamity in the pipeline.
Report Scope:
Report Attribute/Metric
Details
Market Size
2027: Significant Value
CAGR
6.45% CAGR(2020-2027)
Base Year
2019
Forecast Period
2020-2027
Historical Data
2018
Forecast Units
Value (USD Million)
Report Coverage
Revenue Forecast, Competitive Landscape, Growth Factors, and Trends
Segments Covered
Fuel Type, Mode of Transport and End-Use
Geographies Covered
North America, Europe, Asia-Pacific, and Rest of the World (RoW)
Key Vendors
GE Oil and Gas (U.S.), Kinder Morgan (U.S.), SUB161° (Australia), Eniday (Italy), Galileo Technologies S.A. (Argentina), and CNG Services Limited (U.K). SENER Group (Spain), Pentagon Energy LLC (U.S.), Xpress Natural Gas LLC (U.S.), OsComp Holdings LLC (U.S.), NG Advantage LLC (U.S.), and REV LNG LLC (U.S.) are among others
Key Market Opportunities
High demand for natural gas
Key Market Drivers
Increased production of natural gas
Emerging markets as net importers and exporters of natural gas
Rising number of liquefaction and regasification terminals
obsolescence and inefficiency of existing infrastructure
Frequently Asked Questions (FAQ) :
---