Market Synopsis of Global UTI treatment Market:
Urinary tract infection (UTI treatment) is the infection of the lower or upper urinary tract due to bacteria such as Escherichia coli, Staphylococcus saprophyticus etc. The symptoms of UTI treatment are pain with urination, frequent urination and urination feeling despite having an empty bladder. The market driving factors for UTI treatment are female anatomy, sexual intercourse, diabetes, obesity etc. Due to the complications of female anatomy UTI treatment affects females more than males with the World Health Organization (WHO) estimating that approximately 50 % of women suffer from UTI treatment at some point of time in their lives resulting in more than 1 million hospitalizations per year. It has further been stated that 1% of boys and 3-8% of girls are diagnosed with UTI treatment and the annual cost of UTI treatment infections treatment to be greater than $1 billion.
The Global urinary tract infection (UTI treatment) drugs market is growing due to factors such as rise in hospital borne infections (nosocomial infections), child birth, old age, obesity, growing health awareness especially about women health etc.
However the fastest growth has been registered due to rising use of catheters (catheter associated UTI treatment).
The market constraints include growing drug resistance, unmet clinical needs, increasing incidence of chronic diseases resulting in chronic catheter use and low immunity etc.
Taking all these factors into consideration, the Global UTI treatment drugs market will approximately reach to $ 9.89 billion in 2023 from $ 8 billion in 2016 growing at a CAGR of 3.6%.
Study objectives:



To provide detail analysis of the market structure along with estimated future growth forecast for the next 6 years about various segments and sub-segments of the global UTI treatment market.




To provide insights about factors affecting the market growth.




To analyze the global UTI treatment market based on various factors - price analysis, supply chain analysis, Porters Five Force Analysis etc.




To provide past and estimated future revenue of the market's segments and sub-segments with respect to four main geographies and their countries - Americas, Europe, Asia-Pacific along with Middle East & Africa.




To provide country level analysis of the market with respect to the current market size and future growth prospect.




To provide country level analysis of the market's segments which includes by drug class, clinical indications and by end user.




To provide overview of key players and their strategic profiling in the market, comprehensively analyzing their core competencies and drawing a competitive landscape of the market.




To track and analyze developments which are competitive in nature such as joint ventures, strategic alliances, mergers and acquisitions, new product developments along with research and developments currently taking place in the global UTI treatment market.



Research methodology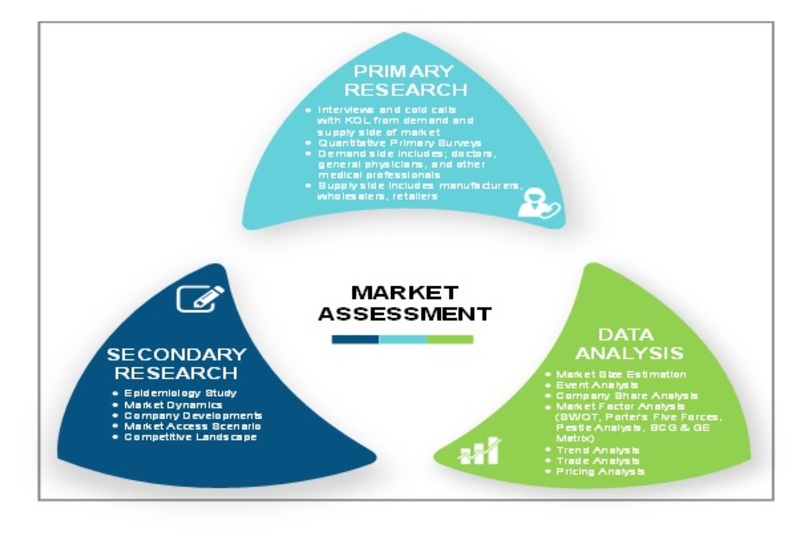 Key players of Global UTI treatment Market:
Key players profiled in the report are Bayer AG, Novartis AG, Pfizer Inc., F. Hoffmann-La Roche Ltd, AstraZeneca, Cipla Inc., Dr. Reddy's Laboratories Ltd., Johnson & Johnson GlaxoSmithKline and others.
Segments:
The Global UTI treatment Market is segmented on the basis of drug class which comprises of quinolones, aminoglycosides, β-lactam, azoles and others. On the basis of clinical indications this market is segmented into urethritis, cystitis, and pyelonephritis. On the basis of end users the market is segmented into hospitals and self-administered.

Figure 1 Global UTI Treatment Market by Drug Class, 2016 (% Market share)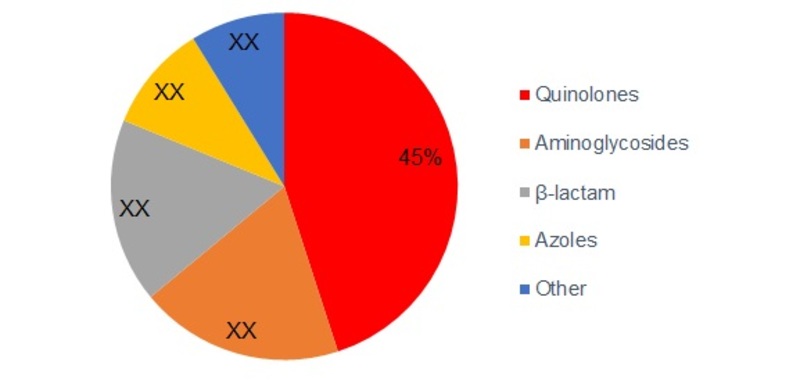 Regional analysis
U.S. accounts for the largest market share of the global UTI treatment market followed by Europe. However Europe has a greater hospitalization rate than the U.S. despite the U.S. having a large spending on healthcare. The regulatory changes in the U.S. such as implementation of Affordable Care Act and Hospital Readmissions Reduction Program coupled with Medicare initiative to penalize unnecessary patient readmissions is expected to take a toll on the U.S UTI treatment market. Asia pacific will be the fastest growing market and the growth will be led by China, and India as these nations have huge population and the low cost of UTI treatment drugs.


The report for Global UTI treatment Market by Market Research Future comprises of extensive primary research along with the detail analysis of qualitative as well as quantitative aspects by various industry experts, key opinion leaders to gain a deeper insight of the market and industry performance. The report gives a clear picture of current market scenario which includes past and estimated future market size with respect to value and volume, technological advancement, macro economical and governing factors in the market. The report provides detail information about and strategies used by top key players in the industry. The report also gives a broad study of the different market segments and regions.
Intended Audience



Global UTI treatment solutions providers, manufacturers & suppliers




Research and development (R&D) companies




Market research and consulting service providers




Academic institutes and universities



Frequently Asked Questions (FAQ) :
---
1 Introduction

1.1 Definition

1.2 Scope of Study

1.3 Research Objective

1.4 Assumptions & Limitations

1.5 Market Structure:

2 Research Methodology

2.1 Research Process

2.2 Primary Research

2.3 Secondary Research

3 Market Dynamics

3.1 Drivers

3.2 Restraints

3.3 Opportunities

3.4 Challenges

3.5 Macroeconomic Indicators

4 Market Factor Analysis

4.1 Porter's Five Forces Model

4.1.1 Bargaining Power of Suppliers

4.1.2 Bargaining Power of Customer

4.1.3 Intensity of Competitor's

4.1.4 Threat of New Entrants

5 Global UTI Drugs Market, by Drug Class

5.1 Introduction

5.1.1 Quinolones

5.1.2 Aminoglycosides

5.1.3 β-lactam

5.1.4 Azoles

5.1.5 Others

6 Global UTI Drugs Market, by Clinical Indications

6.1 Introduction

6.1.1 Urethritis

6.1.2 Cystitis

6.1.3 Pyelonephritis

6.1.4 Others

7 Global UTI Drugs Market, by End User

7.1 Introduction

7.1.1 Hospitals

7.1.32 Self-administered

8 Global UTI Drugs Market, by Country

8.1 Introduction

8.2 UAE

8.3 Egypt

8.4 Saudi Arabia

8.5 Kuwait

8.6 Qatar

8.7 Oman

9 Company Landscape

9.1 Introduction

9.1.1 Mergers Acquisitions

9.1.2 Collaborations

9.1.3 Release/New Product Launches

9.1.4 Other (Expansion, Updates, Partnership)

10 Company Profile

10.1 Bayer AG

10.1.1 Company Overview

10.1.2 Product/Business Segment Overview

10.1.3 Financials

10.1.4 Key Developments

10.1.5 SWOT Analysis

10.2 Novartis AG

10.2.1 Overview

10.2.2 Product/Business Segment Overview

10.2.3 Financials

10.2.4 Key Developments

10.2.5 SWOT Analysis

10.3 Pfizer Inc.

10.3.1 Overview

10.3.2 Product/Business Segment Overview

10.3.3 Financials

10.3.4 Key Developments

10.3.5 SWOT Analysis

10.4 F. Hoffmann-La Roche Ltd

10.4.1 Overview

10.4.2 Product/Business Segment Overview

10.4.3 Financials

10.4.4 Key Developments

10.4.5 SWOT Analysis

10.5 AstraZeneca

10.5.1 Overview

10.5.2 Product/Business Segment Overview

10.5.3 Financials

10.5.4 Key Developments

10.5.5 SWOT Analysis

10.6 Cipla Inc.

10.6.1 Overview

10.6.2 Product/Business Segment Overview

10.6.3 Financials

10.6.4 Key Developments

10.6.5 SWOT Analysis

10.7 Dr. Reddy's Laboratories Ltd

10.7.1 Overview

10.7.2 Product/Business Segment Overview

10.7.3 Financials

10.7.4 Key Developments

10.7.5 SWOT Analysis

10.8 Johnson & Johnson

10.8.1 Overview

10.8.2 Product/Business Segment Overview

10.8.3 Financials

10.8.4 Key Developments

10.8.5 SWOT Analysis

10.9 Others

11 Conclusion

11.1 Key Findings

11.1.1 From CEO'S Viewpoint

11.1.2 Unmet Needs of the Market

11.2 Key Companies to Watch

11.3 Prediction of UTI Treatment Industry

12 Appendix