Global Turbocharger Market Information by Vehicle Type (Passenger Car, LCV, HCV, Agricultural Tractor and Construction Equipment), Technology (Variable Geometry Turbocharger(VGT)/ Variable Nozzle Turbocharger(VNT), Wastegate, and Others), Fuel Type (Gasoline and Diesel), and by Region - Forecast to 2022

Market Scenario:
Turbocharger is a type of forced induction system which increases an internal combustion engine's power output and efficiency by forcing air into the combustion chamber. Stringent environmental regulations, increasing trend for opting better fuel economy and to enhance the engine performance will boost the demand for the turbocharger, as the turbocharger are more fuel efficient and improves the power of the automotive engine. Increasing demand for power generating automobile, need for fuel efficient engines will drive the passenger car segment of vehicle type and will have significant impact on the turbocharger market. The global Turbocharger market is expected to show a growth at CAGR of about 7.8% from 2016 to 2022.
Study Objectives of Global Turbocharger Market



To provide detailed analysis of the market structure along with forecast for the next five years of various segments and sub-segments of the global Turbocharger market




To provide insights about factors affecting the market growth




To analyze the global Turbocharger market based on various factors such as supply chain analysis, and Porter's five forces analysis




To provide historical and forecast revenue of the market segments and sub-segments with respect to four main geographies and their countries - North America, Europe, Asia-Pacific, and ROW.




To provide country level analysis of the market with respect to the current market size and future prospective




To provide country level analysis of the market for segment by vehicle type, technology, fuel, and region




To provide strategic profiling of the key players in the market, comprehensively analyzing their core competencies, and drawing a competitive landscape for the market




To track and analyze competitive developments such as joint ventures, strategic alliances, mergers and acquisitions, new product developments, and research and developments in the global turbocharger market




Market Segmentation: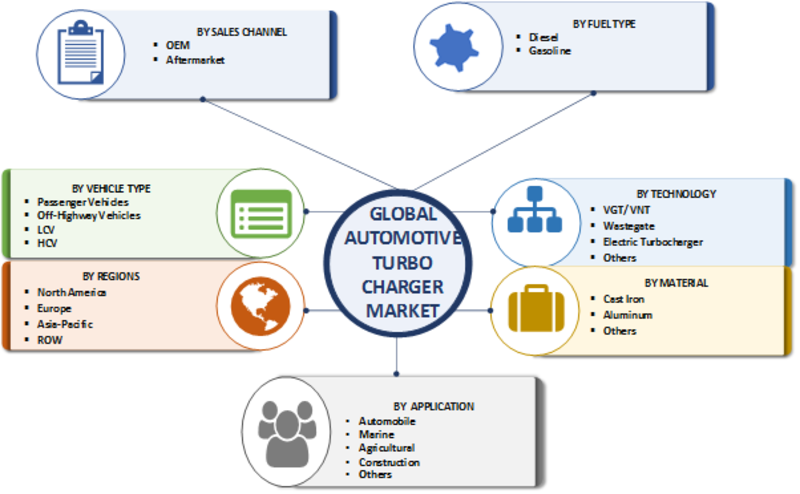 Regional Analysis of Global Turbocharger Market
Asia-Pacific is expected to dominate the turbocharger market in the forecast period and is followed by North America and Europe. Increasing usage of vehicles, increasing need for power efficient passenger & commercial vehicles, high demand for fuel efficient engines in the economically emerging countries like China and India will drive the market of turbocharger in the Asia-Pacific region.
Turbocharger Market, by Region (USD Million)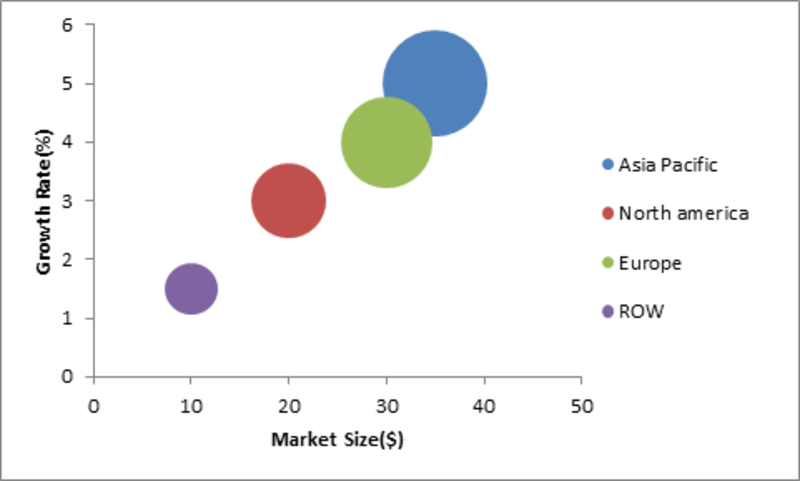 Key Players:
The key players of Global Turbocharger Market report include- Honeywell International Inc., Borgwarner Inc., IHI Corporation, Mitsubishi Heavy Industries Ltd., Cummins Inc., Continental AG, Eaton Corporation PLC, Bosch Mahle Turbo Systems GmbH & Co. Kg, Turbo Energy Private Limited, and Rotomaster International.
Target Audience



Manufacturers of automotive turbochargers




Raw material suppliers for automotive turbochargers




Automotive OEMs




Government and research organization




Investment bankers and M&A Consultants



Geographic Analysis



Geographical analysis across 17 countries



Company Information



Profiling of 10 key market players




SWOT analysis, and strategy information of top five players in the market




Competitive landscape including emerging trends adopted by major companies



The report covers brief analysis of country level market information –
North America



U.S.




Canada




Mexico




Rest of North America



Europe



U.K.




Germany




France




Rest of Europe



Asia-Pacific



China




India




Japan




Rest of Asia-Pacific



ROW
The report for Global Turbocharger Market of Market Research Future comprises of extensive primary research along with the detailed analysis of qualitative as well as quantitative aspects by various industry experts, key opinion leaders to gain the deeper insight of the market and industry performance. The report gives the clear picture of current market scenario which includes historical and projected market size in terms of value and volume, technological advancement, macro economical and governing factors in the market. The report provides details information and strategies of the top key players in the industry. The report also gives a broad study of the different market segments and regions.
TABLE OF CONTENTS
1. REPORT PROLOGUE

2. INTRODUCTION

2.1. DEFINITION

2.2. SCOPE OF THE STUDY

2.2.1. RESEARCH OBJECTIVE

2.2.2. ASSUMPTIONS

2.2.3. LIMITATIONS

2.3. MARKET STRUCTURE

2.4. MARKET SEGMENTATION

3. RESEARCH METHODOLOGY

3.1. RESEARCH PROCESS

3.2. PRIMARY RESEARCH

3.3. SECONDARY RESEARCH

3.4. MARKET SIZE ESTIMATION

3.5. FORECAST MODEL

4. MARKET DYNAMICS

4.1. DRIVERS & OPPORTUNITIES

4.2. CHALLENGES & RESTRAINTS

4.3. VALUE CHAIN ANALYSIS

4.4. PORTER'S FIVE FORCES ANALYSIS

5. TURBOCHARGER MARKET, BY VEHICLE TYPE

5.1. INTRODUCTION

5.2. PASSENGER CAR

5.3. LCV

5.4. HCV

5.5. AGRICULTURAL TRACTORS

5.6. CONSTRUCTION EQUIPMENT

6. TURBOCHARGER MARKET, BY TECHNOLOGY

6.1. INTRODUCTION

6.2. VARIABLE GEOMETRY/VARIABLE NOZZLE TURBOCHARGER

6.3. WASTEGATE

6.4. OTHERS

7. TURBOCHARGER MARKET, BY FUEL TYPE

7.1. INTRODUCTION

7.2. GASOLINE

7.3. DIESEL

8. TURBOCHARGER MARKET, BY REGION

8.1. INTRODUCTION

8.2. NORTH AMERICA

8.2.1. U.S.

8.2.2. CANADA

8.2.3. MEXICO

8.2.4. REST OF NORTH AMERICA

8.3. EUROPE

8.3.1. U.K.

8.3.2. GERMANY

8.3.3. FRANCE

8.3.4. SPAIN

8.3.5. REST OF EUROPE

8.4. ASIA–PACIFIC

8.4.1. CHINA

8.4.2. INDIA

8.4.3. JAPAN

8.4.4. REST OF ASIA-PACIFIC

8.5. ROW

8.5.1. BRAZIL

8.5.2. RUSSIA

8.5.3. OTHERS

9. COMPANY LANDSCAPE

9.1. INTRODUCTION

9.2. COMPETITIVE STRATEGY ANALYSIS

10. COMPANY PROFILE

10.1. Honeywell International Inc.

10.1.1. COMPANY OVERVIEW

10.1.2. INDUSTRY /BUSINESS SEGMENT OVERVIEW

10.1.3. FINANCIAL UPDATES

10.1.4. KEY DEVELOPMENTS

10.2. Borgwarner Inc.

10.2.1. COMPANY OVERVIEW

10.2.2. INDUSTRY /BUSINESS SEGMENT OVERVIEW

10.2.3. FINANCIAL UPDATES

10.2.4. KEY DEVELOPMENTS

10.3. IHI Corporation

10.3.1. COMPANY OVERVIEW

10.3.2. INDUSTRY /BUSINESS SEGMENT OVERVIEW

10.3.3. FINANCIAL UPDATES

10.3.4. KEY DEVELOPMENTS

10.4. Mitsubishi Heavy Industries Ltd.

10.4.1. COMPANY OVERVIEW

10.4.2. INDUSTRY /BUSINESS SEGMENT OVERVIEW

10.4.3. FINANCIAL UPDATES

10.4.4. KEY DEVELOPMENTS

10.5. Cummins Inc.

10.5.1. COMPANY OVERVIEW

10.5.2. INDUSTRY /BUSINESS SEGMENT OVERVIEW

10.5.3. FINANCIAL UPDATES

10.5.4. KEY DEVELOPMENTS

10.6. Continental AG

10.6.1. COMPANY OVERVIEW

10.6.2. INDUSTRY /BUSINESS SEGMENT OVERVIEW

10.6.3. FINANCIAL UPDATES

10.6.4. KEY DEVELOPMENTS

10.7. Eaton Corporation PLC

10.7.1. COMPANY OVERVIEW

10.7.2. INDUSTRY /BUSINESS SEGMENT OVERVIEW

10.7.3. FINANCIAL UPDATES

10.7.4. KEY DEVELOPMENTS

10.8. Bosch Mahle Turbo Systems GmbH & Co. Kg

10.8.1. COMPANY OVERVIEW

10.8.2. INDUSTRY /BUSINESS SEGMENT OVERVIEW

10.8.3. FINANCIAL UPDATES

10.8.4. KEY DEVELOPMENTS

10.9. Turbo Energy Private Limited

10.9.1. COMPANY OVERVIEW

10.9.2. INDUSTRY /BUSINESS SEGMENT OVERVIEW

10.9.3. FINANCIAL UPDATES

10.9.4. KEY DEVELOPMENTS

10.10. Rotomaster International

10.10.1. COMPANY OVERVIEW

10.10.2. INDUSTRY /BUSINESS SEGMENT OVERVIEW

10.10.3. FINANCIAL UPDATES

10.10.4. KEY DEVELOPMENTS

11. MRFR CONCLUSION

12. APPENDIX
LIST OF TABLES

Table 1 Global Turbocharger Market: By Vehicle Type, 2014-2022 (USD Billion)

Table 2 Passenger Car: Turbocharger Market, By Region, 2014-2022 (USD Billion)

Table 3 LCV : Turbocharger Market, By Region, 2014-2022 (USD Billion)

Table 4 HCV: Turbocharger Market, By Region, 2014-2022 (USD Billion)

Table 5 Agricultural Tractor: Turbocharger Market, By Region, 2014-2022 (USD Billion)

Table 6 Construction Equipment: Turbocharger Market, By Region, 2014-2022 (USD Billion)

Table 7 Global Turbocharger Market: By Technology, 2014-2022 (USD Billion)

Table 8 VGT/VNT: Turbocharger Market, By Region, 2014-2022 (USD Billion)

Table 9 Wastegate: Turbocharger Market, By Region, 2014-2022 (USD Billion)

Table 10 Others: Turbocharger Market, By Region, 2014-2022 (USD Billion)

Table 11 Global Turbocharger Market: By fuel type, 2014-2022 (USD Billion)

Table 12 Gasoline: Turbocharger Market, By Region, 2014-2022 (USD Billion)

Table 13 Diesel: Turbocharger Market, By Region, 2014-2022 (USD Billion)

Table 14 Residential: Turbocharger Market, By Region, 2014-2022 (USD Billion)

Table 15 Global Turbocharger Market: By Region, 2014-2022 (USD Billion)

Table 16 North America: Turbocharger Market, By vehicle type, 2014-2022 (USD Billion)

Table 17 North America: Turbocharger Market, By technology, 2014-2022 (USD Billion)

Table 18 North America: Turbocharger Market, By fuel type, 2014-2022 (USD Billion)

Table 19 North America: Turbocharger Market, By Country, 2014-2022 (USD Billion)

Table 20 U.S.: Turbocharger Market, By vehicle type, 2014-2022 (USD Billion)

Table 21 U.S.: Turbocharger Market, By technology, 2014-2022 (USD Billion)

Table 22 U.S.: Turbocharger Market, By fuel type, 2014-2022 (USD Billion)

Table 23 Canada: Turbocharger Market, By vehicle type, 2014-2022 (USD Billion)

Table 24 Canada: Turbocharger Market, By technology, 2014-2022 (USD Billion)

Table 25 Canada: Turbocharger Market, By fuel type, 2014-2022 (USD Billion)

Table 26 Mexico: Turbocharger Market, By vehicle type, 2014-2022 (USD Billion)

Table 27 Mexico: Turbocharger Market, By technology, 2014-2022 (USD Billion)

Table 28 Mexico: Turbocharger Market, By fuel type, 2014-2022 (USD Billion)

Table 29 Rest of North America: Turbocharger Market, By vehicle type, 2014-2022 (USD Billion)

Table 30 Rest of North America: Turbocharger Market, By technology, 2014-2022 (USD Billion)

Table 31 Rest of North America: Turbocharger Market, By fuel type, 2014-2022 (USD Billion)

Table 32 Europe: Turbocharger Market, By vehicle type, 2014-2022 (USD Billion)

Table 33 Europe: Turbocharger Market, By technology, 2014-2022 (USD Billion)

Table 34 Europe: Turbocharger Market, By fuel type, 2014-2022 (USD Billion)

Table 35 Europe: Turbocharger Market, By Country, 2014-2022 (USD Billion)

Table 36 U.K.: Turbocharger Market, By vehicle type, 2014-2022 (USD Billion)

Table 37 U.K.: Turbocharger Market, By technology, 2014-2022 (USD Billion)

Table 38 U.K.: Turbocharger Market, By Service, 2014-2022 (USD Billion)

Table 39 Germany: Turbocharger Market, By vehicle type, 2014-2022 (USD Billion)

Table 40 Germany: Turbocharger Market, By technology, 2014-2022 (USD Billion)

Table 41 Germany: Turbocharger Market, By fuel type, 2014-2022 (USD Billion)

Table 42 France: Turbocharger Market, By vehicle type, 2014-2022 (USD Billion)

Table 43 France: Turbocharger Market, By technology, 2014-2022 (USD Billion)

Table 44 France: Turbocharger Market, By fuel type, 2014-2022 (USD Billion)

Table 45 Rest of Europe: Turbocharger Market, By vehicle type, 2014-2022 (USD Billion)

Table 46 Rest of Europe: Turbocharger Market, By technology, 2014-2022 (USD Billion)

Table 47 Rest of Europe: Turbocharger Market, By fuel type, 2014-2022 (USD Billion)

Table 48 Asia-Pacific: Turbocharger Market, By vehicle type, 2014-2022 (USD Billion)

Table 49 Asia-Pacific: Turbocharger Market, By technology, 2014-2022 (USD Billion)

Table 50 Asia-Pacific: Turbocharger Market, By fuel type, 2014-2022 (USD Billion)

Table 51 Asia-Pacific: Turbocharger Market, By Country, 2014-2022 (USD Billion)

Table 52 China: Turbocharger Market, By vehicle type, 2014-2022 (USD Billion)

Table 53 China: Turbocharger Market, By technology, 2014-2022 (USD Billion)

Table 54 China: Turbocharger Market, By fuel type, 2014-2022 (USD Billion)

Table 55 India: Turbocharger Market, By vehicle type, 2014-2022 (USD Billion)

Table 56 India: Turbocharger Market, By technology, 2014-2022 (USD Billion)

Table 57 India: Turbocharger Market, By fuel type, 2014-2022 (USD Billion)

Table 58 Japan: Turbocharger Market, By vehicle type, 2014-2022 (USD Billion)

Table 59 Japan: Turbocharger Market, By technology, 2014-2022 (USD Billion)

Table 60 Japan: Turbocharger Market, By fuel type, 2014-2022 (USD Billion)

Table 61 Rest of Asia-Pacific: Turbocharger Market, By vehicle type, 2014-2022 (USD Billion)

Table 62 Rest of Asia-Pacific: Turbocharger Market, By technology, 2014-2022 (USD Billion)

Table 63 Rest of Asia-Pacific: Turbocharger Market, By fuel type, 2014-2022 (USD Billion)

Table 64 ROW: Turbocharger Market, By vehicle type, 2014-2022 (USD Billion)

Table 65 ROW: Turbocharger Market, By technology, 2014-2022 (USD Billion)

Table 66 ROW: Turbocharger Market, By fuel type, 2014-2022 (USD Billion)

Table 67 ROW: Turbocharger Market, By Country, 2014-2022 (USD Billion)

Table 68 Brazil: Turbocharger Market, By vehicle type, 2014-2022 (USD Billion)

Table 69 Brazil: Turbocharger Market, By technology, 2014-2022 (USD Billion)

Table 70 Brazil: Turbocharger Market, By fuel type, 2014-2022 (USD Billion)

Table 71 Russia: Turbocharger Market, By vehicle type, 2014-2022 (USD Billion)

Table 72 Russia: Turbocharger Market, By technology, 2014-2022 (USD Billion)

Table 73 Russia: Turbocharger Market, By fuel type, 2014-2022 (USD Billion)

Table 74 Others: Turbocharger Market, By vehicle type, 2014-2022 (USD Billion)

Table 75 Others: Turbocharger Market, By technology, 2014-2022 (USD Billion)

Table 76 Others: Turbocharger Market, By fuel type, 2014-2022 (USD Billion)

Table 77 Turbocharger, by Region, 2014-2016 (Units)

Table 78 Turbocharger, by Key players, 2014-2016 (Units)
LIST OF FIGURES

FIGURE 1 Global Turbocharger market segmentation

FIGURE 2 Forecast Methodology

FIGURE 3 Five Forces Analysis of Global Turbocharger Market

FIGURE 4 Value Chain of Global Turbocharger Market

FIGURE 5 Global Turbocharger Market: By Vehicle Type, 2014-2022 (USD Billion)

FIGURE 6 Global Turbocharger Market: By Technology, 2014-2022 (USD Billion)

FIGURE 7 Global Turbocharger Market: By Fuel Type, 2014-2022 (USD Billion)

FIGURE 8 Global Turbocharger Market: By Region, 2014-2022 (USD Billion)

FIGURE 9 North America Turbocharger Market: By Country, 2016 (%)

FIGURE 10 Europe Turbocharger Market: By Country, 2016 (%)

FIGURE 11 Asia-Pacific Turbocharger Market: By Country, 2016 (%)

FIGURE 12 ROW Turbocharger Market: By Country, 2016 (%)

FIGURE 13 Turbocharger, by Region, 2016 (%)

FIGURE 14 Turbocharger, by Key players, 2016 (%)

FIGURE 15 Market Development Analysis, 2014-2016 (%)