Soft Drinks Packaging

Market Synopsis
Soft drink packaging is expected to grow at a CAGR of ~ 3.95% during the forecast period of 2018–2023.
Soft drink is generally a non-alcoholic beverage which consists of various flavors and ingredients. It primarily provides hydration, sugars or calories, nutrients, vitamins and many other, based on its ingredients. Soft drinks are consumed by people of all age groups, available in a variety of options such as juices, flavored water, energy drinks, and many others. Since, soft drinks is a ready to consume product, the right quality of packaging is imperative for keeping the product in a perfect condition. Therefore, packaging plays an important role as it provides information about the product content, constituting ingredients, and manufacturing and expiry dates. The global market for soft drink packaging is expected to grow at a CAGR of ~ 3.95% during the forecast period of 2018–2023.
There are many factors affecting the growth of the soft drinks packaging market. In the last few years, the market for soft drinks packaging is increasing continuously due to high demand for soft drinks in the developing countries mainly due to rise in disposable income among the individuals. Change in lifestyle and growing youth population is also a considerable driving factor for the growth of the market. Today, people are becoming more conscious about their health and prefer soft drink instead of alcohol-based or hard drinks, therefore, soft drinks have become a convenient alternative to alcoholic beverages which is also contributing to the market growth substantially. Innovation in operational activity and increasing urbanization in the developing countries is also augmenting the demand for soft drinks.
Key players
The key players of Global Soft drink Packaging Market report include Amcor Ltd. (Australia), Crown Holdings, Inc. (U.S.), AptarGroup Inc.(U.S.), Ardagh Group Inc. (Luxembourg), Graham Packaging Company (U.S.), Owens-Illinois, Inc.(U.S.), Ball Corporation(U.S.), Tetra Pak International S.A. (Switzerland), Allied Glass Containers(U.K), Bemis Company Inc.(U.S.), CAN-PACK S.A. (Poland), CKS Packaging, Inc. (U.S.) and Mondi Group (South Africa).
Segmentation: Global Soft Drinks Packaging Market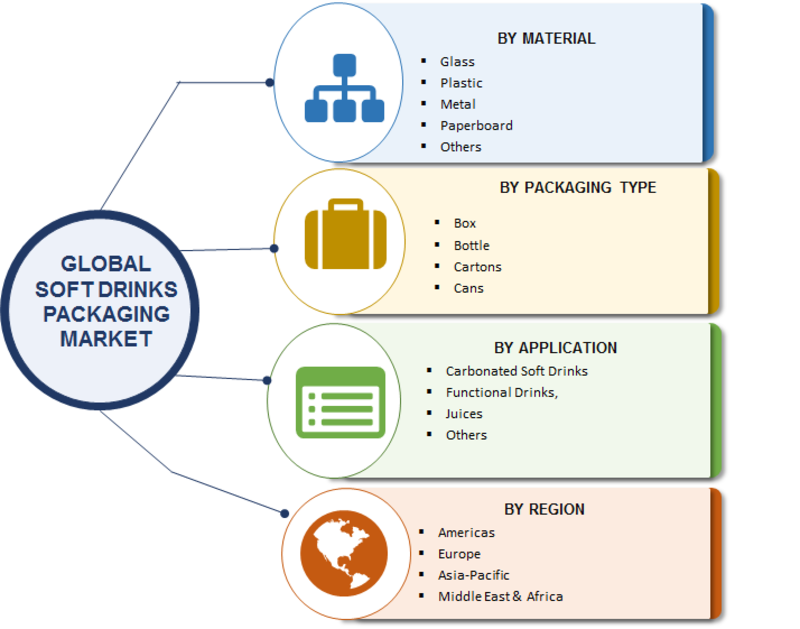 Source: MRFR Analysis
Global soft drink packaging market is segmented on the basis of material, packaging type, application, size, and region. On the basis of material, it is segmented as glass, plastic, metal, paperboard, and others. Among all, the segment for plastic packaging has landed the highest market share because of its cost-efficiency. Plastic packaging is light weighted and easy to handle which influences the demand positively. With the increasing environmental awareness, consumers are getting increasingly inclined to use biodegradable and eco-friendly plastics. PET bottles, made-up of a plastic resin chemically known as polyethylene terephthalate, are one such type of eco-friendly bottles which are in high demand nowadays.
On the basis of packaging type, the market is segmented as box, bottle, cartons, cans, and others. Only a small percentage of the total manufactured soft drinks is packed in glass bottles as it incurs high transportation and storing cost. The use of glass bottles is reduced because of availability of alternatives like metal cans and PET bottles. Metal cans and PET bottles are lightweight and recyclable and save storage and transportation cost.
Regional Analysis of Global Soft Drink Packaging Market
On the basis of region, the market is segmented as North America, Europe, Asia Pacific and Rest of the World. In 2017, about 202,400 million liters of soft drinks were sold only in Asia Pacific. The driving factor of increasing market in Asia Pacific is the growing overall population and the population of youth in this region, which results in a huge customer base. Another reason for the growing soft drink market is fast-growing economies. China is a leading country in Asia Pacific because of high population. There is very high demand of soft drinks in Argentina because of warm climatic conditions and higher incomes.
Industry News
June 2017- For improving the packaging of carbonated soft drinks & beer and delivering a unique opening experience to consumers, a new technology - easy to open crown has been launched by CROWN Beverage Packaging. The technology represents a modern advancement of the bottle cap.
The report for Global Soft Drink Packaging Market of Market Research Future comprises extensive primary research findings along with the detailed analysis of qualitative as well as quantitative aspects by various industry experts, key opinion leaders to gain deeper insight into the market and industry performance. The report gives a clear picture of current market scenario, which includes historical and projected market size in terms of value, technological advancement, macroeconomic and governing factors in the market. The report provides detailed information and strategies of the top key players in the industry. The report also gives a broad study of the different market segments and regions.
Report Scope:
Report Attribute/Metric
Details
Market Size
2027: Significant Value
CAGR
3.95% CAGR (2020-2027)
Base Year
2019
Forecast Period
2020-2027
Historical Data
2018
Forecast Units
Value (USD Million)
Report Coverage
Revenue Forecast, Competitive Landscape, Growth Factors, and Trends
Segments Covered
Material, Packaging type, Application
Geographies Covered
North America, Europe, Asia-Pacific, and Rest of the World (RoW)
Key Vendors
Amcor Ltd. (Australia), Crown Holdings, Inc. (U.S.), AptarGroup Inc.(U.S.), Ardagh Group Inc. (Luxembourg), Graham Packaging Company (U.S.), Owens-Illinois, Inc.(U.S.), Ball Corporation(U.S.), Tetra Pak International S.A. (Switzerland), Allied Glass Containers(U.K), Bemis Company Inc.(U.S.), CAN-PACK S.A. (Poland), CKS Packaging, Inc. (U.S.) and Mondi Group (South Africa)
Key Market Opportunities
Light weighted
Easy to handle which influences the demand positively
Key Market Drivers
Growing soft drink market is fast-growing economies
Innovation in operational activity
Speak to Analyst
Ask for Customization
Frequently Asked Questions (FAQ) :
---