Self-Healing Grid Market Scenario:
Self-healing grid market is expected to grow at ~9% CAGR during the forecast period.
The increasing government investments in smart energy infrastructure such as smart girds and a growing need to modernize the outdated power distribution systems, are creating a lucrative market for self-healing grids. Moreover, the increasing need to protect electrical utilities from cyber-attacks due to deployment of smart grids, is expected to boost the market further.
Global self-healing grid market has been segmented based on application, component, end-user and region. Based on applications the market is segmented as transmission lines and distribution lines. Among these, transmission lines, is projected to dominate the self-healing grid market through 2023. The high dependency on transmission lines across the world for proper current transmission is expected to boost this segment modification through self-healing systems. Based on components, the market is segmented into hardware, and software & services. Hardware dominated the market in 2016 and is projected to be the fastest-growing component segment. The sensors in the hardware segment provides the data related to various utility assets, based on various parameters, such as, voltage, current, heat, temperature, and frequency. This data provided by sensors are used by equipment/component management system to provide actionable information, which is used to form a predictive maintenance schedule, depending on the health of the gird. Based on end-user, the market has been segmented into public utility, and private utility. As a result of increasing investments in grid modernization and requirement for energy efficiency, public utility dominated the market in 2016. It has also been projected to be the fastest-growing packaging type over the next five years. Public utilities are funded by the government and have a huge customer base. Increasing investments in distributed energy generation sources, have increased the grid complexity, as these sources are to be connected to grid for reliable supply of power.
Key Players:
The key players of global self-healing grid market are ABB Ltd. (Switzerland), Siemens AG (Germany), General Electric Company (U.S.), S & C Electric Company (U.S.), Sentient Energy, Inc. (U.S.), Eaton Corporation plc (Ireland), Schneider Electric SE (France), Landis+Gyr AG (Switzerland), Cisco Systems, Inc. (U.S.), Infosys Limited (India), Oracle Corporation (U.S.), and G&W Electric (U.S.).
The self-healing grid market is expected to have a huge number of developments over the forecast period, owing to continuous technological advancement in energy sector coupled with growing power demand. The market is also expected to have high expansion activities by multinationals and well-established companies. Mergers and acquisition activities are expected to be seen over the forecast period with numerous contracts and agreements between top EPC and Government, across the globe.
Market Segmentation: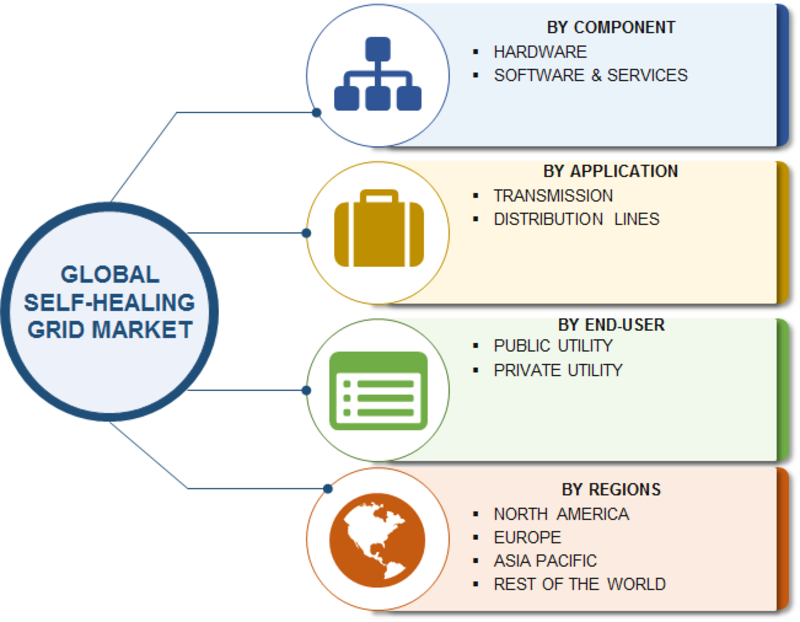 Global Self-Healing Grid Market
The global self-healing grid market is expected to witness phenomenal growth during the forecast period. This is due to the considerable growth in the power sector with population boom along with rise in energy demand. The growth is primarily attributed to up gradation of aging utility infrastructure and growing investments in distributed generation, and related government regulations, which is likely to continue during the forecast years. The Asia Pacific region is expected to grow at the highest CAGR from 2017 to 2022, wherein China was the largest country-level market, followed by India and Japan. Rising population with tremendous energy demand growth has resulted in phenomenal growth for electrical infrastructure in the region and subsequently resulted into growth for self-healing grid market.
The self-healing grid is a system comprised of sensors, automated controls, and advanced software that utilize real-time distribution data to detect and isolate faults and reconfigure the distribution network to reduce the customers impacted. One of the major goals of a self-healing grid is to improve system reliability. This can be accomplished by reconfiguring the switches and reclosers installed on the distribution feeder. This is done to quickly isolate the faulted section of the feeder and re-establish service to as many customers as possible from alternate sources/feeders.
A self-healing grid uses digital components and real-time communications technologies to monitor their own electrical characteristics at all times and can provide a number of benefits that support a more stable and efficient system. The three primary functions of self-healing grid are real time monitoring and reaction, anticipation and Rapid isolation. Real time monitoring and reaction allows the system to constantly tune itself to an optimal state. Anticipation enables the system to automatically look for problems could trigger larger disturbances. Rapid isolation allows the system to isolate parts of the network that experiences failure from rest of the system to avoid the spread of disruption and enables a more rapid restoration. As a result of these functions, a self-healing smart-grid system is able to reduce power outages and minimize their length when they do occur. Also, because the system is self-healing, it has an end-to-end resilience that detects and overrides human errors that results in some power outages.
Report Scope:
| Report Attribute/Metric | Details |
| --- | --- |
| Market Size | 2027: Significant Value |
| CAGR | 9% CAGR (2020-2027) |
| Base Year | 2019 |
| Forecast Period | 2020-2027 |
| Historical Data | 2018 |
| Forecast Units | Value (USD Million) |
| Report Coverage | Revenue Forecast, Competitive Landscape, Growth Factors, and Trends |
| Segments Covered | Application, Component and End-user |
| Geographies Covered | North America, Europe, Asia-Pacific, and Rest of the World (RoW) |
| Key Vendors | ABB Ltd. (Switzerland), Siemens AG (Germany), General Electric Company (U.S.), S & C Electric Company (U.S.), Sentient Energy, Inc. (U.S.), Eaton Corporation plc (Ireland), Schneider Electric SE (France), Landis+Gyr AG (Switzerland), Cisco Systems, Inc. (U.S.), Infosys Limited (India), Oracle Corporation (U.S.), and G&W Electric (U.S.) |
| Key Market Opportunities | New product launches and R&D amongst major key players |
| Key Market Drivers | Continuous technological advancement in energy sector |
Frequently Asked Questions (FAQ) :
---