Otoplasty Market Synopsis:
Otoplasty market is expected to reach USD 1.2 billion at a CAGR of 6.5 % during 2017-2023. Otoplasty refers to surgical and non-surgical procedures for correcting external ear deformities and defects. The defects may be of morphology and structure of the external ear such as a deformation, absent external ear, damage by trauma etc. Otoplasty corrects the defect or deformity of the external ear by procedures such as shaping or augmenting of the cartilaginous support framework of the pinna etc. Otoplasty was developed in ancient India, in 5th century BC, by physician Sushruta and was described in the Sushruta samhita for correcting and reconstructing ear, nose and lips deformed due to amputations. Dieffenbach in 1845, demonstrated correction of post-traumatic auricular deformity and cosmetic otoplasty was described by Ely who performed a wedge excision to reduce the prominence of the ear.
The otoplasty market is driven by factors such as growing prevalence of congenital ear deformities such as Treacher Collins syndrome, hemifacial microsomia etc. Other factors are natural deformations and extremities such as bat ears, constricted ear, cryptotic ear, macrotic ear, question mark ear, Stahl's ear deformity etc. the rising cases of trauma to the external ear such as due to blasts, puncture and damage due to blunt objects are also important drivers of the Otoplasty market. The growing influence of media and fashion industry coupled with greater screening for deformities at birth will drive the market for otoplasty.
The growing awareness and the availability of advanced products such as malleable and adjustable splints, tubings which can be adjusted for any size and shapes of the ear, are expected to make a positive impact on the otoplasty market. The rising per capita income and the growing acceptance of the plastic and aesthetics surgeries across the globe will drive the future otoplasty market. The critical market restraints are complications and discomfort associated with otoplasty, formation of abnormal scar tissue, distortion of the shape of the ear caused by overcorrection of deformed features and reappearance of ear protrusion. Generally, insurance providers do not provide coverage for otoplasty which is the biggest economic constraint. Again, cosmetic otoplasty surgeries have almost no coverage. Most patients do not have a life threat from the deformity which leads to low number of patients than the actual potential of the surgery procedure.
The market for devices is however fragmented with a large number of players of unknown origin operating in the segment. Thus, the market has a small profit margin which has constricted growth and thus there is high competition in the market.
Otoplasty Market Key Player:
Key players profiled in the report are Allergan, Sklar Surgical Instruments, Earfold, Invotec International, Inc., Phoenix medical systems pvt. ltd., EarBuddies and others.
The report for Otoplasty Market by Market Research Future comprises of extensive primary research along with the detailed analysis of qualitative as well as quantitative aspects by various industry experts, key opinion leaders to gain a deeper insight of the market and industry performance. The report gives a clear picture of the current market scenario which includes past and estimated future market size with respect to value and volume, technological advancement, macro economical and governing factors in the market. The report provides detail information about and strategies used by top key players in the industry. The report also gives a broad study of the different market segments and regions.
Figure 1 Global Otoplasty Market by Devices, 2016 (% Market Share)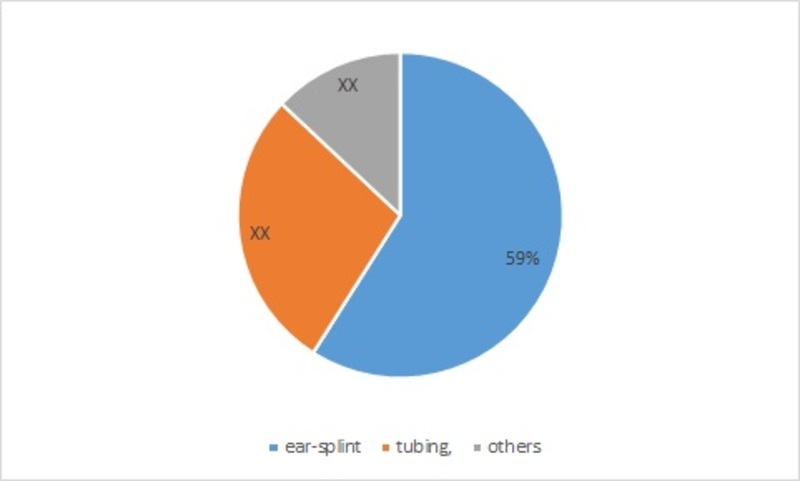 Otoplasty Market Segments:
The otoplasty market is segmented on the basis of otoplasty types, otoplasty surgical techniques, non-surgical otoplasty, devices and end users. Based on otoplasty types, the market has been segmented as ear augmentation, ear reduction and ear pin back. Based on the otoplasty surgical techniques, the market has been segmented as anti-helical fold manipulation, conchal alteration and correction of earlobe prominence. Based on the non-surgical otoplasty, the market has been segmented as tissue molding and others. Based on the devices, the market has been segmented as ear-splint, tubing and others. Based on the end users, the market has been segmented as hospitals and clinics, academics and research and others.
Otoplasty Market Regional analysis
US accounts for the maximum market share due to favorable insurance penetration, excellent reimbursement scenario and greater expenditure on healthcare. The faster market uptake of new technology in the US is also an important driver of the market for global otoplasty. Europe is the second largest market due to large disposable income and rising awareness. Asia Pacific region is expected to have the most future potential and it is estimated to be led by China and India. The Middle East & Africa market is led by the gulf nations particularly Saudi Arabia and UAE. The regions of Africa are expected to witness a moderate growth due to poor economic and political conditions and poor healthcare penetration
Sources: Mayo Clinic, MRFR Analysis.
Intended Audience



Global Otoplasty solutions, manufacturers & suppliers




Research and development (R&D) companies




Hospitals and clinics




Academic institutes and universities



1. Introduction

1.1 Definition

1.2 scope of study

1.2.1 Research Objective

1.2.2 Assumptions & Limitations

1.2.2.1 Assumptions

1.2.2.2 Limitations

1.3 Market Structure:

2. Research Methodology

2.1 Research Process:

2.2 Primary Research

2.3 Secondary Research:

3. Market dynamics

3.1 Drivers

3.2 Restraints

3.3 Opportunities

3.4 Macroeconomic Indicators

4. Market factor analysis

4.1 Porters Five Forces Model

4.2 Bargaining Power Of Suppliers

4.3 Bargaining Power Of Buyers

4.4 Threat Of New Entrants

4.5 Threat Of Substitutes

4.6 Intensity Of Rivalry

5. Global Otoplasty Market, by Otoplasty Types

5.1 Ear Augmentation

5.2 Ear Reduction

5.3 Ear Pin Back

6. Global Otoplasty Market, By Otoplasty Surgical Techniques

6.1 Introduction

6.2 Anti-Helical Fold Manipulation

6.3 Conchal Alteration

6.4 Correction Of Earlobe Prominence

7. Global Otoplasty Market, by Non-Surgical Otoplasty

7.1 Introduction

7.2 Tissue Molding

7.3 Others

8. Global Otoplasty Market, by Devices

8.1 Introduction

8.2 Ear-Splint

8.3 Tubing

8.4 Others

9. Global Otoplasty Market, By End Users

9.1 Hospitals And Clinics

9.2 Academics And Research

9.3 Others

10. Global Otoplasty Market, By Region

10.1 North America

10.1.1 Introduction

10.2 Europe

10.2.1 Introduction

10.3 Asia-Pacific

10.3.1 Introduction

10.4 Middle East & Africa

10.4.1 Introduction

11. Competitive landscape

11.1 Major Strategies Adopted By Market Players

11.1.1 Strategic Partnership

11.1.2 Merger & Acquisition

12. Company profile

12.1 ALLERGAN

12.1.1 Overview

12.1.2 Product Overview

12.1.3 Financials

12.1.4 Key Developments

12.2 SKLAR SURGICAL INSTRUMENTS

12.2.1 Overview

12.2.2 Product Overview

12.2.3 Financials

12.2.4 Key Developments

12.3 EARFOLD

12.3.1 Overview

12.3.2 Product Overview

12.3.3 Financials

12.3.4 Key Development

12.4 INVOTEC INTERNATIONAL, INC.

12.4.1 Overview

12.4.2 Product Overview

12.4.3 Financials

12.4.4 Key Developments

12.5 PHOENIX MEDICAL SYSTEMS PVT. LTD.

12.5.1 Overview

12.5.2 Product Overview

12.5.3 Financials

12.5.4 Key Developments

12.6 EARBUDDIES

12.6.1 Overview

12.6.2 Product Overview

12.6.3 Financials

12.6.4 Key Developments

12.7 Others

13. Conclusion

13.1 Key Findings

13.1.1 From Ceo's Viewpoint

13.1.2 Unmet Needs Of The Market

13.2 Key Companies To Watch

13.3 Prediction Of Otoplasty Industry

14. Appendix