OTA Testing Market Synopsis
The OTA testing market size is predicted to register a significant CAGR of 8.3% during the forecast period and is projected to reach a market value of USD 2.15 billion by 2027.
Over-the-Air (OTA) Testing is a processto analyze the wireless products by placing them into different real-time conditions developed in a test chamber and foretell the performance and its operational reliability in the real world. To carryout this process, the OTA providers place the device under test in anopen environment created inside the test chamberto check if it fulfills the desired outcomes by reporting the entire signal path and antenna performance.
OTA testing ensures the device performs well in the actual operating environment as its performance is prone to deterioration in the real-time environment. OTA testing is a significant step in the certification of various electronic devices such as mobile phones, tablets, and other connected devices that operate based on the networks to meet the requirements in the implied standards and regulations. Additionally, the many IoT and M2M device producers need to certify their products by passing on them through compatible OTA testing to minimize the complexity involved in compliance regulations, eliminate the risk of design errors that result in financial losses, and meet demanding global go-to-market schedules.
Some of the factors that drive the OTA testing market growth includethe rising need for unhindered wireless communication, rapid advancements across technologies such as 5G, and increasing demand for automated working environments. Coexistence testing issues are hampering this growth trend in the market. However, the rapid advancements in technology and the defragmentation of IoT platform providers are expected to present lucrative growth opportunities for the players operating in the global market. Furthermore, the aspects such as antenna array calibration and mutual coupling between antenna elements create challenges for the market players.
COVID-19 Analysis
The outbreak of novel coronavirus initially in China's Wuhan province, which later spread across the globe, created an unprecedented situation for government bodies to control the spread of the deadly virus. This made authorities impose stringent policies such as lockdowns, movement restrictions, shutting down of industrial & other non-commercial facilities, including educational premises and administrative offices, among others, to prevent the viral spread. However, the enforcement of 'stay at home'policies resulted in arapid shift from conventional business activities to digital platforms for the purpose of business continuity and customer support services during such an unprecedented situation. Additionally, according to the CTIA report, voice and data usage drastically increased by over 12.2% and 28.4% from 24th February 2020 to 12th October 2020. This demand can be attributed to the increased need for virtual communication platforms, work-from-home scenarios, video-on-demand, and online education. These factors created strain over the telecom providers and affected the delayed procurement, testing, and deployment of 5G and other network services due to the COVID-19 restrictions.
Market Dynamics
DRIVERS


Rising need for unhindered wireless communication


The rapid shift from wired to wireless communication has transformed human lives to seamlessly stay connected and ease their day-to-day needs with technologies based on wireless communications. Increasing demand for smartphones, commercial/industrial/personal computing &networking devices, machine-to-machine communications, and shift from traditional software platforms to advanced cloud-native critical software applications have created the demandfor reliant wireless networking. On the other hand, the rapid advancements across technologies such as cloud, IoT, AI, machine learning, blockchain, GPS, mapping, and satellite communication have added to the need for consistent wireless communications to enhance and cater to the changing business needs while reducing the overall costincurred to carry out business processes, mitigate risk, and achieve scalability for maximum efficiency.
OPPORTUNITIES


Rapid advancements in technology


Innovations across the 5G, wireless technologies, and home automation have opened opportunities for the OTA testing industry. However, the testing of 5G wireless services has increased the significancedue to their use cases,including architecture across core, transport, RAN, and fiber network elements that enable overcome the challenges faced in the 4G mobile technologyand provide their end-users with enhanced capacity of data transmission, improved responsiveness, and connect a large number of devices simultaneously. Moreover, 5G technology includes enhanced mobile broadband (eMBB), ultra-reliable, low-latency communications (URLLC), and increased connectivity. These require testing before implementation to predict and measure the performance over the air from the user device to the base station and vice versa and ensure its reliability for the time period.
On the other hand, the demand for 5G across smart mobility use cases such asin-vehicle entertainment, connected cars, ADAS, in-car Wi-Fi, and so on are contributing to the 5G demand.Furthermore,the industrial IoT, home automation, smart city applications, enhanced healthcare, and consumer electronics.
RESTRAINTS


Coexistence testing issues


Wireless technology infrastructure utilizesdifferent frequency bands to transmit the data over the transmitters. When these frequency bands are prone to interference and coexistence, which may impact the performance and reliability of systems. This concern is significant in the case of critical systems such as defense, electric power (Smart Grid),communications, health care, public safety, transportation, and other major infrastructure systems that are directly integrated with societal safety, security, and well-being. Hence, this is raising concerns over the adoption of OTA testing solutions &their related services.
CHALLENGES


Mutual coupling between antenna elements


Antennasthat are placed adjacent to each other in either one- or two-dimensional linesto absorb or radiate the electromagnetic waves. This enablesthe adjacent antennas to couple energy to nearby antennas, PCBs, and components. However, to minimize the mutual coupling effect generated, the distance between the two antennas should be increased. While doing so, one must remember the more extensive arrays and higher sidelobes in the antenna far-field, increasing the interference for adjacent users.
Segmentation
The global OTA testing market has been segmented based on technology, application, and region.
By technology, the global OTA testing market has been divided into 5G, LTE, UMTS, and others.
Based on application, the global OTA testing market has been segmented into automotive & transportation, industrial, aerospace & defense, telecommunication & consumer devices, and others.
The OTA testing market has been analyzed for five regions—North America, Europe, Asia-Pacific, the Middle East & Africa, and South America.
Regional Analysis
The global OTA testing market is estimated to register arobust CAGR of approximately 17.1% over the forecast period. The geographic analysis of the OTA testing market has been conducted for North America, Europe, Asia-Pacific, the Middle East & Africa, and South America.
North America is expected to register the largest market share owing to the risein demand for OTA testing platforms across end-use industry verticals in this region. The US is expected to lead the country-level market in North Americadue to factors such as the increasing need for unhindered wireless communication, rapid advancements & adoption across technologies such as 5G, and the rising demand for automated working environments, among others. Additionally, the presence of major players such as NTS (US), BluFlux (US), UL LLC (US), Eurofins E&E North America (US), AIRCOM Labs (US), VIAVI Solutions Inc. (US), CETECOM (US),among others. Adding more, these key players are investing heavily into the research & development of OTA testing as per the clients' needs to provide broad testing services and enriched customer experience.
Meanwhile, Europe is expected to be the second-largest market during the review period due to the highadoption in automated & wireless working environments. Asia-Pacific is anticipated to be the fastest-growing region in the OTA testingmarket during the forecast period, mainly due to the digital transformation, rising adoption of wireless services, and increasing demand for automated working environments.
The OTA testing market in the Middle East & Africa and South America is expected to register steady growth during the forecast period with the growing demand for digital solutions, automation, and wireless connectivity.
Competitive Analysis
The global OTA testing market is witnessing high growth mainly due to the rising need for unhindered wireless communication, rapid advancements across technologies such as 5G, and increasing demand for automated working environments. Major players have opted for partnerships,acquisitions, and product developments as their key organic growth strategies to enhance their positions in the market and cater to the demands of organizations across end-useverticals. Additionally, the industry players are working towards advancing their product offerings to cater to the rising needs of end-use organizationsto provide robust services intended towards unhindered wireless connectivity and sustain the clients for longer relationships.For instance, Anritsu Corporation (Japan) and Bluetest AB (Sweden) teamed up to develop an innovative OTA measurement solution to verify the WLAN RFperformance in this new 6 GHz band and existing WLAN standards operating over the 2.4 and 5 GHz bands such as 802.11 a/b/g/n/ac/ax.Thispartnership is intended to provide their customers with a one-stop WLAN Over-the-Air (OTA) test solution,which is capable of transmitting power (TRP) and receiver sensitivity (TIS) measurements on devices as well as access points.
Impact of COVID-19
The global OTA testing industry has reported high adoption of wireless connectivity solutions for business continuity during the pandemic raised due to the outbreak of novel coronavirus.This outbreak shifted the conventional working environments to the new normal of remotely working scenarios to break the chain and minimize the spread of the disease. The adoption of digital platforms surged during the pandemic and is expected to continue until the vaccination of each individual sitting in remote places is completed. However, the developments across the deployment of 5G services, industrial automation, 4G LTE, and other wireless technologies mainly by the end-use organizations, including the IT &telecom industry, reported a fall in demand for OTA testing owing to the movement restrictions, postponement of deployment, budgeting constraints, and supply chain disruptions.On the other hand, businesses investedheavily in R&D efforts to develop innovative wireless technologies, which is expected to bring in demand for OTA providers in the near future. Additionally, the awaiting deployment of 5G services and R&D on 6G networks, especially from South Korea, the US, and China,has opened doors with newer opportunities.
Key Developments



On 30th August 2021, Qualcomm Technologies (US)announced a partnership with Thundercomm Technology (US) and Keysight Technologies (US)to establish a new 5G mmWave laboratory in Tokyo (Japan), in coordination with Tokyo Metropolitan Industrial Technology Research Institute (TIRI). This partnership aims to lower the barriers in designing, developing, and testing private & local 5G mmWave productsfor numerous SMEs based in Japan.




On 10th August 2021, Keysight Technologies acquired a testing company- Sanjole (US), holding expertise in OTA network testing, offering perceptions on the device/network communications and protocol stack of multiple layers.




On 5th August 2021, Keysight Technologies announced their partnership with Vivo, a Chinese smartphone maker, to test their 5G-enabled products performing multiple input and multiple outputs (MIMO) over-the-air testing in laboratory environments under a wide range of real-world environments such as rural, urban, and indoor conditions.




On 19th May 2021, Verkotan (Finland) signed an agreement with AnritsuCorporation to develop innovative test services for 5G smartphone manufacturers using Anritsu's MT8000A 5G communication tester with features such as Specific Absorption Rate (SAR) tests, post-modification tests for mobile phones, and OTA testing. This communication tester is easy and intuitive to use and has the ability to solve the most challenging customer testing needs.



Key Players
The key players in the global OTA testing market are identified based on their country of origin, presence across different regions, recent key developments, product diversification, and industry expertise. These includeElement Materials Technology (UK), Rohde & Schwarz (Germany), CETECOM (Germany), EMITE (Spain), NTS (US), Intertek Group plc (UK), TÜV Rheinland (Germany), BluFlux (US), Bureau Veritas SA (France), UL LLC (US), SGS SA (Switzerland), Verkotan (Finland), Eurofins E&E North America (US), Aethertek (Taiwan), and AIRCOM Labs (US). The key strategies adopted by most market players are partnerships,acquisitions, agreements/collaborations, and product developments, among others.
Global OTA Testing Market, 2019–­2027 (USD Billion)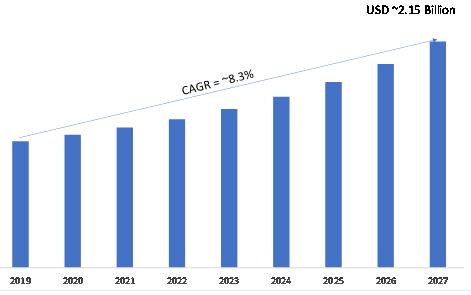 Source: MRFR Analysis
The above figure shows the robust growth of the OTA testing market during the forecast period from 2021 to 2027, growing at a CAGR of 8.3% approximately and expected to reach USD 2.15 billion (approx.) by the end of the forecast period.
Intended Audience



Value-Added Resellers (VARs)




Device Manufacturers




Network Operators




Technology Consultants




Investors and Venture Capitalists




Chief Financial Officers



TABLE OF CONTENTS

1. EXECUTIVE SUMMARY

1.1. Market Attractiveness Analysis

1.1.1. Global OTA Testing Market, by Technology

1.1.2. Global OTA Testing Market, by Application

1.1.3. Global OTA Testing Market, by Region

2. MARKET INTRODUCTION

2.1. Definition

2.2. Scope of the Study

2.3. Market Structure

3. RESEARCH METHODOLOGY

3.1. Research Process

3.2. Primary Research

3.3. Secondary Research

3.4. Market Size Estimation

3.5. List of Assumptions

4. MARKET DYNAMICS

4.1. Introduction

4.2. Drivers

4.2.1. Rising need to unhindered wireless communication

4.2.2. Rapid advancements across technologies such as 5G

4.2.3. Increasing demand for automated working environments

4.2.4. Drivers Impact Analysis

4.3. Restraints

4.3.1. Coexistence testing issues

4.4. Opportunities

4.4.1. Rapid advancements in technology

4.4.2. Defragmentation of IoT platform providers

4.5. Challenges

4.5.1. Antenna array calibration

4.5.2. Mutual coupling between antenna elements

4.6. Impact of COVID-19

4.6.1. Impact on OTA testing providers

4.6.2. Impact on the IT industry

4.6.3. Impact on end-use verticals

5. MARKET FACTOR ANALYSIS

5.1. Value Chain Analysis/Supply Chain Analysis

5.2. Porter's Five Forces Model

5.2.1. Bargaining Power of Suppliers

5.2.2. Bargaining Power of Buyers

5.2.3. Threat of New Entrants

5.2.4. Threat of Substitutes

5.2.5. Intensity of Rivalry

6. GLOBAL OTA TESTING MARKET, BY TECHNOLOGY

6.1. Introduction

6.2. 5G

6.3. LTE

6.4. UMTS

6.5. Others

7. GLOBAL OTA TESTING MARKET, BY APPLICATION

7.1. Introduction

7.2. Automotive & Transportation

7.3. Industrial

7.4. Aerospace & Defense

7.5. Telecommunication & Consumer Devices

7.6. Others

8. GLOBAL OTA TESTING MARKET, BY REGION

8.1. Overview

8.2. North America

8.2.1. Market Size & Estimates, by Country, 2019–2027

8.2.2. Market Size & Estimates, by Technology, 2019–2027

8.2.3. Market Size & Estimates, by Application, 2019–2027

8.2.4. US

8.2.4.1. Market Size & Estimates, by Technology, 2019–2027

8.2.4.2. Market Size & Estimates, by Application, 2019–2027

8.2.5. Canada

8.2.5.1. Market Size & Estimates, by Technology, 2019–2027

8.2.5.2. Market Size & Estimates, by Application, 2019–2027

8.2.6. Mexico

8.2.6.1. Market Size & Estimates, by Technology, 2019–2027

8.2.6.2. Market Size & Estimates, by Application, 2019–2027

8.3. Europe

8.3.1. Market Size & Estimates, by Country, 2019–2027

8.3.2. Market Size & Estimates, by Technology, 2019–2027

8.3.3. Market Size & Estimates, by Application, 2019–2027

8.3.4. Germany

8.3.4.1. Market Size & Estimates, by Technology, 2019–2027

8.3.4.2. Market Size & Estimates, by Application, 2019–2027

8.3.5. UK

8.3.5.1. Market Size & Estimates, by Technology, 2019–2027

8.3.5.2. Market Size & Estimates, by Application, 2019–2027

8.3.6. France

8.3.6.1. Market Size & Estimates, by Technology, 2019–2027

8.3.6.2. Market Size & Estimates, by Application, 2019–2027

8.3.7. Rest of Europe

8.3.7.1. Market Size & Estimates, by Technology, 2019–2027

8.3.7.2. Market Size & Estimates, by Application, 2019–2027

8.4. Asia-Pacific

8.4.1. Market Size & Estimates, by Country, 2019–2027

8.4.2. Market Size & Estimates, by Technology, 2019–2027

8.4.3. Market Size & Estimates, by Application, 2019–2027

8.4.4. China

8.4.4.1. Market Size & Estimates, by Technology, 2019–2027

8.4.4.2. Market Size & Estimates, by Application, 2019–2027

8.4.5. Japan

8.4.5.1. Market Size & Estimates, by Technology, 2019–2027

8.4.5.2. Market Size & Estimates, by Application, 2019–2027

8.4.6. India

8.4.6.1. Market Size & Estimates, by Technology, 2019–2027

8.4.6.2. Market Size & Estimates, by Application, 2019–2027

8.4.7. Rest of Asia-Pacific

8.4.7.1. Market Size & Estimates, by Technology, 2019–2027

8.4.7.2. Market Size & Estimates, by Application, 2019–2027

8.5. Middle East & Africa

8.5.1. Market Size & Estimates, by Technology, 2019–2027

8.5.2. Market Size & Estimates, by Application, 2019–2027

8.6. South America

8.6.1. Market Size & Estimates, by Technology, 2019–2027

8.6.2. Market Size & Estimates, by Application, 2019–2027

9. COMPETITIVE LANDSCAPE

9.1. Introduction

9.2. Key Players Market Share Analysis, 2020 (%)

9.3. Competitive Benchmarking

9.4. Competitor Dashboard

9.5. Major Growth Strategy in the market

9.6. Key Developments & Growth Strategies

9.6.1. Product Developments

9.6.2. Mergers & Acquisitions

9.6.3. Contracts & Agreements

10. COMPANY PROFILES

10.1. Element Materials Technology (UK)

10.1.1. Company Overview

10.1.2. Financial Overview

10.1.3. Products/Services/Solutions Offered

10.1.4. Key Developments

10.1.5. SWOT Analysis

10.1.6. Key Strategies

10.2. Rohde & Schwarz (Germany)

10.2.1. Company Overview

10.2.2. Financial Overview

10.2.3. Products/Services/Solutions Offered

10.2.4. Key Developments

10.2.5. SWOT Analysis

10.2.6. Key Strategies

10.3. CETECOM (Germany)

10.3.1. Company Overview

10.3.2. Financial Overview

10.3.3. Products/Services/Solutions Offered

10.3.4. Key Developments

10.3.5. SWOT Analysis

10.3.6. Key Strategies

10.4. EMITE (Spain)

10.4.1. Company Overview

10.4.2. Financial Overview

10.4.3. Products/Services/Solutions Offered

10.4.4. Key Developments

10.4.5. SWOT Analysis

10.4.6. Key Strategies

10.5. NTS (US)

10.5.1. Company Overview

10.5.2. Financial Overview

10.5.3. Products/Services/Solutions Offered

10.5.4. Key Developments

10.5.5. SWOT Analysis

10.5.6. Key Strategies

10.6. Intertek Group plc (UK)

10.6.1. Company Overview

10.6.2. Financial Overview

10.6.3. Products/Services/Solutions Offered

10.6.4. Key Developments

10.6.5. SWOT Analysis

10.6.6. Key Strategies

10.7. TÜV Rheinland (Germany)

10.7.1. Company Overview

10.7.2. Financial Overview

10.7.3. Products/Services/Solutions Offered

10.7.4. Key Developments

10.7.5. SWOT Analysis

10.7.6. Key Strategies

10.8. BluFlux (US)

10.8.1. Company Overview

10.8.2. Financial Overview

10.8.3. Products/Services/Solutions Offered

10.8.4. Key Developments

10.8.5. SWOT Analysis

10.8.6. Key Strategies

10.9. Bureau Veritas SA (France)

10.9.1. Company Overview

10.9.2. Financial Overview

10.9.3. Products/Services/Solutions Offered

10.9.4. Key Developments

10.9.5. SWOT Analysis

10.9.6. Key Strategies

10.10. UL LLC (US)

10.10.1. Company Overview

10.10.2. Financial Overview

10.10.3. Products/Services/Solutions Offered

10.10.4. Key Developments

10.10.5. SWOT Analysis

10.10.6. Key Strategies

10.11. SGS SA (Switzerland)

10.11.1. Company Overview

10.11.2. Financial Overview

10.11.3. Products/Services/Solutions Offered

10.11.4. Key Developments

10.11.5. SWOT Analysis

10.11.6. Key Strategies

10.12. Verkotan (Finland)

10.12.1. Company Overview

10.12.2. Financial Overview

10.12.3. Products/Services/Solutions Offered

10.12.4. Key Developments

10.12.5. SWOT Analysis

10.12.6. Key Strategies

10.13. Eurofins E&E North America (US)

10.13.1. Company Overview

10.13.2. Financial Overview

10.13.3. Products/Services/Solutions Offered

10.13.4. Key Developments

10.13.5. SWOT Analysis

10.13.6. Key Strategies

10.14. Aethertek (Taiwan)

10.14.1. Company Overview

10.14.2. Financial Overview

10.14.3. Products/Services/Solutions Offered

10.14.4. Key Developments

10.14.5. SWOT Analysis

10.14.6. Key Strategies

10.15. AIRCOM Labs (US)

10.15.1. Company Overview

10.15.2. Financial Overview

10.15.3. Products/Services/Solutions Offered

10.15.4. Key Developments

10.15.5. SWOT Analysis

10.15.6. Key Strategies

LIST OF TABLES

TABLE 1 LIST OF ASSUMPTIONS

TABLE 2 GLOBAL OTA TESTING MARKET, BY TECHNOLOGY, 2019–2027 (USD MILLION)

TABLE 3 GLOBAL OTA TESTING MARKET, BY APPLICATION, 2019–2027 (USD MILLION)

TABLE 4 GLOBAL OTA TESTING MARKET, BY REGION, 2019–2027 (USD MILLION)

TABLE 5 NORTH AMERICA: OTA TESTING MARKET, BY COUNTRY, 2019–2027 (USD MILLION)

TABLE 6 NORTH AMERICA: OTA TESTING MARKET, BY TECHNOLOGY, 2019–2027 (USD MILLION)

TABLE 7 NORTH AMERICA: OTA TESTING MARKET, BY APPLICATION, 2019–2027 (USD MILLION)

TABLE 8 US: OTA TESTING MARKET, BY TECHNOLOGY, 2019–2027 (USD MILLION)

TABLE 9 US: OTA TESTING MARKET, BY APPLICATION, 2019–2027 (USD MILLION)

TABLE 10 CANADA: OTA TESTING MARKET, BY TECHNOLOGY, 2019–2027 (USD MILLION)

TABLE 11 CANADA: OTA TESTING MARKET, BY APPLICATION, 2019–2027 (USD MILLION)

TABLE 12 MEXICO: OTA TESTING MARKET, BY TECHNOLOGY, 2019–2027 (USD MILLION)

TABLE 13 MEXICO: OTA TESTING MARKET, BY APPLICATION, 2019–2027 (USD MILLION)

TABLE 14 EUROPE: OTA TESTING MARKET, BY COUNTRY, 2019–2027 (USD MILLION)

TABLE 15 EUROPE: OTA TESTING MARKET, BY TECHNOLOGY, 2019–2027 (USD MILLION)

TABLE 16 EUROPE: OTA TESTING MARKET, BY APPLICATION, 2019–2027 (USD MILLION)

TABLE 17 UK: OTA TESTING MARKET, BY TECHNOLOGY, 2019–2027 (USD MILLION)

TABLE 18 UK: OTA TESTING MARKET, BY APPLICATION, 2019–2027 (USD MILLION)

TABLE 19 GERMANY: OTA TESTING MARKET, BY TECHNOLOGY, 2019–2027 (USD MILLION)

TABLE 20 GERMANY: OTA TESTING MARKET, BY APPLICATION, 2019–2027 (USD MILLION)

TABLE 21 FRANCE: OTA TESTING MARKET, BY TECHNOLOGY, 2019–2027 (USD MILLION)

TABLE 22 FRANCE: OTA TESTING MARKET, BY APPLICATION, 2019–2027 (USD MILLION)

TABLE 23 REST OF EUROPE: OTA TESTING MARKET, BY TECHNOLOGY, 2019–2027 (USD MILLION)

TABLE 24 REST OF EUROPE: OTA TESTING MARKET, BY APPLICATION, 2019–2027 (USD MILLION)

TABLE 25 ASIA-PACIFIC: OTA TESTING MARKET, BY COUNTRY, 2019–2027 (USD MILLION)

TABLE 26 ASIA-PACIFIC: OTA TESTING MARKET, BY TECHNOLOGY, 2019–2027 (USD MILLION)

TABLE 27 ASIA-PACIFIC: OTA TESTING MARKET, BY APPLICATION, 2019–2027 (USD MILLION)

TABLE 28 CHINA: OTA TESTING MARKET, BY TECHNOLOGY, 2019–2027 (USD MILLION)

TABLE 29 CHINA: OTA TESTING MARKET, BY APPLICATION, 2019–2027 (USD MILLION)

TABLE 30 INDIA: OTA TESTING MARKET, BY TECHNOLOGY, 2019–2027 (USD MILLION)

TABLE 31 INDIA: OTA TESTING MARKET, BY APPLICATION, 2019–2027 (USD MILLION)

TABLE 32 JAPAN: OTA TESTING MARKET, BY TECHNOLOGY, 2019–2027 (USD MILLION)

TABLE 33 JAPAN: OTA TESTING MARKET, BY APPLICATION, 2019–2027 (USD MILLION)

TABLE 34 REST OF ASIA-PACIFIC: OTA TESTING MARKET, BY TECHNOLOGY, 2019–2027 (USD MILLION)

TABLE 35 REST OF ASIA-PACIFIC: OTA TESTING MARKET, BY APPLICATION, 2019–2027 (USD MILLION)

TABLE 36 MIDDLE EAST & AFRICA: OTA TESTING MARKET, BY TECHNOLOGY, 2019–2027 (USD MILLION)

TABLE 37 MIDDLE EAST & AFRICA: OTA TESTING MARKET, BY APPLICATION, 2019–2027 (USD MILLION)

TABLE 38 SOUTH AMERICA: OTA TESTING MARKET, BY TECHNOLOGY, 2019–2027 (USD MILLION)

TABLE 39 SOUTH AMERICA: OTA TESTING MARKET, BY APPLICATION, 2019–2027 (USD MILLION)

LIST OF FIGURES

FIGURE 1 MARKET SYNOPSIS

FIGURE 2 RESEARCH PROCESS OF MRFR

FIGURE 3 TOP-DOWN & BOTTOM-UP APPROACH

FIGURE 4 GLOBAL OTA TESTING MARKET, BY TECHNOLOGY, 2019–2027 (USD MILLION)

FIGURE 5 GLOBAL OTA TESTING MARKET, BY APPLICATION, 2019–2027 (USD MILLION)

FIGURE 6 GLOBAL OTA TESTING MARKET, BY REGION, 2019-2027 (USD MILLION)

FIGURE 7 NORTH AMERICA: OTA TESTING MARKET, BY COUNTRY, 2019–2027 (USD MILLION)

FIGURE 8 NORTH AMERICA: OTA TESTING MARKET, BY TECHNOLOGY, 2019–2027 (USD MILLION)

FIGURE 9 NORTH AMERICA: OTA TESTING MARKET, BY APPLICATION, 2019–2027 (USD MILLION)

FIGURE 10 EUROPE: OTA TESTING MARKET, BY COUNTRY, 2019–2027 (USD MILLION)

FIGURE 11 EUROPE: OTA TESTING MARKET, BY TECHNOLOGY, 2019–2027 (USD MILLION)

FIGURE 12 EUROPE: OTA TESTING MARKET, BY APPLICATION, 2019–2027 (USD MILLION)

FIGURE 13 ASIA-PACIFIC: OTA TESTING MARKET, BY COUNTRY, 2019–2027 (USD MILLION)

FIGURE 14 ASIA-PACIFIC: OTA TESTING MARKET, BY TECHNOLOGY, 2019–2027 (USD MILLION)

FIGURE 15 ASIA-PACIFIC: OTA TESTING MARKET, BY APPLICATION, 2019–2027 (USD MILLION)

FIGURE 16 MIDDLE EAST & AFRICA: OTA TESTING MARKET, BY TECHNOLOGY, 2019–2027 (USD MILLION)

FIGURE 17 MIDDLE EAST & AFRICA: OTA TESTING MARKET, BY APPLICATION, 2019–2027 (USD MILLION)

FIGURE 18 SOUTH AMERICA: OTA TESTING MARKET, BY TECHNOLOGY, 2019–2027 (USD MILLION)

FIGURE 19 SOUTH AMERICA: OTA TESTING MARKET, BY APPLICATION, 2019–2027 (USD MILLION)