Neurosyphilis Market information, by type (asymptomatic neurosyphilis, meningeal neurosyphilis, and others), diagnosis (asymptomatic neurosyphilis, meningeal neurosyphilis, and others), by treatment (antibiotic penicillin, and others), by end user- global forecast till 2023
Market synopsis of global neurosyphilis market:
Market Scenario:
Neurosyphilis is the infection of spinal cord and brain. It is most common in an individual who have untreated syphilis for long period of time. This is mainly caused due to bacteria called Treponema pallidum. This is the bacteria which causes syphilis. After getting infected with syphilis for the first time, there are chances of neurosyphilis after 10-20 years later. The major symptoms of neurosyphilis are blindness, abnormal walk, confusion, depression, dementia, headache, irritability, incontinence, poor concentration, numbness in the toes, feet, or legs, seizures, tremors, stiff neck, visual disturbances, and weakness. There are possibility of no symptoms of neurosyphilis. Out of all types of neurosyphilis, asymptomatic neurosyphilis is the most common type.
Considering the market scenario of global neurosyphilis, increasing funding for research, clinical trials, and new product development are driving the growth for the market. Government and companies are investing large amount of money to derive effective cure for neurosyphilis. Adoption of technologically advanced diagnostic medical devices are another important driver for the market. Some other factors like increasing awareness, rising demand from emerging markets, government support to improve public healthcare, and changing healthcare practices are also major factors for the market growth.
The global neurosyphilis market is growing steadily and is expected to continue its growth during the forecast period. Global neurosyphilis market is expected to grow at the CAGR of ~3.9% during the forecast period and is estimated to reach USD 957.4 million by 2023.
FIGURE 1 GLOBAL NEUROSYPHILIS MARKET SHARE BY END USER, 2016 (%)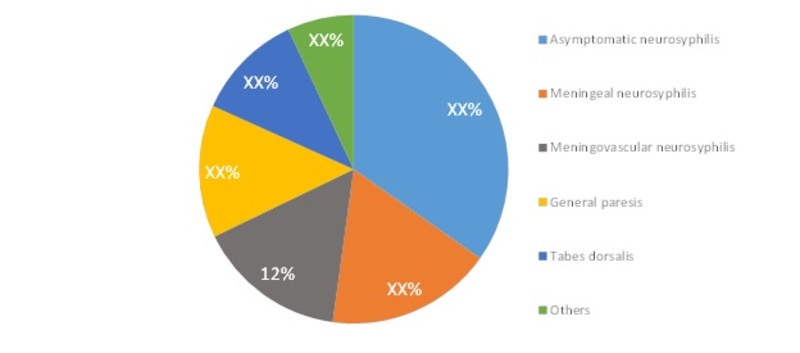 Sources: National Institute of Neurological Disorders and Stroke, National Center for Biotechnology Information (NCBI), U.S. National Library of Medicine, Directorate of Industries, Annual report, White paper, Company Presentation
Key players for global neurosyphilis market:
Some of the key players in this market are: Abbott (US), Bayer AG (Germany), Eli Lilly and Company (US), GlaxoSmithKline plc. (UK), Novartis AG (Switzerland), Pfizer Inc. (US), Sanofi (France), and others.
Segments:
Global neurosyphilis market has been segmented on the basis of type which comprise asymptomatic neurosyphilis, meningeal neurosyphilis, meningovascular neurosyphilis, general paresis, tabes dorsalis, and others.
On the basis of diagnosis, the market is segmented into physical exam, blood test, spinal tap, imaging tests, and others. Blood test is further subsegmented into Venereal disease research laboratory (VDRL) test, Fluorescent treponemal antibody absorption (FTA-ABS), Rapid plasma reagin (RPR), Treponema pallidum particle agglutination assay (TPPA), and others. Imaging tests is further sub-segmented into Computed Tomography (CT), X-rays, Magnetic resonance imaging (MRI), and others.
On the basis of treatments, the market has been segmented into antibiotic penicillin, antibiotics probenecid, ceftriaxone and others. Antibiotic penicillin is further sub-segmented into Injection and oral.
On the basis of end user, it is segmented into hospital and clinics, medical research centers, academic institutes, and others.
Research Methodology: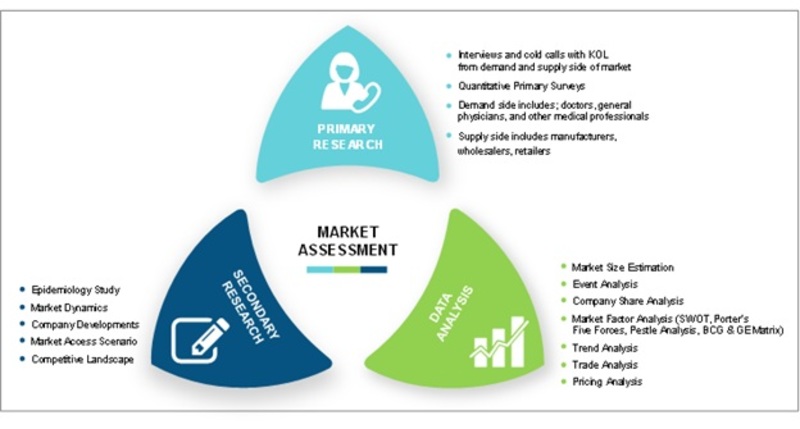 Sources
: National Institute of Neurological Disorders and Stroke, National Center for Biotechnology Information (NCBI), U.S. National Library of Medicine, Directorate of Industries, Annual report, White paper, Company Presentation
Regional analysis of global neurosyphilis market:
Considering the global scenario of the market, the Americas are holding the largest market for neurosyphilis. The Americas mainly include North America and Latin America, out of which North America is holding majority of market share of this region. US is the top revenue generating market in North America and is one of the important markets for global neurosyphilis. Various factors are leading the market growth such as availability of funding for research and clinical trials, and advanced diagnostic and treatment options. Latin America neurosyphilis market is also growing significantly and mainly includes Brazil, Argentina and Chile. Europe is the second largest and one of the important markets for neurosyphilis. Increasing cases of neurosyphilis is a key driving factor for this market. Europe is mainly divided into Eastern Europe and Western Europe. More developed western European countries like Germany, UK and France are dominating this market while East European region is also growing significantly. Asia Pacific region is showing the fastest growth rate in global neurosyphilis market due to some major factors such as increasing awareness of the disorder and related care, increasing investment in research, and rapidly improving healthcare facilities. Japan is holding major market share while China neurosyphilis market is expected to have fastest growth in this region. Governments of different Asia nations are taking various initiatives to increase awareness of this disease that plays important role in the growth of this market. Middle East & Africa is expected to have a limited growth due to lack of knowledge of disease, traditional healthcare practices etc. Middle East region is dominating this market due to some major factors like developed healthcare facilities and government support to improve public health.

Intended Audience:



Neurosyphilis diagnostic and treatment supplies companies




Neurosyphilis diagnostic and treatment supplies providers




Medical research laboratories




Research and Development (R&D) Companies




Market Research and Consulting Service Providers




Potential Investors



1. Report Prologue
2. Introduction
2.1 Definition
2.2 Scope of the Study
2.2.1 Research Objective
2.2.2 Assumptions
2.2.3 Limitations
2.3 Market Structure
2.4. Market Segmentation
3. Research Methodology
3.1 Research Process
3.2 Primary Research
3.3 Secondary Research
3.4 Market Size Estimation
3.5 Forecast Model
4. Market Dynamics
4.1 Drivers
4.2 Restraints
4.3 Opportunities
4.4 Mega Trends
4.5 Macroeconomic Indicators
5. Market Factor analysis
5.1 Value chain analysis
5.2 Porters Five Forces analysis
5.3 Demand & Supply: Gap analysis
5.4 Pricing analysis
5.5 Investment Opportunity analysis
5.6 Merger and Acquisition landscape
5.7 Upcoming trends
6. Global Neurosyphilis Market by Type
6.1 Asymptomatic neurosyphilis
6.2 Meningeal neurosyphilis
6.3 Meningovascular neurosyphilis
6.4 General paresis
6.5 Tabes dorsalis
6.6 Others
7. Global Neurosyphilis Market by Diagnosis
7.1 Physical exam
7.2 Blood test
7.2.1 Venereal disease research laboratory (VDRL) test
7.2.1 Fluorescent treponemal antibody absorption (FTA-ABS)
7.2.3 Rapid plasma reagin (RPR)
7.2.4 Treponema pallidum particle agglutination assay (TPPA)
7.3 Spinal tap
7.4 Imaging tests
7.4.1 Computed Tomography (CT)
7.4.2 X-rays
7.4.3 Magnetic resonance imaging (MRI)
7.5 Others
8. Global Neurosyphilis Market by Treatment
8.1 Antibiotic penicillin
8.1.1 Injection
8.1.2 Oral
8.2 Antibiotics probenecid
8.3 Ceftriaxone
8.4 Others
9. Global Neurosyphilis Market by End User
9.1 Hospital and clinics
9.2 Medical research centers
9.3 Academic institutes
9.4 Others
10. Global Neurosyphilis Market by Region
10.1 Introduction
10.2 Americas
10.2.1 North America
10.2.1.1 The US
10.2.1.2 Canada
10.2.2 Latin America
10.3 Europe
10.3.1 Western Europe
10.3.1.1 Germany
10.3.1.2 France
10.3.1.3 Italy
10.3.1.4 Spain
10.3.1.5 UK
10.3.1.6 Rest of Western Europe
10.3.2 Eastern Europe
10.4 Asia
10.4.1 China
10.4.2 India
10.4.3 Japan
10.4.4 South Korea
10.4.5 Rest of Asia
10.5 Pacific
10.6 Middle East and Africa
10.6.1 UAE
10.6.2 Saudi Arabia
10.6.3 Egypt
10.6.4 Rest of Middle East and Africa
11. Competitive Landscape
12. Company Profile
13. Conclusion
13.1 Key findings
13.1.1 From CEO's viewpoint
13.1.2 Unmet needs of the market
13.2 Key companies to watch
13.3 Prediction of Neurosyphilis Market
14. Appendix