Market Scenario:
Nanowire Battery is a new technology which is explained as a battery which uses nanowires in order to increases the surface area for its electrodes. These batteries are capable of hundreds of thousands of recharges cycles and with the existence in real world, these batteries can change the future of energy storage. Global Nanowire Battery Market is expected to grow rapidly during the forecast period and as various technologies are coming into picture to make the Nano Technology a reality, soon nanowire batteries will eliminate the traditional batteries.
Global Nanowire Battery Market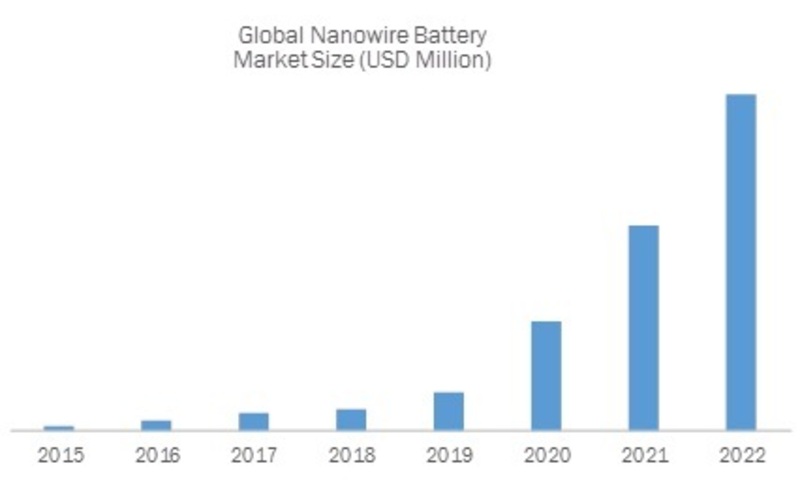 Key Players for Nanowire Battery Market:
The prominent players in the market of Nanowire Battery are- Imprint energy Inc. (U.S.), Ambri Inc. (U.S.), Xilectric Inc. (U.S.), Amprius Inc. (U.S.), Pellion Technologies (U.S.), Boston Power Inc. (U.S.), Prieto Battery Inc. (U.S.), EnerDel, Inc. (U.S.), Envia Systems Inc. (U.S.), Sila Nanotechnologies Inc. (U.S.) among others.
Segments:
Global Nanowire Battery Market has been segmented on the basis applications and regions. Applications of Nanowire Battery has been mentioned in the report are- Consumer electronics Devices, Automotive, Healthcare, Energy Storage, Power Generation among others.
Regional Analysis of Nanowire Battery Market:
North America accounts for largest market share for Nanowire Battery. Presence of global players in U.S. and Canada is giving lead to North America. Asia-Pacific accounts for second position as strong presence of manufacturing in China and Japan.
Study Objectives of Nanowire Battery Market:



To provide detailed analysis of the market structure along with forecast of the various segments and sub-segments of the Global Nanowire Battery Market




To provide insights about factors affecting the market growth




To analyze the Nanowire Battery market based on various factors- supply chain analysis, porter's five force analysis etc.




To provide historical and forecast revenue of the market segments and sub-segments with respect to four main geographies and their countries- North America, Europe, Asia, and Rest of the World (ROW)




To provide country level analysis of the market with respect to the current market size and future prospective




To provide country level analysis of the market for segment by applications and sub-segments.




To provide strategic profiling of key players in the market, comprehensively analyzing their core competencies, and drawing a competitive landscape for the market




To track and analyze competitive developments such as joint ventures, strategic alliances, mergers and acquisitions, new product developments, and research and developments in the Global Nanowire Battery Market



Intended Audience
Frequently Asked Questions (FAQ) :
---