Market Snapshot
The Global Mission-Critical Communication Market was valued at USD 13.63 Billion in 2018 and is estimated to reach USD 26.66 Billion by 2025 growing at a CAGR of 10.5% during the forecast period 2019–2025.
Mission-critical communications (MCX) refers to communications operations, notably, push-to-talk, that supports operations that involves a high risk to life and property, in simpler terms, the ability of communication devices to provide seamless communication where conventional networks cannot meet the required demand. These devices used in crucial public events where a large number of networks are operated at the same time and when conventional networks are not capable to provide high-quality communication due to traffic congestion.
Advance features offered by mission-critical communication (MCX) systems and increasing demand for a reliable network during emergencies are the prime driving factors of this market. The ability of MCX systems to communicate in conditions where normal/commercial communication network does not operate has helped them gain immense popularity. MCX systems allow the individuals to easily call for back-up irrespective of their location or the availability of the commercial network. MCX networks improvise the communication capabilities and lower the latency in communication which helps in enhancing public safety in case of emergencies. Additionally, mission-critical communication networks are designed to offer key elements of control such as call prioritization and pre-programmed interoperability during disasters allowing the neighboring systems to be used and other additional users to be added on to the network irrespective of the radio technology deployed in their systems. However, limited spectrum bandwidth is one of the key restraining factors for the growth of this market.
Market Segmentation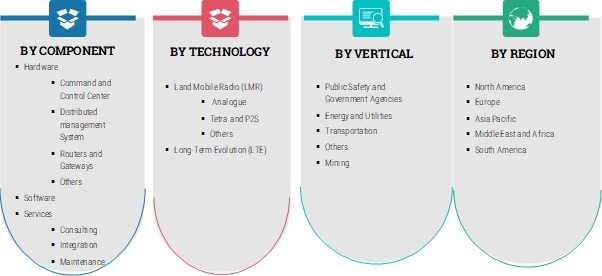 Source: Company Websites, Annual Reports, Secondary Research, Press Releases, Paid Database, Expert interviews, White papers, Journals, Case Studies, and MRFR Analysis
Regional Analysis
Global Mission Critical Communication (MCX) Market, By Region, 2018 (%)

Source: Company Websites, Annual Reports, Secondary Research, Press Releases, Paid Database, Expert interviews, White papers, Journals, Case Studies, and MRFR Analysis
By region, the mission-critical communication (MCX) market has been segmented into North America, Europe, Asia-Pacific, and the rest of the world. North America accounted for the largest market share of 33.6% in 2018 with a market value of USD 4.58 billion; the market is expected to register a CAGR of 10.3% during the forecast period. The growth in the North American market is driven by factors such as increasing investments of public safety agencies in P25 two-way radio technology and shifting customer preference from existing technology to LTE technology. The region is a leading adopter for broadband technology including PMR and LMR technologies.
Europe accounted for the second-largest share in the mission-critical communication market due to the high adoption of critical communication systems by various end-users such as military & defense and continuous development made by various well-established companies in the region. Europe has been segmented in the UK, Germany, France, and the rest of Europe.
Key Players
The key players of the Global Mission-Critical Communication (MCX) Market are Motorola Solutions, Inc. (US), Nokia (Finland), ZTE Corporation (China), Telefonaktiebolaget LM Ericsson (Sweden), Huawei Technologies Co. Ltd (China), AT&T Inc. (US), Harris Corporation (US), Hytera Communication Corp Ltd (China), Cobham Wireless (UK), Ascom (Switzerland), Mentura Group OY (Finland), Leonardo SpA (Italy), Inmarsat PLC (UK), Zenitel (Norway), and Telstra (Australia).
The market is expected to witness intense competition among the existing players. With vendors investing heavily in research and development for MCX solutions, integration with LTE-advanced technology for public safety is likely to make the rivalry high. Moreover, the solutions offered by the companies are similar and do not vary much in terms of cost, which is expected to intensify the competition.
Key Developments



September 2019

: Hytera launched VM780 body-worn camera. The VM780 combines a bodycam and PoC radio in a single device that enables real-time data and video streaming over 3G, 4G, and Wi-Fi networks. The device supports all common broadband frequencies in Europe and has been designed primarily to capture, store, and share high-definition, 256-bit encrypted video, audio, and image data.






August 2019

: Motorola launched mission-critical security solutions named Avigilon video for radio site security and the KVL 5000 key variable loader for secure communications. The radio site video service, using Avigilon's cameras, is designed to secure remote sites from theft, vandalism, or natural calamities. KVL 5000 enables agencies to secure communications on ASTRO 25 networks and allows users to quickly and securely generate, transport, and load encryption keys into communication products.






July 2019

: Motorola acquired WatchGuard, Inc., a mobile video solutions provider, for public safety which designs and manufactures in-car video systems, body-worn cameras, evidence management systems, and software. The acquisition is aimed at expanding the mission-critical portfolio of Motorola by adding video security solutions to the portfolio which includes fixed cameras and advanced analytics from Avigilon and license plate recognition (LPR) cameras and software from Vigilant Solutions.



Key questions addressed by the report



What was the historic market size (2016)?



Which segmentation (Component/

Technology

/

end-user

) is driving the market?



What will be the growth rate by 2025?




Who are the key players in this market?




What are the strategies adopted by key players?



Frequently Asked Questions (FAQ) :
---