Medical Tubing Market is expected to get evaluated colossally at a modest CAGR during the review period of 2017-2023. Medical tubing is widely used in medical or pharmaceutical related applications. It is made of plastic, rubber or metal material. Furthermore, the medical tubing finds applications in bulk disposable tubing, catheters & cannulas, draining blood, peristaltic pump, and drug delivery system among others. It is majorly manufactured using plastic material, but with technological advancements, silicone rubber is being increasingly used owing to its extreme temperature resistance properties.
The global medical tubing market growth is driven by expanding medical industry in both developed and developing regions. Increasing spending on healthcare coupled with rising health awareness and growing geriatric population is driving the market globally. The product demand is escalating in surgical implants owing to biocompatibility and lubricity. Increasing instances of non-invasive medical procedures for treatment is further propelling the market growth in developing nations such as India and China. Moreover, increasing demand from technically advanced medical devices to meet various neurological and surgical applications is uplifting the medical tubing demand. For instance, RAUMEDIC'S intracranial brain pressure catheter (IPC) made using single lumen tubing is embedded with a microchip which measures brain pressure and temperature & oxygen level.
Global Medical Tubing market share, by material (%)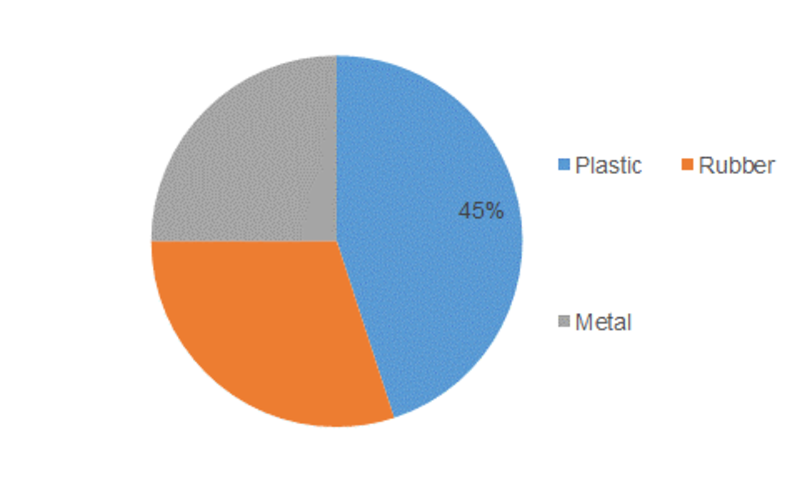 Source: MRFR analysis
Regional Analysis
North America was the largest market for medical tubing owing to high healthcare spending in this region. The product consumption is increasing owing to rising geriatric population coupled with high per capita income of the consumers. According to the International Trade Administration, in 2015, the U.S. accounted for 40% market share in the global medical device with a market size of USD 140 billion.
Europe is likely to witness a significant growth during the review period with the development of minimally invasive surgery by robot technology along with endoscopic techniques. Increasing demand for specialized wound care and easy-to-use home products for dialysis, diabetes, and dental applications is propelling the market growth in this region.
Asia Pacific was the fastest growing region in the medical market with the growing healthcare industry in the developing economies of India and China. Rising demand for minimally invasive procedures and advanced medical devices is driving the market growth.
Latin America region is expected to exhibit considerable growth with respect to growing lifestyle procedures market such as surgical and non-surgical aesthetics & ophthalmology, especially in Brazil and Mexico.
The Middle East and Africa are likely to witness significant growth during the review period with growing healthcare industry as a result of rising number of people suffering from obesity and other diseases.
Segmentation
The global medical tubing market is segmented into material, structure, applications, and region.
On the basis of material, the global medical tubing market is segmented into plastic, rubber, and metal. Among these, plastic is sub-segmented into polyvinyl chloride (PVC), polyethylene (PE), polypropylene (PP), polyether ether ketone (PEEK), polyamide, polytetrafluoroethylene (PTFE), perfluoroalkoxy (PFA), fluorinated ethylene propylene (FEP), polycarbonate (PC), bioabsorbable polymers, polyester, polylactic acid (PLA), ethylene-vinyl acetate (EVA). Rubber is further sub-segmented into silicone, thermoplastic elastomer, and polyurethane. Metal is further sub-segmented into titanium, steel, aluminum, and others.
Based on the structure, the market is segregated into single-lumen, multi-lumen, co-extruded, tapered or bump, braided, balloon, heat shrink, high-pressure, thin-walled, coiled, microextrusion.
On the basis of the application, the market is divided into bulk disposable tubing, draining blood, catheters & cannulas, drug delivery systems, and special applications. Among these, bulk disposable tubing is sub-segmented into dialysis & intravenous. Catheters are sub-segmented into cardiovascular, intravenous, and urinary catheters. Special applications are sub-segmented into a peristaltic pump, gas supply, smoke evacuation, and feeding tubes.
Based on the region, the market is divided into North America, Europe, Asia Pacific, Latin America, and the Middle East & Africa.
Key Players
Some of the key players in the global medical tubing market are Zeus Industrial Products, Inc. (U.S.), Saint-Gobain Performance Plastics (U.S.), Teleflex Incorporated (U.S.), Optinova (Finland), Fine Tubes Ltd. (UK), Davis Standard (U.S.), Tekni-Plex (Pennsylvania), RAUMEDIC AG (Germany), Lubrizol Corporation (U.S.), Nordson Corporation (U.S.), AP Technologies Group Pte. Ltd. (Singapore), and Putnam Plastics (U.S.).
Intended Audience



Medical tubing Manufacturers




Traders and distributors of medical tubing




Research and development institutes




Potential investors




Raw material suppliers




Nationalized laboratory



Report Scope:
| Report Attribute/Metric | Details |
| --- | --- |
| Market Size | Significant Value |
| CAGR | Substantial CAGR (2017-2023) |
| Base Year | 2019 |
| Forecast Period | 2020-2027 |
| Historical Data | 2018 |
| Forecast Units | Value (USD Million) |
| Report Coverage | Revenue Forecast, Competitive Landscape, Growth Factors, and Trends |
| Segments Covered | Material, structure, applications |
| Geographies Covered | North America, Europe, Asia Pacific, Latin America, and the Middle East & Africa. |
| Key Vendors | Zeus Industrial Products, Inc. (U.S.), Saint-Gobain Performance Plastics (U.S.), Teleflex Incorporated (U.S.), Optinova (Finland), Fine Tubes Ltd. (UK), Davis Standard (U.S.), Tekni-Plex (Pennsylvania), RAUMEDIC AG (Germany), Lubrizol Corporation (U.S.), Nordson Corporation (U.S.), AP Technologies Group Pte. Ltd. (Singapore), and Putnam Plastics (U.S.). |
| Key Market Opportunities | |
| Key Market Drivers | |
Frequently Asked Questions (FAQ) :
---