Mass Flow Controller Market Synopsis
The mass flow controller market is expected to grow at 6% CAGR through the forecast period. A mass flow controller automatically controls the flow rate of a gas according to a set flow rate sent as an electric signal, without being affected by surrounding conditions or changes in gas . Key applications areas where mass flow controller used are petrochemical and chemical gas and liquid pilot plants, semiconductor and led production tools, thin film deposition systems, biopharmaceutical bioreactors and many more.
The key factors driving the growth of the market are the development strategies, such as contracts and agreements, product launches and developments, partnerships, and expansions, implemented by the players operating in the mass flow controller market.
The increasing demand for low flow rate mass flow controller for various critical applications in industries such as medicals and pharmaceuticals, drives its overall market. The organic and inorganic growth strategies, such as product developments, expansions, partnerships, contracts and agreements, and acquisitions, would further drive the growth of this market.
Segmentation
The market for mass flow controller is segmented on the basis of connection type, flow measurement, material type, connectivity technology, application and region. On basis of connection type the market is classified into direct and indirect. On basis of flow measurement the market is further classified into low, medium and high. On basis of material type the market is divided into stainless steel and exotic alloys. On basis of connectivity technology the market for global mass flow controller is classified into analog, Profibus, RS-485, Ethercat, Ethernet, Modbus TCPIP and others. The market has wide area of applications in industries such as chemical, petroleum, semiconductor, food and beverages, oil &gas, water and waste treatment among others.
Key Findings



In August 2017, Alicat Scientific integrated its MCE mass flow controller into MDC Vacuum Products' XpressStick MFC Gas Stick. This product links the pressurized gas inputs to vacuum chambers.




In November 2017, Major Science launched Winpact mass flow controller which can be integrated with fermentor or bioreactors.




In March 2016, Bronkhorst digital instrument, built as a manifold or FLOW-SMS system can be connected to a PROFIBUS-DP fieldbus based system using just one single interface.




In September 2017, FC Technik designed a new generation of thermal mass flow controller. The new flox [on] B has a new and economical design, an optimized high performance micro controller and a micro USB port that allows to operate the flox [on] with a PC.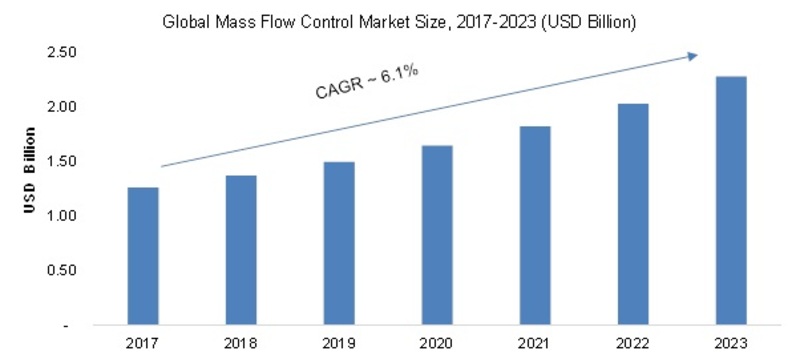 Regional Analysis
North America, led mainly by the U.S. is analyzed to observe gains through the forecasted period in the mass flow controller market. This regional growth is mainly propelled by robust pharmaceutical and petrochemical industries in the U.S.
Asia Pacific (APAC) is expected to hold the largest share of the market during the forecast period. The mass flow controller market in the emerging economies, such as China, India, and Japan, is expected to grow at the highest CAGR because of the increasing technological advances in medical and healthcare devices due to the increasing population of these countries.
Some of the key players operating in the mass flow controller market are Bronkhorst (the Netherlands), Brooks (U.S.), Burkert (Germany), Teledyne Hastings (U.S.), HORIBA (Japan), Sensirion (Switzerland), Alicat Scientific (U.K), Sierra (U.S.), and MKS (U.S.) among others.
Intended Audience



Original equipment Manufacturers




Technology investors




System integrators




Integrated device manufacturers




Original design manufacturers




Government and other regulatory bodies



Frequently Asked Questions (FAQ) :
---